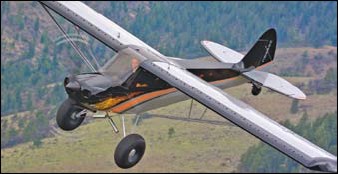 CubCrafters Debuts 'Carbon Cub' Proof Of Concept
CubCrafters debuted its Carbon Cub proof-of-concept aircraft
at the 2007 Alaska State Aviation Trade Show and
Conference in early May. The company says the 220-hp
aircraft is a platform for a host of new airframe construction
materials, performance options, design improvements,
and more powerful engine options. The aircraft
does not currently meet light-sport aircraft certification
requirements, but the company says the nearly 40 airframe
parts made out of high-strength carbon fiber saved
250-300 pounds compared to a Super Cub with the same
equipment. The project points toward several new aircraft
possibilities for CubCrafters including a light-sport aircraft
certificated as a factory-built airplane, a homebuilt
kit plane, and/or a new FAA certificated airplane.
For more information visit www.CubCrafters.com.
Published in EAA Sport Pilot & Light Sport Aircraft Magazine