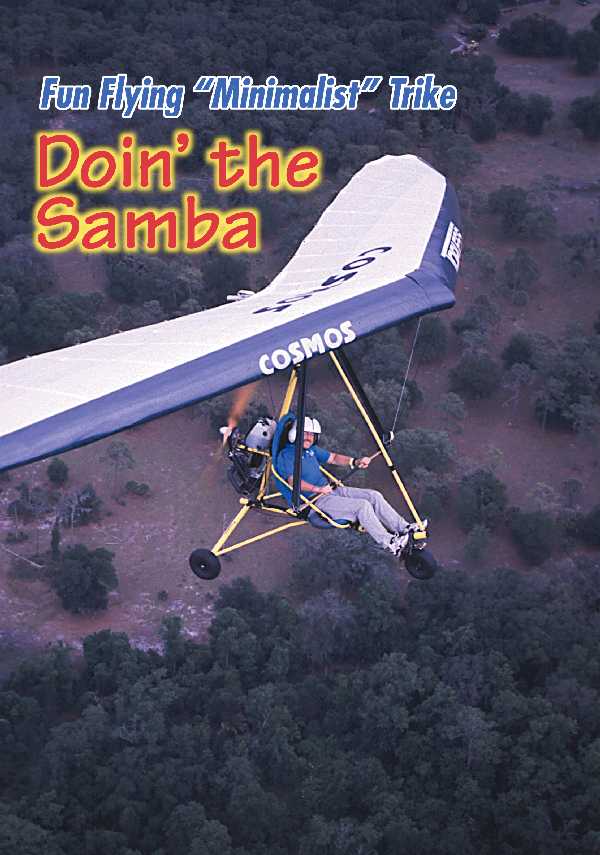 You may know pilots like this. Heck, you might be one of these folks. Large numbers of them help manufacturers get trick new hardware on the market. Their willingness to try fresh concepts and their enthusiasm for all things new make purists an essential part of flying.
One type of flying purist is the sort who prefers to stick with a FAR Part 103 ultralight. The genre helps define ultralights in general – we fly them because we like them, not because we're hoping to grow up and become an airline pilot someday. Purists prefer the simple honesty of Part 103 flight.
Slow-flying ultralights allow flight closer to fields and trees and landmarks. Amazingly short takeoff rolls and uneventful stalls make these basic machines easy to enjoy and give them versatility as to the size airstrip required. Low cost and operating expense help convince even more pilots. So, if all these things are good, why not make them the best they can be – the slowest flight, the shortest takeoff, the lowest cost? Purists search for such goals.
Among the many fine ultralights and microlights you can buy, some address the purist interest. The Cosmos Samba might fit this description for some aviators. In this particular instance, I am one of those pilots.
I loved the Samba. What fun! You, on the other hand, might not feel the same.
This is a point I've labored to make for years when writing pilot's reports like this one. Read the words, look at the photos, check our "Report Card," and then weigh the comments I make against your preferences. The result will possibly help you correctly choose a design you'd like to buy.
The ideal customer for a Samba is someone with a hang gliding or other weight-shift control background. Another logical candidate in my mind is a current trike pilot looking for more fun flying when not training students in a 2-seater. Imagine hopping out of a big limousine into a Shelby Cobra – that's the difference between an average 2-seat trike and the single-seat Samba.
Rebirth of the Samba
However, the Samba wasn't invisible to John "Ole" Olson. On a visit to the Dijon, France factory of Cosmos and sister hang gliding business La Mouette, Olson discovered the tiny single-seat trike. Olson is one of America's true trike evangelists, one of those hang glider pilots who goes both ways (powered and unpowered, that is).
Inspired by Olson's enthusiasm and persistence, Cosmos boss Renaud Guy dragged the Samba out of a corner, dusted it off, and put it back in the air. These days, however, Guy equips the little trike with La Mouette's trailblazing Topless hang glider wing.
Fastened to the Samba carriage for this pilot's report was the Topless wing, so named as it eliminates the hang glider's traditional kingpost and upper cable rigging. The Topless was one of the first designs to adopt this experiment and – being a major brand of hang glider in the world – La Mouette quickly took the lead. That was the first curl of a wave that shortly saw every other hang glider manufacturer create their own "topless" model (naturally they called theirs by other names).
Modified only the slightest bit, the Samba's wing is called the Topless M (for motorized), because it has an additional sleeve inside the keel at the junction. To ease setup of most hang gliders, a tube sticks out the back to prop the glider while its wings are spread from the folded position. This tube or "stinger" has been removed on the Topless M, although you can slide in one if you want to take the Samba's wing and go hang gliding.
In the old days, all trike wings were hang glider wings. Yet the Europeans' relentless push to make more capable aircraft based on the trike platform led them to create similar but different wings for their carriages. Today, I know of no trike wings intended for foot-launched hang gliding, as well. None, that is, except the Topless wing on the Samba. The Samba/Topless offers exactly this versatility, which warms the heart of a long-time hang glider pilot like me.
The Samba is a rare bird. At the time of this evaluation, Olson had the only one in the U.S., and few are flying anywhere. However, that's changing.
New U.S. and western Canada Cosmos distributor, Don Reinhart of Personal Flight, has one on order and he recently sold another. He'll soon start advertising the Samba to the hang gliding community, and he should.
Hour of Power
As tested, the Samba has few systems needing any management. A pull starter is located above your head, and the pull start was surprisingly easy. You aren't pulling against much displacement (242cc), nor compression (6.5-to-1), making the task easier.
Nonetheless, Cosmos boss Guy Renaud reports, "We have made some improvements on the Samba." Among these is the addition of optional electric starting. While power starting on such a small engine may seem incongruous, remember that pilots of this machine are likely to shut down the engine and soar the thermals to stay aloft. Knowing the engine is easier to restart – by pushing a button – increases pilot confidence, so cutting the engine to "catch thermals" is a more reasonable activity.
The test Samba I flew held only 2 gallons of fuel in a small tank just above the engine. At the modest fuel consumption rate of the Samba, a couple gallons could last for well over an hour of power. Nonetheless, another change Renaud mentioned was a fuel tank increase to 10 liters (2.6 gallons). Now, 2 hours might be possible, yet the ultra-light theme is maintained.
Modern trikes have increasingly comfortable seats. The Samba showed its lack of recent development by having only a simple seat system. Back and seat support were actually quite acceptable, but your thighs rubbed against some bolts on each side.
Little pads were thoughtfully sewn on the seat to minimize this friction, but they weren't thick enough. In a simple solution, Olson suggests turning the seat bolts around to put the nut caps on the outside. Then the seat padding should be more effective.
Because the single-seat trike can sit rather low, it can be very simple to enter – although a little tougher to exit. To get out, you must rise up more than larger 2-seaters require. On the other hand, the Samba shares the common trike characteristic of having no obstructions during entry. You can move the control bar as you need to have unimpaired access to the seat.
Once seated, the little Samba takes on a sporty feel reminding me of getting in a little British sports car. The low-slung trike carriage felt more stable in taxi. Along with light weight, the Samba is one of the easiest maneuvering aircraft I can imagine.
I had little need for brakes – which was good, as it had none. For most applications I don't see their value for the weight they add, yet Cosmos now offers a nosewheel brake. Should you find yourself in taxi traffic or if you land long, the brake may help drag your speed down a bit.
Easy Rider
Though I see the value in a foot throttle on a trike – your hands are normally occupied on the control bar – a hand throttle would have been preferable to me. I'm used to setting the throttle on aircraft and leaving it there, adjusting only in small increments as needed. The Samba's hand throttle is a new feature I welcome.
On power-up, you are certainly not pushed back in your seat the way a 582 trike will do. In contrast, the action is a more gentle acceleration. Powered by the Zenoah G25B-1 single-banger producing 22 horsepower through a belt drive, the Samba turns out to have plenty of power.
Instrumentation was sparse on the test Samba. Let me be more accurate: Except for a little box mounted on the control bar, the Samba had zero instruments. That little box is impressive, though. Presenting a series of measurements oriented to hang gliding, such digital assistants can show altitude, time, forward speed and vertical speed. This last capability is the main one, actually, and is more correctly referred to as a variometer. Far faster and more sensitive than mere VSIs, the vario identifies lift (or sink) to a soaring pilot. Many hang glider pilots employ their tiny flight decks to stay aloft for hours.
However, like any computer gizmo, you need to have a little instruction to know how to work the device. I didn't get any training, so I worked without the information. This means I did not get to collect some of the facts I often seek, but it also showed you simply don't need much instrumentation to fly Part 103 ultralights.
Despite the lack of an airborne yardstick, I intuitively agreed with the factory's estimate of a 600-feet-per-minute climb rate. In a matter of a few minutes, I was high enough to try catching thermals. Regretfully, the day had an uninspired sky and I found no lift to work. If offered another flight, I'll sure try again – but not till after I get instructions on using the instrument.
Handling Surprise
The Samba with the Topless wing yields truly nice handling and the best roll rate I've found in any trike to date (a statement that includes the XP-11 Racer).
The two trikes are interesting in their differences. The super-slick Racer is a refined machine with all the bells and whistles you could want. It handled wonderfully with lighter bar pressures than I can recall on any trike. But the XP-11 Racer is more of a cross-country machine than a soaring aircraft.
Now, I realize many of you reading this are not after soaring flight. So, the Air Création model should be of interest to you, especially since it is also reasonably priced (around $11,000, if you can be content with the still-adequate Rotax 447 engine).
But in pure handling ease, the Samba with the Topless M wing is hard to beat. And regardless of comparisons, I found it a joy to operate.
In both trikes, I found I could dive under power. That is a virtual impossibility in most trikes; if you add power, you go up no matter how hard you pull in on the control bar (equivalent to putting the joystick far forward). Sometimes in flight, you want or may need to dive, while still using power. The Samba (as well as the Racer) allows this.
Roll rate is where most big 2-seat trikes give you a workout. Some trike pilots have likened it to a session in the gym with weightlifting equipment, and I agree with that statement. I admit you can acquire the finesse technique required to make these bigger trikes more responsive to your input. Yet with the Samba, you don't need to learn much – simply point the wing the way you want and it'll go that way.
The Samba's roll rate was brisk and light to the touch. In fact, it was enough so that this is not really a beginner wing. That's why I said earlier that some of the most likely buyers of the Samba/Topless are present-day 2-seat trike pilots.
The Samba/Topless also does particularly well in steep turns, which should come as no surprise since the wing was designed for soaring flight (which usually requires circling or "thermaling" in lift). I'd love a chance to try thermaling this machine. I think it might do excellently and for some of us, that would be a delicious characteristic.
Unpowered Performance
In these days of 618s and 912s and – as drag strip radio commercials use to shout, "Power! Power! Power!" – the Zenoah G25B-1 with its 22 horsepower seems like putting a trolling motor on a speedboat. Don't be deceived. This little engine surprised me, and may do the same for you by delivering surprising energy. Also, while names like Rotax, Hirth and 2 Stroke International (AMW Cuyuna) may dominate the ultralight landscape, Tennessee Propellers (the U.S. importer of Zenoah 2-strokes) has been satisfying the needs of many pilots for many years. Why we don't see more Zenoahs is a mystery to me, especially given the appeal of Japanese engines.
Regardless of the explanation, the single-cylinder Zenoah proved to have plenty of get up and go. And Cosmos – thanks to their association with La Mouette, which also makes power units for foot-launched powered paragliders – knows more about small engines than most trike makers.
Speeds certainly aren't high, what with a 55-mph never-exceed (Vne) speed and a cruise in the mid 40s.
On the other hand, since stalls drop down to nearly 20 mph, the range is perfectly acceptable – at least, so long as you aren't trying to fly coast to coast in record time.
The wing is certainly capable of making flight interesting. The Topless was designed for the highest competition level of performance among state-of-the-art flex-wing hang gliders (there are modern rigid-wing hang gliders like the Exxtacy that are much more complex and expensive, and more akin to foot-launched "sailplanes").
Nonetheless, some power pilots will dismiss the Samba as hopelessly underpowered and slow. Compared to lots of ultralight and microlight aircraft, this assessment is correct, but it's unfair to the Samba to compare it with a 912-powered Tornado (or whatever). It's not intended for the same use.
The Samba/Topless is easily a hang glider pilot's aircraft if he chooses to fly with power. It's the best such I've seen in many years. I'm quite positive – though I did not have this experience myself due to the conditions of the day I flew it – that the aircraft can be thermaled motor-on or -off. For some of us, that's a special joy hard to duplicate in most ultralights.
Like the late-night "infomercials" brag: "And there's still more!" Using only the Topless state-of-the-art hang glider wing, you can hang glide by either foot-launching it or towing it aloft and, in fact, the Samba/Topless keeps a hang strap (to which the pilot attaches his hang gliding harness) on the keel.
Although I regard this as a performance aircraft for some pilots, the Samba/Topless has quite benign flight characteristics and excellent stability. The wing has passed the demanding British Hang Gliding Association's certification, which means it demonstrated good structure, good flight characteristics and reliable stability.
Longitudinal stability was good and response to power was normal (more power raises the nose; less lowers it). Adverse yaw is present, but for most 3-axis pilots, you won't even notice it. (By the way, on a trike you coordinate roll/yaw coupling by pushing the bar out slightly after you bank the wing, the equivalent of backstick in turns on a 3-axis design.)
Is the Samba for You?
If you've ever flown trikes and liked the experience, you should definitely consider the Samba/Topless. One thing is sure: No matter what options you add, you'll almost always easily stay within Part 103 definitions.
At only 210 pounds, the Samba is rare because it still has another 44 pounds before reaching FAA's "line in the sand" for single-seat ultralight weight. Of course, loading it up with options may reduce its soaring capabilities a bit.
And at $10,995, the Samba/Topless is a good value. Remember, this price is ready to fly and it includes a state-of-the-art wing. Most "topless" hang gliders are selling for about $6,000. At $10,995 total, that means the Samba's trike carriage is only about $5,000. Plus no assembly is required!
One other thing is significant: Like most trikes, the Samba breaks down to a small package that can be carried in any pickup truck or even in a car with some creative planning. The trike carriage is only 65 inches long and has a wheelbase of 60 inches. Says U.S. distributor Personal Flight, "The Samba is very quick to disassemble and can be stored in your closet!" The wing breaks down like most hang gliders. It'll take 20 minutes or so, but it can then be carried on any auto or truck with some supportive racks added.
For my money, you can't go wrong with the Samba/Topless. If you like trikes, you owe it to yourself to examine the design more carefully.
Published in Light Sport and Ultralight Flying
| | |
| --- | --- |
| Seating | Single-seat |
| Empty weight | 210 pounds |
| Gross weight | 410 pounds |
| Wingspan | 32 feet |
| Wing area | 154 square feet |
| Wing loading | 2.7 pounds/sq ft |
| Wing | Trike |
| Length | 6 feet |
| Height | 6 feet |
| Fuel Capacity | 2.6 gallons |
| Kit type | Fully-assembled |
| Build time | NA |
| Standard engine | Zenoah G25B-1 |
| Power | 22 hp at 6,600 rpm |
| Power loading | 18.6 pounds/hp |
| Cruise speed | 45 mph |
| Never exceed speed | 55 mph |
| Rate of climb at gross | 600 fpm |
| Takeoff distance at gross | 200 feet |
| Landing distance at gross | 200 feet |
| Standard Features | Topless M hang glider wing, weight-shift control, steerable nosewheel (push left, go right), foot-operated nosewheel brake, hand throttle, seat belt. British hang glider wing certification. |
| Options | Electric start. |
| Construction | Aluminum tubing airframe, composite trike wing crossbar, Dacron® polyester sailcloth. Made in France. |
Design
Cosmetic appearance, structural integrity, achievement of design goals, effectiveness of aerodynamics, ergonomics.
Pros – Trike carriage is true minimalist configuration (with enough weight allowance to add a few select accessories if you insist). No kingpost and upper rigging lends a modern and racy look. Wing has been through British certification as a hang glider. Single-seat trikes are rarer, but offer pleasant differences from cost to performance; Samba is a great combination of powered trike and hang glider.
Cons – Design hadn't been developed for years and had to play catch-up as the trike experienced newfound favor. Several significant improvements needed at time of test flight have reportedly been addressed at the factory.
Systems
Subsystems available to pilot such as: Flaps; Fuel sources; Electric start; In-air restart; Brakes; Engine controls; Navigations; Radio; (items covered may be optional).
Pros – Simple is what the Samba is about, so this category deserves a "Systems? What systems?" response. However, Cosmos has since added a hand throttle, nosewheel brake and even an electric starter. As such, the Samba – which should still make Part 103 weight easily – is well-loaded for systems. Brake is foot-operated, as usual on trikes. Samba should use hang glider instruments which mount to the control bar.
Cons – Overall, the Samba is not the work of hardware art that the bigger Cosmos trikes are. It's supposed to be simple and it is. Adding the features recently made available also bids up the cost, perhaps unnecessarily. Adding conventional instruments will require inventing the mount, and a radio must be hand-held or control bar-mounted.
Cockpit/Cabin
Instrumentation; Ergonomics of controls; Creature comforts; (items covered may be optional).
Pros – Entry gets no easier than this. Seat has potential to be very comfortable (once seat bolts were reversed). If you use control bar instruments, they are quite readable and easily reached. Lower speed range of Samba/Topless means a windscreen is hardly necessary.
Cons – Easy as entry is, the seat is low enough that older pilots could struggle a bit to rise from it. A lap belt is insufficient and shoulder or 4-point belts are advised. No cargo area (though some side bags might be added).
Ground Handling
Taxi visibility; Steering; Turn radius; Shock absorption; Stance/Stability; Braking.
Pros – The Samba is so light (only about 200 pounds empty) that ground maneuvering is a breeze. All trikes have some flexibility in ground maneuvering as you can lift a wing without changing direction. Nosewheel is quite responsive even though small. A nosewheel brake has been added, Cosmos reports.
Cons – No question about it: "wrong-way steering" (push left, go right) is nonintuitive (but standard on most trikes). Until you develop the instinct for it, the reversed quality can be unnerving. Winds can more easily upset the very light Samba and its high-performance wing. Ground clearance is less than larger Cosmos trikes. Suspension is limited to air in the tires and flex in the system.
Takeoff/Landing
Qualities; Efficiency; Ease; Comparative values.
Pros – "Point your toe and off you go" using the foot throttle. Takeoff is generally easy in trikes, and this lightweight single-seater is no different. Only the engine's small size limits the sensation at liftoff. Climb was an adequate 600 fpm. Landings are equally straightforward with terrific visibility. Slow speeds reduce need for slips or flaps (neither of which apply to Samba operation).
Cons – A small single-banger engine won't help you leap from rough runways (though bush flying isn't why it was designed). Like all trikes, Samba is limited in crosswind capability, although practice will give more latitude. No control surfaces to help steepen your approach if needed.
Control
Quality and quantity for: Coordination; Authority; Pressures; Response; and Coupling.
Pros – Light, fast, responsive and intuitive – not much need be added to this statement. Weight-shift or not, this Samba and Topless combination was a delight if you want light controls. Samba/Topless is also the first trike I felt I could dive authoritatively. Category rates an "Excellent" in my logbook.
Cons – Great handling or not, Samba still uses weight-shift, and some pilots have a mental block about using it. Like all high-performance hang gliders, the Topless has anhedral (downward-angled wings), which makes it modestly roll unstable; your weight easily overcomes this, but some "high siding" of the control bar is needed while in steeper banks.
Performance
Climb; Glide; Sink; Cruise/stall/max speeds; Endurance; Range; Maneuverability.
Pros – For what this machine is – a powered hang glider of the late '90s – it has superb performance. The Topless wing is state-of-the-art in hang gliding. With stall in the very low 20s and speed to 55 mph, Topless offers a respectable speed range. A climb of 600 fpm on only 22 horses is mighty efficient. Very strong glide ratio.
Cons – Even with great performance, this still isn't a cross-country cruiser (under power, that is). You're out in the wind, so more speed is less comfortable. Endurance isn't long with only 2 gallons of fuel (factory increasing this to 2.6, a little better). No other negatives.
Stability
Stall recovery and characteristics; Dampening; Spiral stability; Adverse yaw qualities.
Pros – Stalls are straightforward and not threatening, although they are less docile because the wing is considered a high-performance design. Power response is normal (more power produces nose-up). Longitudinal stability appeared conventional. Steep turns were simple and easily controlled (essential for a soaring machine). Adverse yaw isn't much of an issue on trikes.
Cons – Lap belts are definitely not enough in case of violent upset. As always, I wish Samba had been fitted with a ballistic parachute. For this reason, I did not attempt spins. No other negatives.
Overall
Addresses the questions: "Will a buyer get what he/she expects to buy, and did the designer/builder achieve the chosen goal?"
Pros – For only $10,995 ready-to-fly, Samba is a good value if you want this type of aircraft. Performance and handling appear very well-suited toward those with weight-shift soaring in mind. Well-known company, one of the world's largest trike builders. Breakdown to car top and trunk is possible (certainly with a little pickup truck).
Cons – Not really a beginner's trike. Not a cross-country cruiser.