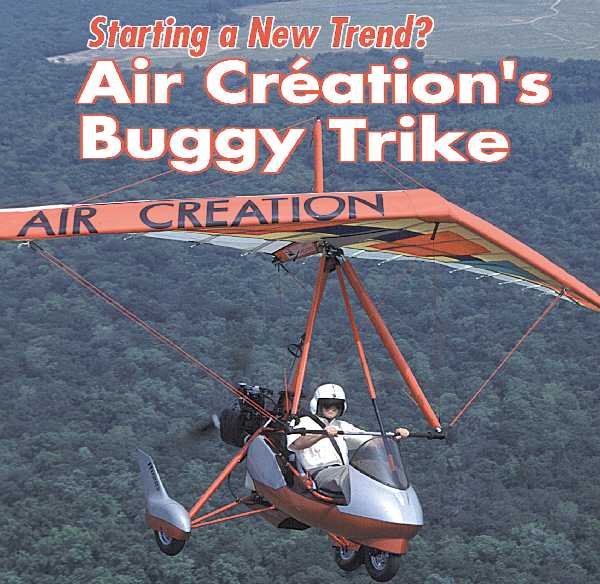 Red is the best color for marketing reasons I was told by a Detroit car marketing executive with a half million a year salary. If you've seen a Chrysler TV ad recently, you can see they painted all the cars and trucks bright red.
Published in Light Sport and Ultralight Flying
| | |
| --- | --- |
| Seating | Single- or 2-seat |
| Empty weight | 386 pounds |
| Gross weight | 772 pounds |
| Wingspan | 30 feet |
| Wing area | 135 square feet |
| Wing loading | 5.7 pounds/sq ft |
| Wing | Trike |
| Height | 11 feet 7 inches |
| Fuel Capacity | 9.9 gallons |
| Kit type | Assembly |
| Build time | 30-60 hours |
| Standard engine | Rotax 582 |
| Power | 65 horsepower |
| Power loading | 11.9 pounds/hp |
| Cruise speed | 56-74 mph |
| Never exceed speed | 87 mph |
| Rate of climb at gross | 1,477 fpm |
| Standard Features | Twin trike carriage, XP 12 double-surface wing, weight-shift control, hand and foot throttles, steerable nosewheel (push-left, go-right) with brake and mudguard, parking brake, wheel pants, pneumatic suspension, instrument panel, lap seat belt, regulator, water temp, Rotax C gearbox, intake/exhaust silencers, full fairing with windshield, 3-blade composite prop, back seat storage. |
| Options | Other trike wings, Rotax 503 dual carb engine, Rotax B gearbox, 3-point recoil shoulder harness, dual foot controls, 2-blade wood prop, ballistic emergency parachute, tach, hourmeter, side bags, aerotowing system, fully-assembled option. |
| Construction | Aluminum tubing, metric "AN" hardware, Dacron® sailcloth. Made in France. |
Design
Cosmetic appearance, structural integrity, achievement of design goals, effectiveness of aerodynamics, ergonomics.
Pros – New hybrid "one-plus-one" design allows 2-place flight but optimizes use by a single pilot (2-place trikes are often flown solo). Slick execution, like all Air Création trikes. Beautiful hardware and loaded feature set. Wing is well-crafted to maximize its performance and handling potential. Reliable long-time producer of trikes, always innovating.
Cons – Rather costly at $17,590 fully assembled ($16,990 for 30- to 60-hour assembly kit). Should not be flown by two large persons, as wing is too small for low approach speeds or in rough air (though you can change wings to the larger XP 15). Rotax 582 may deliver loads of power performance, but is more complicated than many pilots need.
Systems
Subsystems available to pilot such as: Flaps; Fuel sources; Electric start; In-air restart; Brakes; Engine controls; Navigations; Radio; (items covered may be optional).
Pros – Excellent trim system which I find comparable to many 3-axis aerodynamic trim systems; not easily achieved on a tailless weight-shift design. Nosewheel brake is surprisingly effective, and very accommodating pedals assure your feet don't slip off in bumpy air. Dual hand and foot throttles with dual ignition switches and kill switch in a "throttle quadrant."
Cons – No electric starter offered on the Buggy, as Air Création is trying to keep the trike light. Smaller fuel tank, also to keep weight down. Brake is nondifferential. Optional trim system (though excellent) is costly at more than $400, though you also get faired control bar and kingpost tubing with the option. Rotax 582 will require more attention than a 503.
Cockpit/Cabin
Instrumentation; Ergonomics of controls; Creature comforts; (items covered may be optional).
Pros – Best seatback support yet from Air Création with (optional) retractable 3-point shoulder belt system. When folded for support (rather than a second seat), the seatback forms a closed cargo area. Foot-shaped pedals are secure and comfortable. Dual foot/hand throttles are excellent with built-in easily-reached switches; hand throttle overrides foot throttle for in-flight ease. Numerous options can further refine this well-thought-out model.
Cons – Lap belts are insufficient on any aircraft; order Air Création's recoiling $240 3-point system. Regardless of the smooth and beautiful fairing, trikes remain windy at higher speeds; I recommend a full-face helmet for regular trike flying in the Buggy (due to its higher speed potential). Rear seat occupant's head may touch mast (pole connecting chassis to wing).
Ground Handling
Taxi visibility; Steering; Turn radius; Shock absorption; Stance/Stability; Braking.
Pros – Some deliberate friction makes nosewheel steadier than other trike brands. Trailing link suspension system also helps straighten nosewheel. Excellent visibility, and easy taxi maneuvering in tight quarters. Nosewheel brake is helpful even on grass runways, especially so on hard surface; standard equipment, as is a front fender to keep dirt off you during taxi or takeoff. Shock absorbing main gear is standard on Buggy.
Cons – Push-left go-right steering, though standard on trikes, still throws 3-axis pilots used to "right way" (push-right go-right) steering. In gusty winds, steadying the wing can tire arm muscles. Braking effectiveness can be decreased when nosewheel is loaded lightly.
Takeoff/Landing
Qualities; Efficiency; Ease; Comparative values.
Pros – Wide-open visibility for all takeoffs or landings. Speeds are remarkably controllable with highly-effective easily-understood trim control. Landing roll is short; better for cross-runway landings. Rotax 582 produces spectacular climb when flown solo, making short- or soft-field operations easier. Carriage is very tough and has generous ground clearance.
Cons – Ground roll longer and speeds higher than with some trikes, perhaps due to small size of wing (about 135 square feet of wing area). Trikes don't offer much crosswind control, although this is much less of a problem on the Buggy due to higher wing loading.
Control
Quality and quantity for: Coordination; Authority; Pressures; Response; and Coupling.
Pros – Impressive handling achieved thanks to small wing area (though this means you must take extra care not to overload it); pressures were reasonably light, response fairly fast. Nicely balanced handling that is at the same time quite stable. Stops rolling quickly when you're done inputing. Good precision turn characteristics. Adverse yaw virtually not present. Good steep turn management.
Cons – Though very good, handling is not as light or quick as the XP Racer model (due to trike mass and closer pilot to wing – wing area is same on both models). Crosswind controls are not as strong as any 3-axis ultralight. Gaining good control by using a smaller wing means pilots must limit the gross loading, or speeds could increase on landing and severe gust loading could threaten structure.
Performance
Climb; Glide; Sink; Cruise/stall/max speeds; Endurance; Range; Maneuverability.
Pros – With the Rotax 582, solo flight is breathtaking. Climb is very potent at about 1,500 feet per minute solo. Stall is down in very low 30s. Top speed reached 85 mph in my flying, yet felt solid. Two-seat operations will limit performance, but not much as Buggy remains light at 386 pounds empty. Should be good for cross-country flying.
Cons – The 582 is a powerful engine for single-place trike operations; suggests (with higher wing loading) that Buggy is only for accomplished trike pilots. Fuel consumption is fairly high at nearly 3 gallons per hour; 9.9-gallon fuel tank will limit endurance. Sink rate increases due to high loading. Approach speeds are higher, ground roll-out longer.
Stability
Stall recovery and characteristics; Dampening; Spiral stability; Adverse yaw qualities.
Pros – Comfortable stall characteristics for a higher-loaded wing. Power-on or -off always broke cleanly forward; recovery was very fast. Turns coordinate quite effortlessly; steep turns went well with plenty of "backstick" range. Longitudinal test went perfectly, as did throttle response; both were comfortably positive. Adverse yaw is insignificant. Optional 3-point harness assures security, with belt recoil system for pilot convenience.
Cons – Wing loading is higher, which may present some pilots with more abrupt maneuvers than their skill level (refers to high-loaded 2-place flight).
Overall
Addresses the questions: "Will a buyer get what he/she expects to buy, and did the designer/builder achieve the chosen goal?"
Pros – Buggy's sleek design and overall quality may justify the asking price. Handling is very good for a 2-seat (capable) trike. Very established and respected company from southern France; demonstrated commitment to the U.S. market for several years. U.S. dealer support is good; experienced men on each coast. You can change wings if new ones are developed or for different kinds of flying.
Cons – Standard Buggy costs about $17,590 fully assembled ($16,990 for 30- to 60-hour assembly kit) – out of many pilots' price range even if it is worth it. Not for novice trike pilots, and trikes aren't for 3-axis pilots who don't have trike training. Higher-loaded flight isn't for everyone (just fly it solo if you're not sure!). Though handling is very good when flown in 2-seat mode, true single-seaters still hold the edge for my taste.