Long one of Canada's best loved ultralights, the Chinook – formerly designed and built by Birdman – is another of the country's designs saved by the Holomis family when they went acquiring ultralight aircraft companies to complement their successful machining enterprise in British Columbia.
A simple design with lines unlike any other ultralight I've flown, the aircraft has pleasing characteristics that most pilot will enjoy. Larger aviators especially will like the enormous cabin of the Chinook. And like other Canadian designs, the Chinook's sturdy triangulated construction allows it to operate as a bush plane from almost any open space. Consequently, ASAP likes to show Chinooks with tundra tires or floats, both of which add to the rugged good looks.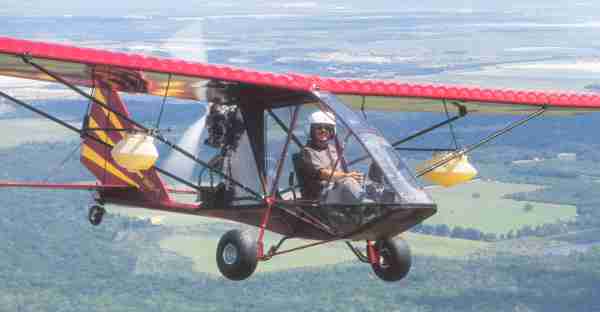 The wide open cabin is surrounded by well supported clear Lexan giving you a panoramic view from either seat. Tandem aircraft often cramp the aft seat and don't give it the best visibility, but Chinook sets a new standard. Your passenger or student will also enjoy plenty of room; a set of dual controls means the Chinook can easily be used for training flight.
After the ASAP company took over production they made numerous refinements that earn the name Chinook Plus 2, and those who have seen the older, simpler Chinooks need to reexamine the current model.
Flight characteristics of the old Chinook were largely preserved as the machine made the transition from simple single seater to the feature laden two seaters of today. A versatile design, Chinook endures for many good reasons.