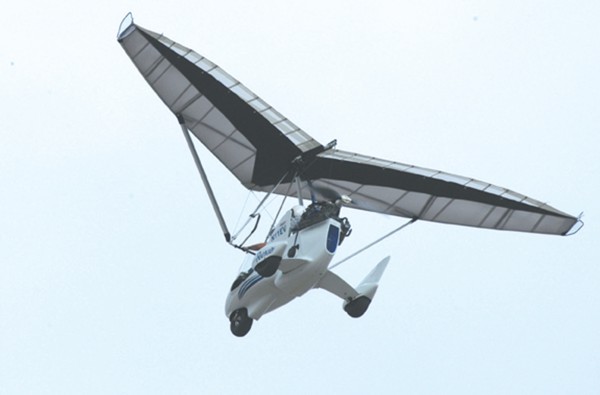 Behold the Revo, a new benchmark in weight-shift trike design.
Look carefully and you'll see the Revo is not like any weightshift
light-sport aircraft you've seen before. The Revo had to
surpass impressive work by larger, more established companies to leap
to the forefront. Any way you look at it, the Revo is simply extraordinary.
I've been lucky to fly many trikes over the years. Every few years, one
of the leading producers would make a remarkable step forward in the
design of these flying machines with changes that tended to be evolutionary,
not revolutionary. Among them, I cannot recall a clean sheet of
both carriage and wing debuted as a single aircraft.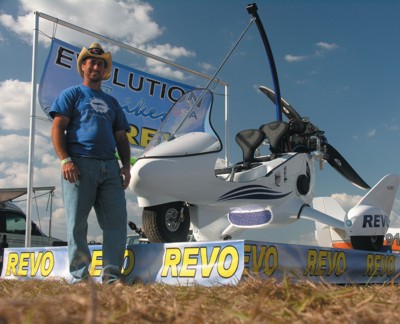 Welcome to Revo from Evolution Trikes, an all-new, blazingly fast
American trike like none before it.
The more I examined the Revo and then flew with Larry Mednick of
Evolution (and Tampabay Aerosports), I realized even Air Création's
beautiful Tanarg trike had been done one better. The Revo is a visual
treat thanks to its innovative design and stunning machine work. In the
air, the Revo is exhilarating to fly; a robust machine that manages to
handle lightly beyond your expectation.
REASONING REVO
Not only is Revo a superlative effort of design and fabrication, it sets a new trend
for trikes in several ways.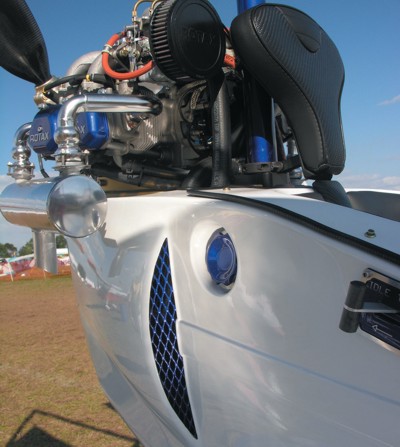 One, trikes were basically an American invention that found an audience overseas.
As the years passed, the lead in trike design went overseas, too.We had some
good American producers, but with stronger demand in Europe and elsewhere, the
baton of innovation mostly resided in countries like France, England, and Australia.
Two, with a history of the first trikes, we should have U.S. producers of note, and
Light Sport and Ultralight Flying Pilot's Report
we do, though they operate businesses less visible than
some of the legacy weight-shift brands such as Cosmos, Air
Création, Pegasus, and AirBorne. But lower visibility is
only temporary. After people get a gander at the Revo, they
could change their minds.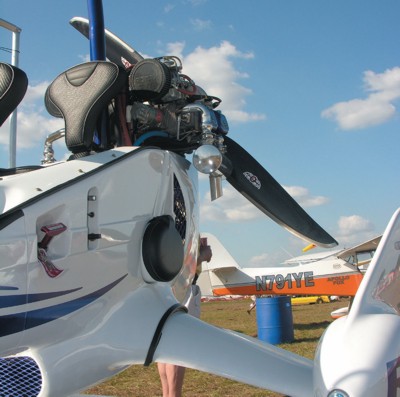 Three, the wings on the Revo come from another
American trike producer, but one that also produces wings
for their own trikes or a competitor's trike. North Wing is
a long established producer of wings for hang gliding and
for trike carrying. They also carry a lower profile without
lavish airshow displays. Yet I've known this company for
more than 30 years in the business. Under the leadership
of Kamron Blevins, North Wing has prospered.
Four, consider Florida company Evolution Trikes and
related enterprises. Tampabay Areosport is a trike training
school that got involved with several Hungarian-based
trikes over several years. They learned lessons from using
these trikes and they learned well. Finally Abid Farooqui
and Mednick decided to take their hard-won knowledge
and immense passion for trike flying to the limit. They
chose to design their own aircraft, from the wheel axles up
to the wingtips. For their story see the sidebar titled, "The
Evolution of Revolution."
REVO REVVED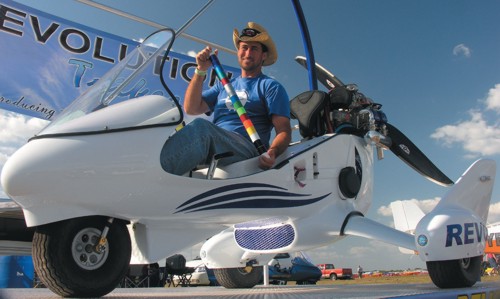 The public first saw the Revo at Sun 'n Fun '09, but it
didn't fly at the event. As you'll read elsewhere, the project
was declared complete in late '09 and it flew publicly at
Sebring 2010. If you watched as I did, you saw Larry
Mednick dashing around the pattern like he had someone
chasing him. This one trike was distinctive for its wickedfast
speed and an ability to fly in windy, gusty conditions
that even kept some 3-axis aircraft on the ground.
(Understand, Mednick's an expert trike pilot; I don't suggest
you should fly in strong conditions. Plus, let me add that Evolution Trikes offers
a 13-meter wing that is much more suitable to newer trike pilots, and a 15-meter single-
surface wing for those who want to explore slower speed trike flying.)
A year after its public debut, I flew with Mednick at Sun 'n Fun '10 in the Revo fitted
with a Reflex 11 wing. Not sure what to expect, I was pleasantly surprised.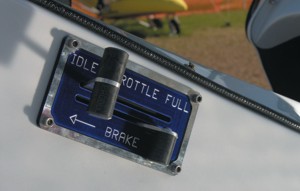 Sure, the takeoff roll was long on Paradise City's turf runway; we rolled approximately
700 feet, said Mednick. As trikes go, this Revo is heavy (530 pounds empty)
and it uses a small wing (118 square feet), so a longer run is to be expected. Mednick
pushed out early and when the Revo was ready, it smoothly departed the ground and
accelerated forward and upward. Climb appeared to be greater than 1,000 fpm as
best I could read the Enigma EFIS from the rear seat. Mednick had kindly offered
the front, but as I've learned, it's best to let a pilot experienced in the aircraft handle
the approach in and out of Sun 'n Fun's 1,400-foot strip in Paradise City.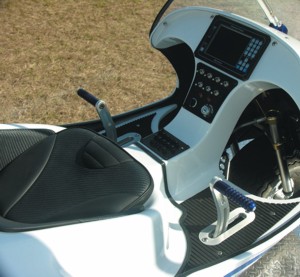 Shortly after launch, Mednick gave me the control bar. More specifically as I was
seated aft, I gripped the instructor bars attached to the triangular control frame.
Quickly I noted the ease of control. Since I'd estimated the Revo's wing loading, the
lightness didn't surprise me, but some big European trikes with small wings take
much more effort to turn than the Reflex 11 atop the Revo.
Steady-state turns were simple; no more power was needed. Stalls were uneventful;
even one with plenty of power (I couldn't tell precisely what percentage).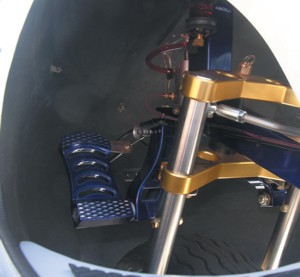 We went slowly (less than 50 mph) and we blazed past 100 mph indicated.
I expected to need the full-face
helmet Mednick offered, but truthfully, windblast
wasn't bad. Then Mednick asked me to place my
hand in front of him, specifically in the area he
occupied behind a sturdy windscreen. To my surprise,
the air movement was nil; you could probably
light a match. The windscreen design combined
with the faster speeds creates a wind shadow aft of
the screen, making a bubble of fairly calm air.
While I reached forward to sense the bubble, I
also noticed warmth. This open-cockpit aircraft has
"cabin" heat and it works. We didn't need it in
Florida, but I envision long flights at higher altitudes
where, I'm told, you could remain comfortable
without heavy clothing. Trike pilots in the
northern climates would greatly extend their flying
season thanks to the standard cabin heat and even
heated seats.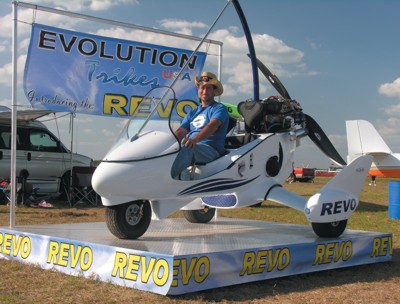 Mednick demonstrated the panel-mounted electric
trim. For years, trikes have offered on-theground
adjustments to move the wing fore or aft
slightly to change trim speed. And some, like
AirBorne Edge/Streak or the Air Création
Tanarg/iXess, have offered a trim wheel that
changes the shape of the center section trailing
edge. Both methods work, the latter much better
since you can change it in flight. But all predecessors
fall well short of the electrically adjusted trim
system on the Revo/Reflex. It appeared to change
the speed substantially, assuring a reduced pilot
fatigue factor especially on longer cruises at high
speed. Mednick further clarified, "Our optional inflight
electric trim gives the Revo more than a 45-
mph hands-off speed
range with an additional
20 mph
assuming a light
control force on the
bar beyond the max
trim settings."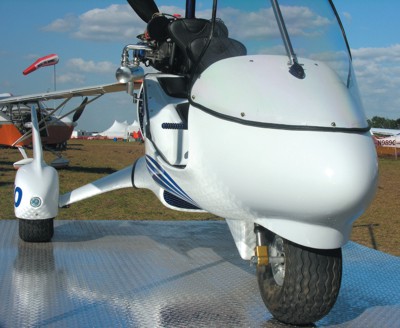 The Revo's responsive handling and reassuring
stability yielded a large speed window, from the
high 40s or low 50s to more than 100 mph. I saw
closer to 110 mph at one point and I can say this is
the fastest I've ever flown in a trike. Mednick said
the Revo's speed is "due to the high efficiency of the
clean aerodynamics and the low-twist wing."
While I didn't measure 45-to-45° roll reversals,
it's clear that the Reflex 11 has one of the fastest
roll rates among weight-shift LSA, which translates
to the pilot needing to make only small inputs
to achieve a desired bank angle. It also means you
can maintain control in rougher flying weather.
REVO MEANS REVOLUTION
The Revo has seen intensive development with
changes large and small. All are noteworthy so I
want to review a few details. Fortunately, since I
cannot cover everything, Mednick and his partner
Farooqui have put lots of information on their Website.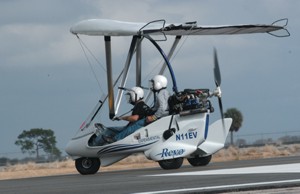 Reflex wings use struts instead of wire bracing.
Since the Reflex is small, the wing struts are short,
which makes them relatively stronger, which is
especially valuable under negative loads. For
redundancy, the wing struts have safety back-up
cables inside, as does the main support mast securing
the wing's keel to the keel of the trike carriage.
One of the seemingly mundane Revo features is a
kill switch, but it's not your typical kill switch.
Think about the problem. A trike uses a foot throttle
so the pilot can use both hands on the control
bar for takeoff or landing. All modern trikes add a
hand throttle to relieve the pilot during cruise.
Some, like the Revo, offer a second throttle setup for
an instructor. This is very convenient and allows for
safer teaching operation, but multiple throttles
have their downside. Evolution explains their concept
well. "The engine kill is part of the keyed ignition
on the Revo, and when the key ignition switch
is turned clockwise, the Revo starts, and when
turned counter-clockwise the engine shuts down,"
says the company.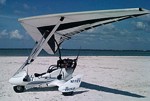 "Multiple serious accidents have derived from a
'run-away' trike that was started with one of the
throttle controls open. In some cases, these trikes
remained running long enough to allow the trike to
take off unintentionally. The reason these trikes
were not shut down more rapidly is that the magnetos
(used to kill the engine on many
aircraft) were in a different location
than the key switch or push-button to
start the trike. In some cases the
magnetos are located to the side of the
pilot and start button located on the
instrument panel, making the reaction
time too long in a real emergency.
It is a natural reaction to turn the key
the other way if the aircraft starts up
with wide-open throttle. With the
Revo, that intuitive reaction will stop
the engine instantly."
Speed is fun in many ways, and it
can also contribute to safety. Farooqui
explained, "Our carriage was designed to become
more stable in yaw the faster it travels, thanks to
our angled wheel spats."
When you need to slow down on the runway, you
use the hydraulic disc brakes installed on all three
wheels. In combination with the carriage's heavier
weight and a marvelous gear suspension, Sun 'n Fun's uneven
grass strip felt smoother than I've ever noticed.
Mednick told me, "While other trikes taxi around with their
suspension sprung out at the top of the travel range, the Revo
floats within a huge suspension range like a motocross bike." He
added that three-stage damping in the telescopic front forks
yield more than 3 inches of travel, added to another 3 inches of
travel via the large tires. The rear suspension has more than 8
inches of travel using the same leaf-spring method as a Cessna.
The Revo's electric trim uses a sliding hang block assembly
actuated by an electric linear actuator to provide dynamic inflight
trimming. Most trikes can do something similar, but only
on the ground with only a few limited adjustments, and it takes
time. "By electrically moving the hang point, the wing flies in
different trim speeds within the pitch stability of the wing and
the pilot feels nothing other than the wing's natural static pitch
force while in flight," reports Mednick.
For pilots of differing heights, the Revo offers quick-adjust
pedals with an infinite adjustment fore and aft and three positions
of angle. "Because so many short pilots cannot reach full
throttle and so many tall pilots cannot stay off the brakes, the
fully adjustable pedals will accommodate just about everyone,"
observes Mednick. In just seconds the pedals can be moved
without the use of tools.
By design, the control bar height appears lower than other
trikes. Farooqui said this keeps the pilot's hands below their
heart and keeps good circulation to the hands on long flights.
"You don't want your heart having to pump the blood up to
your hands," he says.
Comfort of occupants, including larger Americans, was considered
in the Revo's design. The rear seat is positioned further
aft to provide extra room. And the composite body assures the
aft-seat occupant has no seat frame pressing against his or her
thigh. A common trike irritation is the mast, which can buzz
against the rear-seat occupant's helmet in a most annoying
way. The Revo's curved mast allows the passenger to sit back
in the seat without touching his or her head to the mast (see
photos). As with most of the Revo, form follows function; things
work well but they also look good.
Optional arm rests for the aft seat give an additional sense
of security and a place for passenger's hands (better than them
grabbing the control bar at an inopportune time). To further
eliminate problems, the Revo's rear steering pedals can be
removed in seconds without the use of any tools, and stowed
easily in the glove box under the rear seat.
For aft- or front-seat occupants, you can stand on the floorboard
during entry; this is uncommon on trikes, which generally
use thin fairings that cannot withstand the weight of an
adult. Mednick indicated the floor is also great for inspecting
the inside of the wing and hang block area without needing to
stand on the seat or use a ladder during preflight.
The strut-braced Reflex wing can be folded while on the trike
without lowering the wing, though of course you must remove
all the ribs. A video on Evolution Trike's
Website shows Mednick doing the fold-up in
8 minutes.
REVO ENVY?
Calling any Revo configuration the
"basic" model suggests something less than
you want. That may not be the case here, as
the "basic" Revo is quite an aircraft for
$59,700 (which is subject to change as of
May '10). With the 80-hp Rotax 912UL 4-
stroke engine, you'll get everything you
need to fly day VFR including a monochrome
EFIS and a white gel coat composite
fairing with decals. It's sweet and many
could love the Revo just that way.
But this is aviation and pilots often want
something more. So Evolution Trikes has
options, lots of them. Here are just a few
too fat: a 100-hp Rotax 912S (+$2,500); engine top
cover ($500, to look cooler); painted trike body
($3,400, for what is called "nice carpaint
finish"); the taut Reflex 11 wing
($500, though the Reflex 13 is standard);
instructor package ($2,220 for various
control additions); color Enigma EFIS
($1,700); BRS parachute ($4,400);
Flycom helmet and intercom system
($1,800); comm radio ($1,500); Mode C
transponder ($3,150); electric trim system
($1,000, which I predict you'll want),
SLSA documentation package ($1,400,
allows for-hire rental or instruction).
All of the above except the instructor
bars and the Mode C transponder sums
to $78,400. If you want it all, the tab will
go over $80,000. That may seem like a
lot for a trike, but it's less than Air
Création asked for the Tanarg 3 years
ago and as good as the Tanarg was, Revo
is even more aircraft. For me, a $60,000
Revo sounds great, but even at $80,000 this is one
of the lower-priced SLSA you can buy.
When you get a chance to closely examine a Revo,
take a few minutes and really give it a look. I predict
the Revo will knock your socks off. Fly one at
your peril – you might just have to buy it.
Published in Light Sport and Ultralight Flying
Seating
2, tandem
Empty weight
530 pounds
Gross weight
1,040 pounds
Wingspan
27 feet
Wing area
118 square feet
Wing loading
8.871 pounds/square foot
Useful Load
510 pounds
Length
8 feet 11 inches
Payload (with full fuel)
424 pounds
Cabin Interior
46 inches
Height
8 feet 2 inches
Fuel Capacity
24.4 gal / 86 pounds
Baggage area
40 pounds + glove box1
Airworthiness
Certified SLSA
Notes:
1 If no BRS is selected, becomes additional storage capacity.
Standard engine
Rotax 912S
Power
80 to 100 hp
Power loading
10.4 pounds/hp
Cruise speed
69 knots / 80 mph1
Stall Speed
36 knots / 41 mph2
Never exceed speed
100 knots / 115 mph
Rate of climb at gross
1,000 fpm
Takeoff distance at gross
951 feet (clear 50 foot obstacle)
Landing distance at gross
800 feet (clear 50 foot obstacle)
Range (powered)
approx. 275 nm, approx. 4.6 hours
Fuel Consumption
about 3.25 gph
Notes:
1 Company refers to "hands-off trim setting" for this speed
2 Gross weight at sea level
Standard Features
Rotax 912 with electric starting, 3-blade
composite prop, Reflex 11 or Reflex 13 topless, strutted, quickfold
wing, Stratomaster Ultra XL digital panel, separate and
secure seating, storage areas, foot throttle with hand "cruise"
throttle, 3-wheel hydraulic toe brakes, electric pitch trim, 4-
point recoil seat belts, cabin heating, engine kill switch, fuel
shut-off, tundra tires, extra-absorbent suspension, wheel pants
with stabilizing vertical fins, windscreen, stainless steel
exhaust, step-on non-skid cockpit floor.
Options
Numerous additional instrumentation including
glass displays, radio choices, electric pitch trim,
electric fuel pump, ballistic parachute, lighting packages,
alternate wing choices, dual controls (instructor
throttle, steering, and instructor bars).
Construction
Steel 4130 chromoly welded frame (with a 5-
year unlimited warranty); radiused 4130 mast; fiberglass body
incorporating seats; aluminum tube wing airframe with
Dacron surfaces. Designed and built in USA; distributed by
Florida-based U.S. owner.
Design
Cosmetic appearance, structural integrity, achievement of design goals, effectiveness of aerodynamics, ergonomics.
Pros – Total redesign of many trike concepts
using many previous models. Development included
sophisticated carriage and a custom-designed wing to
achieve high speeds (an effort of considerable challenge
on trikes).
Cons – Trike purists who prefer the lightest
machines won't care for the Revo, saying it is over-engineered
and heavy. All the deluxe features cost
money; the Revo starts at just under $60,000 and you
can choose many optional extras.
Systems
Subsystems available to pilot such as: Flaps; Fuel sources; Electric start; In-air restart; Brakes; Engine controls; Navigations; Radio; (items covered may be optional).
Pros – You name it, if a trike has it, the Revo has
it, and then some. Standard electric trim. Standard
(monochrome) digital instrumentation. Electric starting.
Instructor system features.
Cons – Operating the Revo means learning some
systems, which takes away from the joy of flying a
simple trike (that may only cruise at 50 mph). Speed
costs money and takes effort.
Cockpit/Cabin
Instrumentation; Ergonomics of controls; Creature comforts; (items covered may be optional).
Pros – Highly designed carriage offers creature
comforts, including some you wouldn't expect, like
cabin heat that works.Windscreen and faster speeds
combine to provide a distinct "bubble" aft of the windscreen
where wind blast is eliminated. You can stand
on the floor (uncommon on trikes).
Cons – It's an open-cockpit airplane even with all
its sophistication. Buyers may have trouble convincing
a spouse to go aloft and at these prices that could be a
deal killer. (Trike flying is great fun, but it isn't for
everyone.)
Ground Handling
Taxi visibility; Steering; Turn radius; Shock absorption; Stance/Stability; Braking.
Pros – Excellent nosewheel steering due to an
extensively researched and designed nosewheel fork
and controls. Brakes on all three wheels provide excellent
stopping power. Superb suspension, the best I've
experienced in trikes with a large stroke range.
Cons – The Revo follows the trike standard of
"wrong-way" steering that demands you push left to go
right on the ground. You must also maintain control of
the wing manually; in strong wings this may be challenging.
Takeoff/Landing
Qualities; Efficiency; Ease; Comparative values.
Pros – Launches are different on the substantial
Revo. The takeoff roll is longer, but you don't swing
into position the same way as many trikes and the
departure from the ground is therefore smoother.
Powerful climb with Rotax 912 (either 80- or 100-hp
will do very well).
Cons – Takeoff roll is much longer than lighter
trikes with larger wings. The gear will accommodate
many rougher fields, but you'll need more room. (The
Revo comes standard with a larger Reflex 13 wing
that will roll less on takeoff; not tested.)
Control
Quality and quantity for: Coordination; Authority; Pressures; Response; and Coupling.
Pros – The little 118-square-foot Reflex 11 wing
offers light, one-handed flying with relative ease. It
also holds turns well, stalls benignly and exhibits
much better manners overall that you might expect
from such a highly loaded wing (in fact, that's part of
the secret).
Cons – Though controls are light and pleasant, the
Revo is not a beginner's trike, at least with the small
Reflex 11 wing (though 13- and 15-meter wings are
available and they are suitable for less experienced
pilots). Faster launches and approaches to landing
demand better planning and foresight.
Performance
Climb; Glide; Sink; Cruise/stall/max speeds; Endurance; Range; Maneuverability.
Pros – Even at 80 hp, but certainly with 100 horses,
the Revo is a rocket ship ride, hitting nearly 1,500
fpm solo. Thanks to an engine angle offset, the power
is not hard to control like some early Rotax 912 trikes
I flew.
Cons – Slow-speed performance is not Revo's main
area, though we slowed easily to the lower 50-mph
range. Neither would the Revo be a soaring glider
(though glide and sink rates were reasonably good).
Stability
Stall recovery and characteristics; Dampening; Spiral stability; Adverse yaw qualities.
Pros – Very well behaved stalls, power on or off
(though power-on deck angles get fairly steep). In
turns, the Reflex 11 tracked exceptionally well.
Evolution Trikes continues a theme from company
managers of supporting installation of BRS parachutes,
and it's been well engineered.
Cons – The Revo is still a trike with "wrong-way"
ground steering; conventional pilots may struggle with
it at first. No other stability negatives discovered.
Overall
Addresses the questions: "Will a buyer get what he/she expects to buy, and did the designer/builder achieve the chosen goal?"
Pros – Dazzling display of thoughtful engineering,
handsome execution, and excellent operational qualities
makes the Revo a trike to watch in 2010 and
beyond. Managed to one-up even excellent trikes from
more established manufacturers.
Cons – Though increasingly established (even
more so after people closely examine the Revo),
Evolution Trikes is a relative newcomer in the trike manufacturing
field. Limited dealer network implies
reliance on Florida headquarters operation.