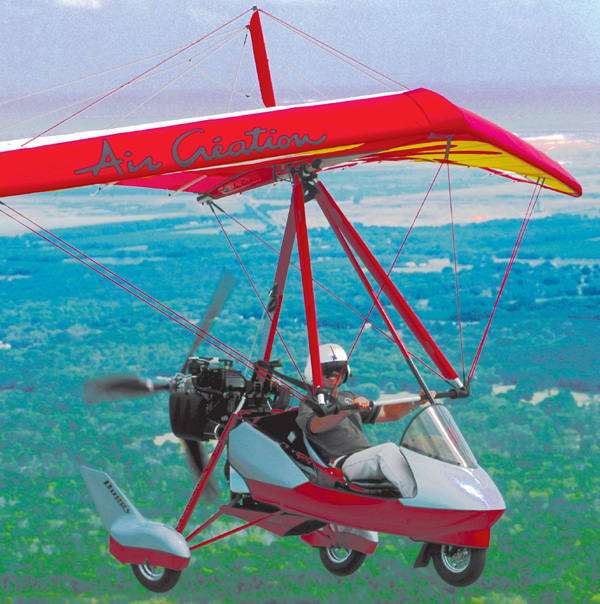 For many years, I've been critical of trike handling. While I try never to forecast the future, I've gone out on a limb and predicted that rigid-wings will eventually become commonplace on trikes (though I don't also predict delta wings will disappear).
Going Rigid?
Rigid-wings look a lot like modern hang gliders and trike wings in many ways, but they have control surfaces. Because these surfaces are deployed via weight-shift movements they neatly combine the benefits of 3-axis ultralights – lower control forces and good control authority – with the elegant simplicity of weight-shift. Rigid-wings can carry good weight and are somewhat faster than delta wings (called "flex wings" by hang glider pilots), and they also handle more easily. I think this makes them a nearly inevitable development.
While I still believe rigid-wings are coming to trikes, it may take longer than I thought because the trike industry may finally be rising to the challenge. Air Création's Kiss wing is a case in point.
Heavier 2-place trikes with big engines are often a workout to fly. Their handling requires a special finesse to produce precision turns. Abrupt maneuvering – that sort of darting about that is so much fun in ultralights – requires significant use of muscle on most big trikes. Frankly, I don't care for it.
I like trikes. I'm a trike owner. But mine is a sweet-handling single-place trike with a fairly high wing loading. I'm not trading it for a big trike, but I will happily announce that the Air Création Kiss wing is one of the best things to hit the larger trike market in a long time.
I must be fair to two other companies. The new AirBorne Streak wing is also very good, a wonderful advancement over their earlier wings. And North Wing Design has long offered nice-handling wings, though this was sometimes achieved with single-surface wings that are better in handling actions regardless of brand.
Yet I can and will take nothing away from Air Création's Kiss. I love this wing! If you're buying Air Création, my advice is to go out of your way to get a Kiss wing.
Tricks of the Trade
How did Air Création find such improvement?
The truth is, they won't divulge all their tricks. Other manufacturers might copy Air Création's ideas and dilute their efforts. But Air Création's director of research and development Gilles Bru (pronounced approximately "Jeels Brew") was willing to talk quite openly about it. Since the Kiss wing dominates the change from earlier Buggy trikes, most of my report focuses on this wing. For additional comments about the Buggy chassis, see "Pilot Report: Air Création's Buggy Trike," April '99 Ultralight Flying! magazine.
Gilles expressed that developments to their simple, single-surface Fun wing are evolutionary. Contrarily, he indicated that the Kiss wing is all-new. So much in aviation is a function of incremental developments. It's a safe way to proceed but it doesn't leapfrog to new levels of sophistication. The computer is known for such jumps; aviation isn't.
Of course, Air Création has many years of experience so in a sense it's all evolutionary. But they started with a clean piece of paper and kept working until they had the right combination.
Saving weight is a virtual religion in aviation. Let's start with that. Gilles indicated they reduced the weight of the wing by 10 kilos (22 pounds), resulting in significantly lighter handling forces. I've been preaching light weight to anyone who will listen and the rationale remains sound. Especially in a weight-shift vehicle, less weight is easier to displace.
Air Création also completely redesigned the wing's crossbar. This important member acts much like a spar in a conventional 3-axis ultralight. Switching to stiffer-but-lighter 7075-T6 aluminum and an increased diameter wall with decreased wall thickness saved a few pounds yet preserved the rigidity a spar needs.
More recently, the company introduced their new Kiss 450 wing. This is a larger wing with a 992-pound capacity (450 kilograms, hence the name). It has about 15 square meters of area, says U.S. representative John Kemmeries. To maintain the superb handling that impressed me on the Kiss 13, Air Création uses some anhedral. No, not dihedral, anhedral.
Dihedral is, of course, the upward angle formed by the two wings of many airplanes. Look at any low-wing Piper and you can't help but note the dihedral. Quicksilver ultralights also use a lot. In all cases, this provides more stability. Aircraft with generous dihedral practically straighten themselves out of turns.
Not everyone believes so much dihedral is needed. For example, M-Squared aircraft that resemble Quicksilver use much less dihedral. The benefit? A flatter wing will have lower resistance to turn input, which lightens control forces. This is a fine adjustment that every designer does somewhat differently.
In hang gliders, employing weight-shift control like trikes, too much resistance to control input can wear you out. So hang gliders employ negative dihedral, or anhedral. This reduces control forces and makes the wing more responsive to weight-shift control. Stability in turns is adjusted by carefully setting the amount of anhedral. Some military jets and other aircraft also use anhedral, lending credibility to the technique.
Though perhaps not as interesting as anhedral, Air Création also uses a special rip-stop cloth on their wings. Gilles claims it is nearly impossible to tear this cloth and that it has been in existence about 2 years, first used by the sailboat industry. This probably doesn't affect handling but it will make your trike wing last longer.
How Effective Is It?
Control forces and pressures are important to handling satisfaction, but they aren't everything. Gilles says the Kiss wing is physically lighter in roll though their XP-12 wing has a faster roll rate.
When Air Création redesigned the crossbar around 7075-T6 aluminum versus 6061-T6 aluminum, they put the wing on a kind of strength diet as 7075 is harder than 6061.
The stiffer airframe also complemented their move to a 130° nose angle. Another hang gliding convention, this measurement would be called sweep in a conventional ultralight. Less sweep helps in glide performance whereas more sweep contributes to better handling. The Kiss wing is sufficiently lightened that Air Création could push the nose angle to gain an edge in performance, says Gilles.
Air Création's XP series wings use 120° nose angle compared to the Kiss' 130°. Generally speaking, narrower nose angles are associated with better handling but lower performance, though these differences are subtle. In fact, none of the changes employed on the Kiss wing are striking. But they combine well.
A number of alterations are not visible but help this process of handling improvement. On wings that rely on weight-shift for control movement, flexibility in the airframe is important to allow one side of the wing to be shaped differently than the other. Movement of the weight under the wing is the primary action and causes some of the total response to control input, but the shifting of the sail and the resulting airframe movement is also a factor. Yet the talk of stiff 7075-T6 aluminum tubing makes it sound like flexibility would be reduced.
To enhance flexibility, Air Création designer Gilles Bru created a new crossbar linkage system, both at the crossbar/edge junction as well as at the root, which I believe may have helped Kiss's handling. At the leading edge junction the wing has a universal bracket setup that permits greater airframe flexibility than hard bolting. Near the center section – as importer John Kemmeries described it to me when I was unable to examine it visually – "You'll find a cup-and-ball arrangement which eliminates bending loads and changes them to compression loads."
With lighter handling forces Air Création could also make the wing larger. The Kiss wing is just over 13 square meters (about 148 square feet), whereas the XP-12 wing that also exhibited reasonable handling was only 12 square meters (130 square feet).
Best of All Worlds
Handling is important to many pilots and me. Air Création's hard work to improve this quality on the Kiss wing is laudable, but you can never forget performance. Pilots demand it.
That's why pushing the nose angle is smart. The wing also can carry more, another form of performance.
Since it gained square area, the Kiss wing has seen an increase in its gross capacity to 400 kilos (880 pounds). This is an increase of 50 kilos (110 pounds) over the XP-12 wing, which gives it a more reasonable capability for 2-seat operations. The Buggy trike chassis with the XP-12 wing is really a solo machine in which you can carry an occupant occasionally.
By boosting the wing area and therefore capacity, the Buggy with a Kiss wing is more reasonable to operate with two aboard.
John Kemmeries reports the brand-new Kiss 450 can carry even more, raising the maximum takeoff weight to 992 pounds, a genuine 2-seater for those who fly dual most of the time. He also indicated it will slow down better than the smaller, more heavily loaded Kiss 13.
Certainly, the Kiss scooted. This had been a strong point of the even-smaller XP-12 wing and I was pleased to see the larger Kiss could match it. I was able to see about 88 mph at maximum pull-in and maximum power without gaining altitude.
Throttling back, I was also able to sustain altitude at only 4,500 rpm in what I would say is a low power setting number among most ultralights.
As they pushed the envelope of handling and performance, Air Création also managed to keep the solid stability profile of their previous series of wings.
According to Gilles, no matter where you push the control bar of the Kiss wing – within the trike's framework – you cannot stall. He was so confident, he said that even if you exaggerate the control motion ending up with the bar full forward it still will not stall.
On the other hand, the company's manual definitely cautions stall practice, authorizing them only "in glide path with a progressive speed reduction and throttle to idle position." That's how I do my first stalls, but I wasn't aware of the operator's manual warning when I got more aggressive with stalls. I definitely did not stay with the preceding sentence yet I found no evil characteristics. Fortunately, Gilles obviously feels aggressive stalling can't be too bad or he would not have been so confident in his comments.
Despite my successful actions and Gilles' assurances, the manual also states, "To avoid tumbling risk, the stalling exercises must be imperatively carried out with [the] engine at idle, with a slow decreasing speed obtained by a progressive control bar pushing out." Not following a well-written manual is asking for trouble, so I don't encourage the more aggressive stalls I sampled.
Slick and Sleek
The Kiss wing was mounted over a Buggy trike chassis, which has proven popular among American consumers. I haven't spoken much about the chassis or carriage as it has not changed since my last evaluation in April 1999. Actually the fairing did go through a minor cosmetic change or two but the beautifully achieved package didn't need alteration.
In this test trike, Air Création had fitted an option that was not present on my last flight test. Making the Kiss Buggy even more suitable to training was a rear seat steering bar complete with a foot throttle. Normally an instructor uses the hand throttle to override incorrect student settings. However, trike pilots become accustomed to using the foot throttle, so adding one for the instructor is a nice touch.
Air Création's Buggy is a slick and sleek trike carriage much like their popular Clipper (though the Buggy carries a lower price tag due significantly to the Clipper's Rotax 912 engine). The French trike manufacturing giant has consistently recorded strong sales, which I believe reflects this attention to detail. Factory reps also note that their high level of customization helps prevent competitors from copying them easily.
You'll spend some real money to have a Buggy with the Kiss wing, at $18,415. However, several reasons soften the blow.
First, the Kiss/Buggy is delivered ready to fly. Since it doesn't make FAR Part 103 for single-place operations, you'll have to utilize it as a trainer with the proper credentials. Operation is also possible under FAA's glider/trike category (see "USUA Headquarters Report," September '00 Ultralight Flying! magazine).
If 18 grand is way out of your league, don't forget Air Création offers the same quality in lower-cost trikes. For example, their Twin 503 costs $12,662 and it also comes ready to fly and no painting required. It lacks the fairing, uses the 50-hp Rotax 503 instead of the 66-hp Rotax 582 but otherwise employs Air Création's marvelous hardware.
If you're looking for a single-seater, you can start as low as $10,308 for the Fun Racer, which remains one of the most enjoyable trikes on the market in my opinion.
Since the trikes are all built in France, currency exchange rates can alter these prices. During early 2001 the prices could actually decline due to a strong dollar, but this may not stay the same so check with importer Kemmeries Aviation for the latest pricing.
Since my last report, Kemmeries has invested in Air Création directly, becoming a significant shareholder. That may provide an interesting topic for hangar gossip but what it means to prospective buyers of Air Création ultralights is that you can expect dedicated, involved service. The trikes may travel a long way from the manufacturing plant, but help is right here in the United States. Kemmeries reports that he's stocking many parts. "You'd be hard-pressed to need a part I don't have," he says.
You may even want to visit Kemmeries. His operation north of Phoenix, Arizona enjoys year-round good weather for flying and the locale offers plenty of open area for training and fun flights.
If you visit the importer or one of his dealers, be sure to take a flight in a Buggy with the new Kiss wing. If you don't come away with a smile, you just don't get trikes (and you ought to try again). But I'll bet most who sample this delightful aircraft will be so pleased they'll just want to "Kiss that wing."
Published in Light Sport and Ultralight Flying
| | |
| --- | --- |
| Seating | 2, tandem |
| Empty weight | 391 pounds |
| Gross weight | 884 pounds |
| Wingspan | 33 feet |
| Wing area | 148 square feet |
| Wing loading | 6.0 pounds per square foot |
| Length | 9.0 feet |
| Height | 12.0 feet |
| Kit type | Fully Assembled |
| Set-up time | 30 minutes, 1 person |
| Standard engine | Rotax 582 |
| Power | 66 hp at 6,500 rpm |
| Power loading | 13.3 pounds per hp |
| Cruise speed | 50 mph |
| Never exceed speed | 87 mph |
| Rate of climb at gross | 600 fpm |
| Takeoff distance at gross | 185 feet |
| Landing distance at gross | 215 feet |
| Standard Features | Based on the Twin trike chassis (in use for several years), Kiss 13 wing, weight-shift control, hand and foot throttles, nosewheel steering (push right, go left), nosewheel brake and fender, parking brake, lap seat belt, Buggy wheel pants, pneumatic suspension, instrument panel, water temperature gauge, C-gearbox, intake and exhaust silencers, full fairing with short windscreen, 10-gallon fuel tank, 3-blade composite prop, back seat storage. |
| Options | (larger) XP-15 wing, new Kiss 450 (15 square meters) wing also now available, 3-point shoulder belts, in-flight trim, ballistic parachute system, tachometer, hour meter, side bags, aerotowing system, kit option. |
| Construction | Aluminum airframe, fiberglass fairing, Dacron sailcloth wing covering. Made in France. |
Design
Cosmetic appearance, structural integrity, achievement of design goals, effectiveness of aerodynamics, ergonomics.
Pros – New Kiss wing mates well to the Buggy chassis of 1999 to make a superior trike design, one of the best I've flown. Best flown solo, the Kiss Buggy will accommodate two. Wing is larger but handles dramatically better than 1999's XP-12 wing. Typical fabrication by Air Création; anyone who examines it carefully will admire it.
Cons – Optimized as a single-seater, design requires attention when more heavily loaded with two occupants. Ideally you fly this solo with occasional 2-place operation. Though this is common, some buyers will be turned off. Too bad this isn't offered with the far simpler and very popular 50-hp Rotax 503. You only save a few hundred dollars by assembling (a 50-hour +/- task).
Systems
Subsystems available to pilot such as: Flaps; Fuel sources; Electric start; In-air restart; Brakes; Engine controls; Navigations; Radio; (items covered may be optional).
Pros – Excellent trim system; works well and is universally labeled for clear operation (rabbit is faster/turtle is slower). Nosewheel brake system is more powerful than expected, especially given the light loading of trike nosewheels. Hand and foot throttles for both seats is a good addition with low weight penalty. Rear seat steering bar helps if you're instructing.
Cons – No electric start makes it much lighter and that's good, but hand starting the Rotax 582 can be a workout. Reaching the pull starter from the front seat is a stretch. Trim system is great but it's a fairly costly option (about $400). Operating a Rotax 582 with liquid cooling requires more attention than an air-cooled Rotax 503.
Cockpit/Cabin
Instrumentation; Ergonomics of controls; Creature comforts; (items covered may be optional).
Pros – Dual hand and foot throttles in the rear position are a good improvement if you instruct in the Kiss/Buggy. Supportive back seat system is appreciated when flying solo. Minor changes to the fairing make it even slicker, though that was not an easy task. Large, comfortable, and secure steering pedals are better than some trikes' simpler pedals. Excellent, secure placement of kill switch and magneto switches (under throttle).
Cons – Sewn-on control bar leg fairings are very light and better than nothing, but don't maintain the very high quality evident on the rest of the trike. Mast behind aft seat can be uncomfortable for that occupant (even though Air Création pads it). Lap belts are standard, shoulder belts a $250 option. No proper aircraft should have only lap belts in my opinion. I recommend a full-face helmet or one with a pull-down visor in the Kiss/Buggy.
Ground Handling
Taxi visibility; Steering; Turn radius; Shock absorption; Stance/Stability; Braking.
Pros – All Air Création trikes are easy to taxi owing to nosewheel dampening that makes it smoother to operate; trailing link suspension also helps. Most trikes are easy to maneuver through obstacles that would stop a 3-axis ultralight. Front fender deflects debris from runway on takeoff. All gear is suspended on the Buggy chassis. Brake is quite effective.
Cons – For some 3-axis pilots the push-right/go-left steering of trikes is counterintuitive. Kiss wing is larger than previous XP-12, which makes it that much more of a handful in gusty winds; your arm muscles tire more quickly.
Takeoff/Landing
Qualities; Efficiency; Ease; Comparative values.
Pros – Air Création conservatively says climb is 600 fpm but it certainly feels like more; my checks on a convective day saw up to 900 fpm. Takeoff ground break felt faster than with the older, smaller XP-12 wing of 1999. Visibility on takeoff and landing is huge in most trikes. Strong chassis and good ground clearance for off-field landings. As with many trikes, normal landings are quite easy to learn (3-axis pilots can learn "reversed" controls quickly with instruction).
Cons – Good as the new Kiss wing is, it doesn't change the limited capability of trikes to deal with crosswinds (though you can learn other techniques easily); reasonably small wing area helps, though. Rotax 582 gives excellent takeoff performance but is more complex than a Rotax 503, requiring more awareness; for example, assure water temperature is up to a satisfactory range before committing to takeoff.
Control
Quality and quantity for: Coordination; Authority; Pressures; Response; and Coupling.
Pros – Sharply improved handling is the main story with the Kiss/Buggy combo; it's so much better that even an old trike veteran like me was duly impressed. Even more significant was this achievement with more wing area (than 1999's XP-12 wing). Overall, I have to admit this is one of the three best trike wings I've flown on heavier trikes (others are AirBorne's Edge/Streak and North Wing's Apache/Contour).
Cons – Virtually all of the handling criticisms I've had for years about heavier trikes are sharply reduced with the Kiss wing, so negatives are few. However, precise answers about how Air Création achieved the handling improvements remain unannounced. Crosswind limitations still apply despite excellent Kiss wing handling. No other negatives.
Performance
Climb; Glide; Sink; Cruise/stall/max speeds; Endurance; Range; Maneuverability.
Pros – The Kiss wing performed excellently, offering a top cruise of around 85 mph in my experience. At that speed, the wing was very manageable to control (not so on all heavier trikes). Rotax 582 offers a reassuring excess of power; engine ran absolutely flawlessly and was very smooth, a credit to Air Création's motor mount and shock mount system. Use of silencers on intake and exhaust make for quiet, neighbor-friendly operation.
Cons – Still shouldn't load up the Kiss wing with two huge occupants unless you are well experienced; higher approach and touchdown speeds are certain. Fuel consumption remains higher with the 582, better than 3 gph in normal operations, more if doing touch and goes or lots of climbing. Larger winged, single-surface trikes land more slowly (and handle as well, but, of course, lack the higher cruise speeds). No larger fuel tanks could be fitted without disturbing the fairing's graceful lines.
Stability
Stall recovery and characteristics; Dampening; Spiral stability; Adverse yaw qualities.
Pros – Factory says you can't stall the Kiss wing anywhere you place the control bar within its confines (though aggressive-enough action may still produce a stall). Very stable characteristics overall. Turns coordinate well (as with most trikes). Longitudinal and throttle response checks were positive. Adverse yaw is hardly noticeable. Optional 3-point harness is secure. Wing loading is more modest than smaller XP-12 wing.
Cons – Lap belts are standard; I strongly recommend the shoulder belt option as lap belts aren't enough. Factory cautions in their manual against stalls at full power or aggressive action despite the craft's mild ways – perhaps a legal liability position? No other negatives discovered.
Overall
Addresses the questions: "Will a buyer get what he/she expects to buy, and did the designer/builder achieve the chosen goal?"
Pros – Air Création makes as nice a trike as any producer in the world; their consistently strong sales reflect this attention to detail (it also helps prevent competitors from copying them so easily, say designers). While not inexpensive at $18,500, this is a deluxe trike that seems priced right for Americans – Air Création has other, more modestly priced trikes. U.S. support is more certain than ever since John Kemmeries became a shareholder of the company.
Cons – Price is up about $1,000 from 1999, though this is only 5% over two years, about equal to inflation; Franc/dollar exchange rates are also a factor. The Buggy and Kiss wing combo is not appropriate for beginning trike pilots. The Rotax 582 makes for a more complicated installation and operations although Air Création executes the installation as well as any I've examined. Frankly, it's hard to fault this design if a trike appeals to you.