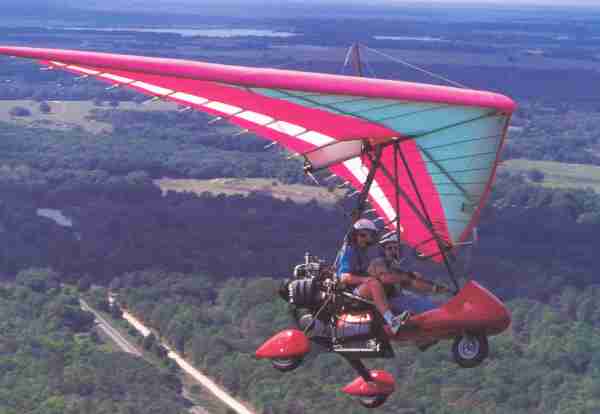 "From Russia with Love." Campy as the old Bond movie sounds now, we're in the '90s and things we love are coming from the longtime former adversary. In less than a decade, the veil has been lifted so we can exchange information and equipment with ultralight enthusiasts in the old eastern bloc countries. Antares is among the first commercial examples, a trike with Ukraine origin.
Young designers like Sergy Zolzulia evolved their product in the face of very challenging source problems. When you lack America's depth of mail order and local suppliers, obtaining certain materials is very difficult. You design around it and move on. Nonetheless, some advantages – like the availability of exotic stuff like Titanium – gave the USSR design whizzes a few extraordinary tools.
Today, we have the Antares trike, a solid and trustworthy example of those years of accumulated design experience. In the European tradition, Sergei relied on standard trike construction, but he is able to impress with a very stout airframe employing Titanium components and low prices.
When it first arrived in the U.S., Antares was still a bit rough in places. However, an earlier savvy association with LEAF's Bill Raisner smoothed the edges. A new American partner, Mike Jacober of Artic Sparrow, brings years of experience making him an excellent partner for Zolzulia and Aeros. Within a few months of operation, at Oshkosh '97, the Antares took on the finish of the European trikes. Given the careful groundwork, when these Russians Are Coming, you'll love it.