The newest owner of a SLSA Special Airworthiness certificate is Triton AeroMarine for their Skytrek. First seen at Oshkosh six weeks ago, boss Thomas Hsueh said he would have approval shortly and he was true to his word. The proof came at the just concluded Midwest LSA Expo 2016 in Mt. Vernon, Illinois where Thomas and his young team brought the first SLSA version of Skytrek
Yes, I know Skycatcher was the first designed-in-the-USA, made-in-China Special LSA. The two approaches differ in two ways, however, as Triton did their work and test flying in China where Cessna did all their development in Wichita, Kansas and merely sublet the production work to Shenyang (a large state-owned aircraft producer). Triton, a private non-state company, has a corporate base in Washington State. Its factory is in Zhuhai, China, home to a well establish airshow. The other difference is that Skytrek also has Type Design Approval in China so it has passed inspection by two sets of aviation authorities.
Thomas is a highly qualified and very experienced engineer with impressive credentials showing decades of work for some of American's top aerospace companies.
Triton America is the parent company of Triton Aerospace, Triton AeroMarine, Bayview Composites, and iflyairplanes.com (the website for Skytrek) with factories and offices in Mount Vernon, Bayview, and La Conner, Washington state; Mosier, Oregon; and Zhuhai, China. If that sounds like a larger organization than most LSA producers, you guessed correctly.
I'll get to the main attraction of the Skytrek LSA shortly but to better understand Triton, I needed to learn a little more and I want to share what I discovered.
Company owner Thomas is a man of varied talents and long history. Now in his 80s, Thomas brings more than 60 years of industrial experience to his new Skytrek design. He has worked for many aerospace companies whose brand names you know. In addition he has a background in boat hull design, which will help when he completes work on a LSA seaplane that is a successor to the Czech Aircraft Works' Mermaid (article & another) that Americans first saw about ten years ago.
In 2009, Triton America doing business as Triton Aerospace acquired all the design rights and hardware of Adam Aircraft, which had developed, built, and certified a twin engine, six-seat all-carbon FAR 23 aircraft. You may recall this design with its twin booms and Cessna Skymaster-like push-pull engines mounted fore and aft on the fuselage. Adam had also partially completed the certification for their twin jet powered eight-seat FAR 23 aircraft. Those aircraft are far out the types we cover here on ByDanJohnson.com but I reference them to show the depth of involvement Triton and Thomas bring to their LSA project.
At the Midwest LSA Expo — perhaps my favorite place to do Video Pilot Report flying — I got to fly Skytrek. We mounted several cameras as you see in the nearby photos and will offer the video review when editing can be completed. Until that work is ready, I present the company video below that shows several maneuvers by New Zealand test pilot (and my check-out pilot), Phil Hooker. You also get some views of the Zhuhai factory.
Skytrek is powered by the 100 horsepower, fuel injected Rotax 912iS swinging a DUC Hélices Flash three-blade prop. Here's some of the essential specifications: wingspan 28.9 feet; wing area 141.8 square feet; cockpit width 48 inches; empty weight 821 pounds; useful load 499 pounds; calculated payload with full fuel (30 gallons) 319 pounds; baggage allowed in rear compartment 40 pounds; baggage in each wing locker 22 pounds.
Performance data as given by Triton: maximum cruise at 3,000 feet with 75% power is 97 knots; maximum speed 121 knots; VNE 140 knots; stall speed 32 knots; climb rate 833 fpm; take-off run 558 feet; landing distance 480 feet
As I was waiting for my airline flight home from the Midwest LSA Expo, I crossed paths in St. Louis with Phil as be began a very long flight back home. He explained he got China CAAC recognition for his New Zealand flight credentials so he could do the test flying (some of which you see on the video). He is a former flight school owner and actively flies the airshow circuit down under.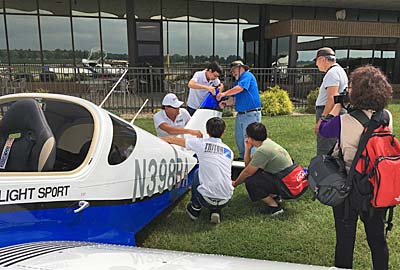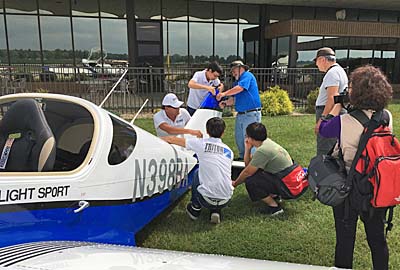 I will provide more details about how Skytrek flew in our video pilot report to follow. Until then, here are a few more facts about Skytrek, now number 141 on our SLSA List.
A steerable nose wheel with auto disengage in-flight is one feature setting apart Skytrek from other designs that it resembles. Thomas reported he improved the aileron design for flight control harmony (meaning pitch and roll pressures are similar); full dual controls with individually in-flight adjustable rudder pedals; dual 15-gallon wing tanks; electric aileron trim and pitch trim on both sticks; electric flaps with LED position display; dual differential hydraulic toe brakes with parking brake feature; wheel pants; cabin heat; cabin entry step; dual instrument panel hand holds with seatback hand hold; headset storage hooks; three tie-down hooks; armrest; and two-tone paint with matching textile upholstery.
Skytrek is delivered with dual Dynon SkyView 10-inch screens including Synthetic Vision, GPS, and transponder. Pitch trim and aileron trim position is shown on SkyView; Dynon integrated radio with on-screen control and display; aircraft lighting; strob/nav light; landing light (for night operation in VMC); plus cabin instruments and panel lighting.
My experience flying with Phil was very satisfactory. Skytrek is a very sturdy airplane benefitting from the experience of earlier developers of this general design shape. I enjoyed my flight in it and invite readers shopping for a new airplane to consider Triton's new entry.