Continental Motors, part of China's Avic International Holding, announced recently that they have entered a strategic partnership with Liaoning Cub Aircraft Corp to be the engine provider for the Top Cub, which the company said is the first kit aircraft built in China, for the Chinese market.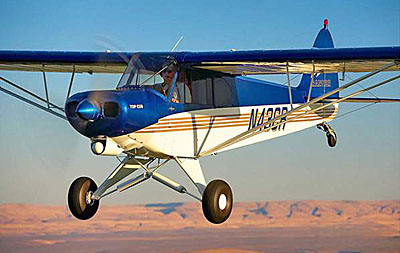 The experimental Top Cub is based on the Part 23 certified Top Cub CC18-180, originally designed by CubCrafters and acquired by Top Cub Aircraft Inc., a subsidiary company of Liaoning, in 2015.
Continental Motors Group's
Titan Engine
Powers Top Cub
The availability of the Top Cub as a kit aircraft, powered by a Titan kit engine, marks the opening of the experimental market in China. Top Cub Aircraft and Continental are the first companies to offer a complete aircraft in kit form, after the Chinese CAAC agreed to allow experimental building in China.
Wolfgang Qian, CEO of Liaoning Cub Aircraft Corp, said "The combination of the Titan IO-360 engine with our airframe offers the best power to weight ratio that we could hope. The strategic partnership with Continental Motors Group allows us to offer a highly reliable engine to our customers and to provide them with industry leading technical support. We are convinced that the experimental market will expand rapidly in China."