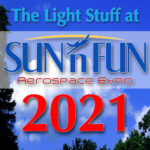 Video Updated 10/25/21 — See at bottom for a video recorded at Sun 'n Fun 2021… —DJ
Ever in search of recreational aircraft pilots can afford, I had a closer look at Excalibur's display at Sun 'n Fun 2021.
I'll excuse you for thinking this is a Quad City Challenger. It's not.
I'll also excuse you if you never saw this aircraft before. Developer Tom Karr has been building Excalibur for 25 years, nonetheless, Sun 'n Fun 2021 was his first time displaying at the season-starting event.
Excalibur's Edge
In his effort to differentiate his Excalibur kit aircraft from similar looking models, Tom made numerous changes, for example: He uses all push-pull tubes to control surfaces, not cables. The tandem seater has a "wide-body" cockpit that should fit more Americans. Shock cord suspension and a spring-loaded nosewheel make for soft, well-supported landings. Instead of flaperons, Tom uses discreet flaps. Excalibur's engine — any of several choices — are mounted upright.
Better clearance  from the engine mounted higher allows a 68-inch prop. Although they cost a little more, Excalibur uses streamlined struts.
Perhaps most importantly, Tom said Excalibur has an "unblemished safety record." With hundreds of Excaliburs shipped, a good track record speaks to a reliable design. The first one was delivered in 1997.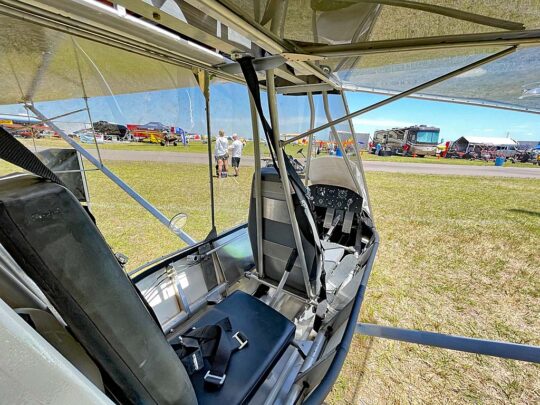 Kit manufacturers do not apply for the aircraft registration so they often have to determine their flying fleet by other means. Readers can investigate further with our complete list of registered light aircraft using Tableau Public. (This valuable tool is often used by business people and enthusiasts. It features every SLSA, ELSA, and kit aircraft with FAA-issued N-numbers that Sport Pilots may fly. The list is kept up-to-date by our Datastician Supreme, Steve Beste).
FAA Approved Kit
With that many Excalibur kits shipped, you could guess that many of them made it into the air because build time is quoted at only 150 hours. No critical dwelling is required; the factory takes care of all the precision tasks.
It can go quickly. "You can build and cover a wing in a day," Tom gave as an example, although time to accomplish tasks will depend on prior experience and mechanical aptitude.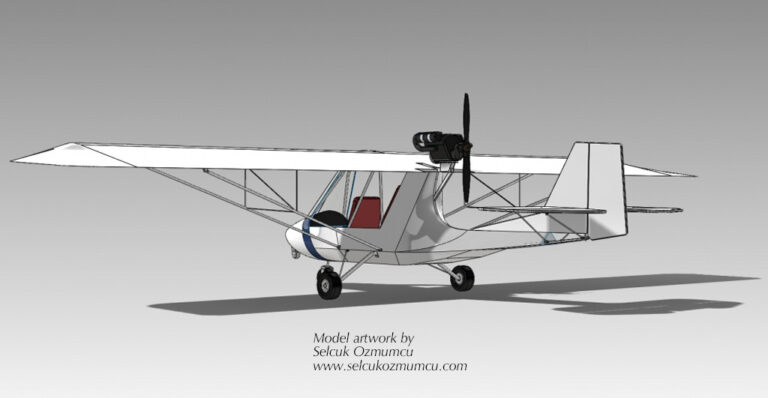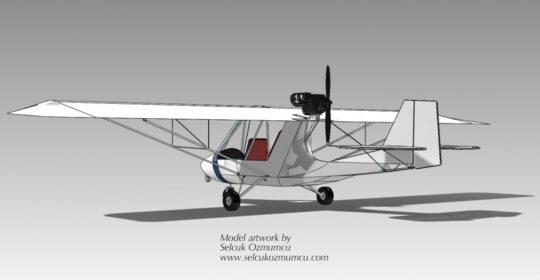 Excalibur is listed on FAA's 51% approved list, Tom assured, meaning that the low build time has been through the FAA Kit Evaluation Team's multi-page checklist to assure the owner does truly build 51% of the kit as per current regulation. For those less certain of their skills, builder-assist centers are allowed now and this idea is set to develop further as FAA's issues its in-the-works Mosaic rule by the start of 2024.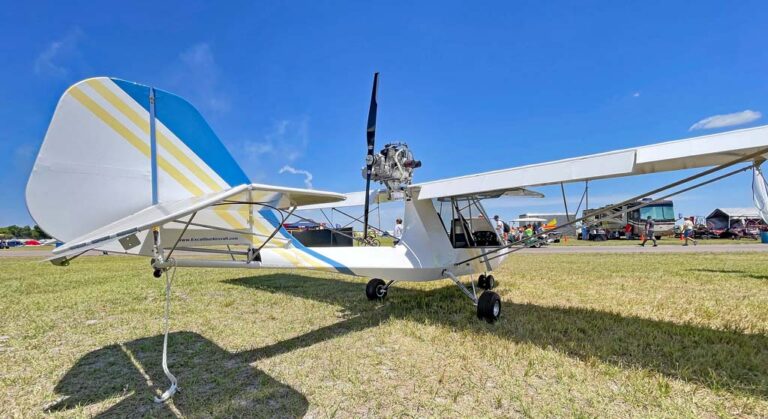 Excalibur can also carry a good load. Tom said it has a 600 useful  load capacity. With the standard 10 gallons of fuel, that leaves a whopping 540 pounds for occupants and gear. Fuel capacity can be optional increased to 28 gallons.
Those occupants can get in and out easier thanks to lower side rails on the 2021 model. When doors are used they are wide and allow easier-than-common entry to either tandem seat.
Shock-cord gear suspension involves 24 wraps of "aviation-grade elastic" that Tom said can absorb quite a load while dampening impact loads from transmitting to the airframe. Getting back up is also easy. "Excalibur exhibits excellent STOL characteristics," said Tom, "with solo take-offs in 96 feet!"
Excalibur's price at Sun 'n Fun 2021 was quoted at $33,700 for a complete and flyable airplane but before paint and instruments. If you use analog gauges — or an iPad paired to devices like Levil's B.O.M., or the Wing Bug — and if you hire out painting as many owners prefer, the total price should still stay well under $40,000. That means roughly the average price of a new car today, making Excalibur a very good bargain that qualifies as "affordable" for many buyers.
Yes, Excalibur Looks Familiar
Do you look at Excalibur and see a Challenger from Quad City Ultralights? Yes, similarities certainly exist but Tom Karr assures you that they are much different. Of course, this is common in aviation. Look how many varieties followed Dean Wilson's first Avid Flyer… which led to Kitfox, Aeropro, ApolloFox, and other variations on the theme.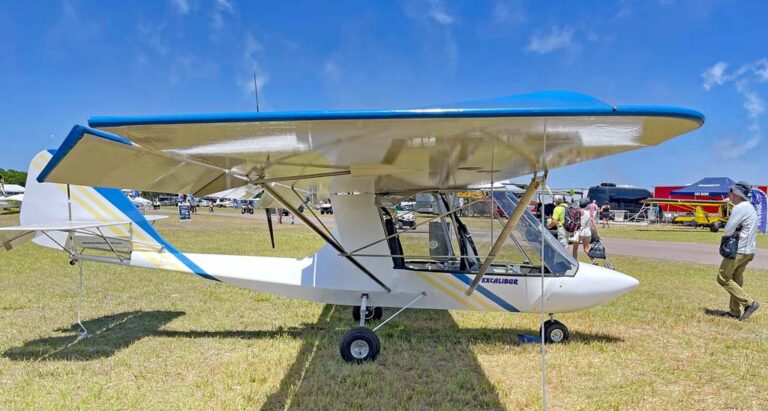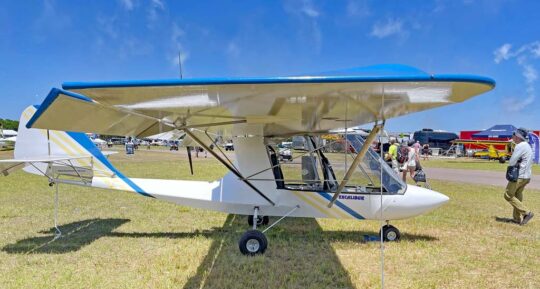 As Tom suggests about Excalibur, all those Avid Flyer variations claimed to have differences… "improvements" their developers prefer to call them.
Here's how Excalibur differs, according to the manufacturer.
Check the link out for greater detail, but here are the highlights:
---
Our engine is right side up, their's is upside down.
We can use a larger 68-inch prop. The largest prop they swing is 60 inches. We use Hirth's own gearbox that has no side-loading. Challengers commonly use an aftermarket belt drive.
Our engine sits right in the airstream and gets lots of air to run cooler. Challenger's hangs down behind the fuselage where the airflow is more restricted to the engine since the fuselage is in the way.
We have the Excalibur Shock-Cord™ landing gear, not a rigid system like theirs.
We have a larger vertical stabilizer.
We have a larger rudder.
We have shorter ailerons with the same responsiveness — 8 feet versus their 15-foot ailerons.
We have a torque tube flight control system, utilizing push-pull rods. They use cables and pulleys.
We feature aircraft grade streamlined aluminum struts.
We have a smaller nosecone for better forward visibility.
We have widened the backseat so both passengers have the same degree of comfort.
We have stretched the fuselage from the back seat forward to give both passengers the same amount of leg room, and it helps maintain center of gravity.


Here is the new video recorded at Sun 'n Fun 2021. The previous video used remains available below.
While we waited for editing to be completed on our Sun 'n Fun 2021 video interview with Tom Karr, we presented this one from Sebring 2015.