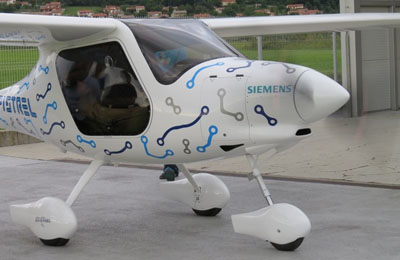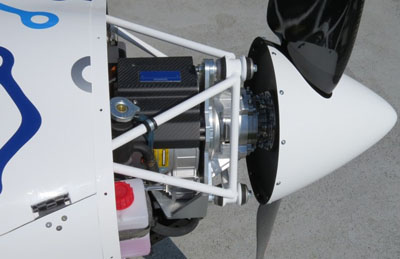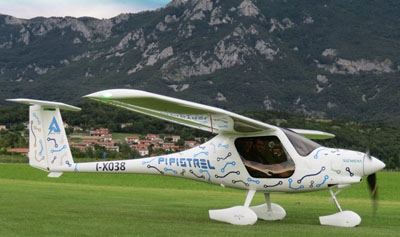 Electric aircraft continue to develop rapidly and the most visible actions are on ultralight aircraft such as Zigolo, eSpyder, or Light-Sport Aircaft (Evektor EPOS) as these are the lightest and therefore most workable candidates for electric power today. At Oshkosh we heard more about the two-seat SunFlyer in development by Bye Aerospace and those who visited the Fun Fly Zone (the place formerly known as the Ultralight Area) saw electric aircraft regularly flying as they have for several years. Now, one of the leading creators of electric airplanes is making a bigger push to offer a training-capable aircraft. As with several Pipistrel models the name is a bit unusual but WATTsUp is a two-seat electric trainer based on Pipistrel's Alpha (video). WATTsUp took its maiden flight on August 22nd. The Slovenian company unveiled the new aircraft on August 30th at a popular recreational aircraft show south of Paris called Salon du Blois.
Pipistrel said the electrified Alpha was developed in partnership with Siemens AG, a global powerhouse focused on "electrification, automation, and digitalization." Siemens provided the electric main propulsion components. "Every single element of the aircraft has been refined to be lighter, more efficient and more reliable," reported Pipistrel. The 85 kW (114 horsepower) electric motor weighs 31 pounds. A 17 kWh battery pack — the same power as used on the upgraded 2014 Chevy Volt electric car — is designed to be replaceable within minutes or charged in less than one hour. Remember, the purpose of WATTsUP is for flight training, usually done close to the airport. Performance of Pipistrel's electric trainer is aimed at flight schools with "…short take-off distance, 1,000 fpm climb, and endurance of one hour plus a 30 minute reserve," said the company. WATTsUP is optimized for traffic-pattern operations; Pipistrel observes 13% of energy is regenerated on every approach to landing, replenishing the batteries and thereby increasing endurance.
"With the ever-growing cost of fuel it is time to rethink pilot training," said Ivo Boscarol, CEO of Pipistrel. "Our solution is the first practical all-electric trainer." He said technologies developed specially for this aircraft cut the cost of pilot training by as much as 70%. WATTsUP claims to meet microlight and ASTM LSA criteria, as well as standards for electric propulsion. The company said the electric trainer is already certified in France where it made its market debut. "More countries will follow soon," believes Pipistrel, and they reported that they are applying for an exemption with the FAA to allow training operations as an SLSA. "WATTsUP is our fifth electric aircraft project and the second to result in a commercial product," said Pipistrel. The company expects to bring the final product to the market in 2015 with a target price below €100,000 or $138,000 (though remember, not having to buy gasoline will offset some of this cost).
Frank Anton, Executive Vice President Traction Drives, Large Drives, Siemens AG, said, "Siemens is developing electric drive systems with highest power-to-weight ratio for aircraft propulsion. Only with innovation we can solve the problems of rising fuel costs, rising passenger demand, and rising environmental regulations." Pipistrel said Mr. Anton is the initiator of electric aircraft development at Siemens. "As electric drives are scalable, we can expect that in the future larger aircraft will also use electric propulsion. The world is becoming electric, whether in the air, on land, or at sea." Indeed even airliner behemoth Airbus said it will enter the market for small two-seat, then four-seat electric aircraft (with a possible electric airliner to follow). The Siemens Industry Sector, based in Erlangen, Germany boasts being the world's leading supplier of innovative and environmentally friendly automation and drive technology, industrial software, and technology-based services. The Siemens division pursues product design, engineering, and production. The German giant has a global workforce of more than 100,000 employees.