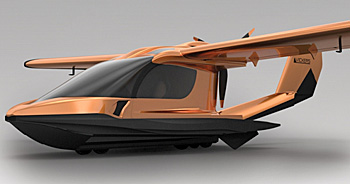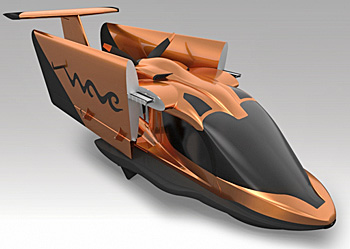 After a rush of interest owing to earlier reports (see here and here), the team at Vickers Aircraft went head down and began pushing even harder on their fascinating new amphibious LSA seaplane entry called Wave. As you can see by the photos, they've now unveiled the overall appearance though additional details of this rather distinctive creation will be released as components are fitted and evaluated. Meanwhile, for those who want more, principal designer Paul Vickers added, "I am pleased to inform that our Vickers Aircraft website is now live. We invite pilots around the world to come have a closer look and to observe which companies we are engaging as partners.
"We have achieved our production weights on completed assemblies," noted Paul, including wings, tail stabilizers, controls, and composites structures such as the cockpit and sponsons." Vickers says they achieved this by strategically combining aluminum and carbon fiber. Advanced designs use a mix of materials in areas that have varying strength requirements. "We spent a lot of time before the initial design was started working on construction techniques to ensure they could be transferred to the aircraft design and used in production. "We then took this proven solution into the design phase early 2010 and have now produced numerous components that are matching our design weights," added Paul. With a reported 80% of the prototype completed Vickers Aircraft said their clean-sheet design should achieve target weights enabling Wave to be an FAA-accepted Special LSA without any need for a weight exemption.
Part of assuring weight targets are met — keep in mind that the LSA seaplane gross of 1,430 pounds (650 kg) can be demanding for a capable aircraft with retractable gear and other water-worthy features — means close coordination with leaders in carbon fiber. "We are very pleased to introduce Core Builder Composites as our partner to supply the carbon fiber components, said Vickers. Sailing enthusiasts may already know this company's work through their most celebrated product, the Oracle yacht that won the America's Cup this year as one of the fastest boats in the world. Core Builder Composites met the demand for a 72-foot catamaran that appears to zoom above the water (photo) while using a sail that looks for all the world like a long half-wing instead of a billowing fabric sail. Given the intense — and very well funded — competition for America's Cup sailboats, the company based in New Zealand along with Vickers appears well equipped to do prototype and production work on Wave's composite structures.
I've written about the level of competition present in LSA seaplanes, perhaps triggered by the amazing success of California's Icon A5. Through very astute marketing Icon has reportedly collected more than 1,000 orders for their amphib seaplane. The company has been breaking new ground in several areas, such as their spin-resistant airframe that earned Icon a weight exemption from FAA. However, the effort has also delayed production and opened an opportunity for other designs to fill the void. This drives Vickers Aircraft to keep the pressure on to have product delivered to customers by summer 2014, a goal they still feel is achievable. While far less well known than Icon because they kept their focus on design and production preparation, Wave is making friends around the globe, reported Paul Vickers. Interest from a number of potential buyers is rewarding the push and the company repeated earlier statements, "Our sale price in the USA will be under $180,000 including the 180 horsepower Lycoming IO-360, automatic folding wings, and airframe parachute."