As EAA AirVenture Oshkosh 2021 winds down to a conclusion, a chance conversation brought the handsome aircraft below into clearer focus. I already knew about Mosquito and received a briefing to fly one captured in this 2013 video. I did not grasp how the producer evolved after original developer John Uptigrove's unfortunate demise in 2018.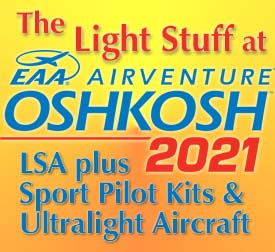 What appeared in Composite-FX's display in the Fun Fly Zone were beautifully done flying machines that looked heavier and much more complex than John's original Mosquito. They are neither, fortunately.
Owner Dwight Junkin and friend George Boynton replaced John's open-cockpit Mosquito with a composite fuselage using long experience with such constructions. Dwight's Florida company ultimately took over John's work, moving the contents of the Canadian's workshop to his base in Trenton, Florida.
In truth, not only is Composite-FX's XEL a compliant Part 103 helicopter, it is modestly priced and  truly belongs with six other affordable flying machines in my AirVenture 2021 opening article. Given XEL is a full-on helicopter, always seen as very expensive aviation, an XEL that looks this good for $52,000 factory built is an excellent value if not a bargain.
Welcome to Part 103
Rotary Wing Flying
I mentioned a chance meeting. What does that mean? It turns out that when a few of us joined J Mont G (his on-air persona name) on EAA Radio from the Fun Fly Zone, I had a conversation with Composite-FX operations director, Norbert Richter, who asked me about FAA decisions reported a couple days ago (article).
I told him something of high interest and as we explored this I finally got the message about the transition of Mosquito to XEL. Let's check out this second generation machine.
XEL qualifies as a Part 103 ultralight aircraft in the United States by complying with limitations as clarified in AC-103-7. Powered by the MZ202 engine and equipped with floats, XEL weighs in at 312 pounds. Regulations say it can weigh 314 pounds*.
After John died, his company, Innovator Technologies, shut down and Composite-FX assumed the brand. Their work with John earlier and continuing on their own today has lead to more than 400 kit deliveries and about 150 XEL Part 103 ultralight helicopters flying in the USA.
Can You Fly a Helicopter?
I asked Robert how they handle flight instruction because Composite-FX only makes single place machines. While a two-place has been contemplated, that project has been shelved while other work demands their time; besides making four varieties of the original Mosquito, a non-piloted model has also found a market.
Until a two-place model emerges, they recommend the popular Robinson 22 as a basic trainer although they note the R22 "is regarded universally as a 'squirrely' helicopter [due to] its tricky handling characteristics. While the Mosquito is smaller than an R22, it has more docile handling characteristics." Better training choices are a Hughes 269, Schweizer 300, or Enstrom, however, these are less available than the Robinson line.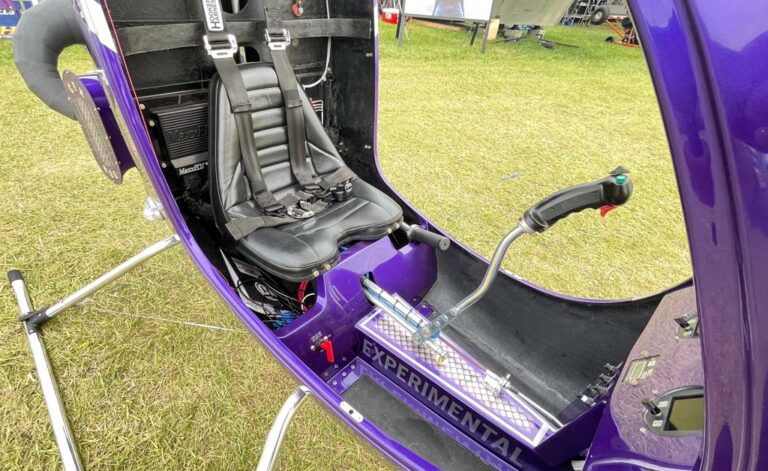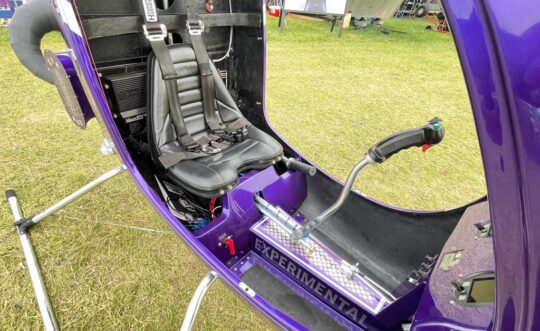 The company also has a virtual reality training system that can help familiarize new pilots. On whole, Norbert felt it was reasonable for a new pilot to fly and he said most pilots will become rather capable in just 10-20 hours.
As their XEL model complies with FAA Part 103 it may be purchased ready-to-fly from the factory in the United States. XEL is supplied with floats, "one of the features that allows it into the ultralight category*," noted the company.
"Pilot training is not legally required to fly a compliant Part 103 ultralight but to encourage proper training, Composite-FX builds a $2,000 incentive into the price. A customer with a minimum of 10 logged hours of dual instruction receives a $2,000 discount. That won't pay for the whole 10 hours, Norbert said, but it will cover a good portion of the cost and encourages buyers to obtain at least minimal training.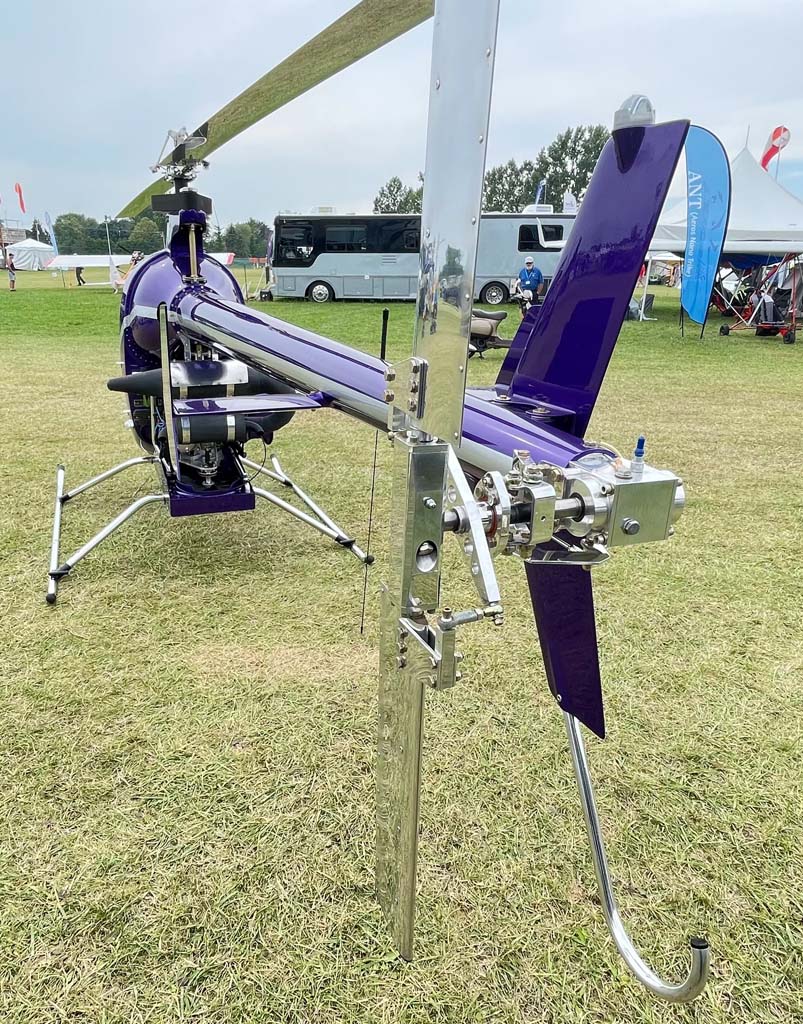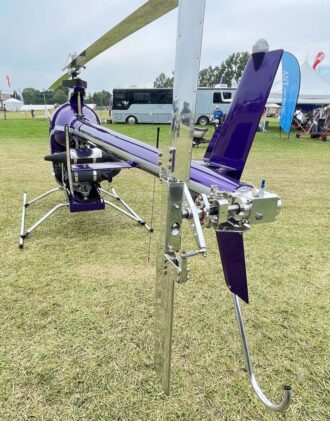 The Mosquito derivative XE-series has been successful with more than 400 kits or fully-built 103 editions built (150 are Part 103 helicopters). The company is less sure about the number of delivered kits to get airborne as many have been sent overseas where it is difficult to track them but they believe more than 300 total units are flying.
Based on a low number of accident/incident reports they appear to enjoy a decent safety record. That may be the best proof of a "docile to fly" designation.
Composite-FX XEL Part 103 Ultralight Helicopter
SPECIFICATIONS
all figures supplied by Composite-FX
Powerplant — MZ202, Carbureted, Air Cooled
Empty Weight — 312 pounds (142 kg) *
Gross Weight (240 pound pilot) — 610 pounds (275 kg)
Maximum Airspeed — 70 miles per hour (112 kph)
Cruise Speed — 62.5 miles per hour (101 kph)
Main Rotor Speed — 540 revolutions per minute
Tail Rotor Speed — 2,500 revolutions per minute
Climb Rate (estimated) — 900 feet per minute (4.5 m/sec)
Fuel Capacity — 5 gallons (18 l)
Fuel Consumption (estimate) — 5 gallons per hour (45 l/hr)
Flight Duration — 1 hour
* Calculation of empty weight for XEL is based on FAA's allowance of 60 pounds for floats. Adding that to the 254 pound maximum empty weight for a Part 103 ultralight vehicle yields an allowed total empty weight of 314 pounds. Landing on floats has been demonstrated, Norbert stated, but it is only advised for expert pilots on calm water as water makes an unstable surface. Demonstration is sufficient for FAA acceptance; XEL need not land on water all the time to qualify for the float allowance. Allowances are documented in FAA Circular AC-103-7.
---
EAB Models
Composite-FX's full XE-series model line includes the Part 103 ultralight XEL or three Experimental Amateur Built models: XE, XE 290, and turbine-powered XET. The XE is essentially the XEL with 12 gallons of fuel, while the XE 290 uses a more powerful engine and has a higher-than-103-compliant weight.
XET is the flagship of the XE models. Powered by a modified T62-T2A Solar Turbine engine, "the XET sounds awesome with the quintessential turbine whine, smells great with the consumption of Jet A fuel, and is very powerful with a steady 95 horsepower."
An XET kit runs $50,000 before engine but a T62-T2A engine might be bought for as little as $12,500. For $15,000 more the factory will help you finish it. That makes $62,500 to $77,500 for a turbine-powered helicopter.
Customers may build experimental category XE models on their own or through a factory-assist program, and the average build time is 400-500 hours. The Part 103 XEL is available in kit form or factory built.
---
Check this video where I get lessons in flying a Part 103 helicopter — the interview portion follows a general introduction to Mosquito that was added more recently.