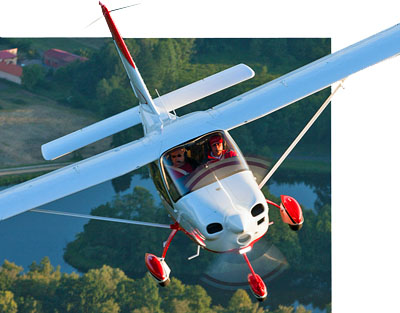 After more than a decade of LSA, one airframe manufacturer stands head and shoulders above all other in what I call the "light aircraft space." That term gets stretched far and wide with this update on Costruzioni Aeronautiche Tecnam … simply "Tecnam" to most folks.
If Tecnam was a person, I'd call him restless and tireless. Does he sleep? I think not. Are any flying machines not possible for this design dynamo? I see no limits to his ambitions. So prolific is this Italian aviation powerhouse that I will blend several news items into one story.
Tecnam is a large team, an entire factory full of hard-working people, and representatives of all sorts scattered across several countries. At the core of this engine of production (33 models and variations) is Luigi Pascale, the 92-year-old patriarch of Team Tecnam with management by nephew, Paolo Pascale. Paolo is the visible face of Tecnam at airshows, standing literally head and shoulders over most of his competitors. By comparison Professor Luigi is tiny but this man still leads design of all Tecnam models and, I'm told, does some of the first flights in his creations. One word repeats in my mind: impressive!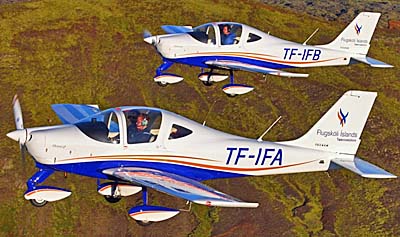 Earlier the Italian manufacturer reported earning EASA (Europe's FAA) certification for their handsome four seater called P2010. In mid-December 2015, Tecnam announced Type Certification from FAA. "P Twenty Ten is the first new single engine, high wing, four-seat aircraft from Tecnam that brings together an all-carbon-fiber fuselage with a metal wing and stabilator," said Tecnam.
Establishment of the Tecnam U.S. customer delivery center, assembly facility, and American headquarters at the Sebring Regional Airport in Florida helped to a nationwide sales and customer support network. That and a policy of required only 10% down payment with no balance until the aircraft was in the USA and ready for delivery "resulted in a major upswing in deliveries of Tecnam aircraft in North America," indicated Tecnam.
Although it has been in existence since 1948, most American buyers were introduced to the Tecnam brand through their fleet of Light-Sport Aircraft. Beside the U.S., Tecnam has delivered airplanes to 65 countries. The company's lower cost two seat aircraft share the 10%/90% payment plan and also benefit from an ample stock of replacement parts housed at the company's Sebring facility.
Rotax's engine series have long been able to use mogas, avgas, or any combination thereof. Not only is this versatile but it can lower cost of operation, a key watchpoint for flight school operators that tend to log many hours on their machines. Rotax is said to run cleanest on automobile fuel.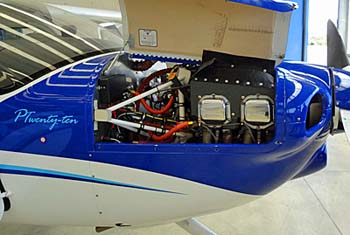 All Tecnam LSA use the Rotax brand of engines but with their P2010 model Tecnam demonstrated their commitment to a "greener" future by confirming EASA approved use of automobile gas for all Tecnam P2010 airplanes. "Mogas fuel ensures Tecnam P2010 flyers will benefit from more cost effective operations and produce significantly lead free emissions," the company reported. Selection of Lycoming IO-360M1A to power their P2010 four-seater was mainly a result of its ability to burn alternative fuels other than avgas.
"All Tecnam two and four seat, single and twin engines aircraft, are now able to operate with environment friendly fuels, especially mogas, containing up to 2,000 times less lead than 100LL," boasted Tecnam.
Lycoming Engines was equally enthusiastic. "In achieving [EASA approval], Tecnam's P2010 became the first known OEM fixed-wing aircraft fully approved by the manufacturer to use each and every fuel listed in our SI1070 Approved Fuels document," said Michael Kraft, Senior VP and General Manager of Lycoming Engines.
Tecnam Managing Director Paolo Pascale confirmed the benefits: "This provides the consumer with a great number of fuel options on the aircraft, and especially unleaded options which are not only better for the environment, but better for the engine."
Tecnam still isn't done and Professor Luigi has rested yet.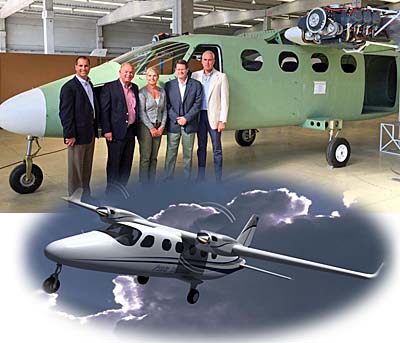 P2012 Traveller is the company's eleven-seat next generation piston engine twin, designed to comply with both FAR part 23 and EASA CS-23 and to ensure operators benefit from very low operating and maintenance costs in particular.
Recently, launch customer, commuter airline operator Cape Air conducted an on-site joint production development meeting at Tecnam's Capua, Italy assembly facility. An encouraged Cape Air president Linda Markham (photo) said, "We look forward to continuing our collaboration.
P2012 Traveller serial number 003 is now complete with its twin Lycoming TEO 540-C1A engines fitted. The largest Tecnam is undergoing extensive testing of its fuselage, wing and empennages.
P2012 Traveller will first do service as a passenger airplane, Tecnam said, but it was designed for multiple roles including "Hydro, VIP, cargo shipping, parachuting, and medevac services."
Since it is not wise to take your eye off Tecnam for too long we will keep reporting the latest developments.