Perhaps like many of you, I read the newspaper most mornings. Today I was reading the Wall Street Journal. In one of their special sections was an article about flying cars. As regular readers know, I try to keep up with this niche within our niche of aviation.
Major publication reporters are finally catching up with what we have been observing for several years. People talk about the "mainstream media" disdainfully for a reason. Even though they provide the "news," their realization of all things new is not necessarily that timely. So much is happening in so many fields that mainstream media reporters cannot be expected to keep up with all developments. A website like this one is laser-focused on Light-Sport Aircraft, light kit aircraft, and ultralights. Even a billion-dollar news organization can't stay up on the latest like we can.
In fact, today's "Journal Report" — a subsection of the daily newspaper — was all about aviation. The newspaper presented stories about flying cars, autonomous aircraft (that is, flown without human input), drones, and safety efforts by FAA. This was fun for an aviation nut like me; I am not accustomed to seeing aviation stories in a daily newspaper (well, unless an aircraft crashes… they're always all over that, of course).
When non-aviation writers write about aviation, I can easily see their errors, omissions, or plain old misunderstanding. They are writing about my area of expertise while for them it is one story in a day and they can only report what they've been told. Most have little or no direct knowledge.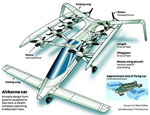 One part of the flying cars story mentioned Google founder Larry Page's $100 million investment in Zee.aero, the very secretive company working on what I've speculated is an electric airtaxi.
Can you imagine how far $100 mill would go in the LSA, light kit, and ultralight industry? With a few exceptions (Icon comes to mind), that amount of dough is a substantial portion of — if not more than — what has been invested into the entire industry! Paige has also investing in another company called Kitty Hawk, reported WSJ writer Robert Wall.
Related Articles: Multiple Flying Cars; Maverick; Terrafugia; AeroMobile