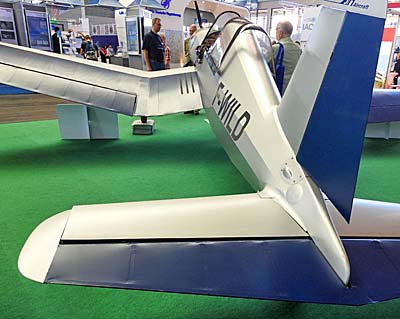 Two years ago at my favorite European airshow, Aero Friedrichshafen, Bill Canino of Sportair USA urged me to go look at a cool Part 103 project. With a general appearance resembling a Chance-Vought F4U Corsair military fighter, designer Jörg Hollmann's ultralight Corsair is reasonably authentic including its highly distinctive inverted gull wing design.
Two years ago when I saw the bare bones example — exhibited for this small shop design and manufacturing organization in BP Oil's display stand — it was easy to get excited by the concept but less obvious to imagine how it might eventually look. At Aero 2018 the visual mystery was solved. Anyone who has admired F4U Corsair's angular wings will be drawn to ultralight Corsair.
Even the engine mimics the original's Pratt & Whitney R-2800 Double Wasp, except at ultralight weights and power. Jörg chose a three-cylinder Verner radial to power his diminutive aircraft. The whole package was fascinating to those of us who enjoy single seat designs.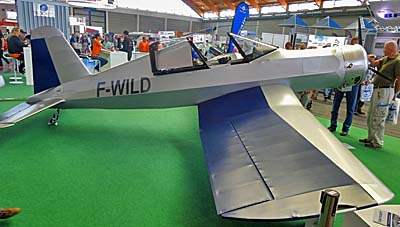 The truly good news for Yankees who might want to own such a creation is that Sportair USA boss Bill has placed an initial order. For a tiny company, such a launch customer greatly increases the likelihood that this unqiue entry will makes it way into American skies. Of course, Europeans also recognize both the F4U resemblance and the coolness of this design effort.
While fabric covered (also for lightness), Jörg refers to his internal carbon fiber tube structure as "a unique carbon-spaceframe technology." He added, "This property right-protected technology combines high strength with an unequaled low weight."
Seeking a very low weight is partly a maneuver to steer clear of tough certification rules via the Part 103 / 120-Kilo Class / SSDR unregulations.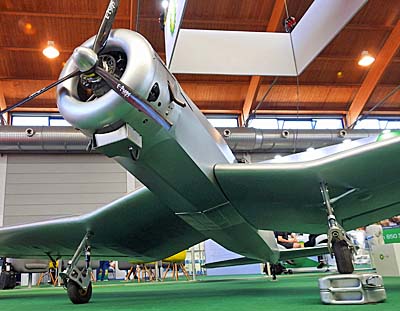 A light design permits Jörg's design objectives. "Due to the light weight of the structure we were able to include all the ingredients for a high performance aircraft: outstanding aerodynamics, a strong engine with a big, efficient propeller, a short and aerodynamic landing gear, as well as effective flaperons."
The carbon-spaceframe is effective, resulting in a calculated +9 and –6g ultimate load strength. "Furthermore," Jörg said, "the complete cockpit area is constructed as a Kevlar-reinforced safety cell." A ballistic parachute will further enhance safety.
In our article from 2016 we unveiled Corsair in bare carbon fiber bones. That article also repeated Jörg's prediction that it would fly before Aero 2017. That didn't happen, however, Jörg said it is now ready for flight. "Corsair would have flown before Aero 2018 but a lack of ideal weather prevented that. We prefer calm winds and clear weather for a first flight in such a light aircraft," he explained. Because weather at Aero 2018 was warm and sunny, he hopes to get airborne in short order.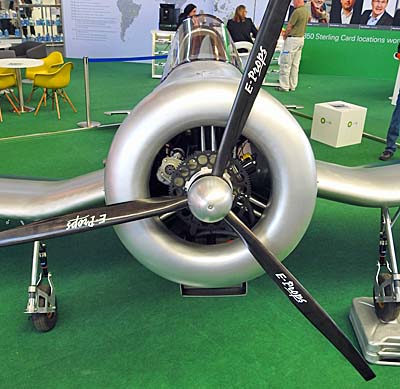 Not only can Corsair meet USA's Part 103, it also can qualify for Germany's 120-kilo class and Britain's Single Seat DeRegulated (SSDR) class (article). Jörg explained, "Corsair currently fulfills the British SSDR regulation. An adapted version will comply to FAR Part 103."
Although Corsair has ultralight proportions, it is versatile about pilots it can contain. "The ergonomics have been optimized with the help of our local flying club," indicated Jörg. "It is suitable for pilots ranging from 5 feet 4 inches to 6 feet 8 inches (1.60-2 meters)." The inner cockpit is 23.6 inches wide (60 cm).
Corsair's seat is adjustable in four length/height positions. The seat back incline is independently adjustable in 11 positions. Rudder pedals are also adjustable and even the joystick offers two positions.
Corsair Specifications
Following are specifications of Corsair for both Part 103 and EU deliveries, as reported by JH Aircraft:
Wing Span — 24.6 feet / 7.5 meters
Wing Area — 108 square feet / 10 square meters
Length — 20.7 feet / 6.3 meters
Maximum Takeoff Weight (MTOW) — 551 pounds / 250 kg
Empty Weight — 243 t0 265 pounds / 110 to 120 kilograms (depending on national regulation)
Useful Load — 287 pounds / 130 kilograms
Powerplant — Verner Scarlett 3 VW radial engine
Power Output — 42 brake horsepower at 2500 rpm
Cockpit Width — 23.6 inches / 60 centimeters
Stall Speed — 24 knots (U.S.) / 55 kilometers per hour (EU)
Cruise Speed — 54 knots (U.S.) / 168 km/hr (about 104 mph)
Max Cruise Speed: 104 mph / 168 km/hr
Maximum Speed — more than 124 mph / 200 km/hr
Rate of Climb — 1,000 feet per minute / 4 meters per second
For more information, contact JH Aircraft or in the USA, go to Sportair USA.