Article Updated 9/7/15 — See new information at the bottom of this article.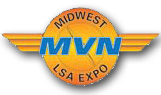 Coming up TOMORROW! — September 8-9-10, 2016 — is the Midwest LSA Expo. I'm on-site for all three days in Mt. Vernon, Illinois. More info: Midwest LSA Expo.
Only six years after Steve Jobs proudly announced the first iPad, the tablet device seems to have fully conquered aviation. Airline captains routinely use iPads in lieu of bulky printed instrument charts. GA airplane owners with analog panels commonly use an iPad to join the digital revolution without needing to get FAA's permission. And, LSA developers often accommodate the iDevice; indeed, some Light-Sports make do solely with iPads, occasionally multiple devices. Despite his visionary prowess, I bet Steve Jobs never imagined such a result. Unfortunately, he didn't live long enough to see the cockpit transformation his gizmo caused.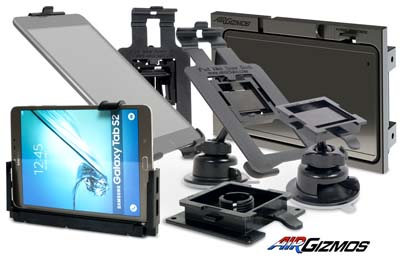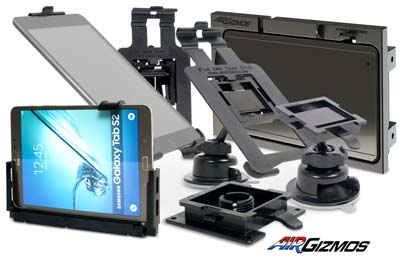 However, if you've flown with an iPad, you know you need some way to hold it that allows access to its wealth of information without interfering with airplane operation. No problem.
Aircraft Spruce is now offering AirGizmos Airmounts with fixed, tilt, and suction capabilities for your iPad Mini or iPad Air. GA pilots (or anyone with a panel full of steam gauges) can use mount designed to fit standard 3.125-inch instrument holes. The AirGizmos Airmount can be placed on your panel and hold securely," said Aircraft Spruce reps. "With Tilt Mount, AirGizmo allows for a 16-degree tilt up or down for a convenient viewing while flying. For those looking for a mount for a rental aircraft, or a lack of space on their panel, try the suction mount. The AirGizmo with Suction Mount holds your iPad securely using a heavy duty suction cup to attach it to your windshield or any other smooth surface." As the nearby image shows, the mounts can also work for Android devices.
Aircraft Spruce's complete product line is available at the company website. Readers may request a complimentary copy of the company's free 1,000+ page catalog here (available in print, CD, or PDF formats).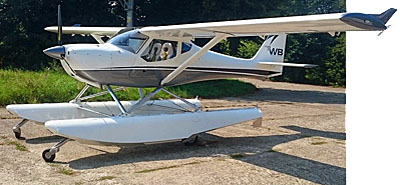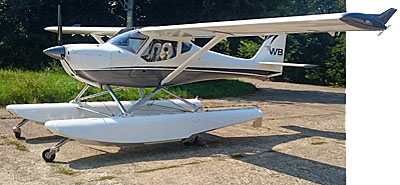 One of the longest-selling, still-in-production light aircraft is the FK Lightplanes FK9. It was first debuted at the 1989 Aero show in Germany, giving this venerable model a 27-year history, a few months longer than another veteran, Tecnam's P92 Echo. Both have seen numerous variations on the theme and both have worn the passage of time like a comfortable coat. More than 500 FK9s are flying.
In the last year, FK Lightplanes — formerly a German company now based in Poland and run by a South African — addressed frequent comments from FK9 pilots seeking more space. "We launched a WideBody version of our FK9 MkV model," said company director Roland Hallam. The difference is 10 centimeters or about four inches, but that width change makes more difference than it sounds from the number alone. As some experts have noted, you cannot perceive the extra width from the outside of this handsome airplane but you will enjoy it once inside.
In addition, as you can see in the nearby photo, FK Lightplanes has also added amphibious floats to the FK9. "We had already installed straight floats to the FK9 MkV but — working with Czech developer Josef Fillinger — we installed amphibious floats on our WideBody, including four retractable gear." Roland added, "Unfortunately, the amphib float system alone weighs 264 pounds, so we can only sell this version into the 600-kg LSA countries, like you guys in the States."
The WideBody version also gained outside access to the luggage compartment that can hold up to 22 pounds. Find out more about FK Lightplanes in the USA by contacting Hansen Air Group.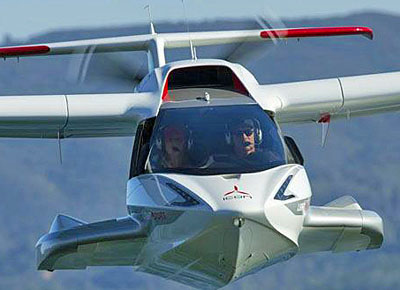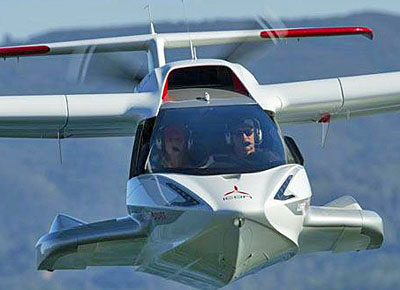 According to an online news report from Tijuana, Mexico, "Icon Aircraft announced … the establishment of a production plant in the city of Tijuana, Baja California, [to build] the entire structure for A5." Icon reportedly expects the plant to be completed in early 2017 after which the operation will be "delivering structures of carbon fiber fuselages to its facilities in [Vacaville], California for final assemble and flight testing."
The report continued, "Icon will begin its serialized production and has selected the city of Tijuana as the ideal location for the production of composite components because of Tijuana's established industrial infrastructure, skilled, labor, and proximity to the Vacaville, California factory."
"With an investment of more than $150 million and employment for over 1,000 people, this event marks the prelude to a significant project that will benefit both the city and the country," the report detailed. A presentation ceremony is planned for Thursday, September 8th at the Tijuana Cultural Center at which the report said Icon CEO Kirk Hawkins will be joined by Mexican government authorities and private sector representatives.
Plans back in 2012 called for Cirrus Design to make Icon A5 composite parts in one of its Minnesota facilities but this plan has not been mentioned in company announcements since. Perhaps now we know why.
Article Updated 9/7/15 — After I broke this story thanks to a tip from an alert regular reader, other aviation media jumped on the hot news and Icon followed with a formal news release.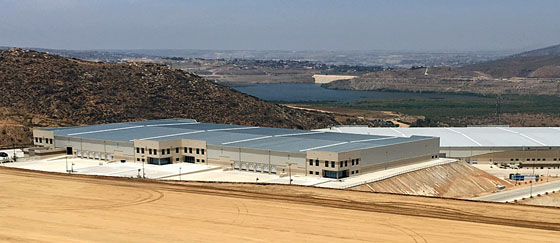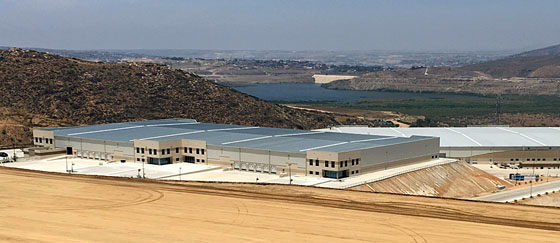 On September 7, 2016 Icon announced "the construction of a new facility in Tijuana, Mexico as part of a revised production plan announced in May. The company decided to produce its own composite components, a manufacturing process that was previously outsourced to several suppliers."
The new facility, which Icon reports will start operations in November, 2016, covers approximately 300,000 square feet and will fabricate composite components for the A5. CEO and Founder Kirk Hawkins said, "By bringing composite fabrication in-house, we will be able to ensure that components meet Icon's strict quality and cost standards while also allowing us to more rapidly implement changes."
Thomas Wieners, Icon's VP of Manufacturing, led construction and operation of Bombardier Recreational Products' (BRP) facility in Querétaro, Mexico, where the company related to Rotax Aircraft Engines makes Sea-Doo watercraft and other products. He said TIjuana is "ideal" for Icon because of the Mexican city's "infrastructure and skilled labor force, including composites and aerospace expertise."