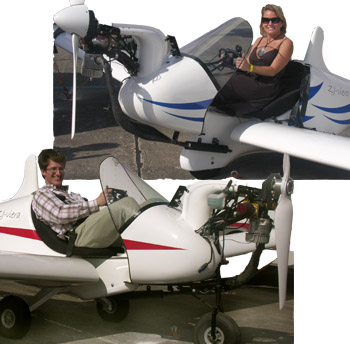 Alert: This article is dated and some links may no longer lead to the desired destination. —DJ 0121
Maybe you've heard: "You can't build a three axis airplane that can safely remain under the 254-pound weight limit."
Some allege: "You can't buy a three axis Part 103 ultralight that actually meets the rule."
I've said this many times… WRONG!
You have a few choices for Part 103 airplanes that perform well and they aren't all trikes or powered parachutes (though several qualifying candidates do come from these segments). I'll soon post fresh articles on the Kolb FireFly and Phantom X-1. Each can meet Part 103.
Now, we have what may be the first all-new Part 103 ultralight in many years. ZJ Viera was designed in Europe by Marek Ivanov, CEO of Interplane Aircraft (photo). At Sebring 2008, plenty of attendees spent time examining the two examples present; one was the original monowheel (which I tend to prefer) and a tri-gear variation. Strong winds prevented flying demos but the machine itself is fascinating.
Several design qualities are unique but perhaps none more than the innovative "control stick." ZJ's yoke has cleverly incorporated many controls including: ignition switch, starter button, throttle, brake, ailerons, and horizontal stabilizer. The yoke tilts to move the elevator and turns for aileron control. ZJ is sold by LSA America.