EAA has reported that the Warbird displays (ground and flight) are the single biggest draw at EAA AirVenture Oshkosh. Whatever the numbers, almost all attendees enjoy seeing World War II warbirds still flying, often in large formations. They make quite the inspiring sight.


Another point of wide agreement among pilots is that perhaps the P-51 Mustang is the most popular airplane ever …if they are baby boomers.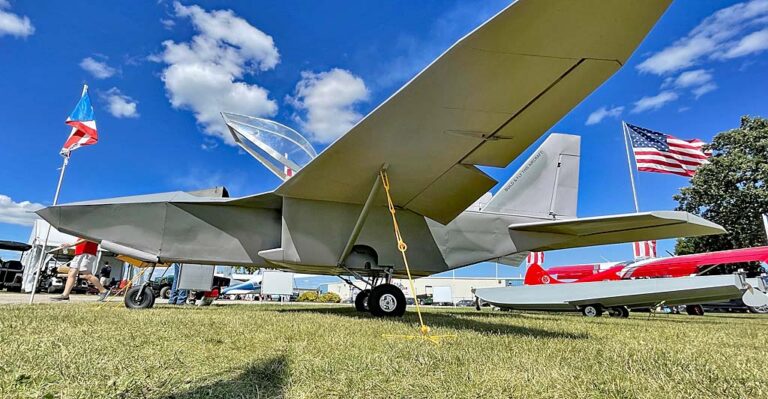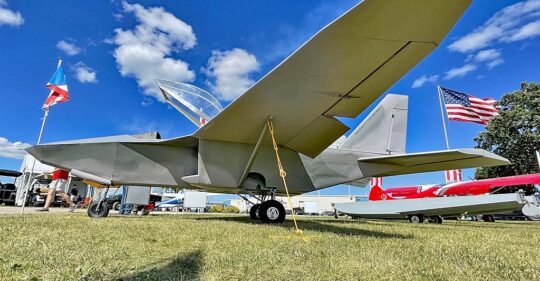 Archon developers and sellers Dave Hertner and Bill Canino reported that younger pilots aren't necessarily enamored of the WWII fighters. Those aircraft flew more than half a century before they were born.
What young military aircraft enthusiasts recognize are machines like Lockheed's F-35. Common on late-generation fighters, F-35 is all sharp edges and angled facets. It's quite — to use a word of another generation — gnarly and vicious looking.
You can't even afford the fuel bill to fly one of Lockheed's big bad boys. Virtually none of you will ever fly an F-35. Yet you could fly an Archon, a LSA-like warbird that looks significantly like a scaled-down (and unarmed) F-35.
Welcome Archon!
First I want to get you over a hurdle. When I first walked up to SportairUSA's display at Oshkosh 2022, I though it looked like a rather large and heavy airplane. I was wrong on both counts.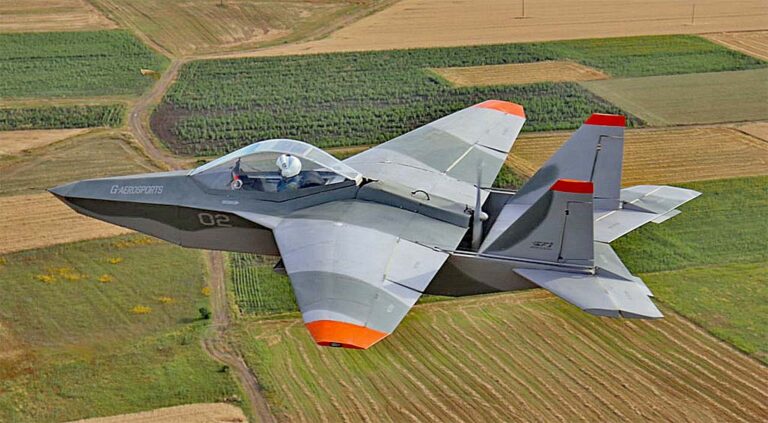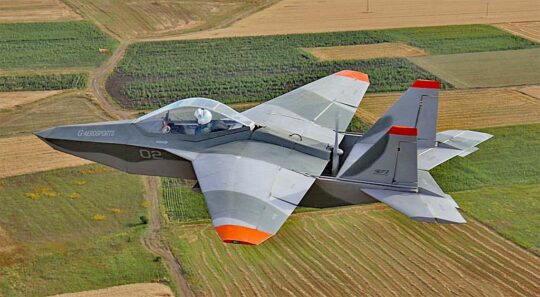 Designed by a Greek policeman working largely by himself on a modest budget, Archon is a clever bit of engineering. It is built surprisingly light and, as shown in the accompanying photos, weighs significantly less than most LSA types. The design has flown around 700 hours Dave and Bill told me, The aircraft in the nearby photos has 400 hours on it and — get this! — all of it wth about 40 horsepower.
When he was ready to power his creation, Greek designer George Iliopoulos found a used Rotax 503 two-stroke engine. When new, these output 50 horsepower but George's 503 was a bit tired and produced only about 40 horsepower. Nonetheless, the aircraft flying the video below appears to perform reasonably well even with such low power.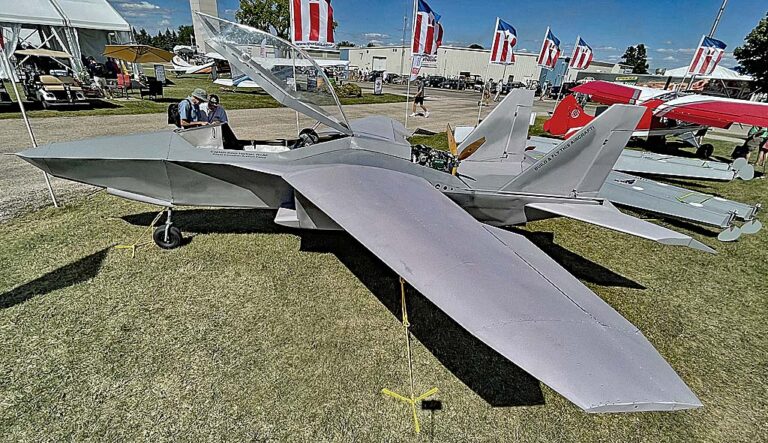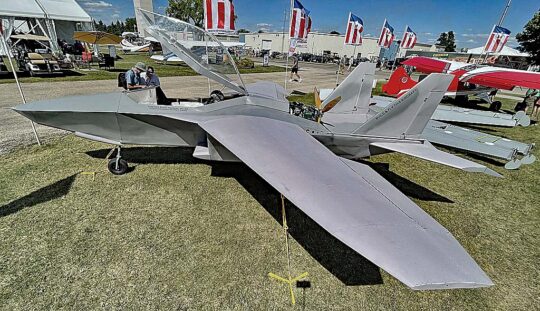 Archon can be fitted with Rotax 912 or 915; the airframe is robust enough for 80 to 141 horsepower. "With our SF-1 Archon kit you can build your own modern fighter aircraft," said Dave and Bill. They added that the original Lockheed model was designed "to project air dominance," according to the U.S. Air Force. Fittingly, Archon is the ancient Greek word for "ruler."
Besides boosting the power substantially, Fisher Flying Products working in coordination with SportairUISA to change the design to increase its durability and finish quality. In Greece, George strove to keep weight to an absolute minimum because a 40 horsepower engine is what he had. With a more potent 9-series Rotax, the design can benefit from thicker skins throughout and small fairings to smooth wing/fuselage junctions. curve wingtips (and incorporate lighting), and other enhancements.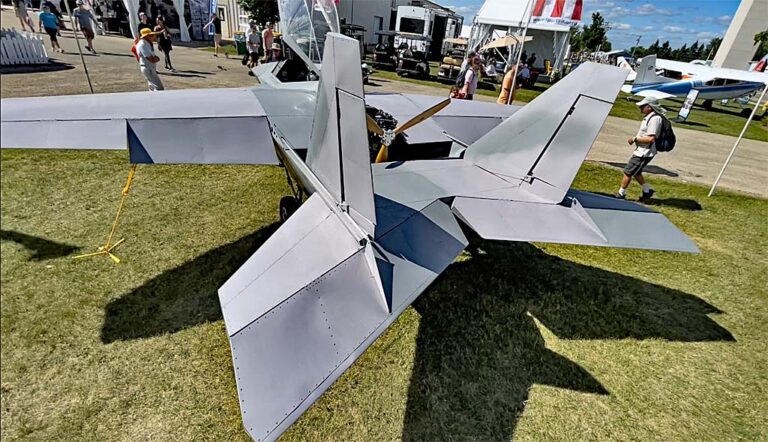 "The rapid build kits manufactured for SportairUSA may be reserved today, for delivery mid-2023," said SportairUSA.
The Canadian builder and U.S. sales representative are introducing the kit at "$34,900 with a $1,000 fully refundable deposit." The majority of components are preformed aluminum. The kit includes all necessary hardware and material to build an SF-1 Archon
With a new engine, new avionics, interior finishing, and paint, getting airborne for $80-$100,000 seems achievable. With a low-time used Rotax 912, modest paint, a simple interior, and basic instruments, perhaps you could have your own warbird airborne for less than $60-70,000. Some might call that "affordable."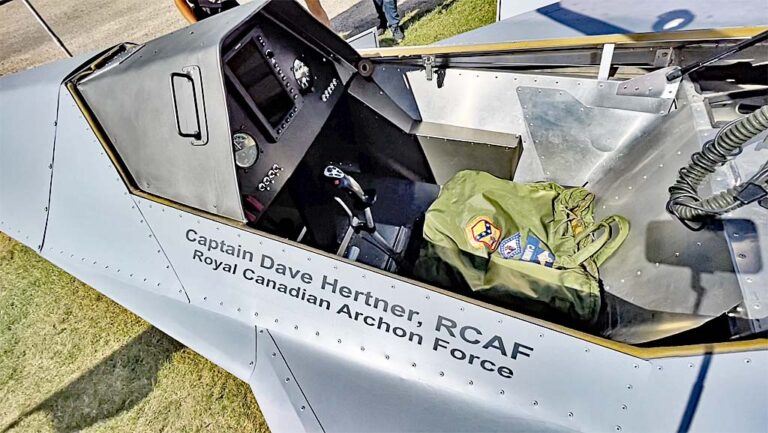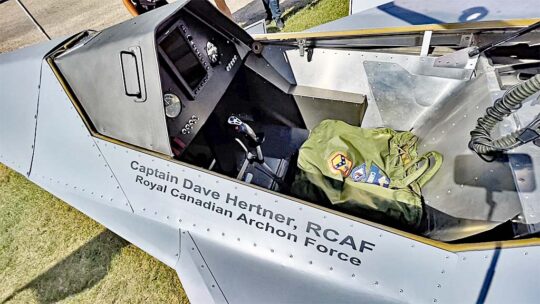 "All kits are produced for SportairUSA by Fisher Flying Products, a Canadian company with decades of experience in kit aircraft manufacturing," announced the partnership. "The majority of components are preformed aluminum. The kit includes all necessary hardware and material to build an SF-1 Archon, except the engine, avionics and paint."
Fisher Flying Products
SF1 Archon
TECHNICAL SPECIFICATIONS
figures when flying aircraft with 40 horsepower
fitting of a Rotax 9-series engine is underway
Wing Span — 25 feet
Length — 26 feet
Height — 7 feet
Empty Weight — 650-750 pounds
Fuel Tank Capacity — 22 gallons
Engine — 80-140 horsepower
Stall Speed — 45 miles per hour
Cruise Speed — 110 miles per hour
Never Exceed Speed — 155 miles per hour
Maneuvering Speed — 90 miles per hour
Flap Extension Speed — 80 miles per hour
Load Factor — +4, –2 G
Takeoff Roll — 500 feet
Climb Rate — 1,000 feet per minute
LINKS:
---
Tomorrow at AirVenture — I will go listen to the FAA Administrator …so you don't have to. The administrator is sure to touch on many points of little or lesser interest to LSA or Sport Pilot kit enthusiasts. The few minutes he spends on these aircraft classes I will be sure to report to readers.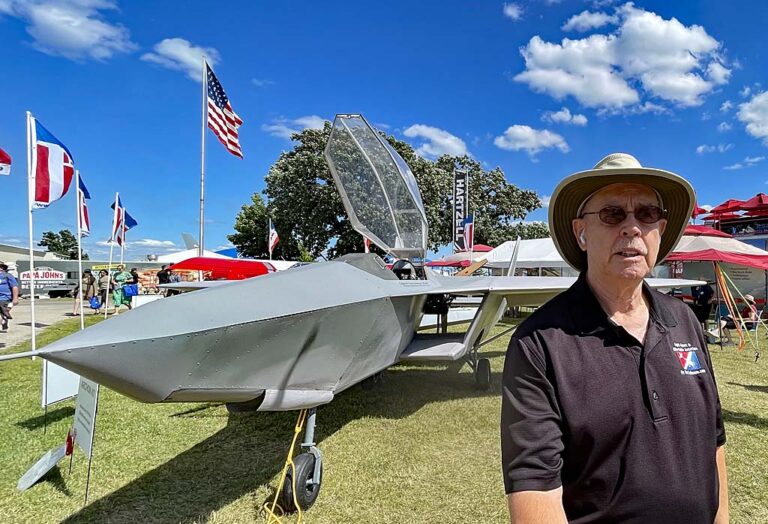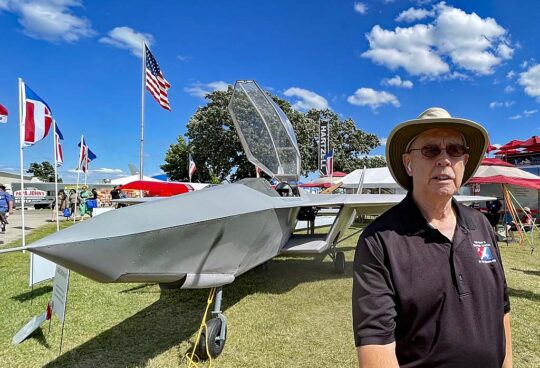 More Good FAA News — I'll report more on this, but FAA "will expand the privileges of Sport Pilot," suggesting that Sport Pilots will be able to move into some of the aircraft coming with Mosaic (now in 2024 or 2025). That's good news. FAA may also use the endorsement process that has worked so well for Sport Pilot to advance their capabilities with further instruction and then simply a logbook endorsement by a qualified instructor. I will flesh out that possibility further in a future article but if you are looking to fly legacy GA aircraft such as Cessna 150 and 172 or a Piper Cherokee, your chances got better based on this week's news.
The magic of AirVenture Oshkosh …no wonder hundreds of thousands attend!


Factory video depicting flight of SF-1 Archon using only 40 horsepower.
To compare George Iliopoulos's replica design to an original (and incredibly more costly) F-35…