A year ago at Oshkosh, I became intrigued by the way Composite FX had developed the older Mosquito into their XE line; multiple models running from a legitimate Part 103 helicopter, their XEL model, to the turbine XET model. The company builds these handsome aircraft in Trenton, Florida after acquiring the design from Canadian John Uptigrove (see image of his original).


Vertical takeoff has a special appeal, even to those of us with little or no rotary experience. Setting aside the skills to fly such machines, the cost of a helicopter is usually so high that many don't even consider it. Maybe they didn't look far enough.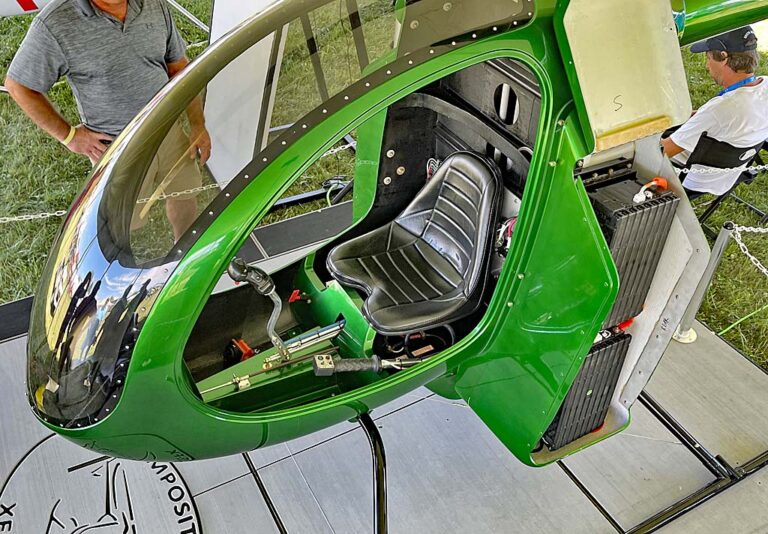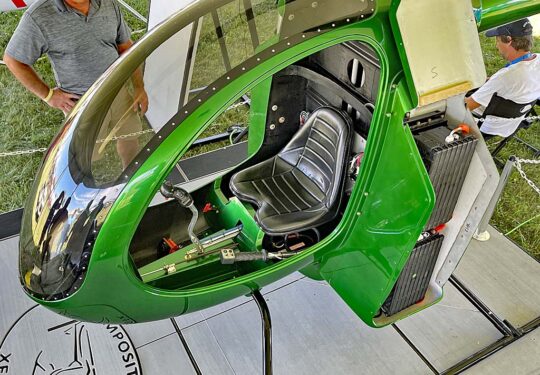 Composite FX and their $60,000 ready-to-fly XEL model (kit for $47,000) completely changes that thought experiment. Not only does this handsome aircraft perform impressively in experienced hands but many can afford it.
Yet this article is not about the product line the manufacturer is presently delivering. It's about a new project a Composite FX  electrical engineer put together as a proof-of-concept, using the XE line as his platform. What you see nearby is the first iteration of his work and it has already flown successfully. Curious about run time? So is everyone; I heard the question asked repeatedly. But first…
Putting This In Perspective
The aviation world appears headed to a split of unknowable proportions. We are already into it but it isn't particularly visible in the "conventional" flying community (that's us reading this). I rrefer to the chasm between fixed wing aircraft and multicopters.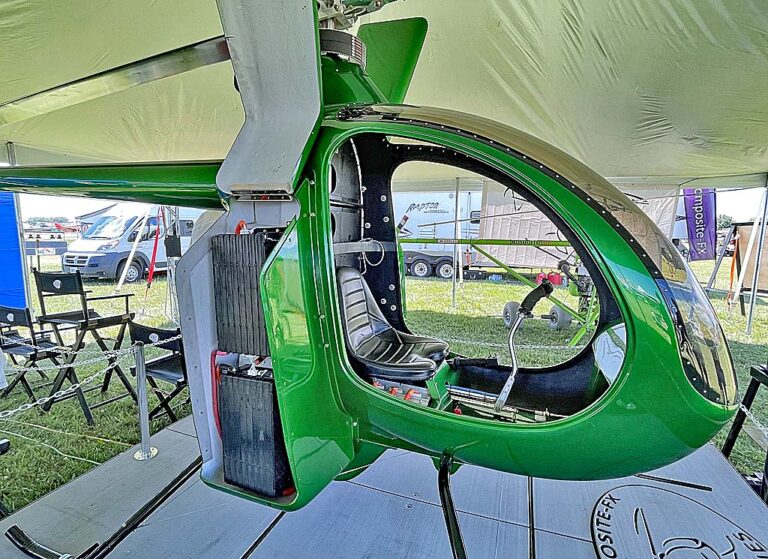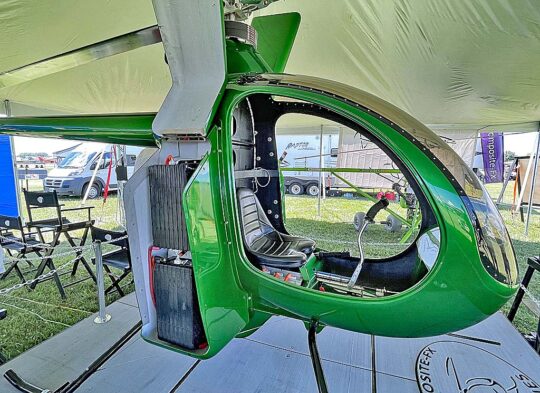 The mainstream media seems mesmerized with electric vertical takeoff and landing vehicles (eVTOLs) and the promise of "air taxis." Development projects have attracted hundreds of millions of investment dollars …more than the entire LSA industry has spent to develop 157 models over 18 years.
I have no doubt this new direction in airborne technology could lead in fascinating directions, some of which will surely benefit all pilots. However, in any definition of "near-term," I simply cannot see corporate executives flying from one building in San Francisco to another.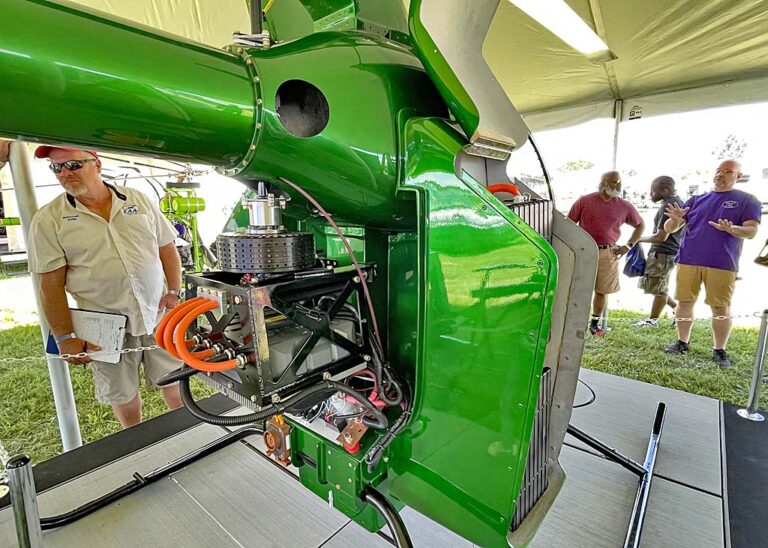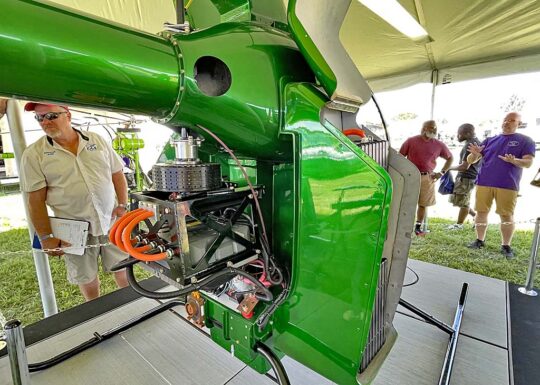 This is not to doubt the technology these engineers are creating — from multicopters, to tilt wings, to ducted fans, to hybrid versions of all these. The truly intractable problems may be general public acceptance and regulatory accommodation.
Even if we assume that batteries will make some great leap forward in energy density, convincing a doubtful public that strange contraptions flying over their heads are not a danger will be hard. They will resist the noise a vertical takeoff aircraft makes. Electric motors may be much quieter than an internal combustion engine but the air movement to lift a 4-6 passenger vehicle vertically is going to generate a mighty racket. On a building rooftop in a downtown location, perhaps this is no problem. In your quiet home neighborhood, big problem, at least after the novelty of seeing your first Uber air taxi wears off. Not In My Back Yard (NIMBY) is a ready-made movement to resist this. Let's get more practical …and near-term.
eXE? the Electric Composite FX
Helicopters run their engines at high revolutions all the time. You adjust flight path and height by modest adjustments, but the powerplant is working at high power most of the time. This can be easily achieved by electric propulsion and with lots less vibration.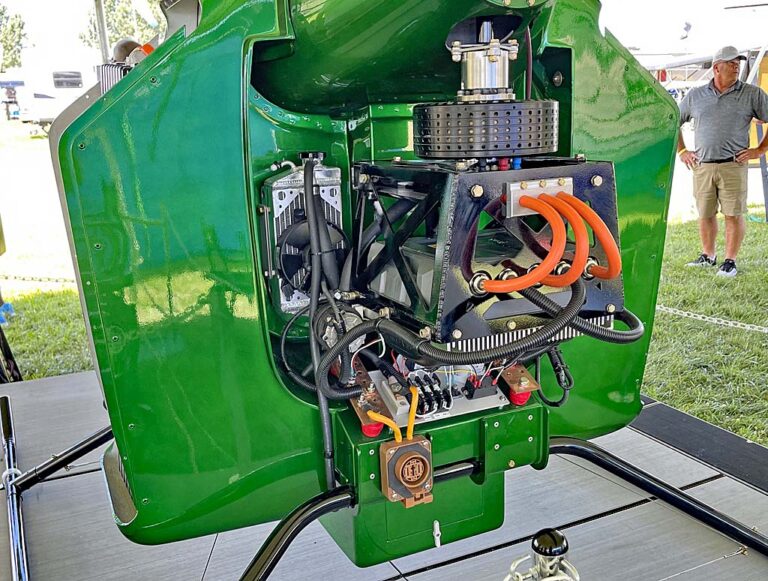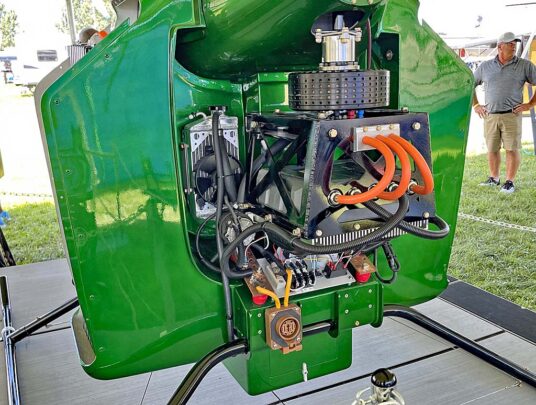 The project is too new to even have a name yet so I'll label it "eXE" for now. The electric XE model has batteries contained in two side compartments (seen hinged up for viewing in nearby photos). Another battery is positioned below the electric power components.
Electric propulsion turns many conventional concepts on their heads. In an ePower system, the motor itself is surprisingly small and compact (nearby image). Obviously more powerful motors will be larger but for a single-place helicopter like the XE series, the motor is flywheel-sized, a stack of old record albums a few inches thick. I marvel at how such a small component can put out such energy.
Electric motors are also good in torque. This suits helicopter operation quite well. Although the energy draw-down on batteries when performing vertical takeoff is rapid, the torque delivers the power that such a takeoff requires.
Combustion engines spool up rapidly and in some aircraft that can be very helpful. In a helicopter operating the engine at a near-continuous high rate, spool-up time is not much of a factor. An electric motor is less subject to overheating, although batteries being drawn down quickly can experience higher heat.
Composite FX is studying this project but, as with their other production, even this prototype looks quite impressive. It was good enough that I observed three EAA judges going over the aircraft. They do this with experience and they look very closely. Rough prototypes don't asked to be judged. Composite FX invited it.
While the Florida manufacturer can claim very reasonable prices for its regular line, batteries are costly so eXE will not be their most affordable model, I'll guess. Battery replacement cost is another expense that all electric vehicle owners must confront. You might compare it to TBO-time on an aircraft combustion engine.
Nonetheless, if a 25-minute flight can satisfy your aerial interest, an eXE might be an excellent choice. Other than battery renewal, an electric helicopter should be very low maintenance. That's something you never hear when discussing helicopter operation.
If Composite FX puts the eXE into production, they could ring the aircraft with a series of floats (as Lift's Hexa does) and qualify for Part 103, accommodating the 400-pound empty weight with batteries. Wouldn't that be interesting?
Time to get some shut-eye for Oshkosh – Day 3. Stay tuned! I bet you'll love tomorrow's story.
LINKS