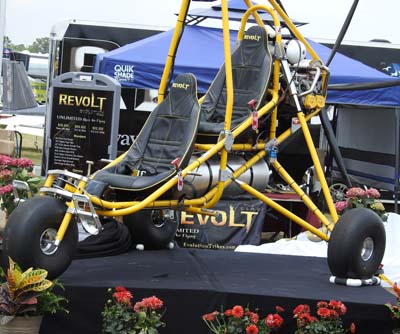 The big show at Lakeland, Florida is open and happening. Today (Tuesday April 4th) is opening day; the event runs through Sunday, April 9th. Along with Videoman Dave, we've already starting making the rounds and we've found plenty to see.
As you see in the photos, Evolution Trikes made a dramatic announcement of a new weight shift trike model called Revolt. In communications, they've spelled it RevoLT, which you could interpret to mean Revo (their super deluxe model) Light. Yet it's probably more correct to call it a different Revo without the fancy pants but with some cool new features.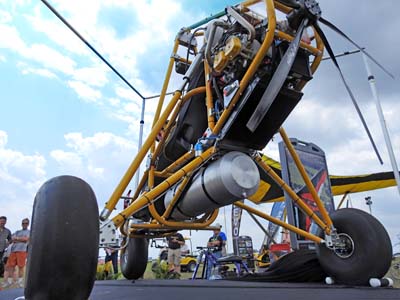 Among them, Revolt has giant tundra tires not often seen on trikes. Paired with that long shock absorber legs worthy of a SuperSTOL or Outback Shock. Like their lower priced single seater, Rev, Revolt does away with the forward strut, sometimes called a compression strut, which leaves both occupants but particularly the front occupant or solo pilot with an enormous unobstructed view.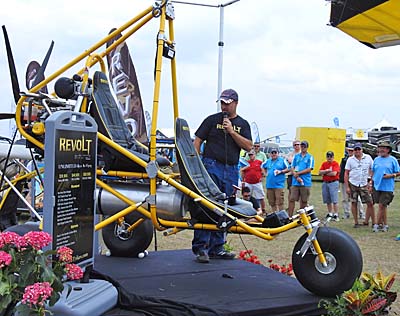 Revolt used power from the Rotax 912, which combined with an 18.7 gallon fuel tank, will provide a long range or at least plenty of local flying without refueling. The example showed at Sun 'n Fun had a 6-blade e-prop and ballistic parachute. The latter are optional extras by lead designer Larry Mednick (photo) explained that not many options were anticipated for the new model. It is aggressively priced — specifically to address those who found Revo a tad pricey — at $39,990 with the Rotax 582 engine, $49,990 with the 80-horsepower Rotax 912, or $52,990 for the 100 horsepower variant. This is tens of thousands less than a loaded Revo but the fun factor looks to be highly competitive.
Look for more in a video interview to follow.
Other stories we'll be following include the following but this list is hardly complete. Stay tuned for more fun in the sun in Lakeland.
Here are a few aircraft and developments we're tracking (more will follow when we discover them):
Seamax back in the U.S. market
Glasair Merlin's first appearance
Aerolite in kit form with lower prices
Bearcat showing a new model
Magnum parachutes has a new owner