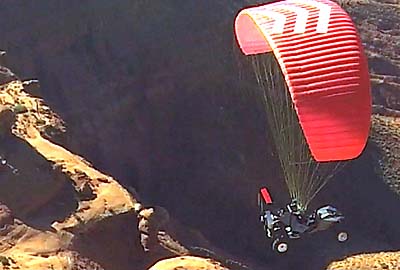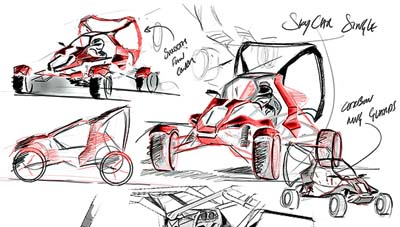 To many eyes, Icon stole the show at EAA AirVenture Oshkosh 2015. Many other newsworthy announcements were made — several of which I reported on this website — yet Icon's splashy marketing probably drew the most eyes, just as it does on Facebook. However, thanks to fellow journalist Roy Beisswenger, I was introduced to the high-energy gang at SkyRunner.
I don't know if "radical" fits the marketing designs of SkyRunner LLC, but their take on the flying ATV or dune buggy takes the genre to a whole new realm. I find myself searching for the right words to describe SkyRunner. Imagine I-Tec's Maverick but with an attitude. Then wrap your mind around two powerful engines to make this baby go. Maverick looked vaguely like a mild-mannered road car where SkyRunner abandons that image for a Ninja motorcycle look crossed with the baddest four-wheeler ATV you ever saw.
The company stated it succinctly, "SkyRunner is the ultimate recreational vehicle combining off-road adventure with one of the safest forms of aviation." Is it any wonder the military has reportedly expressed interest in SkyRunner along with more than 100 other buyers? Engineers deliberately made it sexy and wild enough to pique a soldier's mind yet based on the millions of sales of off-road recreational vehicles sales, Team SkyRunner may be tapping into a rich vein of motorsports interest … perhaps even moreso than Icon.
When SkyRunner first came on the market, they approached more stealthily than the A5 LSA seaplane designer. Icon has to appeal to aviators or wannabes … it is an airplane. SkyRunner doesn't have that constraint. Anybody could enjoy the potent dune buggy ATV concept and the fact that it can also go aloft is like a meter-thick icing on the cake. Sweet!
When I visited with Stewart Hamel and his team of designers, instructors, and marketers in their display in EAA's Innovations tent, I found a group of fun-loving yet highly motivated people with a sincere interest in flying but more than that.
As you can see in the artist study of the concept, the early focus was on the carriage, not the wing. That's hardly surprising as the wing is a component they'll buy from somebody else, much like every other powered parachute manufacturer in the world. Yet in a single glance at SkyRunner, you may not see a powered parachute; instead, you see a ground vehicle that can strap on some wings. Nonetheless, the proof of SkyRunner as aircraft shows in the effort to meet ASTM standards for powered parachutes (as has done Maverick). Work is underway, said Stewart.
Terrafugia earned an exemption for their Transition roadable airplane — a grant stemming from the onerous requirements to put a vehicle on the U.S. highway system. SkyRunner is also anticipating qualifying for the privilege as they state gross weight of the rig at 1,320 pounds (or 1,430 with the exemption). Dry weight is stated as 1,050 pounds giving a useful load of 380 pounds. That includes no fuel; it carries 16 gallons. However, in casual discussion, Team SkyRunner envisions trimming a few pounds. The carriage is mostly welded steel and other materials might convert quite a few pounds to useful load or payload.
One reason for the higher empty weight comes from dual engines. SkyRunner's ground engine is a ProStar 1000 cubic centimeter four-stroke two cylinder powerplant coupled to a an automatic transmission and yielding 89 horsepower. For flight a 100-horsepower Rotax 912 ULS is used paired with a Duc or Powerfin prop. The two engines are not interlinked. They plan a Performance Design Sunriser 550 wing that should carry the weight reliably.
You might wonder what is the market for SkyRunner … assuming you are thinking as a pilot as are most ByDanJohnson.com readers. That may be too narrow a view. Every year, better than half a million ATVs are sold in the USA (according to a report from the U.S. Forest Service), a yearly market double the number of all airplanes registered by FAA. Producers include household names such as Polaris, Bombardier, Honda, John Deere, Kawasaki, Suzuki, and Yamaha.
As an outsider in the powersports industry my guess is that SkyRunner might find a solid market for a few hundred units per year, even at their $119,000 price tag. A quad from one of those familiar corporate names might be more affordable but they can't get off the ground for more than a few seconds. Plus, like Icon's A5 LSA seaplane, the cool factor of a flying ATV can be marketed broadly. I got excited enough to promise a visit to the Shreveport factory one day where they offered to take me out on their 60 acre spread and show me a good time. That figures to be a hoot, I'm sure.
Here's a 360-degree video to view the SkyRunner design: