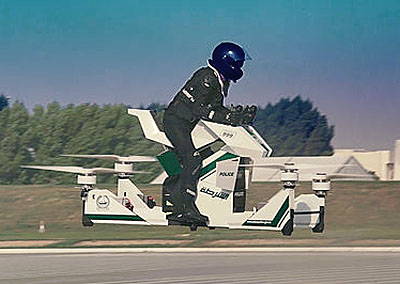 After you finish Easter Sunday dinner with the family, how about going out for a spin on your new Scorpion 3 Hoverbike? Is this merely an April fools joke?
Apparently not. Video appears to prove this machine, though with the state of the art in digital effects, anything you see can be fiction.
As many of us prepare for the start of Sun 'n Fun 2018 in barely over one week, we hope to see numerous flying machines of interest. My visual partner, Videoman Dave and I will be onsite in Lakeland, Florida — and the following week at Aero Friedrichshafen in the south of Germany. Our mission is to collect a large batch of video that we hope will educate and entertain enthusiasts of light aviation.
I do not expect we will be covering Scorpion 3, but I have to admit I found the idea fascinating. It certainly shows what could happen when you merge a motorcycle with a quadcopter plus software to help control it.  Even though I'm unlikely to ever fly such an apparatus, I envision doing so could be… well, electrifying (or should that be "electriflying?").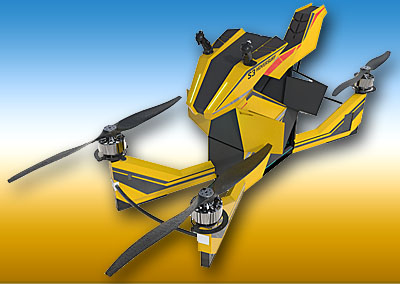 "Hoverbike Scorpion 3 is an extreme sports machine for those who are not afraid of height and speed," the Russian company developing the machine said. "You can store it at home or in the garage."
"In most countries, registration or a pilot's license is not required when the aircraft weighs below 250 pounds or 115 kilograms," Hoversurf Inc., said. In the USA, such a vehicle qualifies under FAR Part 103. In some European countries you might fly Scorpion under the 120-kilo class (Germany) or SSDR (England).
At the full listed empty weight of Scorpion 3 hoverbike at 229 pounds or 104 kilograms with its battery, I see no reason why you could not legally operate it. Speed is listed at 43 mph, a Part 103-compliant pace that could easily be constrained with current software …similar to controls for Kitty Hawk Flyer.
The main protection against an unfortunate outcome is probably the software operating the four electric motors. Most readers have seen a quadcopter operate virtually on its own. The DJI Vision I own will fly itself back to the starting point if I simply switch off the controller. If I run it low on battery, it will take over from me (without my input) and get itself back to the starting point before the battery dies. This is likely to continue improving as the pace of development is furious with billion dollar companies pouring resources into this kind of aircraft.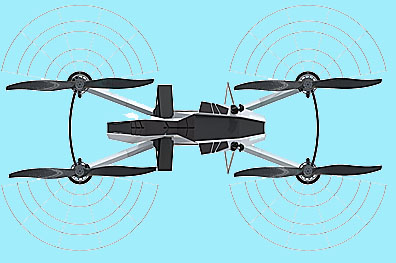 "Steel duct protection" is provided, evidently to keep soft body parts from contacting spinning props, and Scorpion 3 comes with a "Safety Lock." I suppose this keeps your 12-year-old nephew from taking it out for a spin while the rest of the family is digesting their Easter Sunday dinner.
The hoverbike is advertised for $59,900. "Reserve your Scorpion 3 today for delivery in 6 to 18 months," the company advised. "Scorpion 3 deliveries [will begin] in the U.S. based on when you made your reservation. Reservation holders will receive an email when it's time to place their order." Hoversurf lists an R&D base in the Nevada and shows its headquarters in Burlingame, California.
Ready? Me? I think I'll wait to examine one (and maybe have my head examined) before I place an order, but I must admit I found the idea intriguing. No, I'm not April foolin'!
Specifications
Range — 13 miles or 21 kilometers
Maximum Speed — 43 mph or 70 km/h
Endurance — 20 minutes (with SD LiPo battery)
Empty Weight (no batteries) — 110 pounds or 50 kilograms
Total Weight (with batteries) — 229 pounds or 104 kilograms
Batteries — 3 boxes with a handle 39 pounds or 18 kilograms each
Battery charging time – 3 hours
Battery replacement time – 1 minute
The company indicated that flight time will be about 40 minutes after development of a new battery configuration.