For years — no, make that decades — numerous pilots of light aircraft have told me the Rotax 503 was their favorite two-stroke engine.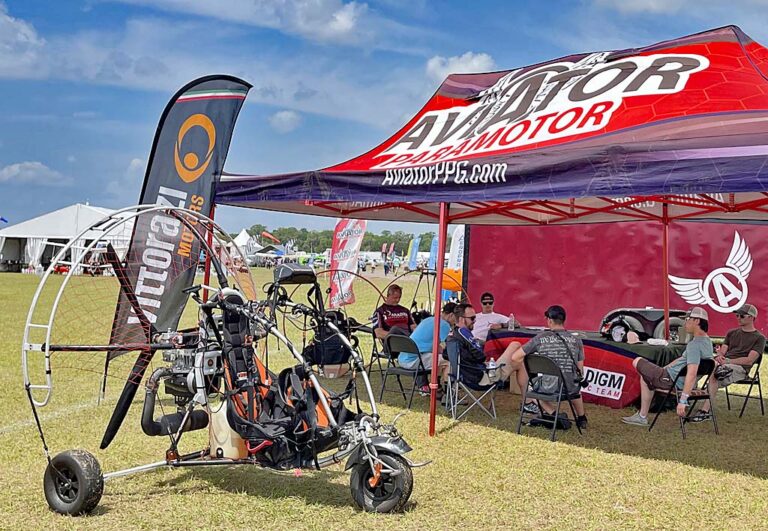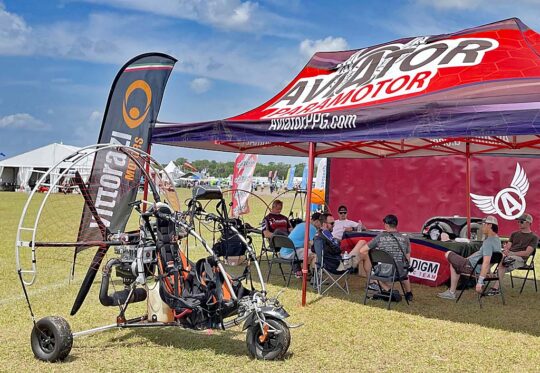 These days, it's much more likely a pilot will go on about how great the Rotax 912 is. Yes, some grumble about the purchase price, the replacement parts cost, or the cost of an overhaul, but I'd expect to hear such groaning about almost any aviation product. Contrasting a few negative opinions is an entire world of pilots who are intensely loyal backers of the 9-series engines.
Around the planet, I have identified more than 66,000 light aircraft and 70-80% of them use a Rotax 9-series engine as their powerplant. Every other brand occupies the remaining 20-30% space, including some other fine and reliable engines. No matter how you spreadsheet the numbers, Rotax is far and away the dominant brand …although no longer in two-strokes.
What Is RMZ 500?
In the lead photo for the article, I hinted the return of the beloved Rotax 503. That was admittedly a bit deceptive but as you've probably never heard of the RMZ 500, I felt it was necessary to compare it to the popular former Rotax engine.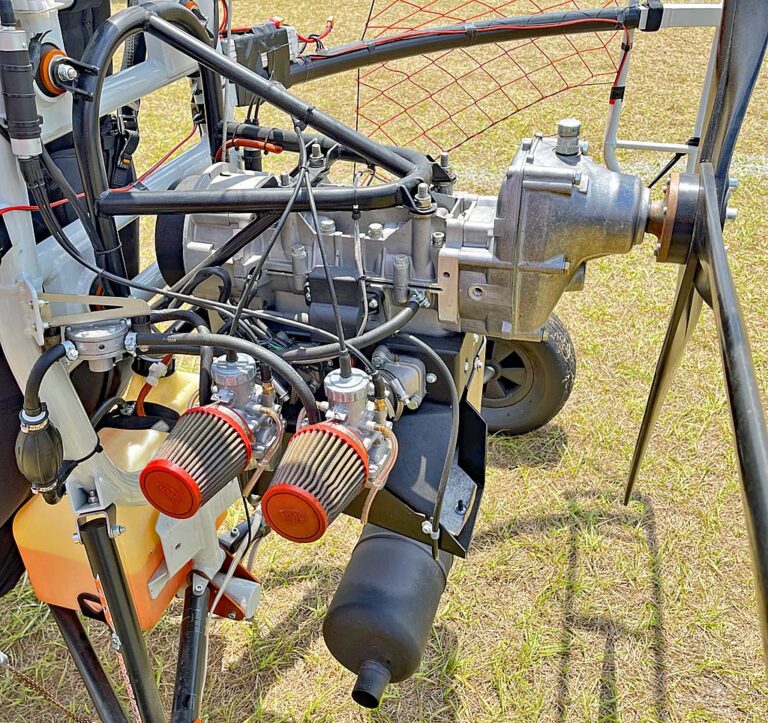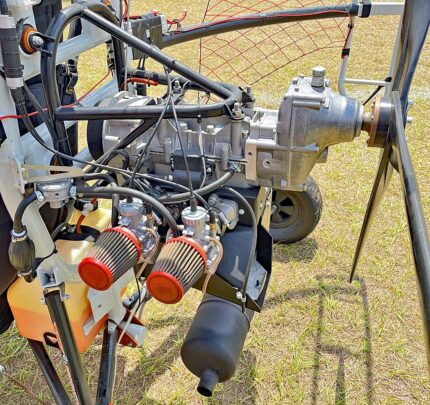 To most eyes, the RMZ 500 is nearly impossible to distinguish from the original that was taken off the market in 2010. A Russian producer manufactures it to power the snowmobiles they sell. I get that lots of readers may turn away when hearing the engine is a Russian product but many may be able to see beyond the political-class demonization of all-things Russian to understand that regular citizens of that country could have the capability to assemble a worthy engine. U.S. support makes all the difference and that is Aviator Paramotor's goal.
According to a British importer (using it for small hovercraft), "The RMZ 500 engine is piston ported with air-cooled cylinder heads and cylinders, utilizing a fan for cooling. The engine comes complete with a Ducati CDI unit [and is] also equipped with two 34mm Mikuni carburetors [with] fuel delivery supplied by an external pulse pump." The UK site concludes, "Overall, [this gives] a great affordable and reliable replacement to a Rotax 503."
Specifications: RMZ 500 is a gasoline, air-cooled, two-cylinder engine with 497 cc displacement; with a maximum engine output 50 horsepower at 6,000 rpm; and engine weight of 75 pounds not including exhaust.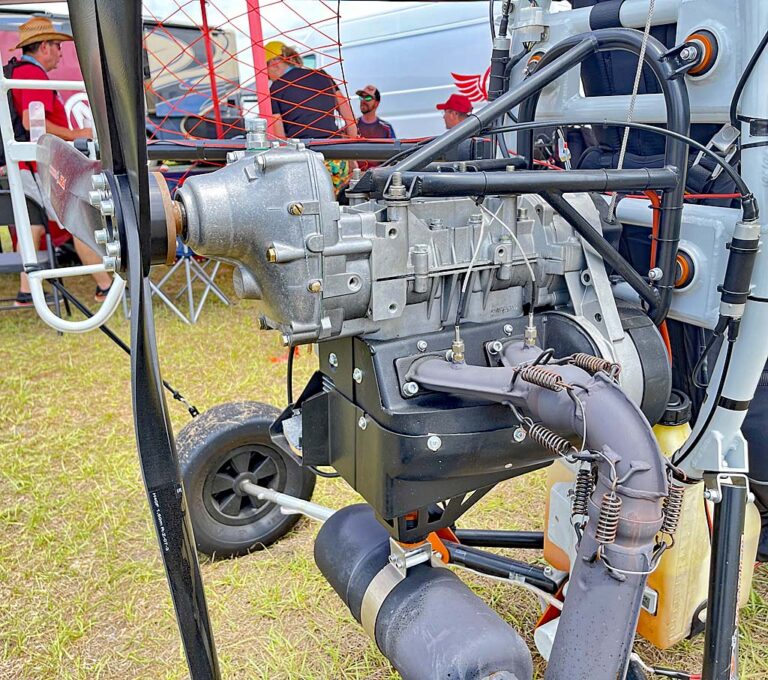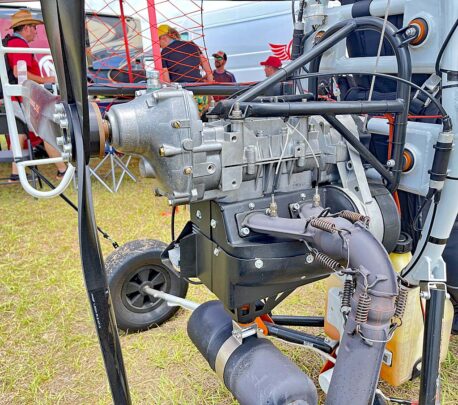 Speaking of exhaust systems, Aviator Paramotor's Eric Farewell (see video) reports that he has five more RMZ 500 engines on order since November but that supply chain problems have temporarily stalled shipment. The Russian company producing RMZ 500 is unable to get exhausts or gear boxes at this time. Fortunately, a Rotax 503 B gearbox and muffler system can bolt on to the RMZ 500; both remain available, new or used. Eric and Aviator Paramotor are working the task and may be able to supply a full package later this year. If you have skills in this area or are a supplier of such components, you should contact Eric by email.
Eric related that his group has hundreds of hours on the trike undercarriage fitted with the RMZ 500. He reports the powerplant has been very trouble-free and he is enthusiastic about it, not merely to sell but to use in his busy flight school.
Exemptions Live On…
You probably thought all two-place exemptions expired when LSA arrived upon the scene in 2004. You're partly correct.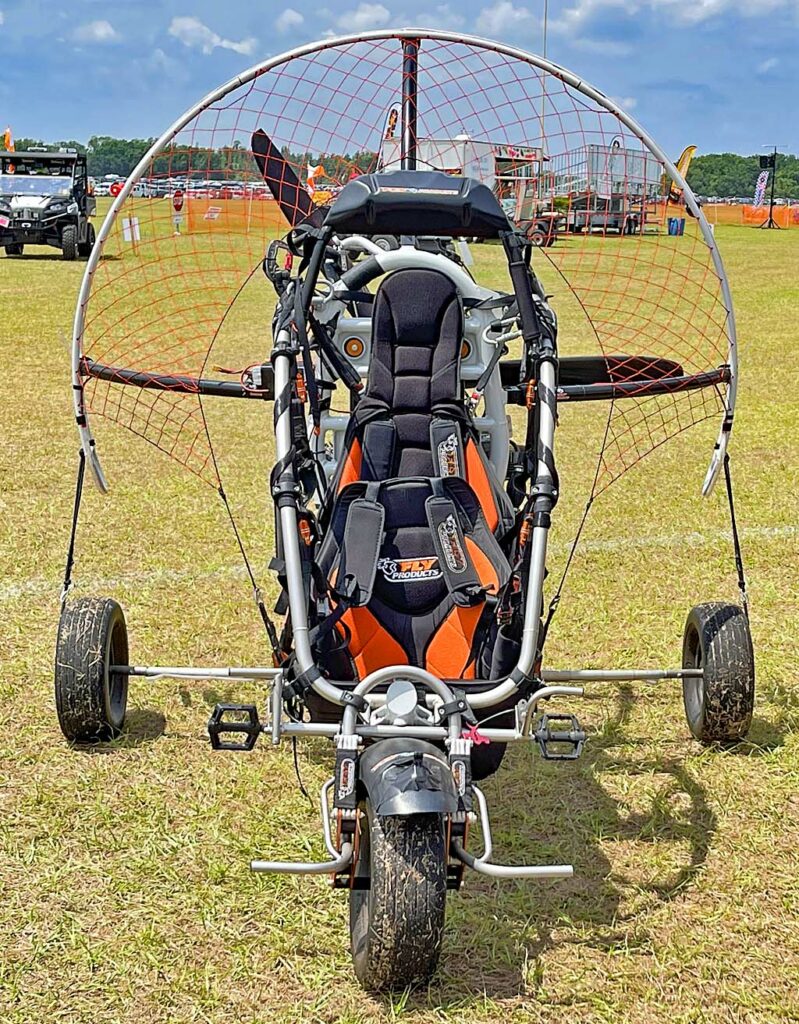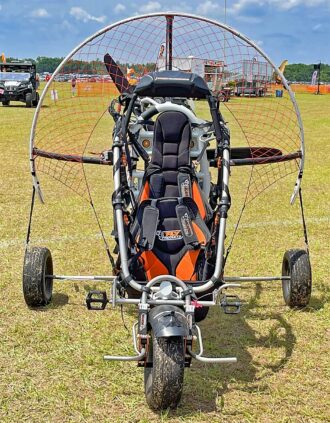 FAA did bury the old two-place powered ultralights. The agency's idea was that "properly" regulated Light-Sport Aircraft would replace the role filled for many years by Part 103 ultralight trainers. In case you arrived since 2004, those were simple two seaters that closely resembled related single place ultralight vehicles. They were intended for training only. You were not supposed to fly your buddy or your spouse on pleasure flights. All flights were to be for instruction only.
LSA supposedly fixed the problem — and in a few examples they did (Quicksilver, M-Squared, CGS Hawk, some trikes and powered parachutes). In a Special LSA ultralight-like aircraft, you could fly a passenger recreationally and you did not need to always perform instruction. Pilot licensure also was tightened. Unfortunately, the results were devastating to ultralight aviation — many instructors left the training business.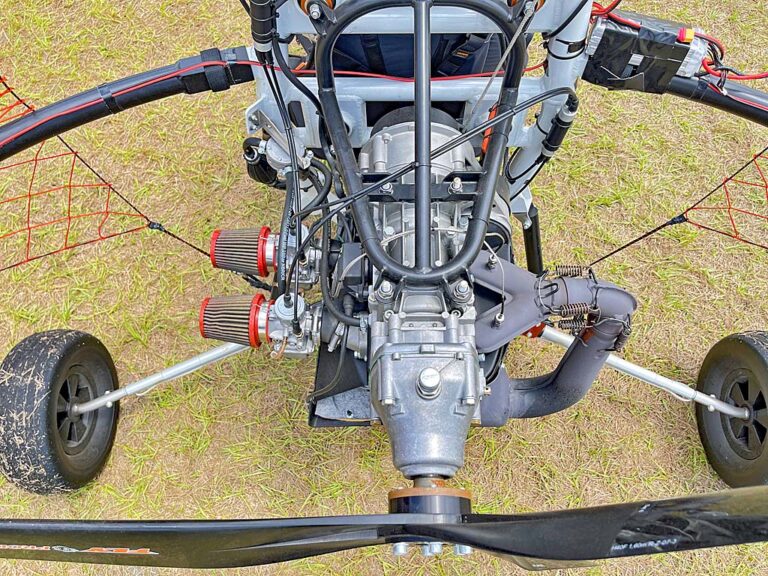 However, out of sight from most aviators, hang gliders were still permitted to do two-place instructional flying without needing a Special Airworthiness Certificates such as all LSA have. It has continued right on working well to this day as it had done for the decades before the big changeover.
What even less people know is that powered paragliders (different than powered parachutes) were also permitted to keep their training exemption. FAA recognized that almost no one flew two-place hang gliders or paragliders or powered paragliders so they didn't mandate a switch to costlier LSA.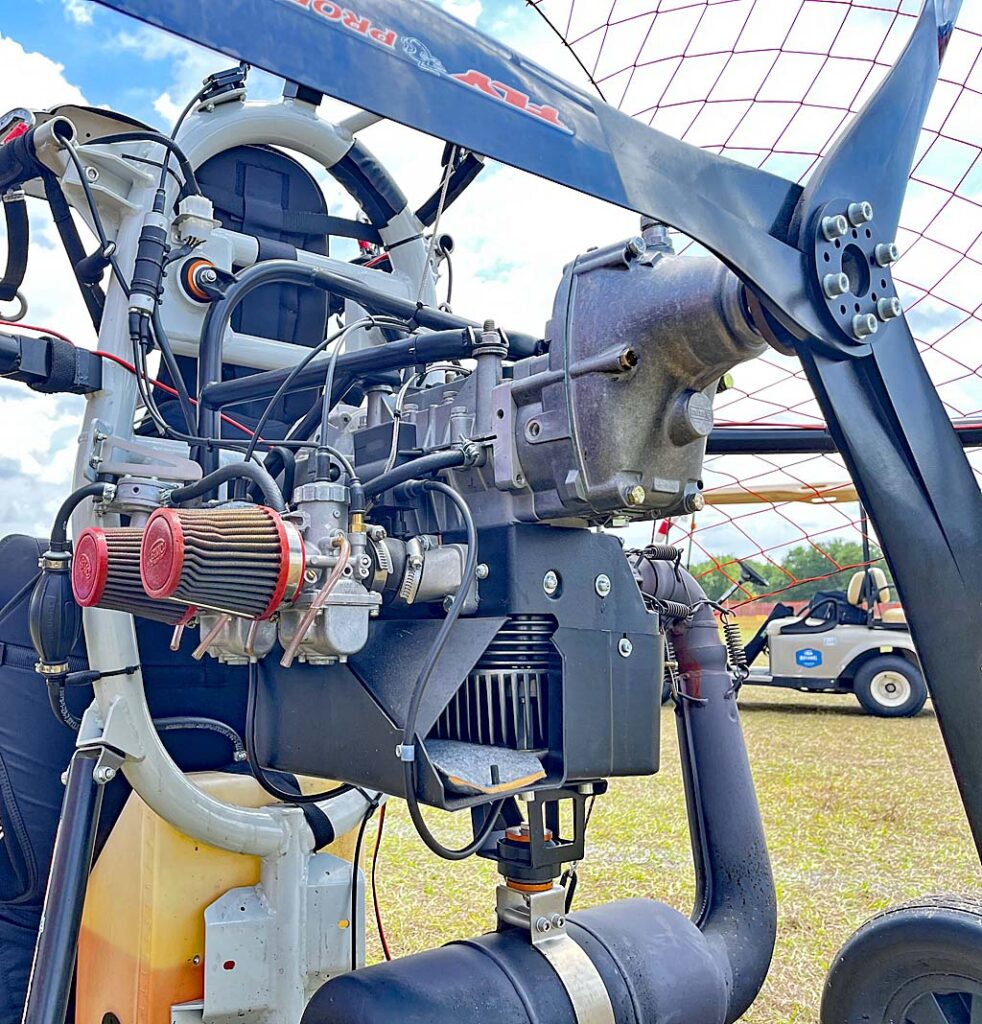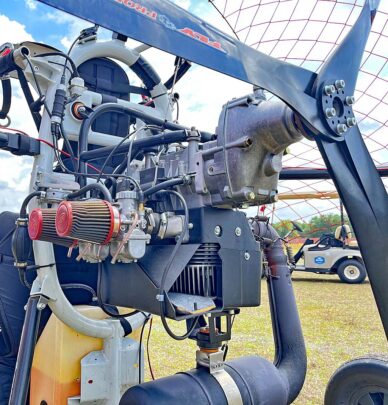 The Aviator Paramotor rig you see with two seats, and the RMZ 500 powering it, remains a legal, exempted vehicle. For those intrigued about flying a powered paraglider as a very affordable and manueverable aircraft, a wheeled carriage with a powerful engine could make an interest purchase. Training is available and Aviator Paramotor can barely keep up. Check this link for more about their training program.
Presently revising their comprehensive website, Aviator Paramotor is based in central Florida at the well-known Lake Wales airport (X07). The central Florida company — with a satellite operation at the Dunnellon airport (X35) — offers a wide range of products that you may want to explore but as affordable aircraft go, these qualify. By casual estimate, the paramoter, a wing, and an undercarriage will run around $15,000 in ready-to-use form. Your final price may vary as options are available.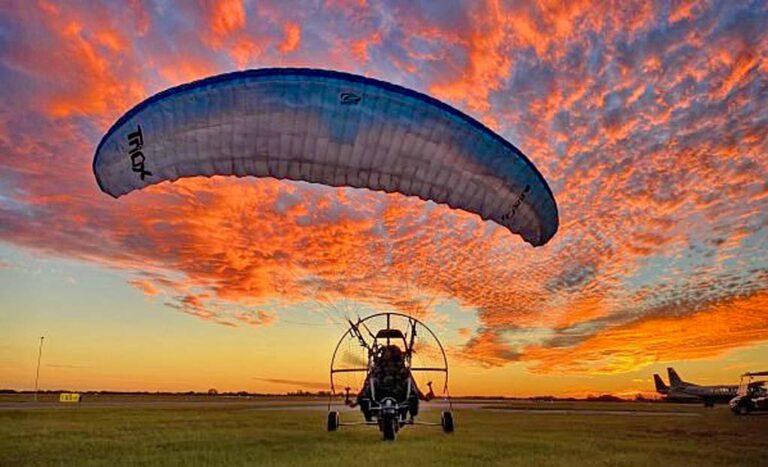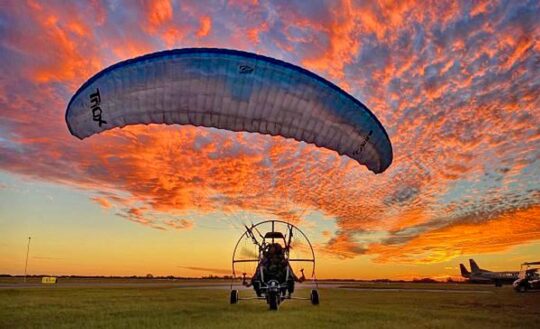 In regular use, Aviator Paramotor uses the RMZ 500-powered rig to train new students — lots of students, some 300 per year. Demand is so strong they actually have to turn some people away. "We could probably exceed 1,200 students a year if capacity were available," said Eric Farewell.
The Show — Eric's team caught my attention a few years back as they put on a formation flying show using powered paragliders. They fly in surprisingly close formation and execute impressive maneuvers not so different than you are used to seeing with teams operating conventional aircraft. After decades of airshows, I admit I don't always follow aerial acts closely but this bunch caught my attention. They're good. Check them out yourself at Sun 'n Fun 2022.