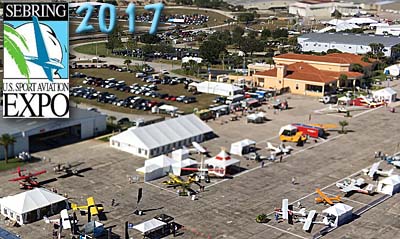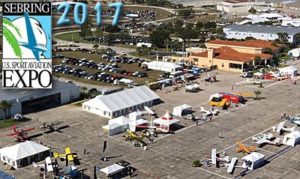 At last November's DeLand Showcase, I tried something new. I didn't know how it would work or be received but I took a shot. As it turned out, a good many folks seemed to enjoy my "Race Around DeLand 2016" video. I literally used a golf cart and did a drive-by video shooting of most outdoor booth spaces at the Florida event. A surprising number of pilots told me they enjoyed it.
With those comments in mind, I thought to repeat this with "Race Around Sebring 2017." You can see it below. This would be tough to do at Sun 'n Fun or Oshkosh where the LSA, light kits, and ultralights are scattered all over the grounds. It might work, though, in Sun 'n Fun's Paradise City or in AirVenture's Fun Fly Zone… we'll see about that.
Until those spring and summer extravaganzas, I hope you'll enjoy this rather speedy glimpse of Sebring 2017, the 13th running of this grandaddy of the small, focused events that draw enthusiasts of these recreational or sporting aircraft.
If these Race Around videos remain popular, I might even attempt this at Aero Friedrichshafen, except that will have to wait until 2018 because in 2017 Aero runs concurrently with Sun 'n Fun… darn it!
You might regard this as an (under) 15-minute tour of Sebring for those of you who could not make it. However, honestly, I hope you can attend either or both DeLand 2017 and Sebring 2018. I think you'll enjoy… good winter weather, concentrated aircraft in your interest area with many of your flying friends present, plus you can take all the demo flights you want.
See more about all kinds of affordable aviation… LSA, light kits, and ultralights on our LSA Videos page that is approaching 500 videos.
You can watch more than 1,000 videos on Videoman Dave's YouTube channel publishing as SportAviationMagazine.com. Your support of Dave's YouTube channel allows him to do this work. Please consider subscribing annually or Lifetime.