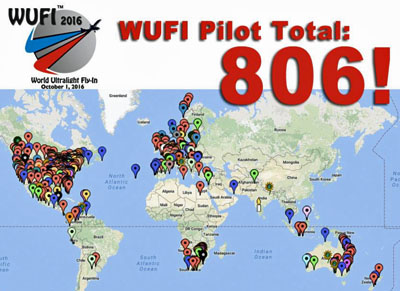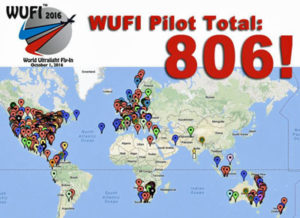 WUFI '16 — It's tomorrow in New Zealand. Weird as it seems to write that, the down-under nation is 17 hours ahead of those of us on America's east coast. So, pilots in that nation will lead the parade as ultralights and other open-cockpit aircraft kick off the World Ultralight Fly-In on October 1st, a global day in the sky. If you have one of these aircraft, I hope you log on to their map and add your pin and info to the group.
As of September 30th, the day before WUFI Day, more than 800 pilots had already shown their support for the "movement" to have some joy in the air aboard your light flying machine. Organizer Dayton Ultralights and Facebook regular Paul Lindamood were looking for 1,000 pilots to join the party. Given normal human propensity to wait to act, it might happen. I'll be interested to hear the final report but you should get your bird ready now and check the news later.
Interestingly, a look at their map reveals two nations that jump out for their lack of participation (or at least showing so on the map). Russia and Brazil both have active aviation communities and I'm surprised to see those areas with no pins. Perhaps they're among those waiting until the last minute. Follow the development on Dayton Ultralight's Facebook page. More info right here and here.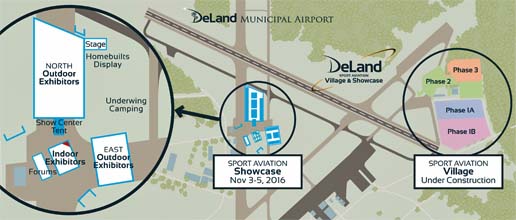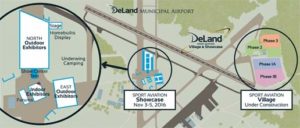 DeLand Showcase — We're now about one month away from the first-ever DeLand Showcase at the …you guessed it, DeLand Airport (KDED). Based on my years in close-by Daytona Beach, weather over November 3rd, 4th. and 5th should be good, no longer broiling in tropical heat but neither wintery. Get more info: DeLand Showcase 2016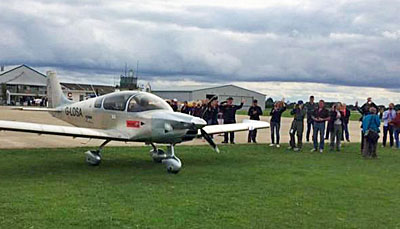 TAF Sling Kit — Mike Blyth and the gang from The Airplane Factory has done it again. No, not fly around the world… again. They've done that so often it's almost not news. What they repeated was fully building of one of their kits, and flying it, at an airshow. Certainly this shows a regular homebuilder that Sling kits can be completed in a reasonable amount of time.
The Airplane Factory USA Team announced, "A Sling 4 [seater] has been built and flown in record time at the Sywell Aerodrome, United Kingdom, during the 70th Anniversary LAA Rally." The UK's Light Aircraft Association puts on the event.
A complete Sling 4 aircraft kit was packed in South Africa and then delivered to Sywell on August 26th. "Over a seven-day period, a 10-person build team, consisting of five TAF employees and five LAA volunteers, fully assembled the kit, ground ran the engine and test flew the completed aircraft at the show," reported TAF USA. The build team worked 12 hours a day in the company's airshow display.
This the second Sling 4 build of its kind. About a year ago in September 2015, the TAF South Africa team built a Sling 4 in only 4 days, with 40 workers (here's our article on the earlier speed-build). Sling 4-4-40 was delivered to TAF USA as their Sling 4 demonstrator and has since accumulated more than 650 hours of flight time. I've gotten to fly Sling 4. I loved it; read more here.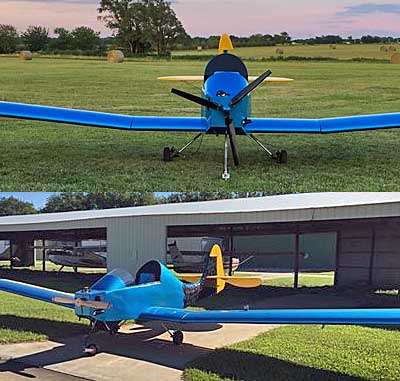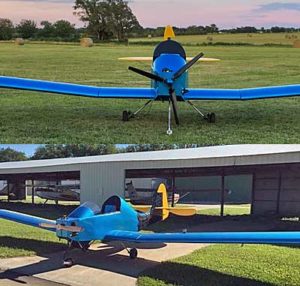 Skydock Tested — Single seaters don't get enough love, it sometimes seems. The truth be known, though, Part 103 ultralights appear to be doing fine. Perhaps the number of producers now properly matches the number of customers; whatever the explanation, companies pursuing 103 appear to be staying active. One such is Belite Aircraft.
Owner James Wiebe has been focused on his low wing cantilever Skydock and it is drawing interest. Skydock can be a Part 103 aircraft with minimal paint and an airframe parachute. Or, it can be a Experimental Amateur Built in the USA or a Single Seat DeRegulated aircraft in the United Kingdom. When James recently tested Skydock's wing, he did so assuming the higher gross weight of a EAB or SSDR.
"We ran our negative G load test yesterday on our SkyDock prototype," said James. Belite tested to negative 3.8 G at a gross weight of 660 pounds, 10% beyond the higher MTOW of Skydock. James consider it "an ultimate load test."
Skydock is a single seat design with what Belite said is "an exceptionally roomy interior [that] fits long legs, broad shoulders, a large frame." The fuselage and wing D-cells are carbon fiber; wings have integrated ailerons and flaps. A complete kit with skins is priced at $20,625.