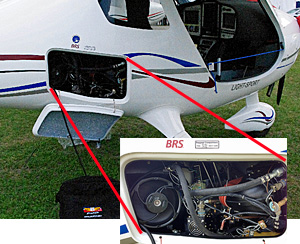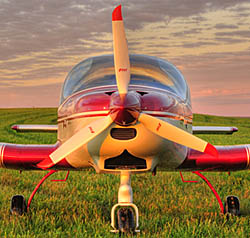 Across the northern U.S. states and across much of Europe it was a lousy, cold, snowy winter. It seemed everyone I spoke to at Aero in Friedrichshafen, Germany complained about the crappy winter and their laments mirrored those from America's northlands. However, the weather appears to be going directly from winter to summer. It was warm in Slovenia when we visited Pipistrel and it's now getting hot across much of the USA. That's great, perhaps, as it foretells an active flying season. However, as the weather warms, it can get mighty hot in the cockpit and not only because you're on short final on a gusty day in a responsive LSA.
US Aviation previewed their integration of the AMT FlyCool air conditioning system in the Flight Design CTLS at Sun 'n Fun 2013. The Dallas-area, Texas company partnered with FlyCool to develop an installation for the Flight Design CTLS. US Aviation rep, Scott Severen said, "We are seeing a 20 degree drop in less than 10 minutes on a 100 degree day" The FlyCool system is a 9,500 BTU per hour, all-electric system that fits in the right side baggage area of the CTLS (photo). US Aviation will perform installations at their sprawling Denton, Texas facility. Scott also noted that they plan to offer an option to pre-cool the CTLS during pre-flight by plugging the unit in to standard 110 volt current in the hangar." The hardware swallows up half of CTLS' baggage area, but small shelves behind each seat will suffice for short trips. The cost is less than $15,000 and takes about a week, he said.
"Visitors at the show who experienced the system working were quite impressed by the volume of cool air moving through the cockpit vents between the seats," observed Severen. Flycool is an innovative, lightweight, very low-power-draw air conditioning system developed by Air Management Technology of Denver, Colorado. US Aviation is a major flight school and maintenance facility in central Texas that is super LSA-friendly. US Aviation has been a Rotax Service Center for many years employing six Rotax-trained, full-time A&P mechanics. In regular efforts by Severen over the past two years, the company has become an authorized repair representative for many of the top LSA brands.
Adding to their other well-known companies, US Aviation recently announced taking this duty for Bristell USA. "Bristell audited the US Aviation facility and found the capability requirements and the proper tools and equipment necessary to perform authorized service including insurance and warranty service, along with avionics and BRS service," reported Barry Pruitt, President of Bristell USA. "They understand Light-Sport Aircraft. We are proud to partner with US Aviation in creating outstanding support for our customers in the central USA."
We've posted ten more LSA videos: Super Petrel LS • Bush Cat • CubCrafters on Mead Floats • Belite amphib floats • Mosquito ultralight helicopter • Fisher kits review • Golden Avio F30 • Groppo Trail & Savannah • Aerotrek durability • and, the ready-to-fly Kolb Part 103 Firefly. We have many more still to come … all for free. Happy viewing!