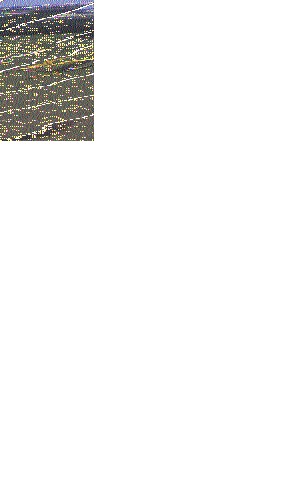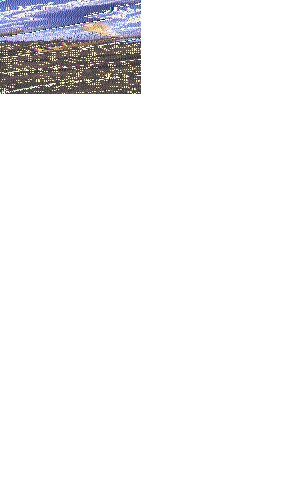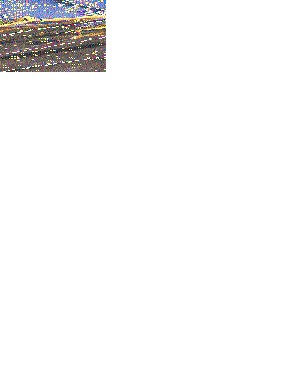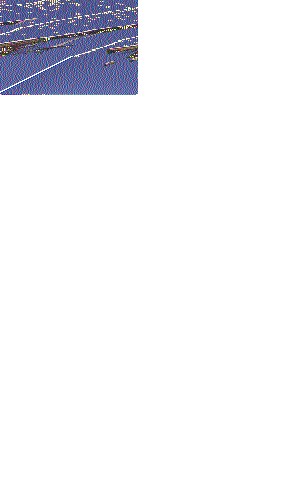 After ten years of producing exclusively single seaters, Tennessee-based TEAM Aircraft broke with tradition and rolled out their very first two seater, the Tandem Air-Bike, at Sun 'n Fun '96, following the company's successful Air-Bike design debuted two years earlier.
Wayne Ison's TEAM got a lot of attention from the Air-Bike – it being regarded as an aircraft you get on, not in. That same sporty, fun-to-fly concept has now stretched into a two-seat model.
Some buyers will use the Airbike Tandem for instruction under the training exemption to Part 103. Others will N-number the machine and use it for the occasional joy ride with a passenger. It should work well either way. In fact, the close-quarters tandem seating means that when the aircraft is flown solo, it should perform well and yet feel more like the agile single seater than some other designs. This theory has worked well for Kolb and their Firefly II, for example.
Certainly, "An Air-Bike built for two" succinctly sums up the intent of this plane. That slogan was dreamed up by then-TEAM President, Scott Severen who was the principal motivator behind the two seat offering. A pivotal previous contribution from Severen was directing the evolution of the intriguing EZE-Max, originally introduced in the 1980's, into the single seat Air-Bike. Like many who saw the EZE-Max, Scott had been drawn to the simple machine. However, it had flight problems that caused it to be withdrawn before any were produced.
By moving the wing above the pilot's head and closing the open center section, thought to be the root of the problem, and by adding a welded steel structure, the ill-fated EZE-Max was transformed into the well received Air-Bike.
Though the Air-Bike is simplicity itself, it is nonetheless a modern execution of ultralight aircraft. Since it enjoyed good response from the marketplace, it became the platform for TEAM to use in creating the Tandem, their first-ever two-seat model.
THE WAYNE & LARRY SHOW
TEAM's design team is comprised of company owner and founder, Wayne Ison, and show pilot, Larry Israel. Of course, everyone at TEAM gets into the design act at times, but mostly these two experienced men are behind the single and two place Air-Bikes, just as they have been the prime movers on other TEAM designs.
Though new designs are never as simple as they appear to those of us who see the finished example at an airshow, the Tandem is mainly a stretched cockpit version of the single seater. Stretching a fuselage may sound easy, but lots of considerations are involved.
Strength must be greater for the larger load and this need works against merely elongating the cockpit area. Making a greater unsupported span (of cockpit front to aft) requires careful thinking about structural integrity.
In addition, since this was to be a dual control model, Ison and Israel had to find some way to cram in another joystick and rudder pedals without stretching too far aft.
The result has similarities to Kolb's very popular FireStar I/II. In both designs, the aft seat is closely located behind the front seat. Both aircraft models share this seating configuration with virtually every trike.
However, trikes don't need separate joysticks. Neither did the FireStar II which was intended only to provide a passenger seat without controls. The Tandem Air-Bike was to have full dual controls and this added considerable challenge to the overall effort.
But, it's still a simple airplane like the single seater. In fact, the closeness of Tandem to Air-Bike may fool those who examine it into wondering why it took any time to create.
Besides the structural issues which complicated the design, the designers elected to add a folding wing option to the Tandem. Overall, in fact, this Tandem is a completely rethought Air-Bike.
Of course, it also uses a much beefier engine. TEAM selected the well regarded Rotax 503 as the primary powerplant for the Tandem. The single place Air-Bike starts with the modestly-powered Zenoah G25 with 22 horses, although most buyers will likely choose the Rotax 447. Even so, the 503 adds 6-12 horses over the 447, and this extra oomph helps bear the load of another occupant.
ONLY A FEW CHANGES REQUIRED
After some initial dissatisfaction with prop efficiency, Ison settled on a three bladed one and 3:1 reduction. "I wanted a two blade prop but to assure adequate ground clearance, we stayed with the three after trying, two, three, and four. We fiddled with the right combination for quite a while," he recalled.
They also chose to use the Rotax C gearbox replacing the B box and found, predictably, that it was quieter and much smoother.
Bigger design changes came by adding 30 inches of span, 15 inches per side via one more rib bay. Ison explained that "The combination of these changes really enhanced the climb rate. It's now 550-600 fpm and the Tandem has good acceleration. We checked this at full gross, 400 pounds of pilot plus full fuel, so we're satisfied with performance.
A control "quadrant" is housed about where you see the front seat belts attaching to the overhead structure. That's the location for the master switch, the electric starter, pitch trim, and flap switch. All four are electrical switches, making for a compact control panel. This is doubly important in an wide-open airplane like the Tandem.
Since Sun 'n Fun 1996, TEAM has also added brake capability to the rear seat. "Now a lever is accessible to both occupants," says Ison, providing a combination lever that each can reach alongside themselves.
CONTINUED REFINEMENTS
Among changes made since Tandem's announcement is a raised rear seat. "We wanted to provide better visibility for the rear seat, since an instructor has to be able to watch closely," explained Israel.
TEAM also dressed up the upholstery a bit and made a better throttle handle, "just cosmetic things," feels Ison, but nonetheless a buyer gets more refinement for his/her money.
Dressed up or not, as you stand alongside the Tandem Air-Bike, you might wonder if "cockpit" is the right term, so spartan does the plane first appear. I suspect the Tandem will primarily attract those pilots who like the idea of a wide-open airplane. Those wanting the "little airplane" look and feel will choose other machines. Most visitors I've seen at air shows practically drooling over the Tandem or Air-Bike are clearly the former. Some of these enthusiasts look upon the Tandem as a kind of modern-day pioneer ultralight.
The Tandem is basic all right, but "spartan" may not be an appropriate word. The lack of a cockpit doesn't mean lack of comfort or features. In addition to a spiffy new upholstery treatment, I discovered the windscreen is quite effective at keeping air blast off your face.
Seating is quite reasonable up front but slightly more crowded feeling in the rear. In the aft seat, the sensation of being cramped comes solely from the proximity of the front seat. If you have a long-legged occupant up front – with the adjustable seat as far aft as it goes – then your legs must reach around the front seat to rest on the rudder pedals. With a short person up front, it might feel more spacious.
In the front seat the closeness of the instrument panel that TEAM installed allows you to read things like engine temperatures very accurately. The throttle location may not look very convenient in the accompanying photos but, in fact, the pilot can rest his palm or forearm on his leg while operating the throttle, which is quite comfortable. You could also support a couple fingers on the tube supporting the throttle.
OPEN AND AIRY
Tandem Air-Bike is a sprightly performer overall but it's no match for a 447 single place Air-Bike. However, for most aircraft made in one and two seat varieties, the single seater is usually more responsive than the two seater. By adding enough power, the larger plane may climb as well or better and because it's heavy, it may fly faster. But in areas like control feel and nimbleness, sink rate, and close-to-the-ground maneuverability, single seaters are king.
Fortunately, since two seaters are essential for proper training, adding power and getting the right prop are decisions through which a designer must work. Once the right combination is found – as TEAM has now done – the two seater performs well for its purpose.
I've long thought TEAM's aircraft offer among the very best control feel and response in ultralighting. I've come to love the wooden miniMAX-style wing employed on the Tandem and Air-Bike. Their ailerons are quick and quite light. The tailplane surfaces are powerful and adequately light, yet with some feel to sense inputs. The Tandem enjoys very predictable handling and enjoyable controls overall.
The argument about performance comparison of single to two seat models also applies to controls. The single seat Air-Bike uses virtually identical control systems as the Tandem because it makes design sense. However, the feel is better in the lighter model.
Tandem's control stick range is very good; I had plenty of movement for all maneuvers attempted. I was also able to perform good Dutch rolls to shallow angles. More steeply banked ones were less well coordinated although more practice will change this.
Though they're options, the Tandem was fitted with flaps and an aerodynamic trim. Both devices are electrically actuated. Surprisingly this powered system of control actually saves weight.
However, the Tandem model I flew in Florida had rather low response from the electric flap lever. This is because the first choice of servo was underpowered for the job meaning TEAM had to move the surfaces more slowly. It gave the system a feel of sloppy linkage when in fact, it was mostly a matter of time passing.
Now, Wayne Ison reports that the flap servo uses a more powerful motor. "It's quieter and works much faster," says Ison, a speed enhancement that will offer a tighter, more connected feel.
DEPENDABLE TEAM
Another predictable area of good quality associated with TEAM is stability and the Tandem proves this once again. Stalls are very gentle and always broke straight forward. Since Ison added the 30 inches of span to the Tandem, the stall speeds dropped a bit. An already slow flaps-on stall "went from the high 20s down toward the mid-20s and the clean stall (flaps up) went from 35 down to 32-33," says Ison.
Power on stalls require liberal amounts of rudder which is not an unusual situation. Both power on and power off stalls, while flying solo, got down into the mid-30 mph range according to the installed ASI. Later when flying dual, I noted that stall speeds changed very little at break.
Compared to the single seat Air-Bike, the Tandem won't be as enjoyable for that special kind of flying just five feet over agricultural fields. Yet it is a quality machine for instruction as a 103 exempt vehicle or for joy rides if N-numbered. When the student is ready to solo, he or she will find the experience surprisingly close to two-person flight. That isn't always the case on ultralight or ultralight-like aircraft.
NO STICKER SHOCK
TEAM has long been known for its most reasonably priced aircraft. That remains true for their entire line of several mostly wood models. However, the Air-Bike series is a bit more costly.
Due to the welded steel aircraft and several fiberglass parts, the Tandem is fairly pricey compared to a basic miniMAX. However, not only is the Air-Bike model built of more costly components, it is also a two-seat vehicle which means more structure, more testing, and overall, more development costs that must be recovered.
As an aside to the above comments, the Air-Bike series will build quicker. And it may resell easier as buyers trust used steel more than used wood.
The Tandem is a true "composite aircraft" in the truest sense of the word, however, as it still uses the primarily wood construction of the miniMAX line for the wings, while the fuselage is steel. Aluminum members are used in a few places and fiberglass is also part of the composite machine.
For around $8,000 you can purchase the entire Tandem kit (without engine). You can also choose to buy the kit in component stages. Starting with a wing package, this part of the project will consume some weeks of a few hours a day. Next add the prewelded package, finishing things off with the completion package. The first two packages are pretty self-explanatory, and the last includes the balance of all parts not used before like seat belts, gas tanks, wheels, struts, and fabric plus numerous fasteners and fittings.
Then you can select from several desirable options. One required kit is the powerplant installation package for $385 that includes the extrusions to fabricate motor mounts, various hardware, rubber shock mounts, fasteners, fiberglass cowling, and prop spinner – all prepared for the Rotax 503 engine.
Other options include drooped wing tips ($270), brakes ($150), electric flaps ($375), electric elevator system ($160), wheel pants ($169), or wing fold system ($135). Prices are always subject to adjustments, so contact TEAM for the latest cost information.