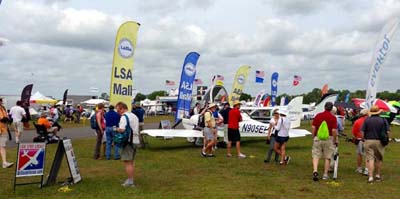 We are less than two months away from Sun 'n Fun 2015 where once again the LSA Mall will be a central part of the fascinating area called Paradise City. Here is where thousands of visitors to the large season-starting event can see a flock of Light-Sport Aircraft and light kit aircraft. Prospective customers for these airplanes can also take a demonstration flight, right on the show grounds of Sun 'n Fun. See any vendor to inquire about demo flight availability.
At this 41st running of the popular event in Lakeland, Florida, LAMA, the Light Aircraft Manufacturers Association is pleased to again showcase the newest sector in aviation. Visitors can enjoy the third year of the completely redesigned Paradise City, formerly known to enthusiasts as the Ultralight or Lightplane Area. Transformed in 2013 with an entirely new layout that brings visitors closer than ever to a wide variety of aircraft, Paradise City is particularly popular as you can get intimately close to the runway where a wide variety of flying machines will take off and land almost all day long (except during certain parts of the main airshow in the mid-afternoon).
The LSA Mall is made available thanks to manufacturers and their willingness to reveal their aircraft in wingtip-to-wingtip convenience, to volunteers in the LAMA tent at the center of the LSA Mall and with very special thanks to support from Aviators Hot Line, publisher of the Light Aviation Edition and organizer of the Show Center display.
Also for the third year, Rotax Aircraft Engines has again confirmed their support for a special transportation system that can whisk demo flight customers and others from the main "core area" of Sun 'n Fun to Paradise City with a stop at the Rotax main display.
Come ride the Paradise City Xpress!
Rotax BRP sponsors these golf carts to make it easy for pilots wanting to access a demo flight in a Rotax-powered aircraft. Many of these airplane companies exhibit in the main traffic area of Sun 'n Fun. Most of these companies — as well as those whose displays are in Paradise City — conduct their demo flights off the newly improved Paradise City runway. Rotax wants to help pilots and visitors get to those airplanes easily and conveniently. When seats are available — often! — you can catch a ride on the Paradise City Xpress, too … assuming you can afford the price. I'm just kidding. It's a free ride. Thanks, Rotax!
Paradise City visitors will be able to examine all manner of affordable airplanes … Light-Sport Aircraft, light kit-built airplanes, rotary aircraft, electric aircraft, ultralights, powered parachutes, weight shift trikes, paragliders, and more. At LAMA's LSA Mall located outside the Show Center tent — think of an auto mall with many choices available — you can see some of the very best airplanes in the LSA fleet.
While news about the LSA Mall is exciting and I look forward to helping organize it for another year, I have some very sad news to pass on while writing about Paradise City. On February 26th, 26-year Paradise City Chairman Dave Piper passed away from heart failure. Laura Vaughn, Sun 'n Fun's Director of Convention Administration wrote, "Dave had been not been feeling well and was taken to the hospital to undergo some tests and receive treatment, he went down hill very quickly and passed away last night."
I spoke to Dave only a few days ago. He complained of nothing and only spoke to his excitement for another year of Sun 'n Fun and Paradise City. Dave walked in a giant's shoes; his leadership skills will be very hard to replace and no one can replace the man or his spirit. He will be terribly missed this year and in the years to come but I know he was very pleased and proud of what Paradise City has become recently. I am so privileged to have known and worked with him, a feeling I am certain was shared by his many friends and nearly 200 Paradise City volunteers.
You can catch our interview with Dave in this video …