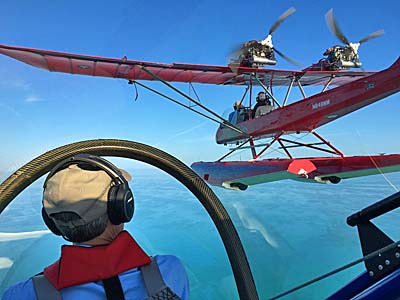 Let me admit right up front: I am a big fan of AirCam. I have flown several different examples. I have done a flight report in one with boss Phil Lockwood. I even earned my Multi-Engine Rating in one. For a longtime open-cockpit ultralight pilot like me, AirCam may be the ultimate expression of a fun aircraft in which you can do things you shouldn't even consider in most other airplanes.
So, when Phil told me about Lockwood Aircraft's new Gen-3 (third generation) AirCam, I was more than a little interested. Here's the skinny.
"Beginning with the opening day of Sun 'n Fun 2019 we will be debuting major upgrades to the AirCam airframe and powerplant packages," Phil noted. All AirCam kits incorporating the new changes will be designated as "Gen-3" models.
Three-In-a-Row Seater
New Gen-3 model airframes will have the option of incorporating a third seat located behind the second seat and a 220-pound gross weight increase from the current 1,680-pound max gross weight to 1,900 pounds. "The new jump seat will be quickly removable to convert between cargo and and third passenger," added Phil.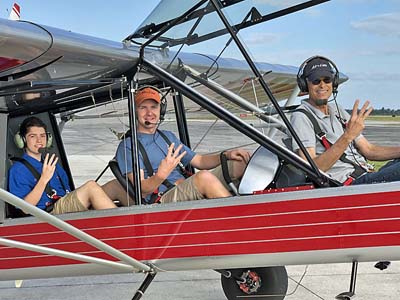 The third seat can be installed in either an open-cockpit AirCam or one with the full enclosure canopy. The canopy — developed some years after AirCam first emerged — was designed from the start to accommodate the third seat.
"Numerous improvements have been incorporated in the new Gen-3 model airframes to accommodate the optional gross weight increase and jump seat," said Lockwood. "The landing gear has been strengthened to accommodate greater landing and take off weights. Landing gear modifications include new stronger gear legs, a beefed-up fuselage gearbox and upgraded Beringer wheels and brakes."
Phil Lockwood also reported AirCam's aft section of the fuselage and tail spring have also been strengthened to accommodate the higher loads. The new fuselage incorporates a new set of foot wells to improve comfort and safety when utilizing the jump seat.  These new foot wells also increase the volume of the cargo bay when not using the third seat. "You'll also find harness attachment hard points that are built into the new fuselage for the third seat passenger," Lockwood said.
The Sebring, Florida company noted that some float-equipped AirCams have already been operating at higher gross weights, up to 2,000 pounds, based on the capacity of the amphibious landing gear and increased lift provided by the floats at high angles of attack. The Gen-3 model airframe benefits are designed to allow for increased gross weights for land planes only.
Higher Power — More Is Good
Airplanes are somewhat like sound equipment. If you get a more powerful amplifier you may need new speakers and that may require other better equipment. On an airplane if you increase capability, you may need more power, which means better engine mounts and so forth.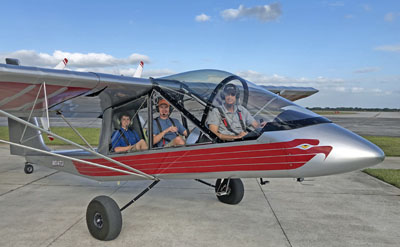 Being Rotax experts known across the country, Lockwood's enterprise was ready to step up the potency of their twin engines.
They've long offered the more powerful turbocharged Rotax 914. Most AirCams, however, work wonderfully well with a pair of the 100-horsepower Rotax 912ULS or 912iS engines. Even more could be better, you might agree.
To provide the additional single engine performance needed for the higher gross weights of AirCam Gen 3 Lockwood Aircraft is offering a new, upgraded 115-horsepower Rotax 912 power package using a "big-bore kit" involving new cylinders and heavier pistons. "Customers opting for the standard 100-horsepower 912 engines will be limited to the original 1,680-pound maximum gross weight," Lockwood clarified.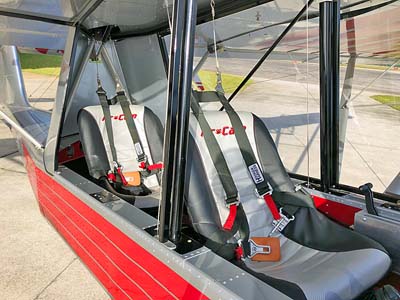 "The additional 15 horsepower per engine is achieved though an increase in displacement with no increase in weight." Customers may purchase or retrofit either a carbureted 912 ULS or fuel injected 912iS engine package to provide 115-horsepower upgrades for either engine model. Buyers or owners can opt to install the 115-horsepower package at a later date.
What may be exciting for current owners of a 912ULS or iS on another airplane is that this engine upgrade is something you can achieve retroactively. The cost is about $6,000, Phil indicated, but for that money you get a substantial performance boost. If interested, contact Lockwood Supply to see if they can help you in your aircraft. Wait a couple weeks, though. As this is written, Sun 'n Fun 2019 is about to start and it will be most hands on deck at the event leaving a smaller staff at home in Sebring. Give them time to return and check out the new, powerful, non-turbo 912 with 115-horsepower.
Get more details, some AirCam development history, and more in the following video: