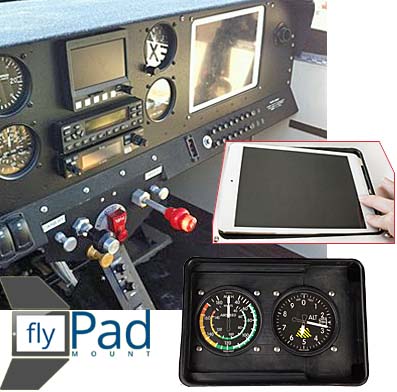 If you are not an iPad user — like I am along with millions of others including a significant number of pilots — perhaps you just don't care about iPads in the cockpit. This isn't an Apple ad; they hardly need any more promotion. Yet iPads in the cockpit can do some great work for a much lower cost than anyone would have imagined less than five years ago (iPad was introduced in fall 2010).
Unless you have ignored the news since 2010, you are surely aware iPads can run slick apps like Garmin Pilot or Jeppesen's Mobile FliteDeck VFR, WingX Pro, Foreflight, FlyQ, and several others. Most of these are very useful products and even with data subscriptions they don't cost much. However, they all share one problem … a rather big one.
Simply, cockpits weren't designed around the new technology.
You have to hold an iPad. Of course, several companies have made mounts of various types, some of which hang out from the instrument panel and swivel about like a wall-mounted TV so you can poke and prod them while flying. I've sampled a couple of these mounts and they are a bit, well … flexible. When you touch them, especially in turbulent air, they can jiggle around and defy you to hit that tiny, little virtual button you want to select. While those mounts are superior to hand holding, they could be better. Fortunately, one already is better.
Consider FlyPad mounts. While this is currently more logical for homebuilders who design their own instrument panel layout as seen in the nearby BD-17 photo, a Special LSA manufacturer could easily incorporate the mount system. A short video at the end of this article makes the installation look straightforward.
After the panel install is complete, "…your device can be inserted and locked securely into place in seconds," said developer Crew Feighery, "and will look as if it were meant to be there from the time your aircraft left the factory floor (or your garage)."
Digital screens are widely available in many variations. Indeed, some great installations are made by Dynon, Garmin, and MGL, among others. Yet Crew makes an interesting observation. "Glass cockpits are missing the huge selection of apps available for the Apple products," he said. "With one screen you can choose between a moving map application, terrain avoidance, flight planning software, or even entertainment for your passenger."
Crew goes on to note that you can, "…replicate all the typical functions of a expensive Primary Flight Display." Enthusiastically, he continues, "The perfect cockpit includes one full size iPad Air for your Primary Flight Display, a iPad Mini for navigation, a iPod Touch or iPhone for your backup artificial horizon, and an extra full size iPad Air to entertain your passenger while you navigate to your destination." OK, you may not want to add that many Apple devices but the installation in the BD-17 at Sebring showed how clean and tidy it can be. Plus, as the image shows and the video below highlights, popping the iPad in or out is super simple.
Apple iPad comes with a GPS receiver but for the fullest use of the panel-mounted tablet, you'll need a device like a Dual unit (160 SkyPro or XGPS 170) that works via Bluetooth or one of several Levil devices. The former are portable and small while the latter are a bit more techy and use a combination of cables and wireless to offer greater capabilities. Some Levil units can be paired with units like NavWorx's ADS-600B or Zaon's XRX to meet FAA's mandates for ADS-B Out. ADS-B Out compliance will add considerably to your cost.
When employing an appropriate Levil device roll, pitch, magnetic heading, rate of turn, inclination, and G-meter data are available on your iPad (or Android, though the latter tablets will not fit in the FlyPad mount). A Levil unit can deliver wirelessly to as many as 10 connected devices. Dual units also serve more than one device. Some Levil units integrate solar panels that can recharge the batteries over time or extend the eight-hour battery life to 12 hours on bright, sunny days.
Team BD neatly incorporated FlyPad and Levil in their Sebring 2015 display airplane and I heard from a few folks that this caught their attention. The FlyPad mounts run $179 to $229. One very clever and useful option is the Steam Gauge Cutout letting you install analog gauges mounted right in the panel under the iPad (photo above). Depending on mount chosen kit builders can mount 1-4 traditional gauges. Should your tablet go dark, Crew said, "…you can simply pop it out and reference the traditional gauges." Nice!
This one-minute video shows you how FlyPad mounts, demounts, and functions: