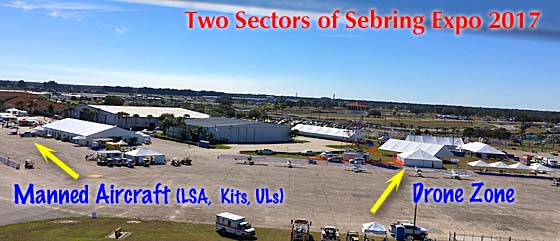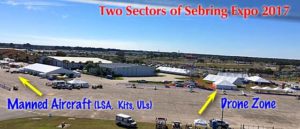 At Sebring 2017, another long-awaited aircraft emerged… or re-emerged. After wandering for a few years since original Hawk developer Chuck Slusarczyk retired and sold his company, the once-popular design has a new home in central Florida.
I've written about this before (earlier article), but we hadn't seen much until Sebring 2017.
The season-starting Sebring Expo brought the debut of CGS Hawk now making its home in the sunshine state after migrating from Ohio to Alabama. Thanks to accomplished kit builder and restorer, Terry Short, this celebrated brand that once held a major presence in the ultralight aircraft space has returned. A refreshed Hawk was looking good.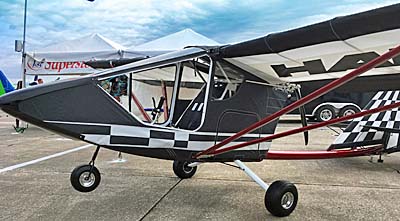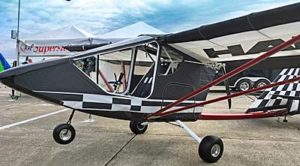 Indeed, Terry beamed when he told me that he'd already sold six aircraft (recently; not all at the show), most of them the two-seat variety as shown in the nearby photos plus one Part 103 ultralight.
Because original designer Chuck Slusarczyk won FAA acceptance for an ASTM-compliant model, Terry can supply a fully built Special Light-Sport Aircraft version and at Sebring 2017 he told me that he fully intends to do so. Because any new manufacturer, even of an existing brand, can be required to go through an FAA audit, a SLSA Hawk may not be an immediate development. (The agency can also elect to review documents and not do an on-site inspection, at their discretion. For a slower speed, lighter weight aircraft with many hundreds flying, FAA may choose not to make a manufacturing site visit.)
Amid the displays at Sebring's 13th annual Expo, many attendees took a look at this new model and came away with a smile. Several times as I passed Terry's display at Sebring, people seemed to be examining his handsome entry with interest.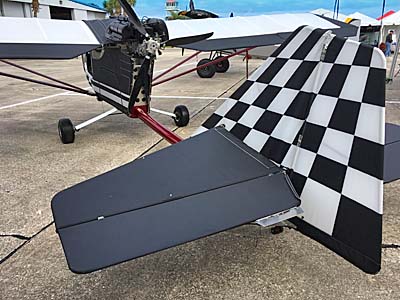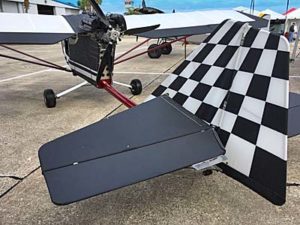 New Hawk proprietor Terry acquired the venerable Hawk line from previous owner Danny Dezauche who bought the company from Chuck. Danny kept the brand alive but did not progress too far with it.
All told, CGS Hawks number close to 2,000 units flying. Many owners to whom I've spoke truly love this simple but well-flying aircraft.
CGS originally stood for Chuck's Glider Supplies. Chuck was an early leader in hang gliding and made thousands of them. As "motorized" hang gliders arrived on the scene back in the late '70s and early '80s, Chuck made the jump. In fact, he formerly sold "power packs" to others who wanted to power their hang gliders.
One thing lead to another and Chuck developed his company into a airplane manufacturer, leaving behind his youthful days as a hang glider pilot and entrepreneur.
After decades of operation, Chuck sold his company to enjoy a well-deserved retirement and Alabama businessman Danny Dezauche kept it going for a few years.
A year ago, in January 2016, Dezauche sold CGS Hawk to Terry Short based in Lake Wales, Florida. After retiring from the Polk County School Board, Terry and his son Chris will operate the enterprise in central Florida. They will support the many hundreds of Hawks still flying with parts and services in addition to build several of the models including the Special LSA Model called Hawk II, a tandem two seater.
Catch Terry and the Hawk at Sun 'n Fun 2017, coming in just six weeks! In the meantime, interested pilots can contact Terry Short Aircraft Services in Lake Wales, Florida by calling 863-430-5829 or by emailing him. Short's website remains under construction.