This flying dream has been years in the making. Admittedly, it's a big project, but so authentic is this 70%-scale P-51 Mustang lookalike that I think I see you already starting to drool.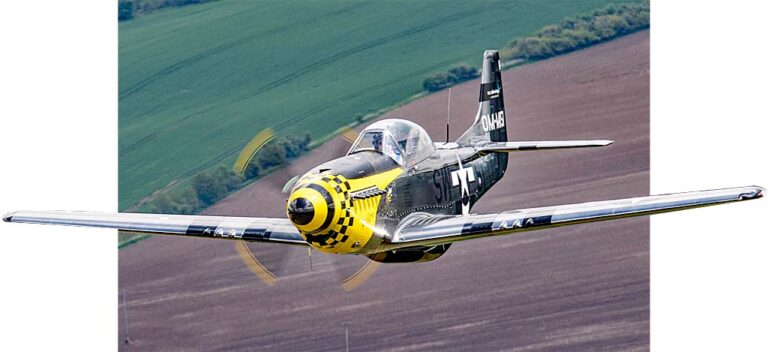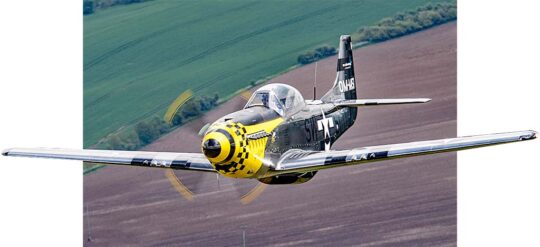 Don't feel too conspicuous. It's happening to me, too, along with nearly everyone else. [Article updated on 6/4/21 regarding price information; see below. —DJ]
Of the many thousands of airplane designs created since Orville and Wilbur made their first flight 118 years ago, North American's muscular Mustang consistently ranks as the most-admired flying machine.
You probably can't afford an original (or even the maintenance it takes to keep one flying) but you might be tempted by this fantastic carbon fiber vision from Euro developer, ScaleWings AeroGroup and its ultra-energetic designer, Hans Schoeller.
SW-51 Finally Flies!
On May 20th, 2021, SW-51 Mustang successfully performed its first flight at Mlada Boleslav airport (LKMB) in the Czech Republic.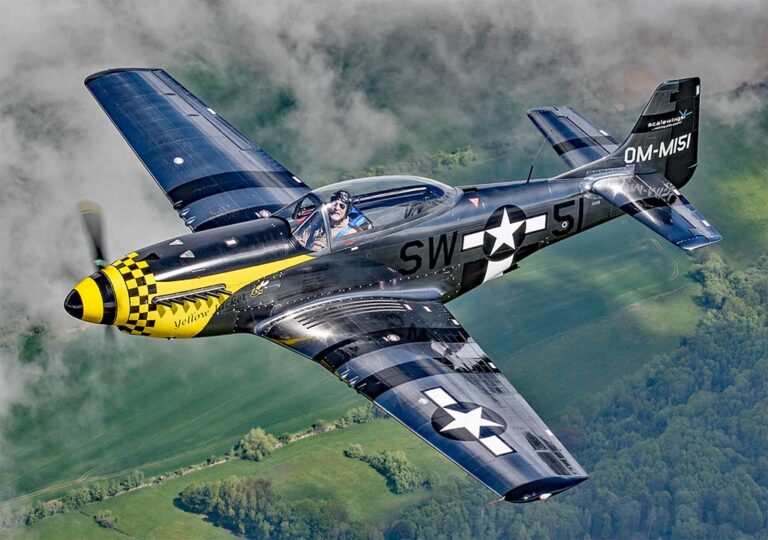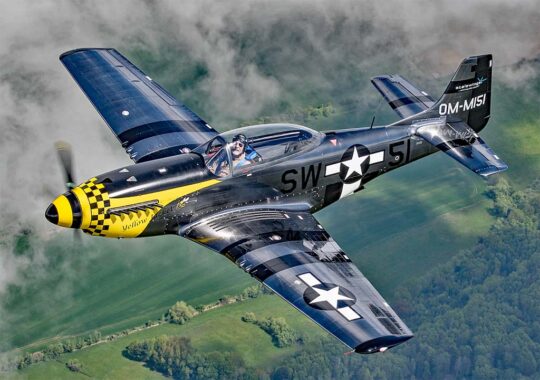 ScaleWings reported, "Aircraft serial number #001 took off at 11:37 am into a light cloudy sky." The all-important first flight went without problems.
"Chief Test Pilot Jirko 'Jiri' Hybler praised the balanced and highly maneuverable handling of the aircraft, managing crosswinds of more than 10 knots with superior control," continued ScaleWings. "Within the first flight hours all systems were checked to prove their functionality."
The company reported test flights included cycling up and down of the all-electrically-driven landing gear. First flight went exactly to plan and 35 minutes later, the aircraft landed safely.
"This first flight of the serial aircraft configuration of the SW-51 Mustang is an important milestone for our team," ScaleWings said.
The SW-51 aircraft program was launched in 2013, followed by a successful first flight of a "proof of concept" prototype just one year later in 2014. Since then ScaleWings has been working on both production processes for the aircraft and preparing the company's production site in Krosno, Poland.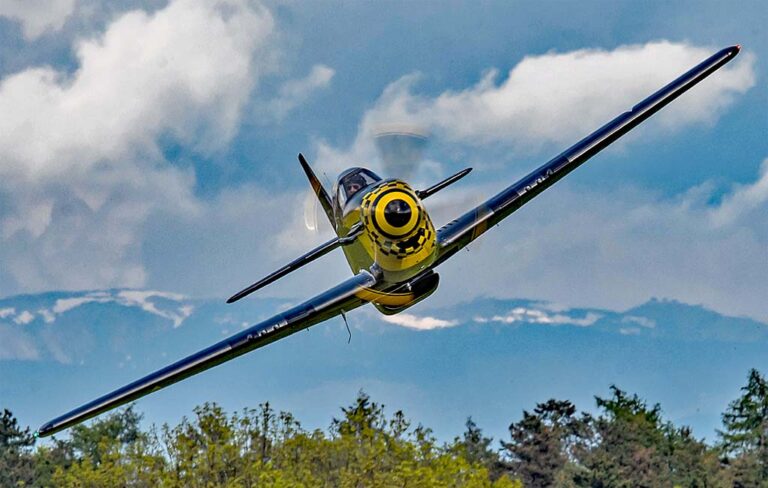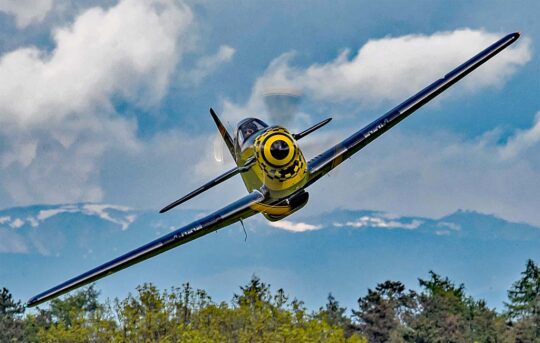 The ScaleWings SW-51 Mustang is a true-to-scale high performance replica modeled precisely upon the original North American P-51 Mustang aircraft dimension but fully built from carbon fiber.
No question, SW-51 deserves the closest possible examination. This is an amazing construction.
SW-51 is an intricate eye-catcher featuring more than 100,000 details such as simulated rivets, screws, fabric and more that were meticulously handcrafted into the manufacturing molds. Even when you physically touch them, rivets and screw heads feel real. They're not; it's a marvelous illusion.
Schoeller's unique treatment combines with a high quality chrome-like finish, allowing SW-51 to almost-identically mirror the original's aluminum appeal. Without a doubt, this is an unprecedented execution beyond anything I've ever seen.
The aircraft is designed for up to 750 kilograms (1,653 pounds) gross weight, while it is currently being flown in a category limited to 600 kilograms (1,320 pounds) in accordance with prevailing European standards. The numbers show SW-51 could fit nicely into FAA's proposed Light Personal Aircraft but it could also stay a Light-Sport Aircraft. A fixed gear, fixed pitch prop version has been in discussion for some time.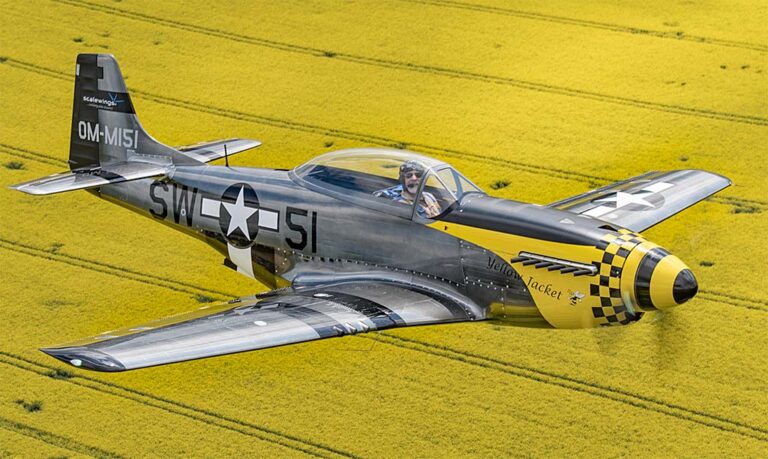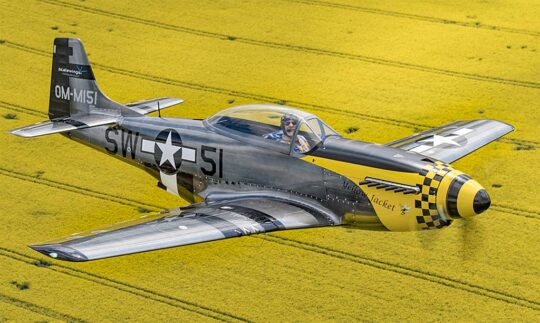 With first flight in its logbook, ScaleWings said, "We will produce and deliver 5 aircraft in 2021 and 12 aircraft in 2022."
SW-51's configuration features a Garmin G3X glass cockpit, electrically driven retractable landing gear (main gear and tail-wheel), ballistic emergency airframe parachute by Galaxy GRS and a brand new Rotax 915iS Turbo engine, catapulting the sleek design to a climb rate of more than 2,200 feet per minute. The airframe's flight envelope is designed for a Vne of not less than 400 kilometers per hour (216 knots). The good news is noise is far less than on an original P-51 with its huge Roll Royce engine, but a clever "sound system" preserves the imagery and a '51's historic ramp appeal.
Updated Info — Some readers were intrigued enough to ask about price. SW-51 is not cheap but at this level of complexity to manufacture, I doubt many readers expected anything different. Here's what Christian wrote in response to my request, "Depending on the configuration, expect something starting in the range of €240,000 in Europe (about $292,000 at today's exchange rates). While ScaleWings is not ready to start U.S. deliveries yet, Christian did state that an N-number-registered Experimental Amateur Built version will be offered. —DJ
ScaleWings is a German aircraft design and manufacturing company with offices in Austria and Poland. The company runs its own production plant in the renowned "Aviation Valley" in southeast Poland, where the SW-51 Mustang is built by a workforce of 30 full-time employees in a 25,000 square foot facility. The company reported, "[We] have now entered serial production of the aircraft with a current production output of twelve aircraft per year.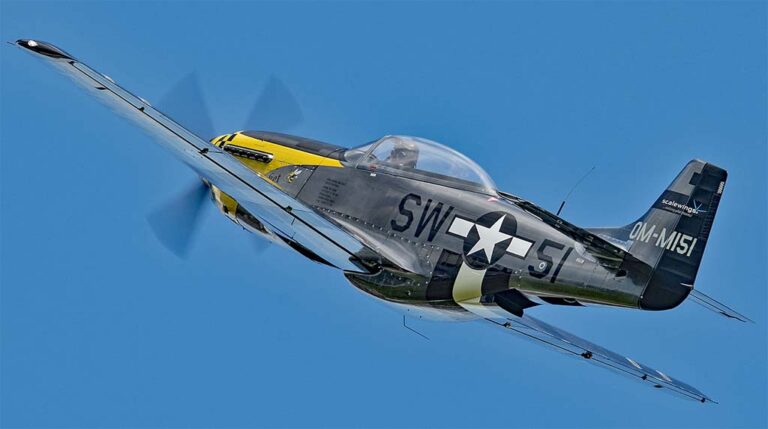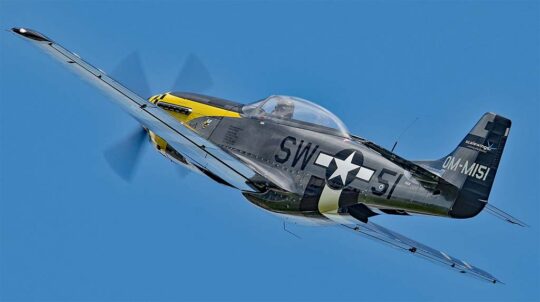 "SW-51 Mustang costs less than 10% to acquire, less than 1% to maintain and it burns less than 15% of the fuel of an original North American P-51 Mustang aircraft. That's a big savings but this is not an inexpensive kit.
Due to the simplicity of the design ScaleWings stated and its test pilot confirmed SW-51 does not require exceptional pilot credibility, reducing costs of training and operation and costs such as aircraft insurance and annual inspections.
If you, like so many, have dreamed about flying a P-51 (but probably never will), SW-51 might be an answer to prayers.
As Christian concluded, "[SW-51] facilitates the entry for anybody to finally … own and fly a Mustang by him or herself." Affordable means something different to every individual but this striking light aircraft may encourage you to save all you can.
---
Here's my video interview and review of Scalewings SW-51 from Aero 2018. Learn many additional facts from my conversation with Marketing and Sales leader Christian von Kessel and designer Hans Schoeller: