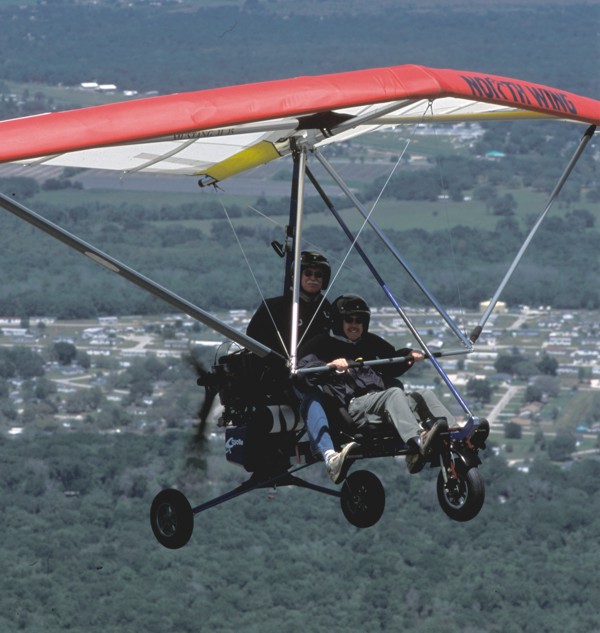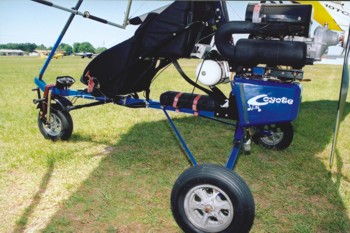 Two years ago, I flew and reported on the only model TC's Trikes offered. Though their line had little depth, the Tennessee company built their own wing and chassis. Many trike chassis builders purchase wings from other sources, much like happens universally in powered parachutes. TC's Trikes did it all based particularly on their needs as an active flight school operation.
In today's light aircraft world, a wider product line addresses more pilots, which makes a more viable business. Given the pace of refinements, it can be tough to keep up. Yet TC's Trikes had a track record in the East, selling more than 100 trikes of their own and other brands. Pairing up with another company, if the fit was right, could be smart business.
A match was found between TC's Trikes and Washington state-based North Wing Design. TC's Trikes had something North Wing lacked – a presence in the Eastern USA. The two combined may be a better match-up than Sprint and Nextel (though generating fewer dollars of revenue).
When TC's Trikes manufactures the North Wing Coyote trike and mates it to a strutted North Wing Mustang 2 wing, you get a better machine. TC's Trikes also gets a new product line: North Wing's Apache and Maverick faired trikes. North Wing's Eastern U.S. customers will also get service closer to home from TC Blyth, a regional expert who runs his own flight park operation delivering 1,200 to 1,500 flight lessons a year.
Big Country
The USA is not only the world's largest market for aircraft, it's also a big place. Some 3,000 driving miles separate TC's Trikes from North Wing. Given the small size of most light sport aviation businesses, combining to address the country's breadth makes sense.
TC Blyth contacted North Wing Design inquiring about the purchase of structural tubing. One thing lead to another, says Blyth, and soon he chose to use North Wing's strutted trike wing on his chassis. He recognized it was a more modern design. Once the door to cooperation was opened, developments continued.
Just before the start of the 2004 flying season, TC's Trikes and North Wing Design merged their product lines. That gives TC's Trikes the opportunity to sell the North Wing line in the East and owner Blyth will represent the combined product lines at Eastern airshows while North Wing will cover shows out West. At those shows, North Wing will sell the same trike in this article. As geographcially separated as these two are the sharing of airshow efforts makes sense; the travel cost and effort alone to cross the country is substantial.
After coming to agreement, the two companies made a joint statement. "North Wing Design has begun working with TC's Trikes of Tennessee to evolve the 2-seat TC Trike into the newest member of the North Wing product line," the companies reported in a news release. This new model would be called the Coyote to maintain North Wing's western-style product names. By early 2004, the Coyote joined the remaining members of the North Wing line as an entry-level 2-seat trike.
The Coyote components are manufactured at North Wing's facility in Washington with additional manufacturing work (chassis fabrication and assembly) being done in TC's Trikes machine shop in Tennessee.
The North Wing Coyote will feature the same seats as the North Wing Apache and Maverick, and the front-end assembly will be identical to the Apache's, including hydraulic disc brakes.
The two companies have selected a variety of engines including the Rotax 447, 503, and the MZ-202. TC's Trikes indicates you can also order the Rotax 582.
The Coyote design features a pivoting mast that always holds the engine in the same position as offered by a number of other top trike brands. This design makes the job easier as
you don't need to lift the weight of the engine when erecting the wing. Many trike developers feel it's best to leave all the engine parts in position as you create fewer problems by not shifting the components.
For TC's Trikes, which makes a ballistic emergency parachute standard equipment, the folding mast assures a stable location for the parachute and rocket motor. In the past a few trikes have inadvertently triggered the rocket motor during breakdown when the activating housing installation was done incorrectly. It was possible for the folding carriage to stretch the housing and detonate the ballistic device. The Coyote's folding mast and chute mount location prevents this potential mishap (though care must always be taken when such equipment is installed).
TC Blyth has created a vibration-free engine mount that worked remarkably well. I noticed little vibration when flying the Coyote. He used two sets of Barry mounts and specially designed Barry washers to make the engine run smoothly. Barry mounts and washers come from industrial applications for vibration isolation. Used properly, Blyth says, "The connection cannot fail even if the Barry mount itself becomes damaged."
Some pilots will look at the trike-to-wing junction and notice no back-up strap as used on some trikes. Blyth says it is simply not needed. Two 3/8-inch bolts are placed in quadruple shear where damage is extremely unlikely. "Aircraft-grade bolts are quite strong in tension but in shear a 3/8-inch bolt is significantly stronger than it needs to be, especially with two gusset plates sandwiching square tubing,"
explains Blyth. He says the trike or wing frame would have to break first before that bolt could be compromised. "And at that point, you'd be using your parachute."
Your Coyote can also be equipped with rear-seat throttle, rear-seat steering, and training bars for flight school use.
The Coyote will include a choice of Mustang 2 15 or 17.5 wings. The Mustang 2 trike wings are strutted rather than conventionally wire-braced, and North Wing says the strutted trike wings have been thoroughly tested. "We feel these wings have proven to be stronger, and they offer faster and better handling than wings with the old kingpost configuration," claims Kamron Blevins, owner of North Wing Design.
This Mustang 2 design demonstrates a surprisingly fleet top-end speed for a single-surface wing, yet it boasts low landing speeds. "Our Mustang 2 has the largest speed range of any single-surface wing currently manufactured," Blevins claims.
Meeting of the Minds
Blyth says his TC's Trikes enterprise will offer the full line of North Wing Design trikes and wings from his flight park on the Ocoee River near Chattanooga, Tennessee. TC's Trikes has three USUA-registered instructors, and can provide training and service seven days a week.
"TC's Trikes will provide factory maintenance, repair, and technical support for all North Wing products," says Blyth. Blevins is enthusiastic about the new relationship, saying "TC's Trike's joining the team of North Wing Design will offer new buyers and current owners of North Wing products an established and experienced outlet for all aspects of trike ownership and operation in the Eastern USA."
The collaboration between the two companies started in earnest when Blyth sent two TC Trikes to North Wing and North Wing sent Blyth a North Wing Apache. This exchange triggered their deal, which is being done on a gentleman's agreement.
In early spring 2005, North Wing Design's boss Kamron Blevins told me he was busy with trike wing production. "We're more than eight weeks out," he reports even before the traditional ramp-up that comes when the weather becomes more pleasant.
Less is More
The North Wing Coyote manufactured by TC's Trikes is a simple machine, by design. It evolved from thousands of training flights conducted by Blyth's Tennessee flight park operation. For one example, Blyth merely straps a wrist altimeter to the control bar. It was quite an effective device, and was easily read in this location.
A couple of other instruments were housed in a small panel mounted to the keel between the knees. A tachometer with a tiny hour-meter built in was flanked by a dual CHT temperature gauge. We flew with no airspeed indicator and one was hardly needed, though one would have been helpful when I made evaluation flights and you'd certainly want a student to have one.
Seats in the Coyote now use North Wing seats with 4-point pilot restraints, a big improvement over the TC Trike lap belts. Custom belt and shoulder harnesses are made by Venture Cinchers.
The North Wing front axle assembly was complemented on the test Coyote by a hydraulic brake. A tiny hydraulic cylinder was hidden underneath the front seat. The hydraulic brake proved to be quite powerful. However, on a lightly loaded nosewheel (common to all trikes) that potent brake could easily lock up the nosewheel so you generally won't use the full braking potential in landing operations. On a paved ramp, the firm brake would be appreciated.
I found the front axle to be quite fluid, which makes taxiing easy. However, it moves so readily that I needed to assure I had the wheel straight before touchdown. I had to check visually as feel alone was insufficient.
Less is also more on a strutted trike wing. North Wing's 2-place Strutted Series Mustang 2 wing design is available in 15 square meters (161 square feet), 17.5 meters (188 square feet) and a large 19 meters (205 square feet). The Mustang 2 is a single-surface wing, which usually implies larger square area.
North Wing calls the strutted Mustang 2 a "state of the art" topless (i.e., no kingpost) trike wing designed with side struts that take the place of the cable rigging. "Stability of the wing in pitch is achieved by a sprog and washout strut at the wing tip area. This takes the place of the reflex bridles used in the old-style wings," says designer and North Wing boss Blevins. "Because of the reduction in drag, handling all around has pleasantly improved both in pitch pressures and roll rate. From the 19 to the 15 the new Mustang 2 is a joy to fly." Fortunately, that isn't simply ad copy. I found the Mustang 2 an enjoyable handling wing despite its large size.
The strutted Mustang 2 is a refined single-surface wing with a speed range from stall at 23 mph to a Vne of 70 mph (in the case of the Mustang 15; it is slightly narrower for the two larger sizes).
I was most impressed by the fine light handling qualities in both pitch and roll, making the Mustang 2 one of the easiest trike wings to fly. "You can fly your Mustang with one hand with confidence," boasts Blevins, and again my experience corroborates his claim.
Takeoff distance with the 17.5-meter single-surface wing can be as little as 85 feet, even in no wind, a benefit of great slow-speed flight characteristics. And you'll be able to set-up your Mustang 2 in only 15 minutes because of the simply designed hardware.
Since virtually all trike wings are cable braced, why did North Wing opt to go with struts? They state a few reasons:
(1) Pitch and roll pressures have
improved by 40%
(2) Your trike will be 4 feet shorter
in height
(3) Better speed range (less drag)
(4) Better fuel consumption (less drag)
(5) Folds back while struts are attached
Leaving Terra Firma
Blyth and I flew together with the 15-meter Mustang wing. Though the wing was large, it didn't seem tough to handle while we taxied out for takeoff.
With the 50-hp Rotax 503 dual carb engine doing the pushing and with us flying a bit under gross weight, we left the ground quickly. It's hard to estimate ground roll without a measuring tape so I can't verify takeoff occurred in less than 100 feet, but if it's more, it isn't much.
As soon as we left the ground, I felt the now-familiar light handling of Blevins' wing designs. A hang glider pilot who still manufacturs hang glider wings, Blevins understands fine handling in the way of any soaring pilot. Perhaps because of my hang gliding background, I've long appreciated the effective controls of North Wing Designs' trike wings.
As we flew, Blyth told me that if I put the trike into a turn of about 30° bank, I could release the bar and the wing would carry the trike around in a coordinated turn. I had little way to judge the bank angle except experience, but my sensation was that a little high siding was needed, meaning that I had to use slight opposite-the-turn pressures to keep the bank angle consistent. However, I tend to turn rather steeply in these evaluations, which might have produced the effect I felt. All trikes use some amount of anhedral, which means you normally don't allow the bank angle to get particularly steep or such wings can tighten up rather quickly. A degree of anhedral helps augment weight-shift control and wing tip devices stabilize the wing (see photos).
Blyth's North Wing Coyote was not fitted with any kind of airspeed indicator, but I was able to keep up with the Flightstar photo plane flying 45 to 50 mph. However, during most of this effort I had to hold the bar in noticeably, suggesting that dual trim cruise speed is closer to 40 mph. On the return trip after the photo shoot, the Flightstar moved ahead of us readily.
Full-power stalls using 100% power with the control bar pushed out to the limit of the forward support tube brought no discernible action except a climb. No stall tendency was felt at any time, a quality many instructors and new pilots can surely appreciate.
Normal entry into idle-thrust stall was similar. However, when I accelerated and then pushed out briskly, I could tell a stall break was coming. Because we were flying dual and trike breaks can be a little sudden, I didn't let it go that far. On the whole though, the wing has a mild stall that requires a deliberate action by the pilot to aggravate.
Bagging A Coyote
As I look around the fleet of light-sport aircraft candidates, I see lots of prices that surprise me. While a number of U.S.-built fixed-wing aircraft still represent some bargains, many import prices are headed toward six figures, especially with the euro soaring so high above the dollar.
Trikes and powered parachutes are two aircraft types that help hold down the cost (though new models like the Air Création TanarG trike at $52,000 make this statement look suspect).
Fortunately, TC's Trikes and North Wing Design are helping hold down the cost of flight. Here's how they break out the North Wing Coyote with Mustang 2 wing: Coyote trike chassis, $3,575; Mustang 2 wing in 15- or 17.5-meter sizes, $4,475; BRS-5 750- pound ballistic emergency parachute, $2,400; 3-blade IvoProp with Quick-Adjust feature, $460; motor mount and cables, $340.
When you add these elements and combine with the 40-hp Rotax 447 with B gear box and a single carburetor, the total comes to $14,795, a reasonable bargain in 2005 given the extras not commonly priced into trikes (such as the parachute). If you prefer the popular 50-hp Rotax 503 with B gearbox and dual carburetors, the price rises exactly $1,000 to $15,795.
With either engine choice, the Coyote and Mustang 2 wing come fully assembled, test-flown, and ready for pickup at Ocoee, Tennessee (near Chattanooga). Shipping is not included.
If you inherited some extra money, TC's Trikes and North Wing Design will be glad to help you spend some of it. Choose from options like an electric start with the Rotax E gearbox, $1,200; an additional instrument package, $350; instrument pod, $30; Kuntzleman Electronics Smart Stobe, $200; rear-seat steering, $75; rear-seat throttle, $50; TC's Trike cross-country refuel system, $95; or Comtronics Instruct-a-Com 2000 Intercom (a 2-helmet system), $530. Option prices do not include shipping but do include installation of components if purchased with the aircraft. You may also select optional sail and trike colors.
For around $15,000, you can buy a well-built, nice-handling trike with the best from TC's Trikes and North Wing Design. Since the price of an average new car is now well above $20,000, most pilot will admit this is a pretty fair deal on a fun flying machine. Whichever coast you're on, you have an outlet not too far away.
TC's Trikes
2323 Pineway Trail
Soddy Daisy, TN 37379
Phone: (423) 802-1193
e-mail: tctrikes@mindspring.com
Published in Light Sport and Ultralight Flying
| | |
| --- | --- |
| Seating | 2, tandem |
| Empty weight | 365 pounds |
| Gross weight | 950 pounds |
| Wingspan | 33 feet 10 inches (19 and 17.5m), 31 feet 6 inches (15m) |
| Wing loading | 5.0 pounds/square foot 1 |
| Aspect Ratio | 5.8 (19m), 6.1 (17.5m), 6.2 (15m) to 1 |
| Length | 12 feet |
| Height | 8 feet, 6 inches |
| Kit type | Fully assembled |
| Set-up time | 20 minutes, 1 person |
| Notes: | 1 Test Coyote used the Mustang 2 17.5 wing. Wing weight 103 (19m), 102 (17.5m) and 96 (15m) pounds. |
| Standard engine | Rotax 503 |
| Power | 50 hp at 6,500 rpm |
| Power loading | 18.3 lbs/hp |
| Cruise speed | 37 mph |
| Never exceed speed | 70 mph |
| Rate of climb at gross | 600 fpm |
| Takeoff distance at gross | 85 feet |
| Landing distance at gross | 50 feet |
| Standard Features | Rotax 503 with B gearbox, 3-blade quick-adjust IvoProp propeller, North Wing Mustang 15, 17.5, or 19 topless, strutted wing, waterproof carry bag with custom padding, BRS-5 ballistic parachute, mast-pivot takedown system, front shock suspension and hydraulic disk brake, composite suspension rods on main gear, 8-gallon fuel tank, hand and foot throttles, primer kit. |
| Options | 40-hp Rotax 447, 65-hp Rotax 582, electric starting with E gearbox, 60-hp MZ-202 (with electric start), heavy-duty TC's Trike front end, EGT, CHT, tachometer, hourmeter, front and rear shoulder harness system, rear-seat steering, rear-seat instructor bars, 5-gallon cross-country refuel system, custom sail colors, custom trike colors. |
| Construction | 6061-T6, 7075 and 2024 aluminum chassis and airframe, 4130 chromoly steel, 8 ounce Dacron sailcloth wing. Made in the USA and distributed by American-owned company. |
Design
Cosmetic appearance, structural integrity, achievement of design goals, effectiveness of aerodynamics, ergonomics.
Pros – North Wing Coyte is an entry-level trike melding ideas from two producers. Second generation effort for TC's Trikes using strengths of North Wing Design. Folding mast design for easier setup. CAD-designed chassis. Excellent useful load; more than 500 pounds payload (greater than empty weight).
Cons – Very basic trike (though other top producers have recently offered similar products to yield lower prices). No other negatives.
Systems
Subsystems available to pilot such as: Flaps; Fuel sources; Electric start; In-air restart; Brakes; Engine controls; Navigations; Radio; (items covered may be optional).
Pros – North Wing Coyote is simple, meaning few systems to maintain or operate. Exterior fueling will create no smelly spills; optional cross- country tank system could come in handy. Nosewheel brake is standard. Optional rear steering available for instruction. Good engine access.
Cons – No flap controls nor trim (the latter offered on some trikes). Electric starting is optional; may be advised, as pull starting while belted may be difficult for some operators. Instrumentation is sparse and few places are available to add more if desired (though not truly needed).
Cockpit/Cabin
Instrumentation; Ergonomics of controls; Creature comforts; (items covered may be optional).
Pros – New seats come via the association with North Wing; better padding and 4-point pilot restraints. Though the single-surface wing has a good speed range, North Wing Coyote's lack of a fairing works well with the slow cruising wing. High rear seat affords better visibility to aft occupant than some trikes.
Cons – No seat adjustment. No cargo area (though some space could be available under the seats, as the high-folding mast leaves space in this area). Few good locations for additional instrumentation or radios.
Ground Handling
Taxi visibility; Steering; Turn radius; Shock absorption; Stance/Stability; Braking.
Pros – Suspension on main gear legs uses tubing flex that works well for the load. New nosewheel from North Wing Apache has piston suspension. Hydraulic brake on test aircraft. Tremendous visibility without a front fairing. Optional rear steering and throttle available for instructors.
Cons – Though hydraulic brake was powerful, a lightly loaded nosewheel will reduce stopping power during landing (though useful on airport ramps). As on all trikes, you must hold the wing steady by muscle power; Mustang wing is relatively large.
Takeoff/Landing
Qualities; Efficiency; Ease; Comparative values.
Pros – Very short ground roll on takeoff or landing. Slow approach speeds are easier for short- or soft-field landings. Visibility is very open on the North Wing Coyote, especially without a nose fairing. Good ground clearance thanks to gear posture, plus large tires and wheels.
Cons – Suspension limited to tubing flex; touchdowns can therefore feel somewhat firm. As with all large single wings, the Mustang 2 has less energy retention; single-surface wings bleed speed faster. Large wings can be more difficult in strong winds or crosswinds.
Control
Quality and quantity for: Coordination; Authority; Pressures; Response; and Coupling.
Pros – Moving to a North Wing Design wing was smart; their designs handle very well. The Mustang 2 offers predictable controls that work well in instructional use. All trike wings have little adverse yaw. Simple control system means less setup error and less time required.
Cons – Single-surface wings, while less expensive and potentially lighter, do not offer the higher speed capability of double-surface wings, nor are they as good in strong winds or crosswinds. No trim device to relieve loads on longer flights (though this trike may rarely be used for such flying).
Performance
Climb; Glide; Sink; Cruise/stall/max speeds; Endurance; Range; Maneuverability.
Pros – Climb rate was adequately strong, about 600 fpm in this 2-seat trike with a 50-hp Rotax 503. Pilots who enjoy slow-flying ultralights will like the North Wing Coyote, though the Mustang 2's speed range is admirable. Engine ran very smoothly with little vibration, thanks to Blyth's Barry engine mount.
Cons – No single-surface wing – Mustang 2 included – will accommodate stong winds particularly well. The Coyote is not designed for cross-country flying (unless you have plenty of tme). Glide ratio is not as strong as a double-surface wing (but the Coyote is an entry-level trike which may often be used in training).
Stability
Stall recovery and characteristics; Dampening; Spiral stability; Adverse yaw qualities.
Pros – Both TC's Trikes and North Wing Design offer parachutes as essential safety devices, appreciated by many customers. Could not enter power-on stalls, and power-off stalls had to be aggravated to see a break. Longitudinal stability was good. Four-point pilot restraints are appropriate, especially with ballistic parachutes.
Cons – An aggravated stall (involving aggressive control input well beyond normal operations) can result in a sharp nose break. No trike lets you dive under high power because thrust pushes nose up. All trike wings have some overbanking tendency; so does the Mustang 2.
Overall
Addresses the questions: "Will a buyer get what he/she expects to buy, and did the designer/builder achieve the chosen goal?"
Pros – In a world of expensive Light-Sport Aircraft candidates, the North Wing Coyote carries a buyer-friendly price. Raised mast breakdown for transport or storage leaves engine well supported, and allows a good location for parachute mounting. Blyth's earlier trike was optimized for training use; new collaboration with North Wing Design improves the Coyote for this usage.
Cons – Limited dealer support (though these companies working together will help service on both coasts).