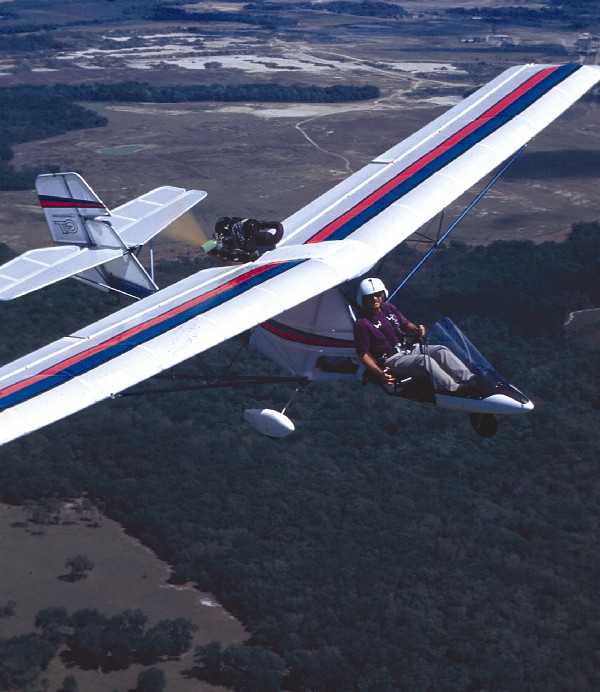 The GT 400 isn't the fastest handling ultralight, nor is it the speediest, cheapest, most modern, nor fastest to build. But it does everything so well it doesn't need to be tops at any one function. In this sense, I believe the GT 400 may be the best ultralight in the world.
While "best" means something different for virtually every pilot, I'll go out on a limb and predict that any pilot who flies the GT 400 will find it a highly satisfying ultralight.
Fortunately for other ultralight manufacturers, every single pilot is different, a unique individual.
Still, for an estimated 1,000 current GT 400 owners – and the new buyers that will follow – the GT 400 single-seater that Quicksilver first offered in 1984 remains an excellent choice.
If you accept my opinion that the 400 is a desirable ultralight, then you may be moved to action by its pricing. For $12,500, you get an ultralight just like the ones in the photos accompanying this article except for its optional wheel pants and a small gauge cluster. You have several choices for well-designed ultralights that cost less but only a few can deliver the all-around package and highly engineered background of the GT 400.
When I contemplate the GT 400, by now a familiar design, I recognize this was designed in the early '80s as a move-up ultralight (see "Way Back When" on the next page). In those early days of ultralights, several suppliers tried to knock off Quicksilver's MX series by supplying look-alike models. (As history shows, they mostly failed, unable or unwilling to actually make a better ultralight.) Except for a couple of trailblazers like CGS's Chuck Slusarczyk and his then-unconventional Hawk, most of those many ultralight manufacturers of the early '80s followed the theme of simple ultralights, many of which looked like a Quicksilver MX.
The GT 400 was new from nose to tail skid, and from wing tip to wing tip. The design was arguably the most thoroughly researched and engineered ultralight of its day – though ultralights like the Flightstar were also well-done and had started to take some market share.
Unfortunately, this expensive engineering drove up the price toward $15,000 at a time when the average was probably half that. The ultralight sold an impressive number in the long run but it took years and the 400 never took off like Quicksilver's management of the day expected.
Now, the entire company is new in the sense of all new owners, new facilities, and a new attitude. One of the things the new staff and distributors of Quicksilver are doing is to push a limited edition GT 400 at a price of $12,500, which qualifies as a value buy, in my opinion.
The regular GT 400 model comes with the Rotax 503 engine, fuller nose fairing and up-to-the-wind windscreen, and costs $14,995. I believe this is still worth the money, but clearly it'll take a bunch more of it.
I agree with Quicksilver's southeast regional distributor Eugene "Bever" Borne that the lighter model – the limited edition GT 400 for $12,500 – has its special characteristics. I like out-in-the-open flying – as do many ultralight enthusiasts – so I don't even want the fuller nose fairing.
Borne, who owns the GT 400 used for this evaluation, says it weighs only 278 pounds. It seems possible for Quicksilver to trim the necessary pounds to something that can fit Part 103 and still use the 40-hp Rotax 447 engine. Borne didn't describe the trimming steps he believes are necessary to reach the tough definition of Part 103's 254 pounds empty weight, but it strikes me as an achievable goal given the new Quicksilver Manufacturing's prodigious machine-shop capability. In my mind, trimming another 15 pounds or so would make the 400 even more enjoyable to fly.
Way Back When
When designers Dave Cronk and Tom Price first created the GT 400, they did so with a huge reservoir of knowledge and experience about the light and slow end of aviation. As a team, they may be the best design duo in our industry, and we're lucky they're both still doing design work.
These two men have impressive credentials. Price is classically trained in the conventional aeronautical fashion, and also ran his own hang gliding manufacturing company. Cronk is deeply experienced in engineering light aircraft and was with Quicksilver long before the company even made powered ultralights.
Price and Cronk are also studies in contrast. Price is more high tempo and apt to seek the edge in performance while Cronk is laid-back and dedicated to predictable flight characteristics. Each inspires and complements the other, and their design association is now many years old.
When they prepared the GT 400 in the early '80s, the Quicksilver MX series ruled the roost. To most nonpilots the simple open-cockpit Quicksilver is the very personification of an "ultralight." You might sayit was the ultralight equivalent of general aviation's Piper Cub, except for one very important point: the Quicksilver MX series is still being produced and is still a popular choice for many pilots.
Cronk and Price needed to go one better with the early '80s GT series. According to long-time Quicksilver associate Bever Borne, they surveyed dealers and customers quite extensively as they determined what the market wanted. After tabulating the results, Cronk and Price embarked on a design project from the ground up that resulted in the GT 400, remembers Borne, who is probably the reigning Quicksilver salesman of all time, once moving well over 200 ultralights in a single season.
After 13 years on the market, the 400 still flies as confidently as it did when Quicksilver released it. Lots of credit goes to Cronk and Price, though many other talented folks have made up the Quicksilver team over the years. What the two designers created remains a sophisticated ultralight.
The limited edition GT 400 comes with the small nose fairing and windscreen. Both are plenty to keep you from being hit with windblast – at least if you include a helmet which I consider standard for ultralight operations.
The seat is a fiberglass shell covered with a one-piece padded upholstery. Four-point seat belts are standard, as are flaps. Look overhead and you'll see the five-position lever (zero plus four settings are possible).
Measuring Up
Though our test ultralight wasn't so equipped, the limited edition GT 400 comes with a pull handle that places the starter just above your left ear at the forward edge of the pylon cover, says Borne. He admits you have to be pretty strong to pull-start from the seat, but with entry this easy, pulling from outside and then stepping into the seat is reasonable and safe. Placing the pull handle on the opposite side of the flap lever should reduce confusion.
As you sit in the seat, you can lean in either direction a bit and look aft through a clear plastic window in the pylon cover to judge fuel on board. You cannot see the top of the tank, but you can easily tell when you need to return to base for more petrol.
The GT 400 does not have in-flight trim, but you can adjust the setting while on the ground.
What makes the GT 400 add up to the right machine for so many is its versatility, its combination of many of the right qualities. I asked the king Quicksilver salesman what he feels are the best attributes of the 400 that makes pilots buy them.
Borne cites the short takeoff run, respectable climb (he's being a little conservative, I think), and the way the 400 can operate at lower power settings.
He adds that the turning qualities are particularly desirable, saying it "doesn't slip and slide" its way through turns. Control remains responsive "right down to the bottom of the white arc" (on the ASI), says Bever. These characteristics combine with "good control harmony, a deliberate design feature" to make flying the GT 400 a thing of beauty, he feels.
Borne also likes the way the nose comes up when you deploy flaps and says the GT 400 "provides for an easy transition for general aviation pilots." He admits some pilots often say a joystick would be preferable, but like me, they'll quickly find the control yoke to work well enough that the lack of a joystick option isn't a big problem.
Easy Ups and Downs
I think most of us are willing to admit simply taking off and landing offers a lot of enjoyment. The thrill of watching the ground drop away and the horizon sinking during a continued climbout never seems to fade for me (and I've heard many other pilots echo this thought). Similarly, approaching to land is one of those enjoyable eye-openers that mere ground-bound mortals never experience.
Fortunately, in the GT 400 the takeoff and landing routines are about as fun as they get. Repeating several takeoffs and landings was fun.
The point is this: I'm an experienced pilot who loves takeoffs and landings in the GT 400, yet a beginner will also enjoy the ease and predictability of touch and goes the 400 offers. Satisfying both ends of the skill spectrum helps an ultralight have wider appeal.
Ground break comes so fast, it'll surprise a general aviation pilot. Really, have you watched a Cessna 150 take off lately? Unless refitted with a larger engine, they roll forever and climb into the sky so slowly it appears the pilot is holding back. (He isn't!) Contrarily, the GT 400 leaps off the ground in 50 to 75 feet, depending on the wind. Once airborne, it'll climb well over 1,000 feet per minute on the 40-hp Rotax 447 and nearly 1,500 fpm with a 503. Most general aviation pilots will be pushing the nose down to stop climbing at such a "radical" angle. (They'll come around with experience, though.)
Crosswind operations are a way of life in aviation, but you needn't be too concerned with that while flying a GT 400. She'll handle a fairly stout side breeze with relative ease (experience permitting). And because the 400 can return to earth in the space of about 100 feet of ground roll, getting one into a small field during an emergency will prove far easier and safer than in speedier ultralights.
Helping to allow short-field operations are the highly effective flaps and the slipping capability. Both are excellent landing resources.
Family Harmony
Control harmony is not usually perfect on slow-flying ultralights. It is speed that makes a general aviation aircraft feel so responsive to their pilots, not pure control efficiency. Many of them perceive ultralights as "sluggish" but what they're really feeling is simply control at slower speeds. After all, we cruise around below the approach speed range of a typical 4-seat general aviation factory plane.
The GT 400 sought the finest coordination of controls and more kudos must go to Cronk and Price. Most ultralights demand you lead with the rudder and follow with the ailerons, just the opposite of your common certified general aviation aircraft. On many ultralights, the controls are not used in the same quantity proportions. Ironically, even Quicksilver's popular MX series has its control idiosyncrasies. Not so the GT 400; this bird is pure handling pleasure.
The only consistent gripe I ever hear about the GT 400 concerns the control yoke. Most air sport pilots I know prefer a joystick and I share those preferences. The design of the GT 400 makes offering a joystick option impossible.
Having written my preference, I have to add the yoke is impeccable on the 400. It works smoothly, muscular effort is low, the placement of the wheel is very comfortable. Certainly general aviation pilots used to yokes will identify better. If trained in the company's 2-seat GT 500, handling should come naturally enough to any student ready to solo the single-seat GT 400.
Beyond Temptation
While discussing this limited edition GT 400, I find it interesting that Quicksilver supplies this model with 4-point seat belts while still putting only lap belts on the MX series. Regardless of the reasons for such a decision (cost probably, the MXs are entry-level offerings), I appreciated the secure restraint. Unfortunately, this 400 lacked a ballistic parachute, unusual for a company that has long encouraged the use of this safety equipment.
As surely as any ultralight I've ever flown, the GT 400 seems to have no evil tendencies whatsoever. I stalled it power-on, power-off, in accelerated stalls at 60° bank angles, and it never failed to exit the stall quickly, straightforward, and with a minimum of altitude loss. A truly novice pilot might somehow put himself in a predicament with the 400 but unless he freezes and prevents recovery, the GT 400 should simply fly its way out of the situation.
Stall came at an indicated 28 mph. Power-on stalls never happened and the speed indication was meaningless as the nose was so high, the Pitot tube had a radical angle to the relative wind.
Checking longitudinal stability, I pushed- and pulled-and-released quite aggressively to find that, like the certified GT 500 2-seater, the GT 400, always returned to level flight in the space of two to three oscillations. This is a very fast recovery and like the stall regimen, it seems to happen almost automatically.
Like every high-engined ultralight, powering up pushes the nose down. However, the design's strong stability kicks in when powering down, keeping the nose from bobbing upward.
On the whole, I could find no stability quality of the GT 400 that should give anyone a reason to criticize it.
Trading Up
Perhaps your Quicksilver MX series is showing its age, or maybe you're simply ready to trade up to a more deluxe ultralight. You have a number of good choices, but I have absolutely no difficulty recommending the GT 400.
Personally, I'd select the limited edition GT 400 for $12,500 and I'd try very hard not to add anything (except a parachute). Despite my saying that, though, I know many pilots will start adding to the basic ultralight.
For those with the problem of an extra amount of cash, you can opt for the larger Rotax 503 engine. You don't need it but the 503 is so popular you might even recover your $1,000 option investment if you sell your 400. Swapping engines is easy on the buyer, says Borne, because of the "modular" packaging. He adds, "All the engine stuff – the mount, throttle cables, and so on – comes in one box."
You can spring for the larger nose fairing which comes with a windscreen that wraps gracefully up to the leading edge of the wing and a fiberglass bulkhead to the pylon cover. This will add $1,400 to the total.
Borne can also supply an instrument cluster though its cost will depend on the exact selection you want.
Add it all up and you come to the $14,995 Quicksilver asks for the more fully equipped GT 400. For some this will be the right choice. But for many other enthusiasts, or beginners, or those transitioning from general aviation, the limited edition 400 at $12,500 will prove to be all they need. Why spend more?
Published in Light Sport and Ultralight Flying
| | |
| --- | --- |
| Empty weight | 278 pounds |
| Gross weight | 570 pounds |
| Wingspan | 30 feet |
| Wing area | 146 square feet |
| Wing loading | 3.65 pounds per square foot |
| Length | 19.75 feet |
| Height | 6.5 feet |
| Kit type | Assembly |
| Build time | 100-140 hours |
| Standard engine | Rotax 447 |
| Power | 40 hp at 6,500 rpm |
| Power loading | 14.25 pounds per horsepower |
| Cruise speed | (75% power) 60 mph |
| Never exceed speed | 74 mph |
| Rate of climb at gross | 1,200 fpm |
| Takeoff distance at gross | 75 feet |
| Landing distance at gross | 100 feet |
| Standard Features | Strut-braced wings, flaps, nosewheel steering with brake, airspeed indicator, nose fairing and windscreen, 4-point restraint systems, 5-gallon fuel tank, choice of wing colors (no painting required). |
| Options | Rotax 503, electric starting, larger fairing and larger windscreen, instruments, ballistic parachute, large wheels and tires, wheel pants. |
| Construction | Aluminum tubing, welded steel, Dacron® sailcloth. |
Design
Cosmetic appearance, structural integrity, achievement of design goals, effectiveness of aerodynamics, ergonomics.
Pros – A well-proven design from Quicksilver – a long-time industry leader, and one with new life in it after new owners took over. GT 400 probably has as much or more design research as any ultralight flying. Fine flight characteristics combine with robust construction of many custom parts to make a dependable machine. Great transition ultralight after training in company's 2-seat GT 500.
Cons – Dating from '84, this is an older design that may not appeal to those seeking something new. Out-in-front seating may spook pilots used to being enclosed and behind the wing. Control yoke isn't widely used and some won't care for it.
Systems
Subsystems available to pilot such as: Flaps; Fuel sources; Electric start; In-air restart; Brakes; Engine controls; Navigations; Radio; (items covered may be optional).
Pros – Unable to make Part 103 weight for now (see article), you can have many systems. GT 400 comes with flaps, a nosewheel brake, and ground-adjustable trim, but you can add features like electric starting or instruments. Easy access to engine for inspection or repairs. Easy access to fuel tank through zipper opening in pylon covering.
Cons – Limited space for instruments with standard pod and windscreen; a side pod with engine instruments was added to our test ultralight (though an ASI mounts between your legs). Pull starting is best done outside – like most ultralights – but stronger pilots can do it from the seat.
Cockpit/Cabin
Instrumentation; Ergonomics of controls; Creature comforts; (items covered may be optional).
Pros – Special edition model comes with nose pod and short windscreen, but these suffice surprisingly well. Comfortable hard shell seat with padding and 4-point restraint system. Entry is very simple if you can swing your leg around the yoke. Seat is ground adjustable fore and aft. Baggage area could be built inside pylon. Optional fuller enclosure available.
Cons – Like many ultralights, the GT 400 sits on her tail when empty, a look some pilots don't like. These same pilots may not like your position out ahead of the wing. No factory option for baggage containment in pylon.
Ground Handling
Taxi visibility; Steering; Turn radius; Shock absorption; Stance/Stability; Braking.
Pros – A breeze to handle on the ground with terrific visibility and very predictable steering through conventional tricycle gear. Fairly tight turn radius. Nosewheel brake is standard; helpful in some situations. Good clearance in case an off-field landing becomes necessary. Nose fairing prevents nosewheel spray from reaching the pilot.
Cons – Nosewheel brake is not particularly strong; no differential braking. Shock absorption is limited to gear leg flex and air in the tires.
Takeoff/Landing
Qualities; Efficiency; Ease; Comparative values.
Pros – You practically leave the ground before the throttle is fully open; landings are equally short. Superb forward visibility in any takeoff or landing phase. Approach speeds are slow, opening very small fields to landings. Flaps help a lot. Retains energy much better than company's MX series, which means you need not dive toward your landing point.
Cons – I prefer flaps which lower instead of raise the nose, but you can't fault GT 400 flap efficiency. In fact, I found no other faults with GT 400 landings.
Control
Quality and quantity for: Coordination; Authority; Pressures; Response; and Coupling.
Pros – If there is anything that wins new buyers, it is probably the smooth, predictable handling that is one of the true trademarks of Quicksilver's GT series. Dutch rolls went well immediately to steep angles. Coordination between controls was excellent. Roll-in and roll-out forces (called "break out") are low and cooperative. Dependable crosswind controls.
Cons – Like almost any airplane with ailerons, the GT 400 has adverse yaw. Roll rates are not particularly fast for those who want the snappiest handling. In steep turns, you can run out of back stick range with lower power settings.
Performance
Climb; Glide; Sink; Cruise/stall/max speeds; Endurance; Range; Maneuverability.
Pros – Even with the 447 engine, climb is about 1,000 fpm. With the optional (and unnecessary) 503, climb reaches nearly 1,500 fpm. With 447, factory pilots say they can run very low power settings and still maintain altitude. This ultralight shines at low-over-open-field flying. Good energy retention keeps sink rate low, in the 400 fpm range. Flies slowly with dignity, retaining handling to a very low speed.
Cons – Though it's cleaner than the company's MX series, the GT 400 is still draggy and fuel usage is commensurately higher; with only 5 gallons of fuel, you may be limited to less than 2 hours of flying. Zooming along at higher speeds isn't the GT 400's strong suit.
Stability
Stall recovery and characteristics; Dampening; Spiral stability; Adverse yaw qualities.
Pros – Very mild stalls with no evil tendencies discovered. Always broke straight ahead and recovered to normal flight almost instantly. Power-on stalls got very steep but were only identified by tail burble. Push- or pull-and-release returned to level attitude in a couple mild oscillations. Carves steep turns with ease and showed no tendency to roll steeper or roll out.
Cons – The high-mounted engine pushes the nose down on power-up, like virtually all other ultralights with similar engine mounts. Fair amount of adverse yaw present.
Overall
Addresses the questions: "Will a buyer get what he/she expects to buy, and did the designer/builder achieve the chosen goal?"
Pros – A limited edition model GT 400 is being advertised for $12,500 (which includes 40-hp Rotax 447 engine), a price which makes this an excellent value choice. With about 1,000 flying, the GT 400 qualifies as very successful among ultralights. May be one of the best mannered ultralights on the market. Factory plans to offer a slightly lightened GT 400 that can make Part 103 empty weight. One of the best assembly manuals in the business. Extremely well-engineered design; one to set the standard.
Cons – First offered 15 years ago, this is hardly a new design, if that's your desire. No folding wing option makes storage or transport more challenging.