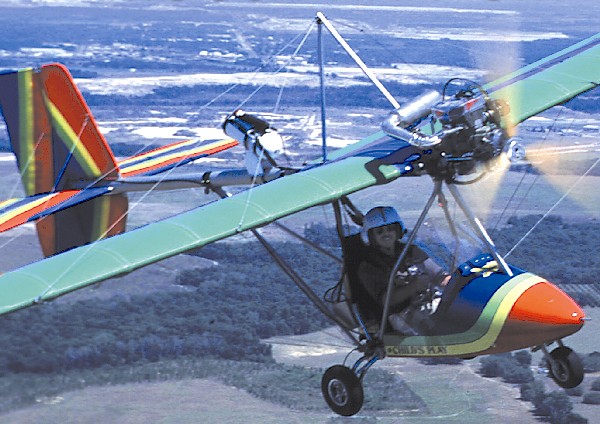 Thousands of other Phantom ultralights are flying, but the one I was about to fly was built by a bunch of kids. Although they were no doubt serious and focused during the building effort, the Phantom X-1 was named Child's Play. Had I lost my mind?
"So, you're really going to fly that ultralight built by a bunch of elementary school kids, huh?" The question was more than small talk. The prospect actually worried some observers.
"Of course," I replied. "The kids probably did a better job than I could." I'm no builder, a fact I often repeat. After flying airplanes built by all kinds of pilots, I didn't see the jeopardy in flying the product of students at the Haverhill Elementary School in Portage, Michigan.1
I admit I looked over the Phantom carefully, but I found no flaws. Besides, long-time Phantom pilot and Phantom Aircraft Company president Pat Schultheis had already test-flown it and put hours on it. Heck, this was going to be fun and a special treat.
Hats Off to Pat
While the majority of pilots I know lament the lack of young people involved in aviation but do little themselves to solve the problem, Pat Schultheis did do something about it. He says he was looking at a picture of some kids who built a soapbox racer and he thought, Why not help my kids build an ultralight?
His inspiration came not long after he and 35 investors took over the Phantom company. Putting his long training as a teacher together with his interest in ultralights, he came up with a project to have students at his elementary school help assemble a Phantom. He approached the school's principal with the idea, and it was soon approved.
After 29 years in the profession, Schultheis no longer teaches. At the end of the school year which featured the kids completing the Phantom project, he "bought out" his remaining year (to make 30 years) and retired. He says, "Finishing Child's Play was my last hurrah. How could I improve on that rewarding experience? I decided I couldn't, so I took retirement."
In all, 130 kids invested 250 hours in the assembly of the Child's Play Phantom. "They took it apart four times so everyone could experience the process," reports Schultheis. The entire project was done under Pat's close supervision.
Once Child's Play was finished, the Phantom ultralight was checked out by the local U.S. Ultralight Association ultralight club, the Alamo Air Force (USUA Club 7). Some of the club members are Schultheis' partners in purchasing the Phantom company.
With the ultralight completed, Pat flew it for the first time. I can only imagine what those kids must have felt when they saw their teacher, their airplane-building mentor and their friend take to the air in something they had built. Anyone who has ever helped a student take his first solo flight knows the feeling, the unique dry-mouth sensation combining both worry and pride.
As a special treat, Schultheis promised the school kids he would fly over their graduation ceremony. This is a longer-term commitment than it sounds because Pat had some fifth-graders who helped on the project. They wouldn't graduate from high school for 7 years. For this reason, Pat has turned down offers to buy Child's Play. He intends to keep the ultralight and fulfill his promise.
Starting All Over Again
The Phantom company has been owned by several organizations, but has finally found a resting spot after many years. With Schultheis retired from teaching and given his long devotion to the design, I'd say it is now in the best hands imaginable.
A little more than 2 years ago, Schultheis approached members of the Alamo Air Force ultralight club with an investment deal. He says he wasn't looking for stockholders, merely some folks willing to put money where their mouth was and help him buy the assets of Phantom.
"I've got a good woman to look over my shoulder and tell me if I'm going in the right direction," says Schultheis. "I didn't need 35 stockholders all `helping me' try to run the company." Instead, Schultheis got club members to put up money for 3 years with a promise he'd pay them interest and principal. The time is nearly up, and he says he's on schedule. Obviously, the former school teacher has exhibited strong business skills in raising money, organizing an excellent promotion – the kids building the ultralight has garnered plenty of attention – and improving the ultralight design.
No one in his right mind, having purchased the rights to this venerable ultralight, would start making major changes. However, Pat and his team did see a number of refinements they could bring to the nearly 20-year-old design.
Before Schultheis took over the design, the Phantom had a sad reputation of poor business performance by its previous manufacturers. To overcome that, Pat took an unconventional step.
From company records of parts sales, Schultheis and his staff identified more than 800 Phantom owners (about half the total number of Phantoms out there). They called every owner and told them the Phantom company was under new ownership. Then they made their unusual offer.
"If any of them needed parts, we agreed to send them what was needed. Only after [the owner] determined the new parts fit properly did we ask the customer to send us the money," Schultheis explained. "People told me I would never see the cash, but only two people failed to pay!"
New Phantom Changes
Several changes separate the new Phantom ultralight from the old one. The current Michigan-based Phantom Aircraft Company now offers a chromoly steel landing gear that replaces the slab aluminum gear featured in my last pilot's report on this design.2 Ironically, it was Schultheis himself who developed the slab aluminum gear and sold the landing gear design to the previous Phantom company. But the new gear is tougher yet, and offers better ground clearance. The new Phantom also offers 6-inch aluminum wheels as a standard feature.
The front fairing is 6 inches longer on the new Phantom X-1e (the e is for enclosed), a change that will be fitted to the basic Phantom X-1 as well. The new fairing allows the wraparound (extended side section) instrument panel seen on the X-1e model.
The motor mount was changed, and shed an impressive 11 pounds in the process (from 23 to 12 pounds) – weight that can be employed effectively elsewhere.
In addition, numerous changes were made in the sail construction. Some time ago, the sail stretched all the way across the wingspan. This meant a very laborious process was required to disassemble your Phantom for transport. "Some owners simply never broke their planes down," says Schultheis. Now, the sail splits in the center (much like Quicksilvers and several other ultralights) so breakdown is not so time-consuming.
In addition, ribs used to be fitted in the tail as compression struts to brace the internal structure. Today that structure is more conventionally inside the covering, which meant those surfaces had to be redesigned as well.
The windscreen was subtly reshaped to bring it a bit higher and also wider, to enclose the side support tubes. Before, when the tubes were outside the screen, more wind got to the pilot.
The seat belts were reattached in a new place that now keeps pressure off the top of your shoulders in an impact. Connected up higher, the belts now better restrain your forward movement, which is desirable in mishaps. For those who think belts should hold you down in the seat (like during turbulence), the new connect point continues this form of restraint just fine.
In all, you might not notice the many changes Phantom Aircraft has made under Schultheis' direction, but owners will appreciate them. Here's one more example:
A simple swap exchanged the round forward support tube (running from nosewheel to engine mount) for a streamlined tube. The shaped tube reduces drag very little, but it does provide a clean and neat way to hide wires that route from the engine to the instruments. In the past, these wires were tie-wrapped on the backside of the round tube. The new way is tidier, as well as appearing more aerodynamic.
The Good Old Ways
Schultheis is smart enough not to change some things. However, creative people always find ways to gently improve, even without reworking everything.
The old "sight gauge" fuel quantity indicator was run down a tube that supports the seat rest. It was actually too close. The one in Child's Play was much more easily read by those of us who cannot swivel our heads completely around backward.
Electric starting on this test ultralight eliminated the difficulty I had last time pull starting the engine from inside the Phantom's smallish cockpit. If you want to stay Part 103 compliant, you'll have to stick with a pull started 40-hp Rotax 447, but Schultheis assures me your pull technique gets better with practice. Indeed, I've seen him succeed at the task.
The Phantom's sling seat was pretty comfortable, especially in warm weather. However, as I've complained in the past, seats of this construction lack lumbar (lower back) support. The last Phantom I flew had a hard shell seat that was better, but heavier. Now the company offers a seat pad system that attaches with a Velcro® hook and loop fastener system to provide some of the support I like (in my case lumbar support, but pads are available for other support, too).
For big guys, some "He-Man bars" are available. These are modified versions of the cockpit side support tubes. The he-man variety rise straight up an additional 6 inches from the cockpit basetube before angling inward. The extension allows more side area for big pilots, and gives all of us more arm room to move the joystick.
The Phantom's rudder pedals are aimed back at you a little bit, with a little lip at the bottom to support your heels. Pushing my legs straight felt quite comfortable, although this is an unusual posture in most planes I fly.
The Phantom won't taxi turn quite as tightly as some other ultralights, and no change was made to the steering linkages. However, the optional slab gear of my last pilot's report was replaced with two tubular gear legs per side on this ultralight. The forward connection is bungee-suspended to help smooth out landings.
Excellent Landings
Every landing I've ever made in a Phantom has been excellent. Now, maybe I'm a good pilot, but the Phantom seems capable of making lots of pilots look talented when they have consistently smooth landings.
Schultheis advises 50-or-better mph on approach. This ensures a wide safety margin, as 40 mph or even less worked well for me after a little practice. When you're ready for the slower speeds, you'll eat up less runway in the process.
I again found a fairly high sink rate although the Phantom has a wide flare window, probably because pitch is very authoritative (conceivably a function of ventral fin area below the tail boom?). And, to some pilots, a high sink rate on landing approach is merely a means to touch down in a more precise location. After all, flaps will also increase sink rate.
With its sidestick (a different design than a "side yoke"), the Phantom does not permit control as briskly to the right as to the left. Your right hand must work the stick positioned on the right side of the cockpit. This assures great leverage moving your hand/arm to the left but cramps your movement to the right. The He-Man bars help, but any stick on one side of the cockpit will always have some of this quality.
The Phantom's ailerons are more powerful than the rudder, a fact to keep in mind while trying to slip to a landing. Remember, the Phantom has no flaps. In most maneuvering, I noticed generally good control harmony despite the more potent ailerons.
Ultralight Flying! editor in chief Scott Wilcox commented I'd clearly felt comfortable getting in close to the camera plane for our cover photos, yet another reflection on the good handling qualities the Phantom exhibits.
Roll rate measured at about 2.5 seconds for 45-to-45 reversal, although it seemed marginally quicker to the left, probably because of the sidestick position. You push to the left versus pulling to the right, and pushing works better in the Phantom cockpit.
Energetic Yet Stable
With its 50-hp Rotax 503 dual carb engine and 3-blade prop, Child's Play zoomed up powerfully. It felt at least as strong as the factory brochure's promise of 800 fpm. An earlier pilot's report included a flight on a Rotax 582-powered Phantom, which had even more climb capability. However, I don't recall enough difference in performance to encourage the more complicated and heavier 582 for any except heavy pilots flying in higher elevations, and maybe not even then.
Cable-bracing to inboard and outboard locations on both the leading edge and trailing edge of the wing – and a similar bracing scheme for the tail – yields a very stout feel in-flight. You tend to notice bumps more than some designs (trikes, for example) because of the rigid airframe. Even the majority who prefer the look of struts must admit cable-braced wings are very solid.
I found I was unable to stall in full-power mode with the 50-horse 503. When I backed off to try low-power stalls, the engine protested with some roughness. Nonetheless, I persevered and recorded power-off stalls down near 30 mph.
Again, as before with earlier Phantoms, I found very little adverse yaw despite the presence of full-span ailerons. Perhaps the tail's vertical area helps? In any event, it comes around quickly after a short diversion the wrong way.
On whole, flying the Phantom is a delightful experience most pilots will enjoy.
By the way, my thanks to Schultheis and his Haverhill kids for installing the ballistic emergency parachute! Most readers are aware I am marketing director for BRS, so I readily admit my bias in favor of emergency backup parachute systems. In my job as flight reporter for Ultralight Flying! magazine, I commonly fly 15 to 20 different ultralights each year. These are almost always new planes that have been carefully built at the factory. They've also been recently flown by factory reps who make sure they are operating correctly before allowing the media to fly them. Yet none of that good preparation precludes me from making a mistake, and I deeply appreciate an emergency backup recovery system.
Pat Schultheis gave me a last interesting piece of information regarding his organization. With office manager Sarah Poli, Schultheis stocks all Phantom parts in Michigan. From this base, they assemble kits and ship them out across the country.
The actual manufacturing – the drilling, cutting, swaging and more – occurs in North Carolina where the manufacturing company has long been based. This work is performed by Joan and Carroll Shelar, names associated with Phantom fabrication for longer than Schultheis has owned Phantom Aircraft.
In the last analysis, the Phantom is a design with a long and successful history now owned by an affable and knowledgeable Phantom enthusiast. With manufacturing done by people who have worked with the ultralight for a long, long time, and given its superb flying qualities, it's no wonder the Phantom remains famous as one of ultralight aviation's most enduring models.
Notes:
1See "Flightlines: Phantom School Project," April '98 Ultralight Flying! magazine. For a second story of a Phantom built by school kids (this one in Truth or Consequences, New Mexico), see "Flightlines: Another Middle School Builds a Phantom," April '99 Ultralight Flying! magazine.
2 See "Pilot's Report: The Phantom Flies On," April '96 Ultralight Flying! magazine
Published in Light Sport and Ultralight Flying
| | |
| --- | --- |
| Seating | Single-seater |
| Empty weight | 250 pounds |
| Gross weight | 510 pounds |
| Wingspan | 28 feet 5 inches |
| Wing area | 142 square feet |
| Wing loading | 3.6 pounds per sq ft |
| Length | 16 feet 6 inches |
| Height | 8 feet 2 inches |
| Fuel Capacity | 5 gallons |
| Kit type | Assembly |
| Build time | 125-150 hours |
| Standard engine | Rotax 447 |
| Power | 40 hp at 6,500 rpm |
| Power loading | 12.8 pounds per hp |
| Cruise speed | 55 mph |
| Economy Cruise | 2.5 gph |
| Stall Speed | (power off) 30 mph |
| Never exceed speed | 100 mph |
| Rate of climb at gross | 700 fpm |
| Takeoff distance at gross | 300 feet |
| Landing distance at gross | 450 feet |
| Range (powered) | 110 miles |
| Standard Features | Removable wings (kingpost and cable-braced), side-mounted joystick, full-span ailerons, instruments (ASI, tach, EGT/CHT), sling seat, 4-point shoulder harness pilot restraint, 6-inch aluminum wheels, pilot fairing, windshield, dash panel, 2-blade wood prop, dynafocal engine mount. |
| Options | Rotax 503 or 582 engine, electric start, high-lift wings, drum brakes, manual trim tab, full enclosure with doors, rear enclosure, 3-blade composite prop, prop spinner, snow skis, floats, 10-gallon fuel tank, padded seat, ballistic emergency parachute, chromoly landing gear. |
| Construction | Aluminum tubing, stainless steel cables, AN and MS hardware, Dacron® sailcloth covering. |
Design
Cosmetic appearance, structural integrity, achievement of design goals, effectiveness of aerodynamics, ergonomics.
Pros – The Phantom was a great design when it first appeared in the early '80s, and it remains great today – that's staying power! Current 2-year-old company introduced a fully enclosed model (the Phantom X-1e) and it looks good. Very strong design, thanks to cable-bracing and strong structural members. Company owned and backed by solid core of Phantom lovers.
Cons – Though some of us tire of hearing it, many pilots believe cable-bracing is old-fashioned or has more drag than struts (they don't have more drag, say experts). No 2-seater offered as yet.
Systems
Subsystems available to pilot such as: Flaps; Fuel sources; Electric start; In-air restart; Brakes; Engine controls; Navigations; Radio; (items covered may be optional).
Pros – The Child's Play Phantom featured electric starting. Panel room extended to allow more instrumentation. Primer is cockpit-accessible and was placed near the ballistic parachute deployment handle, a good location in my opinion. Fueling is done outside the pilot area, avoiding smelly spills in the cockpit. Optional brakes worked well in traffic situations.
Cons – Standard pull starting can prove challenging while belted in the seat (optional electric start alleviates the problem, but may push you over the Part 103 weight limitation). Like most aircraft brakes, they were a little weak at speed. No flaps available (though slipping helped).
Cockpit/Cabin
Instrumentation; Ergonomics of controls; Creature comforts; (items covered may be optional).
Pros – Secure feeling, large diameter tubing cockpit offers more crash protection than some ultralights. More panel space created with side sections. Less windy thanks to slightly larger windscreen; fully enclosed Phantom X1-e obviously provides complete protection. Sidestick makes for roomy cabin. Four-point shoulder harness pilot restraint is standard.
Cons – Entry remains challenging for less-flexible pilots; you must wiggle around the side cockpit tube member. Sling-style seat is comfortable for shorter flights but became less so for me after an hour. No baggage accommodations.
Ground Handling
Taxi visibility; Steering; Turn radius; Shock absorption; Stance/Stability; Braking.
Pros – Being tractor-configured, the Phantom sits stably on all three wheels, not tilting aft like many pusher ultralights. Newer tubular steel gear (formerly a slab gear-style) gave a very firm ride yet benefited from a small bungee suspension on one leg member. Strong gear and adequate clearance make emergency landings less uncertain.
Cons – Upward visibility is limited by high-wing design and close tractor-mounted engine. Turning radius is wider than some ultralights. Brakes are nondifferential so no assist in taxiing.
Takeoff/Landing
Qualities; Efficiency; Ease; Comparative values.
Pros – Very good takeoff and landing qualities; takeoff in particular is very simple, and I've never had a bad Phantom landing. Very good crosswind controls; here's an ultralight to be flown in some wind. Authoritative pitch makes for landing flare that follows your demand. Rough fields are handled by robust gear and good clearance.
Cons – Sink rate was higher than average ultralight (though this can be put to good use in landings). No flaps, and slips are less effective in the nonenclosed Phantom. Braking power is limited on fast landings.
Control
Quality and quantity for: Coordination; Authority; Pressures; Response; and Coupling.
Pros – Strong control action in all axes. Particularly authoritative pitch. Harmony between the control surfaces was quite good even though ailerons appear to be more powerful than the rudder, perhaps a function of the direct rudder linkage. Newer "He-Man" bars allow better stick range for all pilots and especially for big guys.
Cons – tstar (a similar ultralight, but one which has discreet ailerons and flaps). Rudder pedals seemed to have an unusual angle at first (I came to like them later). It's hard to fault Phantom handling – the design and its qualities remain a success even after pioneering ultralight aviation.
Performance
Climb; Glide; Sink; Cruise/stall/max speeds; Endurance; Range; Maneuverability.
Pros – High-lift wing with close rib spacing yields a potent climb with the 50-hp Rotax 503 dual carb (a Rotax 447 is required to meet Part 103). More power would be superfluous in my opinion; Child's Play performed wonderfully with 50 horses. The Phantom also slows down well – maintaining its handling – for low-over-the-field flying that ultralighters love.
Cons – Sink rate is higher than average, probably a function of 142 square feet of wing area (though optional high-lift wing variation is better than some older models). In this category, as well, it's hard to criticize Phantom performance.
Stability
Stall recovery and characteristics; Dampening; Spiral stability; Adverse yaw qualities.
Pros – Stalls are low at close to 30 mph power-off. Full-power stalls keep climbing. Longitudinal stability and response to power changes were both very positive. Child's Play flew dead straight when hands off, an unusually good performance (I partly credit the solid cable-braced airframe).
Cons – Power-off stalls lose some altitude when they break. A lower dihedral allows some overbanking tendency in steeper turns (though aerobatic pilots probably prefer this quality).
Overall
Addresses the questions: "Will a buyer get what he/she expects to buy, and did the designer/builder achieve the chosen goal?"
Pros – Good solid company ownership has replaced short-lived previous ones; same personnel making parts for many years (and many owners). The Phantom ultralight is a long-time survivor improved by various refinements, notably by current ownership. Excellent value at $9,888 complete with "everything you need to fly," says the factory. With the basic (and plenty powerful) Rotax 447, the Phantom can make Part 103 weight, according to the company.
Cons – Some pilots just don't get it about cable-bracing, and because they don't, your resale options become more limited. You don't really want to break this ultralight down – it's a long process (though better than older models!). Entry is tough enough that some won't "qualify."