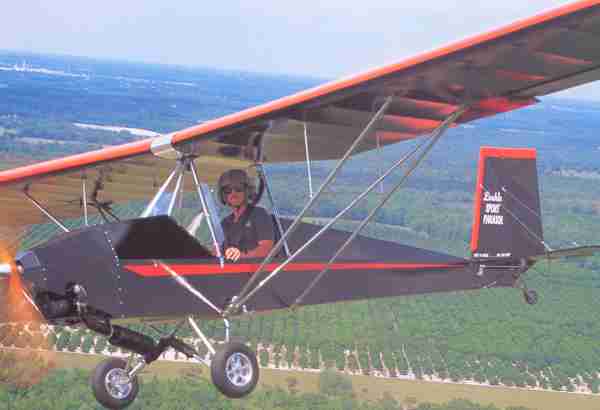 Company owner Mike Loehle has a workable theme: give pilots airplanes loaded with nostalgia, price them right, make the kits buildable by ordinary humans, and back that up with good factory support. His 5151 Mustang broke this ground. Now the Tennessee builder has other designs in the stable.
One is the Sport Parasol. Looks may motivate most buyers of nostalgia, but it doesn't hurt that the planes fly well. The Parasol in particular may look like a design that would fly very slowly and be very docile. In fact, the Parasol zips along at a good speed and offers rather brisk handling.
The Parasol was introduced at a paltry $2,500 without engine. Part of Loehle's thinking was that buyers could easily find a used 447 Rotax or equivalent. Add a few more goodies desired by many pilots and you're still aloft for about $6,000, quite a bargain in a time where everything seems priced at $10-20,000.
Some of this economy is based on the primary material: wood. Those who've only built bolt-together kits may be frightened by the effort. You needn't be. Loehle takes pains to save you many hours by precutting most wood parts. On average, the factory says to expect a 350 hour investment. Considering the Sport Parasol could save you $7,000 over another choice, your time is worth $20/hour. No wonder it sells.
Full Review in Jul. '92 UF!