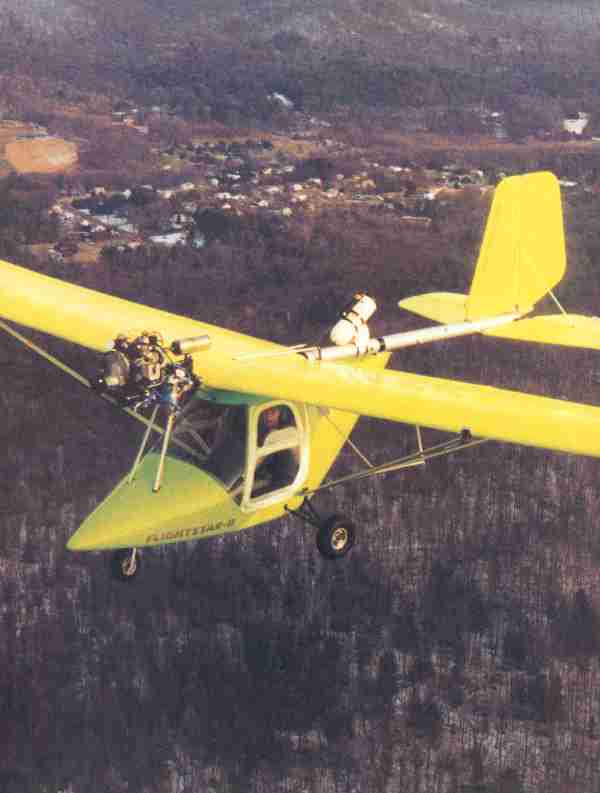 Daring to take on deeply entrenched Rotax, Flightstar/H-Power has introduced the first light aviation four-stroke engine to see broad acceptance. Joined with their smoothly contoured Flightstar II, you can have a deluxe ultralight or lightplane that will provide years of flying enjoyment.
While two strokes do the job for most ultralight enthusiasts, the four stroke 700E engine from HKS of Japan offer assurances some pilots demand. With its particular strength of mid-range torque, the HKS engine brings interesting differences. Pull up the nose while revolutions are set in the 4000s and the HKS will haul the Flightstar II aloft with no evidence of prop loading common among two stroke engines.
Flightstar still sells lots of their very popular IISL models, but on this lighter aircraft, they recommend the Rotax 503. However, now that the same company has adapted the stronger HKS engine, sales are soaring for their Flightstar II with its beautifully formed all-fiberglass cockpit enclosure. The slight increase in empty weight is easily lifted by the 700E.
Designer Tom Peghiny and partner Spark LaMontange make sure buyers of either Flightstar or HKS will get service to please even the most demanding buyer. Kits shipped under license from Florida giant Leza-Lockwood get you a 100%-complete kit in less than a week.
Long admired Flightstar aircraft quality joins with world respected Japanese engine expertise to bring a fun flying machine that can be assembled quickly thanks to a well-executed kit. All that remains is the easy flying nature. No wonder nearly 1,000 are flying around the globe.