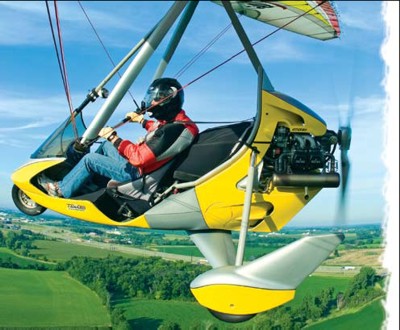 AeroTrekking
With new partners from the software industry, 18-year ultralight and LSA veteran
John Kemmeries has created the Southwest AeroTrekking Academy LLC.
Instructors teach individuals how to fly weight-shift aircraft like the Tanarg or
other Air Creation trikes, and they show students how low-level flying can be
done safely. The purpose is to allow aerotrekkers to enjoy the beautiful landscapes
of the great American southwest from altitudes that allow them to take
in the scenery in a unique manner.
Those who elect AeroTrek training embark on three levels of preparation:
In level one flight training, aerotrekkers fly over dry lakebeds, short prairie
grasses, hard sand, meadows, wide dry washes and other terrain that allow
for obstruction-free landings. Ground schooling covers the rules of low-level
flight to ensure that students are not violating airspace and visual flight rules.
By level two, aerotrekkers are introduced to routes that require more sophisticated
control inputs to land safely in a power-out or emergency situation.
Flight and ground sessions cover how to identify safe landing zones, make
adjustments for weather conditions, and manage the aircraft's energy.
In level three, aerotrekkers are introduced to advanced low-level flying.
Instruction covers ridge soaring, the performance parameters and limitations
of the aircraft, understanding terrain, and more advanced weather
interpretation.
It's A Lifestyle
Training at the AeroTrekker Academy prepares trike pilots to fly in Arizona and
New Mexico. Typically, flights range about 50 miles in the company of other
aerotrekkers to enjoy the routes and destinations that John and his partners
have established. From multiple bases-Rodeo, New Mexico; Pleasant Valley
Airport (P48) near Peoria, Arizona; and Rimrock, Arizona-trekkers fly in small
groups along beautiful desert and majestic mountain landscapes.
Along the well-defined routes, trekkers stop at flying communities
where they spend the night in pleasant accommodations (you won't have
to tent camp while aerotrekking). John and his team endeavor to provide a
first-class activity that is little like what you may have experienced at other
flight training schools.
To learn more about aerotrekking, visit www.aerotrekking.com.
Make your plans early; this is a way to enjoy aviation that is
different than any other flying activity|.
Published in EAA Sport Pilot & Light Sport Aircraft Magazine