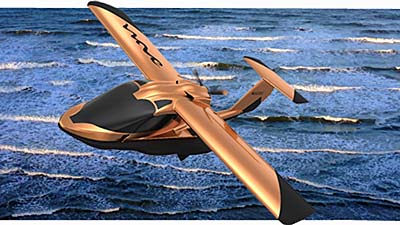 In the Light-Sport Aircraft space, one of the most active areas is LSA seaplanes. Pilots are perhaps fascinated with the versatility of seaplanes, with amphibians allowing flight from land or sea (or even snow with precautions). You can add floats to landplanes but those aircraft often look rather awkward where boat-hulled seaplanes appear far more elegant. As FAA allows them an additional 100 pounds (1,430 pounds or 650 kg compared to 1,320 pounds or 600 kg for land-only aircraft), LSA seaplanes can have sleek sweeping hulls and the Vickers Aircraft Wave exhibits a very modern look. Wave is brand new but principal designer and company namesake Paul Vickers has many years of experience designing boat hulls. Paired with aeronautical skills and seven years of intensive engineering, he brings much to the table ... and it shows
After FAA opened the door for designers who could assure worthy safety attributes (in FAA's judgement), Vickers Aircraft petitioned for and received additional weight so they could offer all the features customers wanted for their seaplane. In this way, Wave is leading all other Light-Sport Aircraft in the period before FAA allows all LSA more weight (coming in 2024).
Vickers Aircraft has designed with great care to assure they use the extra weight very carefully, however, after settling on the fuel-injected, turbocharged, intercooled 141-horsepower Rotax 915iS, Wave has set itself up as the most powerful LSA seaplane in the fleet.
CEO and designer Paul Vickers wrote, "Driven by an unwavering desire to build the sexiest, safest, and most cost-effective amphibious light sport aircraft in the world, I have spent a decade, countless hours, and considerable amounts of money turning that desire into a reality. I wanted to build a plane that I would love to fly."
A true composite, Wave is built from an aluminum primary structure surrounded with a carbon fiber hull.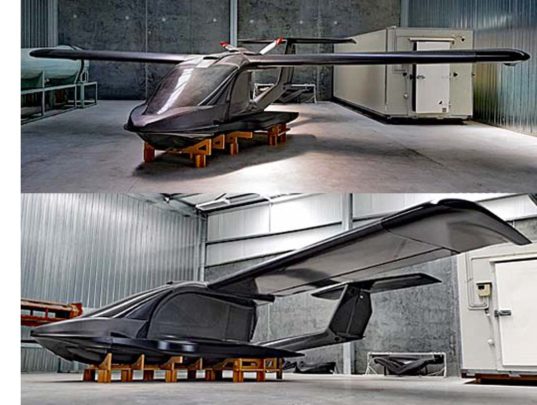 If you think Paul might have missed something on his new Wave, consider this list: automatic folding wings; Cross-Over™ unique landing gear that does not need to be retracted; electric, retractable water thruster for engine-off, on-water maneuvering; Vertical Power's electrical management system; iPad Mini EFB; angle of attack indicator; Dynon Skyview SV-D100 including auto pilot; Custom designed AVEO Conforma lighting; center console joystick; dual aft-sliding doors; windscreen offering 335-degree visibility; inertia reel 4-point seatbelts and Amsafe airbags; BRS emergency airframe parachute; air conditioning; special exterior lighting; cabin heat with climate control fans; stereo intercom; and even arm rests and drink holders. (Note that some listed items are optional and any items listed are subject to change as the design evolves.)