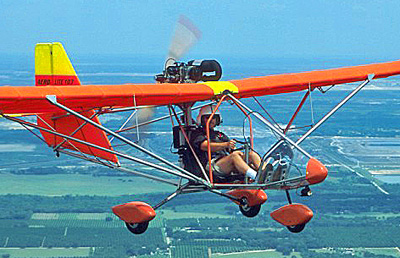 Since 1982 FAA's Part 103 for "ultralight vehicles" has been one of the most intriguing sections in the lengthy Federal Aviation Regulations. Why? Because you can fly one of these aircraft without a pilot license (though all sellers will require training or proof of skills), without FAA registration to obtain an N-number (none need be displayed), and the pilot requires no medical. It is one of the ways to fly an aircraft in America — and some other countries like Germany*, under similar rules — with hardly any interference from authorities. No wonder it has remained popular for more than three decades. The entire regulation for Part 103 can be printed on the front and back of a single page of paper. Remarkable!
* U-Fly-It's European dealer is Vierwerk.
You can also buy an ultralight vehicle ready-to-fly ... and that brings us to U-Fly-It's terrific Aerolite 103. By any measure this is a singular aircraft (oops, FAA calls them a "vehicle" because they do not have to meet the hundreds of pages of regulation that apply to certified aircraft). Deland, Florida producer U-Fly-It offers a ready to fly Aerolite 103 for the modest sum of just $15,900. Yes, that surprisingly low price is good right now, and yes, the company can earn a profit on that so you know they can stay in business to serve your needs in the future. If you prefer an aircraft with an electric start option, Aerolite is available with the Hirth F-33 for just $16,700. No, those figures are not typos!|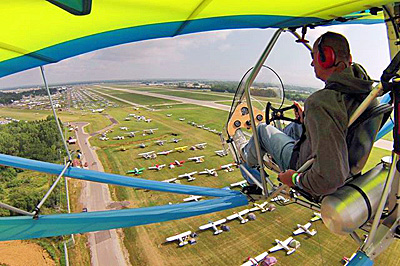 So, surely that means you get some super stripped-down aircraft with no features, both to save money and to stay within FAR Part 103's demanding weight and flight envelope parameters ...right? Wrong! Aerolite 103 is surprisingly well equipped: Flaps, trim, conventional three-axis control with a yoke and rudder pedals, windscreen and nose fairing, steerable nose wheel with sturdy shock-absorbing main gear, four-point seat belts, 5-gallon aluminum fuel tank, Azusa brakes, fully anodized aluminum airframe and all basic instruments including airspeed, altimeter, slip indicator, tachometer, exhaust gas, and cylinder head temperature gauges. And, if you want, you can add a whole-airplane parachute (which itself will allow a few more pounds for other accessories or perhaps a more powerful engine). Is this for real ... at these prices? YES!
Listen, modern airplanes have become quite expensive. They may have every bell and whistle but if you can't afford it, what's the benefit? However, Aerolite lacks for nothing to give you a good time in the air and it won't break your budget. Plus it flies so nicely that the smile you'll have after your first landing may last you the rest of your life. Wonderful!