Topaz consistently impresses those who examine the Light-Sport Aircraft because it delivers a finely finished appearance through its sleek exterior and lean, cantilevered wings paired with a beautiful interior treatment. The airplane may look small as you approach it but the design is very comfortable inside. As proof of this claim, Topaz boasts a cockpit width of more than 47 inches, a full eight inches wider than a four-seat Cessna 172 Skyhawk.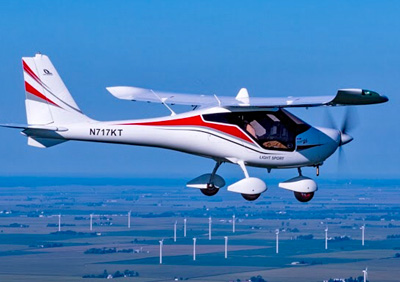 With an 80-horsepower Rotax 912 than can use 87-octane regular auto fuel, Topaz can cruise 118 mph, climb almost 1,200 feet per minutes, yet stall at 40 mph. The 100-horsepower 912ULS (carbureted) or 912iS Sport (fuel injected) will add up to 10 miles an hour and boost the climb rate to almost 1,400 fpm. These impressive numbers are aided by a smooth clean design, unstrutted wings, and a 35 span, all qualities associated with the super smooth sailplane gliders Poland has produced for decades.
Equipped with only the basics — yet everything you need to enjoy the air in your Topaz — this Special LSA is also light, weighing only 675 pounds empty. Topaz does not go to the 1,320 limit allowed under FAA regulations. Instead,  Topaz grosses at 1,235 pounds but even with full fuel the model offers a payload of 425 pounds, more than many LSA that weigh the maximum FAA allows.
Although it is the deluxe entry from Ekolot, Topaz can be bought quite reasonably if you don't need every bell and whistle offered. Prices begin at just over $90,000 — rather rare in the modern LSA universe, especially for all-composite construction. Well equipped with the more powerful 912iS and digital avionics, the price still should not reach $130,000 making the aircraft quite a bargain. Ekolot's Junior is even better priced.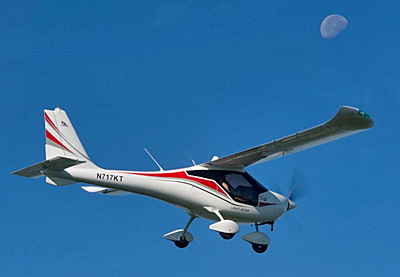 "JK-05L Junior is one of a very few all-composite SLSA aircraft on the market," said Krzysztof "Kris" Siuba, the U.S. distributor and dealer for PPHU Ekolot. Junior can be purchased for just over $80,000 (depending on dollar-euro fluctuation) or well equipped, the model should not exceed $108,000. Remember, all these prices change with time; please contact Ekolot America for a current quote.
Despite lower price points, "PPHU Ekolot has achieved a solid financial performance since the company began almost 25 years ago," said Kris. Ekolot America is ready to prove their value through a comparison chart available on their website.
European producer, PPHU Ekolot, is based in Krosno, Poland. The company was formed in 1995 by Henryk Slowik, a successful Polish business man. He hired as chief aeronautical engineer and designer Jerzy Krawczyk, who brings 35 years of experience in aircraft design. "Combining Henryk's vision & Jerzy's technical knowledge, PPHU Ekolot's line of aircraft are now gaining attention in the world of light aircraft," said Kris.
Kris' company, Ekolot America, offers the Topaz, Junior, and Elf, the latter an intriguing single-place motorglider. Ekolot America is a division of NIU Group. In more recent years, the company has established dealerships in the southeast and west to better serve those interested in this handsome design. Ekolot America is based in Dekalb, Illinois, about an hour west of downtown Chicago.
Poland is a major player in aviation. With aviation activity dating back to 1910, the eastern European country was a strategic aircraft engineering and manufacturing hub for Soviet Union after World War II. At its peak during the cold war, Polish manufacturers produced more than 1,000 aircraft annually from gliders to fighter jets to passenger aircraft.
After the Berlin Wall came down, Poland adopted democracy (in 1990) and the government realized the importance of aviation, establishing programs that showed commitment to its aviation industry. Today, Poland and the USA have a solid relationship in aviation.