Click the graphic above to go immediately to the company's website...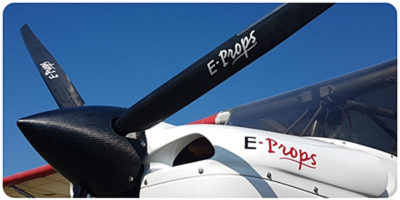 E-Props was created in 2008 by three aviation enthusiasts. The three original team members have grown to 34 in the company. "We have just hired a sales manager in charge of propellers for aircraft, and a chief pilot for the flight tests of our propellers and other equipment," reported CEO Anne Lavrand.
E-Props is quartered in an ultra-modern facility of 2.200 square meters (24,000 square feet) on Sisteron airfield (LFNS) in Provence, France. The company has local representatives in numerous countries.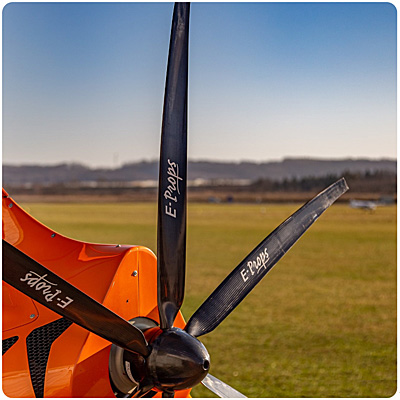 "Our 100%-Carbon propellers with Titanium leading edge protection for aircraft are designed and manufactured in France, and are innovative and very efficient," expressed company leader Anne Lavrand, General Manager and President of E-Props."
"Seeing things differently, shaking up the obvious, not stopping at existing concepts and ready-made ideas, exploring new avenues, constantly inventing, imagining, exploring, creating, innovating and innovating again to offer aeronautical products that are always more efficient and safer …this is what leads the E-Props team," added Anne.
Currently, the range of E-Props propellers for aircraft is proposed for gear-drive engines (especially Rotax). The range for direct-drive engines is under development and will be available when production preparation is complete.
A few numbers show the output of this innovative company that makes efficient adjustable pitch propellers.
E-Props in Numbers
Full carbon propellers, with Titanium leading edge protection
9 diameters (from 61 inches to 77 inches)
2, 3, 4, 5 & 6 blades of different profiles and chords, tractor and pusher
38 lengths of carbon spacers (from –0.8 inch to +6.7 inches)
15 diameters of spinner (from 8.3 inches to 15 inches)
32 engineers and technicians, including 10 in the design office
24,000 square feet ultra-modern facility
Production: 45,000 blades per year
Strict quality system, monitoring by RFID
Production is done with 12 CNC machining centers
Used on more than 250 types of different ultralight aircraft and Light- Sport Aircraft
E-Props is working with more than 40 major aircraft manufacturers
Used on more than 350 different paramotors (powered paraglider) brands
Propellers sold in more than 80 countries
E-Props models have no life limitation, a 2,000 hours MTBO and meet ASTM standards (F2506-13)
E-Props are the world's lightest propellers. For example, a 3-blade diameter prop of 69 inches for Rotax 100 horsepower in full Carbon with Titanium leading edge protection, adjustable pitch, weights only 2 kilogram (4.4 pounds).
To try them out, it's easy: E-Props offers a "Satisfied or Refunded" clause for 6 months after purchase.
---