You already know Alto as it was accepted by FAA, number 112 on our SLSA List, winning its approval back in 2010 when Light-Sport Aircraft were still the new kids on the block. The design faded from site of Americans — although producer Direct Fly has kept supplying the rest of the world — after the previous importer had to bow out for family reasons.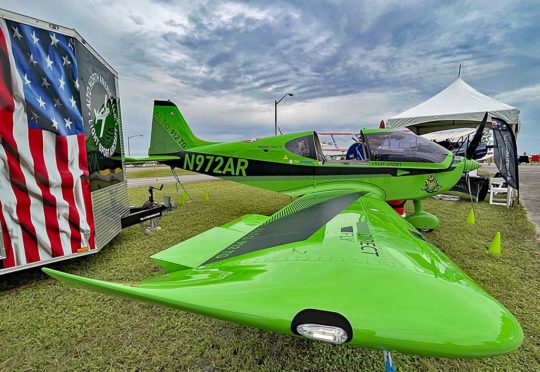 Now, the 2020 version of Alto — Alto 912 TG — is back, equipped with the carbureted 100 horsepower Rotax 912 ULS engine. Standard equipment includes hydraulic brakes, electric flap control, and electric elevator trim. The exterior of the aircraft is made in a single color spray with accents as seen while the interior and the seats are upholstered with skin-friendly cloth. An ambitous market, new importer Scott Rose order the distinctly painted Alto seen nearby and accented it with icons from his favorite movie, Ghostbusters. You can't miss this green machine at airshows!
Well known for some of the gentlest handling qualities among Light-Sport Aircraft, Alto 912 TG is an aircraft a flight instructor can love for many of his or her students. However, all recreational pilots will enjoy its wonderful flight characteristics, its slow flight capabilities that let you take in the view at a relaxed pace, and marvelous cabin comfort.
Alto 912 TG benefits from the design of its wing in the familiar "Hershey Bar" shape and with a profile using a broad leading edge that provides predictable stall characteristics and behavior. "The wing is a semi-monocoque structure and is equipped with built-in tanks with a capacity of 100 liters (26.4 U.S. gallons) of fuel," Direct Fly said.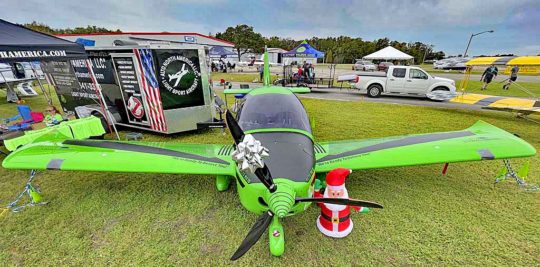 Alto 912 TG is an all-metal design with composite features such as nose cowl, wheel pants and wing and tail tips. Alto's metal structures are braced by a web of diagonal members making for great strength and rigidity. The airplane's landing gear employs standard tricycle format with the mains fixed to the fuselage by flexible laminate composite legs.
The generous 43-inch wide cockpit provides plenty of room and is wider than a Cessna 172. Alto 912 TG's overhead canopy slides forward smoothly on rails allowing plenty of ventilation during taxi.
Alto is back and here to stay. Contact Scott Rose and team to arrange for a flight demonstration or to find which airshows you can attend to see this brilliant green flying machine.
Alto 912 TG
Specifications
Length — 21 feet
Wingspan — 27 feet
Wing area — 114 square feet
Height — 7.5 feet
Cockpit width — 43 inches
Fuel tank capacity — 26 U.S. gallons
Engine — Rotax 912 ULS (carbureted)
Empty weight — 635 pounds
Maximum Takeoff Weight — 1320 pounds
Never Exceed Speed — 134 knots
Cruise Speed — 107 knots
Stall Speed (best flaps) — 41 knots
Stall speed (clean) — 46 knots
Maximum Climb Rate — 1,000 feet per minute
Takeoff Distance to 50 feet — 1,330 feet
Landing distance from 50 feet — 950 feet
Load factor — +4, –2 Gs