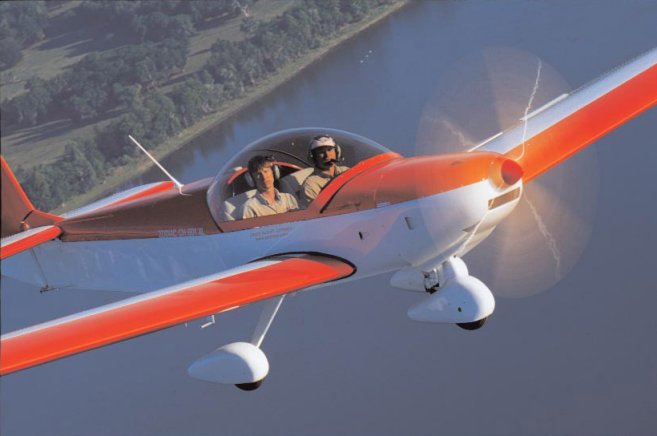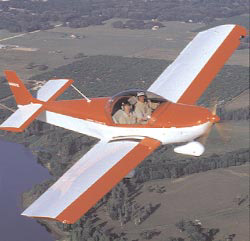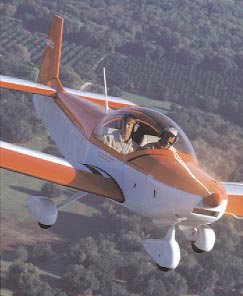 Chris Heintz's Zodiac CH 601 XL design fits perfectly
Chris Heintz is a respected designer of light aircraft, and the
Zenith Aircraft Co., led by his sons Sebastian and Nick, is a successful
kit manufacturer with worldwide impact. The company's
Zodiac line is a well-accepted series of aircraft with good performance
and handling. So, why did I think the Zodiacs were boring?
The answer's simple—because they
look like little Piper Cherokees.
Now, both New Piper Aircraft and
Zenith make fine aircraft with
better-than-expected performance for
their class. But they're just…well…conventional,
expected, familiar. They seem
to be a factory sedan at a sports car show.
A flight in the Zodiac XL with Nick
changed my view. I now have a better
understanding of the solid reputation of
this Canadian designer, this company,
and these aircraft. I greatly enjoyed the
hour Nick and I spent buzzing about the
central Florida landscape.
The Zodiac Line
Developed by Chris Heintz, the Zodiac
line today includes four different models.
The HD version was first, and second was
the UL model, directed toward the Advanced
Ultralight Aircraft categories in
Canada and Europe; next came the HDS
model with a shorter, tapered, speed wing
that imparted both a racier look and better
speed.
The focus of this report is the latest
model to join the series—the Zodiac CH
601 XL—which finds its distinction as an
entrant for the proposed light-sport aircraft
category. The XL is a near-perfect fit
for that category and positions Zenith
nicely near the front of the pack for approval
once the industry establishes its
consensus standards.
However, the XL didn't start out aimed
at sport pilot/light-sport aircraft. The
largest aircraft of the Zodiac series, this
model first sported a Lycoming engine.
The XL weighs more than the UL or HD,
as will be explained by the features described
below. But, with its higher weight
allowance, the XL was the logical candidate
for the series' intersection with the
light-sport aircraft category and, consequently,
sport pilots. And that's good
fortune for Zenith Aircraft.
One of the benefits of experimental
aviation is the ability of a designer to almost
constantly change his creation.
Type-certificated aircraft can't evolve as
rapidly, as the process of modifying a
type certificate and gaining approval for
such modifications from FAA is very slow.
FAA hopes that the consensus standards
that industry leaders will assemble for
light-sport aircraft will permit easier
changes because such changes help advance
development.
Chris Heintz, his family, and staff have
taken advantage of this opportunity in
the experimental category to evolve the
Zodiac series significantly to produce the
XL variant. They made changes to the
wing, landing gear, canopy, and seats.
The XL wing incorporates a totally new
airfoil, but it does use the tapered tips of
the HDS model; however, the XL's tapered
wing is not the shorter HDS version.
Instead it has a 27-foot span. Zenith said
the longer tapered wing "provides an efficient
cruise speed as well as desired slow
flight and gentle stall characteristics."
The CH 601 XL's new landing gear is
now of leaf or slab construction and ties
into the cabin structure, and it no longer
uses bungee cords. The resulting hardware
is cleaner, longer lasting, and easier
to build. The nose wheel remains bungee
suspended, though.
Formerly, the canopy opened to one
side, but now it opens forward. While
you still need to consider wind direction
when opening this large surface, both occupants
can exit at the same time. The
older canopy would open either way—a
neat trick by itself—but you had to enter
one at a time or step over.
The XL's rudder pedals are taller and
further forward, allowing up to 6 inches
of greater fore/aft cabin foot room. I
found the interior quite spacious. It appeared
able to contain two rather large
Americans without squeezing them. Nick
and I are somewhat leaner than average,
and we had lots of room.
In the earlier XL, you sat lower inside
the cabin area. Now with the new wing
airfoil, which has a less vertically tall spar,
the seats are more reclined, which makes
for a supportive posture that still assures
plenty of visibility. Zenith literature says
the seats offer "La-Z-Boy" comfort, and
indeed I found the long seat bottom actually
restful. I never sat in the older
Zodiacs, so I can't compare the previous
style, but the 601 XL offers a certain
sports car bucket seat feel. This was one of
the first impressions I had that made me
change my mind about the humdrumness
of the Zodiacs.
Nick indicated to me that about 500
pounds of useful load is the target for the
601 XL light-sport aircraft candidate.
While Zenith formerly recommended the
O-235 Lycoming for this model, the
switch to the Jabiru or Rotax increases the
useful load and improves fuel consumption,
he said.
Great Info
The Zenith literature package is easily
the most complete package I have received
from any light aviation company,
and I've seen many other good ones
among the hundreds I have studied. Lots
and lots of information is presented with
some lovely graphics. In this review, I can
only scratch the surface of what it provides.
The manual I received had 51 pages
and many color photos/artwork explaining
the Zodiac line in great detail. Also
included is a VHS video. And, the building
effort is given particular attention. I'm
sure Zenith can't afford to give these
manuals to everyone who requests an information
pack, but serious buyers
receiving one can certainly become fully
informed.
Very General Aviation (GA) Like
Although I fussed about the Piper resemblance
earlier, in truth, this can be a
positive quality. The 601 XL imparts a
sense of confidence precisely because it
looks "like airplanes are supposed to
look." Inside it also has features to ease
the pilot's effort and assure more creature
comfort.
A gas strut on both sides of the canopy
hold it up and allow it to be raised with
minimal effort by the occupants. The easiest
way to enter the cockpit is to place
one hand on the rear support aft of the
cabin and the other hand on a handle on
the panel just above the radio stack. Then
it is a fairly simple step down and inside
the 601 XL. But, as you first step up on
the wing—no step was provided—you
must avoid stepping on the flaps as you
enter, as is the case with many GA planes.
In the 601 XL, there's only a latch for
the canopy on the pilot's side, although
a wire running through the aft cabin
support hoop works a similar mechanism
on the right side. It appeared to
grab very solidly, and the canopy didn't
move in flight.
Our test plane had a panel indicator to
show flap deployment in the settings of
10, 20, and 30 degrees. Of course, you
could always look out at the actual flap to
see its position, but the indicator kept
your eyes forward for landing. Zenith factory
pilots recommend you lower the
flaps for entry/exit into the aircraft to
make them easier to step over.
The flaps are operated electrically and
move quite swiftly. Nick told me that I
could lower them before slowing to the
white arc range as long as I didn't put
down full flaps above white arc speeds. I
hit the switch carefully to avoid this. But
with a few deployments, you get the
hang of the fast-moving flaps.
A Jabiru 3300 engine powered our
test XL, and like several other starts of
this engine that I've witnessed in varying
aircraft, the 3300 started very
responsively. Engine shutdown is simply
a key switch off…just like the
family van.
One non-GA-like feature is the XL's
center stick. Most GA airplanes use yokes,
yet many sport pilots prefer sticks (myself
included). As Nick and I went flying, he
seemed more comfortable being in the
left seat where his hands went to familiar
places—throttle on the left, stick in the
right. Because I have a lot of right-seat time giving instruction, I was happy to fly
from the right seat. Having my left hand
on the stick is fine for me; indeed the new
Cirrus and Lancair certificated aircraft use
side yokes where the pilot in command
flies with his or her left hand. However,
many sport pilots prefer to have the joystick
in their right hand, so those aviators
will find themselves more comfortable in
the left seat.
Mostly Ups, Few Downs
I'm pleased to report that all my landings
went quite well, thanks to a bit of
coaching from Nick. Zenith advises
against bringing the 601 XL up to a high
flare position as you might touch the tail,
another trait somewhat common on GA
aircraft. As it turned out, I didn't find it
necessary to do full-stall landings, though
I had to guard against my ultralight-induced,
full-stall landing reflex.
Nick's round-out technique and the
one I used on my subsequent landings
was to perform an attitude landing rather
than a full-stall approach. It worked beautifully,
but it does not allow you to slow
more dramatically in the event of soft or
short field landings. Any GA pilot will
find it well suited to them, while some ultralight
pilots may want to flare more
deeply than 601 XL permits.
We used 70 mph on approach, and
you can round out at about 60 mph.
Again, such speeds seemed more analogous
to GA aircraft than ultralights,
which very often approach in the 40 to
50 mph range.
The 601 XL's climb rate, using 100
mph for good over-the-nose visibility, at
times hit 1,000 fpm with the two of us on
board at somewhat less than gross weight.
With a climb prop installed to meet the
proposed light-sport aircraft speeds, the
climb rate might exceed 1,000 fpm. This
impressive climb is one of the benefits exchanged
for the XL's higher approach
speeds.
Steep turns done at 45 to 50 degrees
were tractable, steady. No extra power
was needed as is the case in most aircraft,
and this probably also explains why almost
no back-stick was needed to
maintain a turn at a constant altitude. It
reveals the Zodiac as an efficient flying
machine.
Some of the success of the airplane's
flight characteristics no doubt derives
from Chris Heintz's use of an all-flying
rudder. Much like a stabilator for horizontal
tails, the all-flying rudder—which has
no fixed surface—is said to promote a
cleaner airflow across both sides of the
surface. Smoother movement across the
surface generates less flow separation on
the lower pressure (or downwind) side.
I found Zodiac XL's pitch a little on
the sensitive side, although the controls
gave good feedback to movement and
were not at all tricky. In a couple hours,
you'd get very used to the effortless feel.
In flight I'd sometimes notice that the
nose was cocked off to one side. This position
may have been generated by an
extended wheelpant on the nosewheel
and assumes I had the rudder pedals in a
slightly asymmetric position. Nosewheel
fairings look good and reduce drag, but
they can add drag if not correctly positioned.
My full stalls produced a reading on
the airspeed indicator (ASI) in the high
20s, although clearly the ASI in this range
isn't to be trusted. Zenith literature says
44 mph with full flaps. Regardless of actual
speed, the stall was clearly very slow,
with very benign qualities and no tendency
to fall off on a wing. It made me
realize that I could approach much slower
with practice, perhaps down toward the
normal ultralight of "50 is nifty" range.
When I did my favorite coordination
exercise—that is, Dutch rolls—very little
rudder was needed; the ailerons are nearly
sufficient on their own. The coordination
between ailerons and rudder was very
pleasant in the 601 XL, perhaps partially
because of the full-flying rudder design.
Adverse yaw is very modest. I found
only a slight hesitation before initiating a
normal coordinated turn. I saw no tendency
to turn in the opposite direction in
any adverse yaw trials. Such good behavior
further enhances the GA airplane
image.
In cruise mode the Zodiac XL transmitted
a zippy sensation. The numbers
don't correlate perfectly to the sensation
of speed; perhaps it was the open bubble
canopy, which ensures massive visibility
and also a sense of motion. In other
words, it seemed like we were flying faster
than we were.
The canopy was lovely even in the
powerful Florida sunshine (I flew wearing
my ball cap). While doing steep turns it
was easy to visually check that the maneuvering
area was free of other traffic. In
straight and level flight, my view of the
world was enormous in every direction
except downward.
The 601 XL feels very solid in the air.
Nick explained that the design is rated to
6g's plus or minus. That doesn't mean
you should reconsider learning how to
do outside loops if you build a Zodiac,
but you'll have a tough machine.
Get Going!
The new light-sport aircraft category,
as proposed, will allow aircraft to cruise at
132 mph. The CH 601 XL is right on the
money and flies wonderfully at that
speed.
Our test aircraft used the six-cylinder,
3300-cubic-centimeter Jabiru engine. You
can use that Australian-designed engine
or the Austrian Rotax 912S for your powerplant.
Zenith no longer recommends
the O-235 Lycoming for the light-sport
aircraft XL model.
Nick described onboard fuel as 13 gallons
per side for a total of 26 gallons (24
usable). With the 3300 Jabiru, that translates
to about four hours of operation.
Consumption is about 6 gph at 2800
rpm, a setting you might use in cruise.
Rotax offers a much better engine regarding
fuel economy, with 24 gallons lasting
six hours at a seven horsepower sacrifice.
However, given the limitations of the
proposed light-sport aircraft rule (115
knot cruise speed), it appears to me the
912S offers more than enough power and
goes significantly further on CH 601's
fuel load. For those who really want to go
far between bathroom breaks, Zenith offers
an extended range tank option.
The CH 601 XL cruises at about 140
mph at 2800 to 2900 rpm; however,
Zenith will use a different prop for the
light-sport aircraft version, Nick said. No
one knows yet how this speed limit will
be measured (or enforced), but because
the speed limit is a clear focus of the proposed
rule, a few props will surely be
specified as acceptable for the proposed
rule to slightly restrain Zodiac's speedy
ways.
I saw very little temperature variation
from the Jabiru engine, even though it
was about 85°F that day, and we remained
in the warm, humid air at a
couple thousand feet off the ground.
Zenith's use of a two-blade prop with a
lot of twist near the root provides added
cooling air to the engine. This Jabiru engine
has been impressive in several
aircraft I've flown, and its slightly higher
fuel consumption shouldn't be enough
to push you away from the Australian
choice.
Is It the Right Buy for You?
As the sport pilot/light-sport aircraft
proposal approaches final resolution, the
airplanes that will qualify under the stillto-
be-devised consensus standards will
start to emerge. Many of these aircraft, I
predict, will be designs from overseas.
These designs may catch your attention,
but the ones you've known about for 20
years may seem to be—and may actually
be—the better choice. Zenith is certainly
among the standard-bearer brand names
for North American pilots.
My best advice is this: If you're seriously
evaluating the purchase of a Zodiac,
talk Zenith out of its literature package
with the videotape. The literature alone is
impressive, but the volume of information
will keep you reading for hours. You
can get a good idea of what you're buying
without ever leaving your chair.
The complete airframe kit for the Zodiac
XL sells for $15,890. Not included in
this price are the firewall-forward package,
instruments, paint, or upholstery.
The company sells the 912S for $11,550,
and you'll also need the installation
mounting accessories—$3,700, plus some
basic instruments for $1,000 more. These
items add up to more than $32,000, and
you haven't painted or finished an interior
yet. My estimate is that you are
looking at $35,000-plus for a flyable kit.
Zenith didn't wish to discuss figures
about fully built aircraft yet, but I would
guess $45,000 to $50,000 for a flyaway
Zodiac XL.
If you make the purchase, look what
you'd have: a conventional-looking light
aircraft with handsome performance for
its class, very cooperative handling, and
room for two to travel. At 130 mph in
good comfort with an enormous view,
you and a friend could cover 600 to 800
miles in a day's flying. A 200-mile outand-
return flight would consume the
morning.
Sounds like fun to me.
Published in Experimenter Magazine
Seating
2, side-by-side
Empty weight
700 pounds
Gross weight
1,300 pounds
Wingspan
27.0 feet
Wing area
132 square feet
Wing loading
9.8 pounds/per square foot
Length
20 feet
Height
6.5 feet
Fuel Capacity
24 gallons, usable
Standard engine
Rotax 912 S
Power
100 hp*
Power loading
13.0 pounds/hp*
Max Speed
180 mph
Cruise speed
132 mph**
Stall Speed
44 mph
Never exceed speed
180 mph
Rate of climb at gross
900 fpm
Takeoff distance at gross
550 feet
Landing distance at gross
500 feet
Range (powered)
600 miles
Notes:
* Assumes the Rotax 912S engine, per factory literature.

** Meets the proposed light-sport aircraft category with correct prop, assuming maximum continuous power.