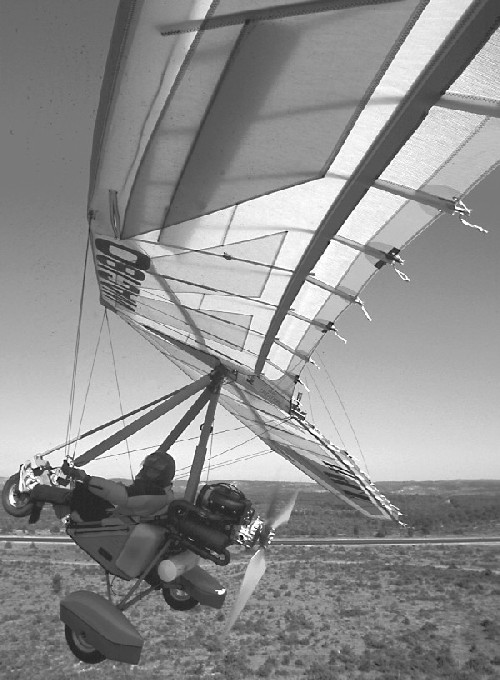 More than one European writer has called the single-seat Air Création Racer "the best ultralight in the world." That's a pretty big statement in a world full of wonderful recreational aircraft. Can it measure up? The short answer is, "Yes, very possibly it can!"
The best ultralight in the world? Really? Well, this is too sweeping a statement. No one knows which ultralight is truly the best because best is different for every person. What is best for you may not be best for me.
This very point has crystallized my response to many pilots who ask me at airshows, "You've flown everything. What should I buy?" I can't answer the question because I don't know what you want. Only after a lengthy conversation and watching you fly could I even hazard a guess about the best ultralight for you. Even then, it's too likely I'd be wrong.
Nonetheless, some aircraft are clear winners and others aren't so strong. Compared with all the ultralights I've flown, Air Création's XP Racer is certainly, positively one of the finest I've ever had the pleasure to fly. Is it the very best? The answer depends on who's listening (or reading).
However, my tape recorded notes reflect: "Here's a remarkable wing. I almost can't emphasize enough that the single-place Air Création flew terrifically well."
So, accept that I believe this is one fine aircraft. Please also remember that I like single-seaters, that I like weight-shift (having flown hang gliders for many years), and that I like very light machines if they do their job well. The XP Racer does.
How'd They Do That?
The popular TV show "How'd They Do That?" attempts to answer this question. Now it's my turn with the XP Racer trike.
In one sense, trikes are like jetliners – they all look very much alike, as the various designers have settled into some standard engineering criteria. Ask a general aviation pilot and, at first, he'll probably be unable to tell one trike from another.
Indeed, what Air Création achieved with the XP Racer isn't so much revolutionary as evolutionary. The machine is subtly better than other designs, but it has a few qualities worth highlighting.
The wing is small, only 124 square feet. This is one sure way to get better handling response, but the wing obviously has the right shape as well. I emphasize this as the XP 11 wing can also slow down quite well. I saw stall at just 28 mph.
Nonetheless, the XP Racer will zip to nearly 95 mph. Since this approaches the 4-to-1 ratio (3.4-to-1 actually) that some designers call their Holy Grail, I must conclude the small wing is highly efficient. Air Création has had years to work this out, going through many wing designs along the way. They stayed at it relentlessly.
On their top-of-the-line Clipper, they use a similar wing: the XP 15 with 167 square feet. It flies beautifully but falls well short in handling precision compared to the nimbler XP 11.
Company director Gilles Bru also said Air Création sells a 2-place version which uses the smaller wing. Due to a significantly heavier loading, they won't recommend this choice, but the two-up trike does offer some luggage area when flown solo and allows the occasional 2-place flight for more experienced pilots. This shows to me their effort to bring a wing to market that offers better handling than trikes have routinely had. It also shows their concern for their customers.
One of the neat aspects of trikes is you can change the wing (within reason) any time you wish. For example, the same Racer trike carriage can fit the single-surface Fun wing. This will produce mellower flight characteristics by sacrificing upper speed range. It also didn't handle as snappy as the XP wing.
Especially when contrasted to the Fun, the XP wing is a deeply double-surfaced wing, with a lower surface extending nearly to the trailing edge. Even among racing hang glider wings, this is a large amount of double surface area. On weight-shift devices like trikes, such a design can make for stiff handling.
However, a powered trike can have a higher wing loading thanks to the landing gear, so the double surface can be extended. Loading it heavier – and not relying on your legs for gear – improves handling by using more weight to influence wing area. The double surface can now allow brisker speeds.
Refinements Aplenty
Trikes break down for compact storage and transport. During fold up, parts of the wing and trike are protected by several strategically-located thick leather pads. Just as the trike carriage reveals years of development in this area, so does the wing, with refinements evident everywhere.
The trim system on the hang glider-type wings that trikes use is a relatively recent arrival. A subtle thing when you watch the trim mechanism from the rear, it doesn't appear to move much. It affects primarily one set of the trailing edge reflex lines, which slightly raises or lowers the trailing edge of the sail. But it works well. The trim performed precisely as Gilles promised, running from about 50 mph to 87 mph, a broad trim range.
I can't overstate the trim's usefulness. It was highly effective with surprisingly little control movement that also took little muscular effort. Hidden within a lightweight fabric fairing for the downtubes, a sewn-in plastic window reveals a marker on the activating cable. This shows the position of the trim between two extremes, marked intuitively with a rabbit (faster) or a turtle (slower). These symbols work internationally, and I've seen them on other aircraft.
Mounted on the right side, the hand throttle was easy to operate and also marked fairing intuitively with "mini" and "maxi" for less or more power. This hand throttle overrides the foot throttle efficiently, allowing you to launch with the foot throttle – your hands are occupied with control bar duties, especially in stronger conditions – and bring in the hand throttle smoothly when you've gained some altitude. As a long-time "conventional" pilot I prefer fixed-position throttles, but must concede the combination foot/hand device is optimal for trike flying. Foot throttles are actually quite familiar – every car you drive is so fitted.
A nosewheel brake was reasonably effective and easily actuated via the left foot pedal. Throttle is on the right foot pedal.
The small Racer trike carriage had quite a large fuel tank installed. An optional version, it holds just shy of 10 gallons, which should last about 3 hours. This being a great cross-country flyer, that much fuel is useful.
The larger tank pushes the XP Racer out of the Part 103 ultralight category. However, it won't quite make Part 103 weight anyway with the intake and exhaust silencers that make the machine more pleasant to operate. The 52-hp Rotax 503 dual carb with silencers was quieter than most ultralights, although not quite as mute as the 2-place trikes using 6-blade props.
Two minor complaints: The throttle on the right foot required me to point my foot a little too far for what is comfortable for me personally, although the hand throttle means you don't need to use the foot throttle for long. And if you push on the pedals unevenly, you'll swivel the nose, making the throttle farther to reach. Eventually you'll develop a technique of using the opposite foot to balance your action.
But I won't complain a word about the pedals themselves. In fact, it may seem a small point, but the foot pedals are typically Air Création deluxe, shaped like a foot and very comfortable and secure.
The seat was also quite comfortable, better than minimalist trikes. This seat had more padding, although if you are a particularly wide-bottomed person, you simply wouldn't fit in the seat.
Speedy trikes are windy, no doubt about it. My nylon jacket ballooned up; leather would be better. And I wish I'd cinched my helmet chin strap down tighter. I couldn't change it in-flight as I'd knotted the loose end to keep from getting beat up by it.
The Racer's nosewheel was a trailing-link design. It was also tight enough in its swivel so it stayed in position well. This is better than some trikes which are so slippery they're hard to hold straight. Larger diameter wheels aided the landing and taxiing.
Active Condition
It was clouded over and occasionally raining lightly the day I tested the XP Racer. I flew in 30 to 40° crosswind conditions blowing 15 to 20 mph. These were valid experiences, and I had no trouble executing four landings. It was easy to keep the XP Racer on track. I've not always found that to be the case on bigger 2-place trikes.
Takeoff roll was a little longer than I expected, no doubt due to the small wing. Since trike wings sit high, ground effect may be reduced. So although you must accelerate to a slightly higher flying speed, the small wing performs most enthusiastically once arriving in its preferred speed range. In the hands of a talented factory pilot, the XP Racer performed impressively.
All landings went well, flaring easily, with a more than adequate flare window. The blustery day provided some headwind, but clearly the landing characteristics are cooperative.
Gilles had promoted the double-surfaced XP wing as possessing very good handling. "It is very nimble," he promised. The XP Racer certainly looked agile as I watched it being flown by others.
High aloft, I did precision turns to heading and they came out very close, as good as most 3-axis airplanes. While a few conventional ultralights may be more precise, the difference is slight and this is a major statement of trike handling improvement.
I believe if a general aviation pilot were to be suddenly placed in the XP Racer while it flew – assuming he had somehow magically absorbed the basics of trike flying – he would say, "My, this is a delightful flying machine!"
If you release the controls in almost any situation (at least, those that I tried), the XP Racer will simply stabilize and fly along straight and true. If you disturb it, it wants to return automatically.
I was able to do very steep bank turns in it and they were quite comfortable. Roll reversals were nearly as fast as the better 3-axis machines; only a very few are quicker.
Hopefully I've portrayed enthusiasm for the XP Racer's handling characteristics because that's the fact of my experience. The trike was also a lively performer, though.
Quite good cross-country potential is available. I was able to cruise at a high rate of speed, about 75 mph. I was able to speed up easily to 87 mph. At this speed, with the control bar pulled right to my chest, the XP Racer tracked amazingly true and straight. It was stable and effortless to sustain, even though I flew in rather rowdy conditions.
For tops, I had the XP Racer up close to 94 mph. During these higher speed runs, the trike remained solid and dependable. Though I love to do it in most ultralights, it was too rowdy to fly very low and slow, but I believe she'd have done it well on a prettier day.
Stalls pushed out to the front support bar (or close) produced a mild stall break. On some trikes you can't find a break and that's the way the XP Racer was with full power. You have great freedom of movement thanks to optional recoil-type shoulder belts.
Stall appeared to be in the neighborhood of the factory-claimed 28 mph. I don't recall observing this with precision, but I found a very slow airspeed at break. At 4.56 pounds per square foot – a medium number in ultralights – this is a fairly slow stall. Of course, dependent as I am on installed instruments, errors are hard to prevent.
Is It Your Racer?
Let's just say you choose to agree with me that this Air Création XP Racer is a wonderful wing that you'll tremendously enjoy flying (because I truly think you would love it if you tried it).
As we flew it, the XP Racer ran about $15,000 in the U.S. Compared to many deluxe single-seat ultralights, this is about average in my view. Naturally, you have ultralight choices that drop to $8,000 or $9,000, but few of those will give you the XP Racer's degree of refinement. And this is built, not a kit!
If you're willing to fly with the lower-cost 40-hp Rotax 447 – which should still be plenty powerful – you could own a basic XP Racer for barely over $11,000. At this price, we're getting down into the bargain range. It's the wing that makes the Racer trike fly so well. An XP Racer 503 will enjoy some engine-performance advantages, but not much else.
Or if you want the Racer trike but are willing to fly slower with the single-surface Fun wing, the price will drop down below $10,000. And it will also fit within FAR Part 103's definitions.
On top of these many choices, you can also elect to receive a kit trike (with the wing built by the factory) and save a few hundred more. Too many selections are offered for me to cover thoroughly, but a call to the U.S. distributors will help clarify your options.
Air Création's 2-seaters run about $17,000, much more for the loaded Clipper model. Yet 2-seaters can get as reasonable as $12,000, so import or not, the prices remain roughly competitive with the average American ultralight.
Single-seat trikes have been underloved and underregarded, I believe. Try shooting a few touch and goes in a 2-seater with an instructor; it won't take long for an experienced ultralight pilot to pick up the knack. Then go take a hop in one of these Air Création Racers. My bet is you'll be very pleasantly surprised.
Published in Light Sport and Ultralight Flying
| | |
| --- | --- |
| Seating | Single-seater |
| Empty weight | 256 pounds |
| Gross weight | 468 pounds |
| Wingspan | 30 feet |
| Wing area | 124 square feet |
| Wing loading | 3.8 pounds/sq ft |
| Wing | XP 11 |
| Height | 10 feet |
| Fuel Capacity | 6 gallons |
| Kit type | Fully assembled |
| Standard engine | Rotax 503 dual carb |
| Power | 52 horsepower |
| Power loading | 9.0 pounds/hp |
| Cruise speed | 50 to 74 mph |
| Rate of climb at gross | 1,380 fpm |
| Standard Features | Rotax 503 dual carb engine, 2.58-to-1 B gearbox, 2-blade wood propeller, steerable nosewheel (push left, go right), nosewheel brake, nosewheel mud flap, dual hand/foot throttles, nonslip control bar grips, double side cables, composite landing gear legs, removable foam seat, storage pocket. |
| Options | noise reduction system, 9.9-gallon fuel tank, trim system, instrument console, instruments (tach, ASI, alt, vario, compass, CHT, EGT, AC/DC regulator, hourmeter), ballistic parachute, wheel pants, side saddle bags, 3-point pilot restraint, strobe light, comm radios, helmets, other engines and trike wings, trike trailer. |
| Construction | Aluminum tubing, fiberglass, Trilam and Mylar sailcloth. |
Design
Cosmetic appearance, structural integrity, achievement of design goals, effectiveness of aerodynamics, ergonomics.
Pros – Well-developed single-seat trike earns reviews calling it one of the world's best ultralights. Based on years of similar designs, Racer trike carriage is simple yet refined. Members of the Air Création family have earned certification; built by same production process. Powerful, quiet, speedy, all with the best trike handling I've experienced.
Cons – Some pilots pass on weight-shift controlled trikes (though this may be due to ignorance) and others want 2-place (though they may fly solo all the time) – too bad they feel this way, perhaps, but many do. Looks simple with lots of exposed tubing. Overall though, this design is extremely hard to fault in any way.
Systems
Subsystems available to pilot such as: Flaps; Fuel sources; Electric start; In-air restart; Brakes; Engine controls; Navigations; Radio; (items covered may be optional).
Pros – Wonderful trim system; as good as any 3-axis aerodynamic trim (which on a weight-shift design is tougher to do). Nosewheel brake surprisingly effective – loading on gear is more even than some. Large fuel tank, easily refilled without spillage, and quantity viewable in flight (with some twisting in your seat). Dual hand and foot throttles.
Cons – Pull starting the 503 while seated is somewhat physically challenging. Brake is nondifferential (though hardly needed). Great optional trim system is pricey at $445. No flaps available. Optional fuel tank too large for Part 103 operations.
Cockpit/Cabin
Instrumentation; Ergonomics of controls; Creature comforts; (items covered may be optional).
Pros – Very comfortable seat with (optional) retractable shoulder belt system. Foot-shaped pedals are secure and comfortable. Dual foot/hand throttles are excellent; hand throttle overrides foot for in-flight ease. Optional side bags ($260) are worth it, as little other space available for carry-along gear. Easily read gauges. Easy entry and exit.
Cons – Lap belts are insufficient on any aircraft; order Air Création's slick $260 optional system. No matter its state of refinement, all trikes are still windy at speed. Any enclosure clutters this type of design, so get a full-face helmet.
Ground Handling
Taxi visibility; Steering; Turn radius; Shock absorption; Stance/Stability; Braking.
Pros – Nosewheel has some swivel friction to help steady the nosewheel. Trailing-link system also helps. Excellent visibility, especially by lifting a wing as needed, which further helps taxiing in tight quarters. Tight turning possible. Standard nosewheel brake will help on most surfaces and in most situations.
Cons – Still "wrong way" steering (push left, go right); standard on trikes, maybe, but still thought to be awkward to 3-axis pilots. You must steady wing movements with arm muscles; can be difficult in gusty winds. Suspension is air in the tires, though this appears more than enough on the light trike. Braking effectiveness can be decreased if nosewheel loaded lightly.
Takeoff/Landing
Qualities; Efficiency; Ease; Comparative values.
Pros – Excellent takeoff or landing visibility. Speeds controllable through highly effective trim. Landing roll is short, making slight cross-runway landings okay. Vigorous climb over 1,000 fpm is satisfying. Both items help on short or soft fields. Carriage is stout enough to handle rough fields. Good ground clearance also helps.
Cons – Ground roll longer than expected perhaps due to small size of wing (only 124 square feet). Trikes don't offer much crosswind controls, although this didn't trouble the XP Racer much. Don't land with trim on "fast" – your push-out is harder. Slips also aren't much help on weight-shift trikes. Adding floats presents a whole new challenge (must add water rudders).
Control
Quality and quantity for: Coordination; Authority; Pressures; Response; and Coupling.
Pros – Wow, am I impressed! Short of hang glider wings on superlight trikes, this is the best handling trike I've ever flown – even 3-axis pilots would have to be impressed if they tried it. Precision turns to heading were comparable to 3-axis aircraft. Adverse yaw virtually not present (hint: you push out a little to coordinate turn). Control pressures were light. Response was fast and predictable. Good steep turn management.
Cons – Crosswind controls are not as strong as 3-axis (though overall controls are so good this isn't a problem except on very gusty days). No other negatives.
Performance
Climb; Glide; Sink; Cruise/stall/max speeds; Endurance; Range; Maneuverability.
Pros – Excellent speed range, easily discovered as handling is superior and the trim works so well. Stall is in high 20s. Max speed flown was nearly 95; both extremes felt entirely secure. Climb is very potent; factory claim of more than 1,300 fpm is believable. With silencers, Racer 503 remains very quiet (a claimed 68 decibels at full power at 500 feet – the loudness of ordinary conversation!). Cross-country flying is one the XP Racer's strong suits.
Cons – The 503 is a big engine on a small, light trike. Fuel consumption is understandably 2.5 gph; with Part 103 tank of 5 gallons, you'll have barely 2 hours endurance. Sink rate shows this is no hang glider, but then, it wasn't designed to be one.
Stability
Stall recovery and characteristics; Dampening; Spiral stability; Adverse yaw qualities.
Pros – Excellent stall characteristics; power-on versions never faltered. Power-off stalls broke but straight and without evil tendencies. Turns coordinate quite well; steep turns went well with plenty of "back range" (means more push-out). Longitudinal test went perfectly as did throttle response; both were comfortably positive. Adverse yaw is minimal even without trying to offset with controls.
Cons – No negatives discovered.
Overall
Addresses the questions: "Will a buyer get what he/she expects to buy, and did the designer/builder achieve the chosen goal?"
Pros – An XP Racer fitted like the test aircraft will run about $15,000. For a single-seater, this might seem pricey, but this is ready-to-fly and one dandy flying machine. The controls are the best I've found on any non-hang glider trike. Air Création is one of the world's most established and respected. French company has demonstrated commitment to the U.S. market. U.S. dealer support has remained dependable even while manufacturer changed representatives. You can change wings if new ones are developed (try that with your 3-axis machine!).
Cons – Some common concerns of ultralight buyers are erased by the ready-to-fly construction (e.g., manual quality, tech support), however, you still must consider that this is a weight-shift, single-place aircraft which will make resale harder.