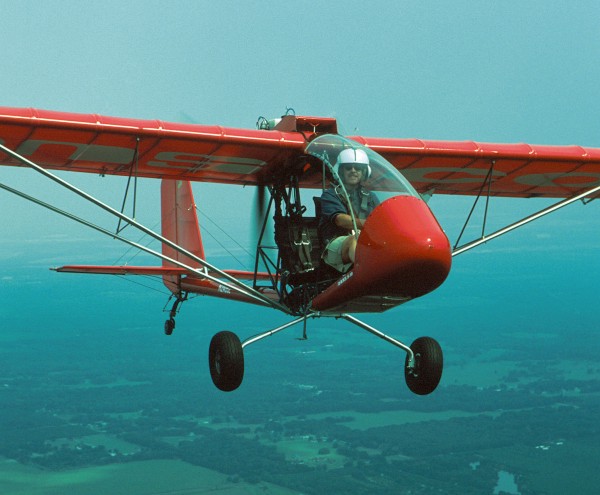 "RANS is back!"
said many ultralight enthusiasts when the company offered their production version of the S-17 Stinger in September, 1999. Now the Kansas company has reaffirmed their commitment to the ultralight community by offering an enlarged S-17 with an added, tandem seat. Welcome to the S-18 Stinger II.
Of course this isn't the first ultralight trainer from RANS. They continue to sell their S-12XL Airaile 2-seater. Others may observe that the S-6 Coyote 2-place can be built to operate within the limits of the Part 103 training exemption.
But when RANS first talked about their single-place Stinger – the prototype model that was never marketed – the company had been going in another direction. In those days the apparent darling of the company was the S-16 Shekari that is more accurately described as competition for Van's RV series than as an ultralight. RANS president Randy Schlitter was able to see that ultralights didn't simply grow up and become "light aircraft." And, since Schlitter wants a share of the ultralight community, the S-17 single-place Stinger was his 1999 entry to entice ultralight flyers to the RANS brand name. The plan is evidently working well enough that his company has now added a 2-place version of the Stinger previously offered.
The Making of a Stinger
Randy Schlitter says the original 1997 Stinger prototype was "kinda neat to fly." He offered to let me fly it but I declined – it would never reach the market. Instead, Schlitter and his team started from scratch.
The original prototype Stinger was a tractor engine, short-span wing, high boom, tri-gear aircraft that proved to be a fairly hot-performing ultralight. Schlitter also indicated it could easily tip and touch a wing to the ground if your taxiing technique wasn't good. Neither the production S-17 Stinger single-seater nor the S-18 Stinger 2-place exhibit this clumsiness.
I flew the S-17 Stinger barely a week after its maiden flight on September 10, 1999. On a mild fall evening in Hays, Kansas, I found myself aloft in the first RANS ultralight in many years.
While the first Stinger had no windscreen and no nose pod, RANS changed the production model they brought to shows. By the spring of 2000, the revised Stinger sported a nose pod and windscreen, though these remain optional items.
The production Stinger and the 2-seat S-18 Stinger II are pusher engine, longer span, low boom, taildraggers with more predictable handling qualities. Both models share the Stinger name and bumblebee logo.
RANS said their new 2-seater was nearly ready in 2000. But it was not until spring 2001 that they felt ready to show the new S-18 model. As always, the Kansas leader presents beautifully-done aircraft and the 2001 Stinger 2-place was no exception.
The S-18 Stinger II can operate under the training exemption to Part 103. At 478 pounds of base empty weight, you've got room for a few carefully-selected options to stay under 496 pounds.
The S-18 Stinger makes use of the wings and tail of the S-12XL Airaile, though RANS says it has a unique look and feel owing to its tailwheel design and tandem seating.
Equipping the S-18 Stinger
The S-18 Stinger II evaluated was only equipped with a pull starter at the rear seat (apparently aimed at being operated by the instructor). Neither is a remote primer routed for use while seat-belted. Therefore, in the S-18 you cannot perform an in-air restart. Some have asked RANS to route a pull starter to the front seat of the S-18, especially when used as a trainer.
Presently, all Stinger models use a pull-start system that is done while standing near the rear seat, though customers can install electric starting. My test S-18 was equipped only with a pull starter that an instructor can use after first seating his student. Instructors must also add a primer control if they add remote pull starting or an electric starter.
Our test S-18's in-flight trim proved to be completely incapable in the air, a linkage problem. The control cable didn't fit into a guide well and so airborne use of trim was ineffective. Based on a casual inspection, it won't take much to remedy.
The S-17 Stinger single-place had no trim and didn't need it much. The S-18 Stinger II's lever is conveniently located at the base of the pilot's seat. Trim is of more value on this tandem trainer but, despite the nonworking control, in an hour's flying I noticed little fatigue keeping the speed where I desired using stick control alone.
Where the S-17 Stinger has a fixed trailing edge on the inner half of each wing, the S-18 uses conventional flaps. The control surfaces weren't needed on the single-seater but they play a training role for students and may be needed when operating at the heavier weights of the S-18 Stinger II.
That first tipsy original prototype Stinger used a twist-grip throttle similar to the one on the Aero-Lite 103. Both the S-17 and S-18 now use a common lever throttle, thank goodness. Most ultralighters will be happier with the newer one; twist grips aren't universally accepted. The lever is repeated on the 2-place Stinger, linking throttles at both seats.
Almost a "Cabin"
The S-18 Stinger II uses the same seat structure as the single-place S-17. This means simple and light but surprisingly comfortable, benefiting from RANS' long work with recumbent bicycles. The mesh seat back allows better ventilation plus you can remove and wash the seat bottom covers.
Each S-18 Stinger II features seat adjustments for both the seat back and the seat cushion. The seat cushion moves fore and aft through a 4-hole, 4-inch range while the seat back adjusts the angle through 10 different positions. Different sized pilots can fit into the S-18, which speaks well for its use as an ultralight trainer.
Randy Schlitter is continuing to use his cinching double lap belt system from the single-place Stinger. These heavy-duty restraints provide assurance in an ultralight as open as this one. Both students and pilots used to enclosures will appreciate the security. You can snug this belt so much that you could risk cutting off circulation to your legs. The S-18 Stinger II installs such a cinching restraint system at both seats.
The S-17 Stinger single-seater had no flaps. The S-18 adds the control and places the flap handle outside your left thigh. The control is a push-button detent configuration. It proved to be a reach for me when I tried to return it to the full- down position. And to first pull the flap lever from an undeployed position I had to loosen my left side shoulder belt. According to RANS Florida rep Jeff Hudson, Schlitter may move the lever aft a few inches. Hudson also suggested the angle may be changed to make reaching the full-down position easier. No entry conflict would occur as you usually step in from the right side, opposite the throttle.
The 2-place Stinger continues the nose and windscreen arrangement of the single-seat S-17, though both models remain very open-air ultralights. While the aft seat in the S-18 is under the wing, the front seat occupant is completely in front of the wing.
If you like either Stinger model, you'd probably like the Drifter, Talon, or Toucan with their far-forward seating. Perhaps an acquired taste, these ultralights bring the best view in aviation. Nonetheless, many ultralight pilots and a lot of other pilots prefer some kind of enclosure.
At the S-17 Stinger's cruise speeds of 40 mph or less, the open cockpit is a plus. However, the S-18 Stinger II is obviously faster and constant wind will wear even hardy pilots.
The S-18 Stinger has a $995 windscreen option if you buy it with the airframe kit purchase; wait till later and you'll pay $1,200. However, the S-18 comes standard with a fiberglass nose pod connected to an aluminum belly pan plus a short windscreen. I didn't fly the short screen model, but I'll bet I'd like it. Other open-cockpit enthusiasts may feel similarly.
Both Stinger models seat the front-seat pilot forward of the wing with a center-mounted joystick and throttle to the pilot's left, leaving that majority of right-handers with the joystick in their preferred grip.
The 2-place S-18 got rid of the ill-fitting stirrup footrests of the S-17 single-seater. An aluminum channel on the belly pan floor now gives you a place to rest your heel as your toes operate the rudder pdeals.
The S-17's instruments are located on a forward panel between the rudder pedals. Switches on that panel were too far to reach with the seat belts tightened, but on the S-18 instruments are located in a pod between your calves. Positioned several inches rearward, readability and access to knobs is better. The S-18 Stinger's engine switches are at the joystick base, protected against a brushing movement that might accidentally kill the engine. The same switches are overhead in the single-seater.
Schlitter says he'll increase the curvature of the windscreen, including raising the height of the windscreen over the front seat; currently it's something of a tight squeeze. He emphasized that it won't be any higher as it meets the wing's leading edge.
All Stinger models use the full swivel tailwheel designed by Schlitter; it is not a Matco product. Ground handling is easier on all Stingers because of it.
Flying the Stingers
The S-17 Stinger needed taller main landing gear to help elevate the nose further for landing touchdown. Before modifications were made, it was common to touch the tailwheel first as I did in my flight aboard the first production Stinger single-seater. The S-18 Stinger II solves that problem with a slightly raised deck angle and larger main gear tires.
It was recommended that I approach at 50 mph in the S-18, but this was barely sufficient to retain energy. I landed on the gear rather firmly one time when I got too slow. Bumping up to 55 mph, I had good landings and the gear position and deck angle seemed better.
The S-18 Stinger uses a stout slab of metal for main gear, robust enough that RANS will want to speak to an owner ordering another such part to determine if other damage may be present.
The flaps on the S-18 had the effect of lowering the nose once speed bled off. Considering it has no side area, slips were fairly effective in the S-18. Descent rate was increased enough to be useful in landing approaches.
The S-18 Stinger's rudder pedals were a little stiff; it was a new plane, they might loosen. Contrarily the joystick was nice and fluid. The combination made for some control disharmony – though the flight qualities were balanced well enough.
This test S-18 Stinger had a slight right turn in it. All during normal flight, a little left rudder was needed. Also, 720° steep turns went better to the left then to the right, possibly due to that same right-turn characteristic. However, the Stinger II held altitude with only 5,000 rpm during steep turns, a fairly low number for a 2-seat ultralight, suggesting better efficiency.
My Dutch roll coordination exercises went well to fairly steep angles. However, it took vigorous effort on the rudder pedals compared to the joy stick.
Lots of general aviation pilots are accustomed to small-movement control motions at speeds over 100 mph. To many of them, typical ultralight controls seem sluggish though this sensation is probably tied to slower flying speeds than any shortcoming of the control system.
Neither of the Stinger models are fast-handling aircraft, but I was never in doubt and felt I could handle the plane in fairly strong crosswinds.
Two-Place is Much Faster
In my evaluations, I reached a maximum speed in level flight of about 90 mph (indicated). The single-place Stinger flew slower, at more common ultralight speeds. You may not want to fly either Stinger across the U.S., but the 2-place S-18 cruises in a speed realm adequate for shorter cross-country flights.
RANS quotes normal cruise speeds at 70 mph in the 50-hp Rotax 503-powered S-18 Stinger but closer to 80 mph in the 65-hp Rotax 582-powered version with optional windscreen and nose pod.
I performed low-over-the-field evaluations in the S-18. I flew with full flaps deployed and noted a speed of about 50 mph. With flaps fully retracted that speed increased to about 55 mph.
Sink rate in the 2-place S-18 was close to 500 fpm, which is an improvement over some other RANS designs I've flown. Even with some thermal activity disturbing my measurements, the highest descent rate I saw was 700 fpm.
Stalls in the S-18 2-place measured 35-40 mph, according to the ASI, usually occurring in the higher end of that range. Stalls exhibited no serious break, and power-on stalls continued climbing at about 500 fpm on the 65-hp Rotax 582-powered test plane. Without a break it was easy to tell onset of stall by a distinct prop noise. Stalls in the S-18 also showed no tendency to fall off on a wing.
In order to remove a slight shake from the tail, Schlitter created small vortex generators on the edges of the windscreen (see photo). However, I still noticed a modest shuddering primarily during takeoff, suggesting it's a low-speed event. My tape-recorded notes did not reflect this movement at higher speeds.
Longitudinal stability – push/pull-and-release – in the S-18 was good, recovering after only a few oscillations. Naturally, like most high thrust line ultralights, the S-18 nosed over on power-up and nosed up when I backed off abruptly.
I found almost no adverse yaw in the S-17 Stinger. When I applied significant stick movement with no rudder input, the single-place Stinger hesitated only briefly then turned in the desired direction. The 2-seat model continued this good trend, though it had a little more hesitation.
Which One for You?
The base S-18 Stinger II airframe kit with Rotax 503 mount but no engine or exhaust is $13,640 at the end of 2001. For a Rotax 582 airframe and mount, add about $1,000. The 2-place Stinger comes with several instruments including ASI, dual EGTs, dual CHTs, and digital rpm/hour meter. Tundra tires are also part of the base price. The 50-hp Rotax 503 dual carb engine sells for $2,860 with exhaust. With airframe kit it'll total $16,500.
If you want the Rotax 582 and some instruments in the form I evaluated, the S-18 Stinger sells for a shade over $19,000 in kit form. The 81-hp Rotax 912 4-stroke engine is also an option.
Those with extra funds can add electric start for $700 though you must be careful weight-wise if you intend to fly under the training exemption. The efficient avionics panel costs $175 and a painted boom to match the fuselage sells for $100, though the welded steel fuselage comes painted as part of the base price.
A couple of new accessories have been added since I flew the S-18. RANS now offers some smoothly contoured saddle bags that lash to the welded fuselage aft of the rear seat on either side. The 3-cubic-foot bags are rated for 30 pounds each, have a Lexan insert to hold a smoothly curved shape, and sport a shoulder-carrying strap. Cost: $100 for one or $195 for two. Regular 2-seat operators may want another smaller bag that mounts between the seats and can hold a Comtronics intercom. You need such bags as the cockpit is otherwise totally open.
Since its spring debut in 2001, RANS has earned FAA approval for a 51% kit of the S-18 Stinger II as well as for the quick-build option. Build time is low, says RANS, quoting 200 hours for the standard kit "due to low parts count." The quick-build kit takes 100 hours "or less," says the company. With the quick-build kit, you get wings, tail group, aileron, and flaps assembled, covered, and clear coated for an additional $4,600 over the standard kit. Crating is also included at no extra charge, a value typically worth around $500.
To offer another sales outlet than is common for a factory, RANS drafted an arrangement with ultralight veteran Jeff Hudson. He operates factory-owned aircraft from his Sebring, Florida home base. Inventory currently includes an S-18, an S-6 Super Coyote, and an S-12 Super Airaile. Hudson provides training and demonstrations and attends airshows for the company. He will also aid the factory parts shop by helping determine what parts customers need. Then RANS will drop ship the items directly to their customers, freeing up factory personnel to allow faster deliveries.
If you liked the S-17 Stinger but want a second seat for training or a friend, the S-18 Stinger II should satisfy nicely.
Published in Light Sport and Ultralight Flying
| | |
| --- | --- |
| Seating | 2, tandem |
| Empty weight | 478 1 |
| Gross weight | 920 pounds |
| Wingspan | 31 feet |
| Wing area | 152 square feet |
| Wing loading | 6.1 pounds per square foot |
| Length | 22 feet |
| Height | 6.75 feet |
| Kit type | Assembly kit of Quick-Build kit |
| Build time | 200 or 100 hours |
| Notes: | 1. as published with standard Rotax 503 |
| Standard engine | Rotax 503 |
| Power | 50 hp at 6,500 rpm |
| Power loading | 17.7 pounds per hp 1 |
| Cruise speed | 70 mph |
| Never exceed speed | 90 mph |
| Rate of climb at gross | 500 fpm 1 |
| Takeoff distance at gross | 330 feet |
| Landing distance at gross | 200 feet |
| Notes: | 1. as published with standard Rotax 503 |
| Standard Features | Dual center-mounted joysticks, dual rudder pedals, dual throttles, push-button lever flaps, trim, heavy-duty 4-point seat belt, hand-lever brakes with parking brake feature, nose pod, short windscreen. |
| Options | Extended-to-the-wing windscreen, 65-hp Rotax 582 or 81-hp Rotax 912 engine, complete instrument package, electric start, saddle bags, quick-build option to cut build time in half, custom colors, factory-painted boom, second 9-gallon fuel tank. |
| Construction | Aluminum tubing wings, tail, and boom; welded steel fuselage; Dacron® sailcloth wing and tail covering. |
Design
Cosmetic appearance, structural integrity, achievement of design goals, effectiveness of aerodynamics, ergonomics.
Pros – RANS is known for distinctive designs and the S-18 Stinger II continues the trend. Follows closely in the tradition of the Drifter with front pilot seated ahead of wing. Nose and sweeping windscreen please the eye (and many buyers). Very sturdy welded steel fuselage. Two- seater lands even better than the S-17 single. Long established company, an industry leader.
Cons – Wide open cockpit even with windscreen and pod; not everyone will like it. Tandem seating is not preferred by many instructors. While the same basic design as the single-seater, the S-18 is 220 pounds heavier on 25 more square feet of wing; it requires more attention.
Systems
Subsystems available to pilot such as: Flaps; Fuel sources; Electric start; In-air restart; Brakes; Engine controls; Navigations; Radio; (items covered may be optional).
Pros – Flaps on the S-18; were not on the single-seat S-17. Parking brake on the joy stick-mounted lever which slows both wheels fairly effectively. Trim is easily reached below your left thigh. Good engine access, in fact, most parts of the S-18 are open to inspection – a good thing overlooked on more enclosed ultralights.
Cons – No in-flight starting; only option is electric or starting before being seated (though factory has been asked to add remote pull starting). Trim was completely ineffective on my test flight (a rigging error only). Nondifferential braking.
Cockpit/Cabin
Instrumentation; Ergonomics of controls; Creature comforts; (items covered may be optional).
Pros – Excellent instrument pod; good access and readability, making good use of space. All controls within an easy grip (though I stretched a bit to fully retract the flaps). Seat backs adjust through a good range as does fore/aft position. Seats look small but felt fine for an hour and a quarter flight. Windscreen worked well in front seat.
Cons – Entry is trickier than the single-seat S-17; you have to duck around the (optional) windscreen. Seats are rather minimalist for some large Americans (though you're held securely with those enormous seat belts). Rear seat is said to be quite windy. Rear seat has no engine controls (except throttle).
Ground Handling
Taxi visibility; Steering; Turn radius; Shock absorption; Stance/Stability; Braking.
Pros – Improved clearance over the single-place S-17 thanks partly to larger tires; good for most off-field landings. Slab main gear felt strong, good for training duty. RANS-brand full swivel tailwheel is excellent. Superb visibility in nearly all directions from front seat. Brakes proved reasonably effective.
Cons – Rear seat visibility is restricted; best occupied by an experienced instructor or a passenger. Heavier S-18 brakes slower than S-17. Turn radius is wide until you break the full swiveling tailwheel loose. Though this is a docile taildragger, they all take more attention than tri-gear.
Takeoff/Landing
Qualities; Efficiency; Ease; Comparative values.
Pros – Takeoff and landing visibility doesn't get any better (especially without the optional windscreen). Approach speeds can be slow for smaller fields. Flaps help make steep approaches without speed buildup; lever works well with easily felt position detents. Clearance shouldn't be a problem except on very rough fields.
Cons – Takeoff roll is a little long even with the 65-hp Rotax 582 (50-hp Rotax 503 not test-flown). Slips are less effective than on ultralights with more side area.
Control
Quality and quantity for: Coordination; Authority; Pressures; Response; and Coupling.
Pros – Adverse yaw was moderate (though with more hesitation than the S-17 single-place). Reversing 45° bank turns went well to good angles. Higher wing loading of the 2-place S-18 produced crisp handling response. Handling in crosswind conditions should pose no problem.
Cons – Rudder pedals were rather stiff on the test S-18 Stinger II while the stick was nice and fluid, making controls feel less harmonious. Test aircraft had a slight turn in it which can be remedied by rigging adjustment.
Performance
Climb; Glide; Sink; Cruise/stall/max speeds; Endurance; Range; Maneuverability.
Pros – Climb was strong in the 582 model; RANS offers the 912 as well. Cruise is speedy, and 80 mph speed is normal, says the factory (I flew it a little slower but that may just be my style). Sink rate averaged about 500 fpm, a respectable number. Even in steep turns, the Stinger held altitude with 5,000 rpm, another reasonable figure.
Cons – Equipped with the base 50-hp Rotax 503 model, climb could be a bit weak. Sold without windscreen, which reduces top speed 10 mph. Fuel consumption won't win any awards.
Stability
Stall recovery and characteristics; Dampening; Spiral stability; Adverse yaw qualities.
Pros – All stalls showed benign qualities with no significant breakthrough; full-power stalls kept climbing 500 fpm (with 65-hp Rotax 582, as tested). Longitudinal stability tests were positive. Lateral stability was good. Steep turns held bank angle easily (even without adding excess power). Seat restraint system is the most robust in ultralight aviation.
Cons – Despite the little vortex generators on the windscreen, the tail still had a mild shudder on takeoff, a slow-speed event I didn't notice at cruise. Adverse yaw exhibited more lag than the S-17 (though still quite good). Throttle response noses over the S-18, typical of high-thrust ultralights.
Overall
Addresses the questions: "Will a buyer get what he/she expects to buy, and did the designer/builder achieve the chosen goal?"
Pros – RANS' price list makes it easy with "minimum flyable" and "nicely equipped" prices: $16,900 with 50-hp 503 and some instruments or $19,335 with 65-hp 582 and a full panel. FAA 51% approval received. RANS is one of the most secure businesses in ultralight aviation.
Cons – Quick-build kit adds $4,600 expense to cut build time in half (but still may be worth it to many who prefer flying to building). Design is similar in many ways to more proven Drifter (though with desirable differences). Watch options to stay within Part 103 exemption if 582-powered; climb with the 503 may be too weak in some locations.