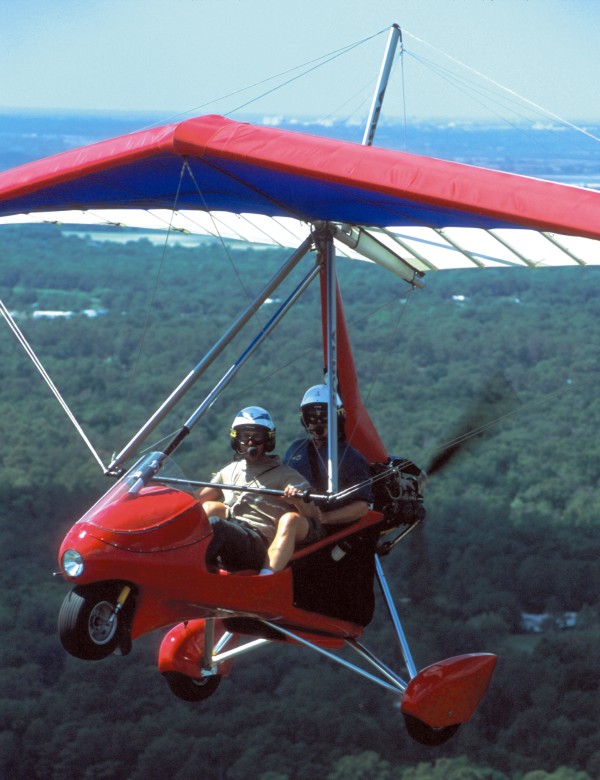 First came the Aerotrike. Travelling all the way from South Africa where Rainbow Aircraft manufactures it, the Aerotrike looked to be – and is – a very sturdy trike that could stand the rigors of flight instruction. However, some thought it lacked the finesse of the finest European trikes.
Designed by Mike Blyth, the Aerotrike was built precisely for the purpose of flight training. For years, Blyth had used other brands of trikes in his flight school. However, he found they wore out prematurely. This is never a good thing to a school trying to fund itself by teaching many students.
The Aerotrike's Scout and Safari models proved to be durable flying machines. Former American representative Rob Rollison fitted his Aerotrike with a reliable HKS 4-stroke engine and proceeded to fly a lengthy 2,000-mile journey around Mexico. Not everyone would tackle such a venture, but Rollison says the HKS and his sturdy Aerotrike gave him the confidence to simply fly and enjoy.
Baptism by Fire
In 2000, Rainbow Aircraft introduced their Cobra.1 In what turns out to be typical Blyth fashion, the Cobra was given a baptism by fire.
Blyth in a Cobra 912S trike and his European counterpart Olivier Aubert in a Voyager 912S trike, flew from the southern tip of South America to South Africa via Greenland.2 The 26,703-mile route took them all the way up through South, Central, and North America, across the Atlantic Ocean and back down through Europe and the whole of Africa to home sweet home. While making Rollison's tour of Mexico look like a weekend jaunt, both flights prove the South African company can make a trike that will hold up to the toughest tasks.
Despite the brawny heritage, the Cobra is actually highly refined in the tradition of Europe's best trikes. From the smoothly integrated landing light in the nose pod to the sleekly faired wheel pants to the Rotax 912S engine (on our test ultralight), the Cobra represents a high state of the art.
I loved flying the Cobra and you might too. Let's have a closer look.
Going the Distance
I can't think of a more convincing way to show your machine is up to challenging work than Blyth's and Aubert's flight from Argentina to Cape Town, South Africa.
Now presented as the "Millennium Microlight Adventure," Rainbow Aircraft says the trip is the current world record holder for the title: "World's Longest Unsupported Trip in a Trike-type Microlight."
In the accompanying photos, the blue-painted Cobra model is the newest version. The red one is slightly older though it is equipped with more options. The trike chassis itself – repainted one time from the ugly green of airshow summer 2000 to blue for 2001 – will return to South Africa for a factory repainting and refurbishment.
I have no trouble admiring the work of Blyth and his team. Once a flight instructor and now a manufacturer of trike and 3-axis aircraft plus a director in several aviation enterprises, Blyth shows himself to be a capable businessman as well as ambitious developer and daring pilot of incredible expeditions. With all of this going on, no wonder Blyth is lean, thin, and smiling.
Blyth graduated from building trike carriages for his own use, an activity he started in 1989. Six years later he start
ed regular production of Aerotrikes. Later in 1995 he took on a Ukrainian partner, Vladimir Chechin, whom he had met at a Hungarian ultralight competition in 1990. Chechin joined Rainbow Aircraft and has since brought over four fellow Ukrainians and one Russian. Having acquired years of engineering experience, Rainbow Aircraft completed a sleek 3-axis light aircraft called the Cheetah.
Today, Rainbow Aircraft employs 24 people to build trikes. A closely related enterprise is Aviation Engines, the Rotax and BRS distributor for South Africa. In business for 16 years, Aviation Engines employs another 11 persons about 25 miles from the Rainbow plant.
Blyth says the design plan with the Aerotrike Cobra was to "spare no cost to provide the pilot with the strongest, lightest, most comfortable, most advanced, most good-looking trike possible!" Although that sounds like a marketing message, the results suggest it was a written goal. Indeed, the Cobra struck me as a strong, very comfortable, highly advanced, and handsome trike carriage.
I can't agree that this is the "lightest" trike as our test ultralight weighed more than most models listed in Ultralight Flying!'s Buyers Guide 2002. However, it has a comparable weight to other Rotax 912-powered trikes and is certainly light among all sport aircraft. The standard version of the Cobra with a 50-hp Rotax 503 shows 337 pounds on a scale, again putting it in the range of other high-end trikes.
The trike chassis features a shapely and efficient nose pod that provides a unique integral nosewheel fairing. Combined with a standard built-in landing/taxi light, the Cobra's front end has a look all its own. The Cobra also includes rear wheel fairings, 3-wheel suspension, a full integral instrument panel, molded body-shaped seats (covered with padded upholstery), baggage areas in the floor with access in flight, body skirts with zippered stash bags, a hidden, specially-shaped fuel tank with built-in mount for a BRS parachute system, which is also hidden from view and the elements.
The Cobra uses a welded 4130 steel engine mount coupled to a robust mast structure. A similarly strong junction, also welded steel, joins tubes at the base of the engine. The two parts make up a mighty spine of the Cobra, strong enough to permit a 100-hp Rotax 912S to be securely mounted.
The Cobra's muscular construction is thorough. Inside the mast, Rainbow installed a back-up steel cable that runs from the wing to the base of the landing gear. In the event of critical component failure, a fail-safe device awaits duty.
An over-the-center latch secures the wing to the chassis and creates a satisfying sound on seating itself. It could be flown this way, Rainbow says, but has a safety backup that passes through steel plates for extra assurance. Another wire runs down the streamlined forward support tube, cleverly joining the chassis through a clevis pin link. All in all, this is clearly a robustly built ultralight.
Refined In the Details
For hangar storage or trailer transport, the Cobra's mast breaks down a bit differently than other trikes. Since the
seats are composite with cushions on them, you'd have to remove the seats to allow the mast to swing forward enough to clear the Cobra's long nose.When you remove the rear seat cushion and backrest (they're held in position by Velcro®), the mast can tilt forward through a slot in the composite. Although the mast hinges below the top of the seat structure, it secures in an easily reached position above the seats.
The blue Cobra in the photos has the Skydat electronic data system, built by a member of Blyth's aviation enterprise. Skydat is different from other systems that look similar. For a little more than $1,000, you get every instrument you could want except a compass. Such a price compares well to analog gauges, which would not be as compact either.
Rainbow Aircraft says, "Not only does the Skydat cover all the engine functions of all the Rotax aircraft engines, but it also covers all the flying functions such as airspeed, altitude and climb rate." Despite the sweeping statement, they didn't mention battery voltage, engine hour meter, and air temperature. The ASI, VSI, altimeter, and tachometer readouts have both a digital analog "gauge" style with a numeric value in a small window. All this is neatly packed into a box slightly larger than 7 by 4 inches. An engine-area sender [processor module] picks up all the data and transmits it to the panel-mounted Skydat via four wires, making the installation relatively painless.
However, the dials as shown on the Skydat are smaller than standard 3.125-inch gauges. Using the device is closer to a series of 2.5-inch gauges and it's hard to beat the readability of the larger older-style instruments. In addition, a loss of electrical power to Skydat means you have no instruments whatsoever. And for ultralights without a battery, you'd have to adapt some parts to convert engine current for use by Skydat. Rainbow Aircraft can provide the parts.
I still like Skydat, though. It is small enough to leave room on the Cobra's panel for a radio and GPS unit if you want. You'll spend more to get a full "steam gauge" setup and doing so will fill your panel.
The red Cobra I flew had the U.S.-based EIS instrument to monitor engine functions. Clustered around the electronic box were conventional gauges that most of us find satisfyingly familiar.
As flown, the 100-hp Rotax 912S had the optional rear fairing and underside-mounted radiator. This deluxe setup has an air inlet vent operated by one of the control levers between your legs. Rainbow places three handles at the Cobra pilot's feet: choke to left, right rear lever is the radiator adjustment, and forward right handle is the throttle. I didn't find them confusing to use as the radiator lever is further aft and as you typically use foot throttle for takeoff and landing.
Both seats used a shaped fiberglass shell to offer better support to each occupant. The seats accommodate the human body nicely and are then liberally padded on cushion and backrest. A shallow sidewall might assure those who feel they're hanging out on other trikes.
On the newest Cobra, the side storage bags are much tauter and more securely fastened to the chassis. They hold as much as the older ones but they look better. You have access to these bags in flight and they are held closed with large zippers. However, since anything you extract is not far from a spinning prop, you'll want to be careful about taking something out of them.
Perhaps more secure for in-flight needs are the floor-located cargo areas. One large screw on/off cover on each side reveals a container able to hold 12 kilograms (26 pounds) each, according to a placard. On the blue Cobra, these compartments were padded on the inside with a bright yellow material, giving the trike a very finished appearance.
Because of the elaborate body fairing, you cannot see that the seat rails are doubled tubes, one tube stacked on top of another. The purpose is improved crash protection. From my inspection of the combination of heavier or doubled tubing, substantial steel structure, and major fairing, the Cobra should survive fairly well in the unfortunate event of an especially hard landing.
Though these are now becoming quite common, the Cobra uses a parking brake lever to set the nosewheel drum brake.
Serious Get-Up and Go
As always in my experience with the Rotax 912S, the engine cranked immediately and began its rumbling idle. Though I favour 2-stroke engines for light ultralights, I love the 912S powerplant.
With its slower spool-up than 2-strokes, you get a smooth power application with the 912. This allows you to manage 100 hp without it getting away from you. But make no mistake, when you put pedal to the metal, the 912S-powered Cobra wants to leap forward.
Nonetheless, the Cobra wants encouragement to fly off the runway. Rainbow Aircraft's configuration of wing to chassis demands that you push the control all the way to the forward support tube for normal takeoff. Blyth says that as little as 2 inches back from that point can prevent the Cobra from leaving the ground. For me this proved to be quite a reach.
Most trikes don't require this amount of push-out, but I can't fault the idea. It means you'll have more pull-in range for better diving when you may wish to do so. And designing a trike so you can hardly stall may be smart.
Knowing the Cobra is designed to be a cruiser, I expected a fast wing. I also expected stiff handling.
In recent experience, I've found the AirBorne Streak wing and Air Creation's Kiss wing to offer superior handling while still retaining a good speed range. Cosmos wings and those from North Wing have displayed this handling ease even longer. This is no small accomplishment. Indeed, many of the more deluxe trikes – with a correspondingly heavier chassis – use very tightly stretched wings that cruise well but handle heavily.
Aeros, the Ukraine based builder of Rainbow's Cobra wing series, has evidently also adapted some of these same techniques. Though I flew on a Profi wing, the fastest of the line, handling was reasonably light, a clear improvement from any such wing three or four years ago. Roll response was not fast but quite good. Profi isn't as light as either the Streak or Kiss.
From Aeros, you can choose from four wing styles. Each raises the speed limit and the stall speed, while getting smaller in square area and less potent in climb. That's how it works with the delta wing shape.
In my evaluation the Profi 14.5-meter wing was speedy with a "top cruise" of 75 mph while the other Aeros wings drop to 70, 65, and 45 mph, respectively. Profi is followed by the Stranger 14.8-, Stream 16.2-, and Still 17.4-square-meter wings. Still, a single-surface wing is the slowest, though it has the best climb rate and probably handles the lightest.
The right wing for you depends on what kind of flying is most common for you. I'd advise the Still for basic training and the Stranger or Profi for cruising.
Ukraine may seem like a far-away place to buy wings, but the company is finding a market all over the world. Their hang glider line has sold well in the USA for several years. The ancient country has many ex-Soviet engineers who are hungry for work and enjoy the freedom of working in the ultralight field.
Blyth and his expanding enterprise have brought a Ukraine engineer to join the staff in South Africa. The entire engineering team may help Rainbow's delta wing design and was instrumental in the company's release of their first 3-axis aircraft, the Cheetah.
One could hardly find a better way to prove the Cobra's performance range. Blyth put his money where his mouth is and flew the first production Cobra 26,703 miles in the Millennium Microlight Adventure, which functioned as an extensive flight test and debugging exercise.
In my flying, climb seemed very strong, especially solo, with 100 horses pushing. But perhaps thanks to the control bar set-up that allows more pull-in, I didn't feel like I was getting too nose high. Some powerful trikes make you think you're entering a power loop because their noses rise so steeply..
Two offsets of the engine on its mount help transmit the power better. Certainly this is most useful with the potent Rotax 912S engine. One is a physical offset of about 1 inch to the left (as the engine is compared to the trike), which helps counteract P factor. Another is a 1° offset for torque effects. Offsets reverse for 2-stroke versus 4-stroke Rotax engines.
The engine used in my evaluation had 700 hours on it and is the same one Blyth used in his Millennium Microlight Adventure expedition. Most 2-strokes have been through some rebuilds by then but this 912S seemed to have lots of life remaining.
Sure and Steady
The Cobra didn't stall deeply unless deeply aggravated. I believe this has something to do with the push-out limitation that Rainbow Aircraft has designed and I still find no complaint with this method other than it makes for quite a reach for pilots with shorter arms.
As expected, the Cobra flew easily coordinated turns up to moderate bank angles. No hint of an accelerated stall, but then I had little more bar-out range.
Blyth has designed a fuel tank which has blind nuts molded in to accept the mounting brackets for BRS to mount a canister emergency parachute system. He also makes a Velcro®-attached blow-away panel that earned approval with BRS engineers. Therefore, Cobra is BRS-ready and a customer can easily add this equipment if desired.
Why buy a trike made in South Africa when you can have one of the slick European trikes or a sturdy American-made model? The question is worthy, but what any ultralight buyer truly wants is a manufacturer on whom he can depend. To help, Rainbow Aircraft created a presence in this country through South African representative, Matt Liknaitzky, who is available at the company's Long Beach, California location.
Rainbow is aiming the Cobra at trike buyers seeking long-distance capabilities and fast cruising ability in a luxury vehicle. They've left few stones unturned to fully dress the Cobra, though Blyth admits with a grin that the landing light in the nose is strictly a marketing move.
A basic Cobra is quite well equipped and is reasonably priced at $15,995. However, to have the test Cobra you'll be paying closer to $30,000, $12,000 of which difference is solely for the Rotax 912S engine.
A long list of options will catch your eye. The red Cobra in the photos sports the rear fairing, which includes the integral underside-mounted radiator cowling. The Skydat panel is a sure thing in my book.
If you fly solo a lot, the 50-hp Rotax 503 with a midrange wing like Stream or Stranger makes a fine, much less expensive aircraft. Rainbow Aircraft advises against loading the Cobra with options if you choose the Rotax 503, so a 65-hp Rotax 582 or more may be optimal. And if you want the full-dress model that I enjoyed, better talk to your loan officer.
I admit I liked the full-dress nature of this deluxe trike. Its striking lines are sure to turn heads on the airport ramp. I also liked the $16,000 price for a Rotax 503 model. Since I rarely fly two up, this might be my choice. Apart from the big Rotax and a few options, both models are similar. But, oh, how that Rotax 912S purred along at 75 mph. Grab a soft drink from the floor baggage area and enjoy the scenery. The Cobra's a nice ride.
Notes:
1 See "Industry Watch: Aerotrike Cobra Strikes America," September '00 Ultralight Flying! magazine
2 See "South to South: 26,703-Mile Millennium Microlight Expedition," November '00 and December '00 Ultralight Flying!magazine
Published in Light Sport and Ultralight Flying
| | |
| --- | --- |
| Seating | 2, tandem |
| Empty weight | 440 pounds |
| Gross weight | 990 pounds |
| Wingspan | 33.5 feet 1 |
| Wing area | 160 square feet 1 |
| Wing loading | 6.2 pounds per square foot 1 |
| Length | 10 feet |
| Height | 12.5 feet |
| Kit type | Assemble from shipping crate |
| Build time | 6 hours |
| Notes: | 1 other wing choice will vary this number |
| Standard engine | Rotax 503 DC 2 |
| Power | 50 hp at 6,500 rpm |
| Power loading | 19.8 pounds per hp |
| Cruise speed | 56-60 mph |
| Never exceed speed | 90 mph |
| Rate of climb at gross | 600 fpm 2 |
| Takeoff distance at gross | 230 feet |
| Landing distance at gross | 200 feet |
| Notes: | 2 Flown with Rotax 912S and many options; power loading was 9.9 pounds per square foot; climb rate exceeded 1,000 fpm; takeoff distance was under 150 feet. |
| Standard Features | Rotax 503 with 2-blade wood prop, Aeros Stranger 14.8 double-surface wing, 3/4 fairing/enclosure and wheel pants, discreet seats, easy-fold (by one person) mast, suspended nosewheel with drum brake, telescopic rear suspension, 13-gallon fuel tank, in-flight accessible front and side luggage compartments, integral landing light. |
| Options | Rotax 582, 912 and 912S, Skydat GX1 digital instrument for all engine and some flight instrumentation or choice of analog "steam gauges," in-flight trim, hydraulic brakes, E-box and electric starter, several optional props, additional instruments, ballistic parachute (with custom built-in mount), 21-gallon fuel tank, rear fairing with underside-mounted radiator (for Rotax 582 and up), intake and exhaust silencers. |
| Construction | Chromoly and aluminum airframe, fiberglass fairing, sewn Dacron wing. Made in South Africa and distributed in the USA. |
Design
Cosmetic appearance, structural integrity, achievement of design goals, effectiveness of aerodynamics, ergonomics.
Pros – Complete redesign of basic Aerotrike, which was known for its durable construction. The Cobra is sufficiently enhanced to compete head-on with the best trikes of Europe, yet its price is lower than most of those. Rainbow Aircraft learned and used knowledge from prior models. The Cobra has distinctive features that distinguish it, e.g., landing light and integral nosewheel fairing.
Cons – The Cobra is more trike than many pilots need (though Rainbow still offers their simple models). More complicated construction may render some repair beyond the owner's capability, though this is true with any of the more elaborate trikes. Brand name is not fully established in the USA.
Systems
Subsystems available to pilot such as: Flaps; Fuel sources; Electric start; In-air restart; Brakes; Engine controls; Navigations; Radio; (items covered may be optional).
Pros – If a system exists for trikes, the test Cobra had it: Skydat provides a complete info system, electric starting, remote choke, a landing/taxi light, even in-flight trim is available (though optional). The fuel tank is neatly hidden but has an external fill point. Engine is uncowled for easy maintenance access.
Cons – Though it doesn't cost extra for many Cobra systems, they do add weight and complexity to an aircraft some prefer for their simplicity. Cannot see fuel tank in flight; must rely on gauge or timing.
Cockpit/Cabin
Instrumentation; Ergonomics of controls; Creature comforts; (items covered may be optional).
Pros – Seats separate the passengers more comfortably with independent back rests (so you needn't lean into your passenger) and thick seat cushions. Seats have some side structure that imparts a secure feeling. Recoil shoulder belts are available at both positions. Baggage compartments on sides and on floor; each accessible in flight.
Cons – Seats cannot be adjusted (a common situation on trikes). Single mast construction put rear occupant's head/helmet near source of vibration. Skydat instrument panel can be hard to read in some lighting situations. Minimal upper body wind protection (common on most trikes).
Ground Handling
Taxi visibility; Steering; Turn radius; Shock absorption; Stance/Stability; Braking.
Pros – You are well protected from runway debris in the Cobra; it even has a mudflap to protect the fiberglass parts. The Cobra has a reasonably effective nosewheel brake, which incorporates a parking brake. Very good visibility and maneuvering can be very tight, both as on most trikes. All three wheels have some suspension.
Cons – Usual trike push-right/go-left steering. No rear nosewheel steering on Cobra; it is not intended for regular training use as are other Rainbow models. Large wing requires muscles for taxiing in windy conditions (as with many trikes). Nosewheel fairing construction could be damaged in rough fields.
Takeoff/Landing
Qualities; Efficiency; Ease; Comparative values.
Pros – Most trikes are easy to take off and land; so is the Cobra. Rotax 912S engine makes for short takeoff rolls and vigorous climbout after rotation. Ground roll is softened by good suspension, shortened by effective brake, and no runway debris flies up thanks to the body fairing.
Cons – You must push out all the way to the forward support tube to effect rotation; for me this was quite a reach and 2 inches aft won't do it, says designer Mike Blyth. Speeds were faster on landing approach but this can be changed with wing selection; test Cobra used a faster wing. All trikes share some crosswind limitations. No flaps or side slips.
Control
Quality and quantity for: Coordination; Authority; Pressures; Response; and Coupling.
Pros – Very solid cruiser, no doubt refined during designer Mike Blyth's incredibly long flights. Steep turns held their track well and altitude was easy to maintain. For a taut wing design, the Profi exhibited reasonable authority. Blyth and his local Ukrainian staff plan to make the wing stiffer, mainly for strength though this may also stiffen handling.
Cons – I found the Profi wing rather heavy, but it was a cruising wing; Rainbow Aircraft offers better-handling choices. Unable to evaluate trim; would probably be appreciated on long flights. No trike can handle crosswinds easily.
Performance
Climb; Glide; Sink; Cruise/stall/max speeds; Endurance; Range; Maneuverability.
Pros – The 100-hp Rotax 912S provides an abundance of power. Climb rate beyond 1,000 fpm. Top speed was close to 80 mph. Fuel use on 4-stroke engine was modest; carries 13 gallons minimum. Glide and sink seemed better than average on the Profi wing of the test Cobra.
Cons – Power it has, perhaps an overabundance for most operators (Rotax-582 and 503 also available). It's hard to fault the Rotax 912S installation or performance; however, it is costly ($12,000 additional) and adds weight and complexity.
Stability
Stall recovery and characteristics; Dampening; Spiral stability; Adverse yaw qualities.
Pros – Stalls are predictable and mild. It took a very aggravated effort to make the Cobra stall. Shoulder belts are standard for added security in an upset. A BRS parachute mount comes ready on the top of the integral fuel tank; BRS engineers approved the mount. Engine is mounted slightly offset to assure better power handling.
Cons – Because you use full push-out for launching, stalls are milder as you lack the same pitch range as on other trikes or ultralights. When you add full power to any trike, it climbs and you can't help it; with the Rotax 912S this is even truer. No other negatives.
Overall
Addresses the questions: "Will a buyer get what he/she expects to buy, and did the designer/builder achieve the chosen goal?"
Pros – At $16,000 (for the Rotax 503 model) the Cobra represents quite a bargain, I believe. The Cobra fits under the Part 103 exemption if used for training. U.S.-based agent takes care of import duties. Owners manual said to be thorough (not inspected).
Cons – As equipped, the test Cobra ran close to $30,000, a substantial investment for any ultralight (though priced similarly to other 912-powered trikes). Rainbow Aircraft is not widely known to U.S. pilots, though Long beach-based presence will help assure buyers. Limited number of American dealers at present.