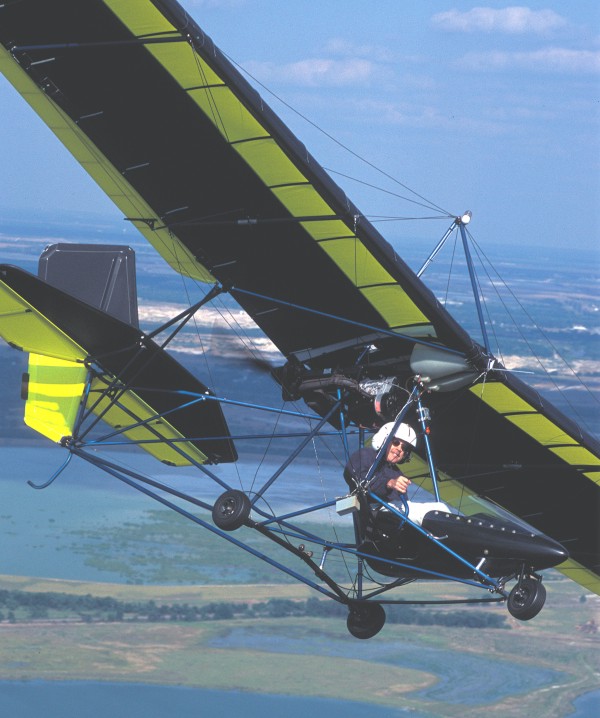 Excelling at "Just For Fun"
Going back to our roots and the dandy little ultralights that have given in-flight satisfaction to so many, we're going to take a look at one of those aircraft, Quicksilver's MX Sprint.
Some veteran pilots call the MX Sprint "humble," but it is one of those "original" ultralight aircraft that simply won't go away, and it shouldn't. Why? Because the Sprint still offers a joyful flying experience that redefines boring holes in the sky. You pilot a Sprint in relative ease and at remarkable low cost, and once price enters the discussion, many ultralights show their value clearly.
Many in light-sport aviation are realizing that aircraft certified Experimental Light-Sport Aircraft (ELSA) and Special Light-Sport Aircraft (SLSAs), even when approved under a simplified, industry-created, ASTM-guided program, will be rather expensive aircraft. Some sleek fiberglass creations are reaching toward the six-figure mark – an unbelievable development given that ultralights have historically traded in a range of $8,000 to $35,000, the latter being a superbly equipped, Rotax 912-powered machine. To think LSAs can exceed that figure by three times is hard to swallow for some veteran ultralighters. Making a payment of this size is even harder. (Please remember that 30% of the price of some of these expensive LSAs is nothing more than exchange rate adjustments given a soaring euro and sinking dollar as we start 2005. This is subject to change though financial experts see the euro going higher still in the short term.)
Those who want a $60,000 to $90,000 "super-ultralight" or LSA will have many choices. Indeed, some ultralight enthusiasts will be attracted to these machines. And the sheer diversity of LSAs should introduce increasing competition, so prices may not stay so stratospheric.
While LSAs may attract more pilots to flying for fun, many of us will be perfectly content to fly a machine like the MX Sprint. It may seem basic compared to a CT, or Mirage, or SportStar, or Sting, but the Sprint provides plenty of airborne fun for a fraction of the price. At a list price for less than $10,000 for a complete kit from Quicksilver, we're talking about less than half the price of an average new car these days.
If you see the value of a Part 103-compliant machine, here's a choice that works. A Rotax 447-powered Sprint that is not loaded with accessories can qualify for FAA's simplest rule. You'll have to resist many temptations to add gear, but the charms of Part 103-compliant ultralights are fully available to Sprint buyers.
California Marvel
When Quicksilver transitioned from a pure hang gliding company to a powered ultralight maker back in the late '70s, the Southern California company was seen as cutting edge. As if to prove ultralight appeal, Quicksilver outsold Cessna, Piper, and Beechcraft combined for a couple years in the early '80s.
Later came a difficult period for Quicksilver, when a succession of leadership changes nearly eliminated the company. The aircraft models themselves were largely responsible for carrying Quicksilver through those trying years. But in the very late 1990s, all that changed.
Six years ago Carl von Hirsh and his partner Manuel Perez bought Quicksilver Manufacturing. Their acquisition of the storied brand brought an end to a period of near-constant upheaval in the company's leadership and gave it a stability that continues to this day.
While the older company altered tactics frequently, the ultralight
designs didn't change significantly. Therefore some say the Quicksilver is an old and dated design. Other pilots say similar things about Cessna's 172 Skyhawk and 182 Skylane. Perhaps they're right, but sales are good for the general aviation builder. People like designs they trust. The same logic applies to Quicksilver and its MX series aircraft like the Sprint.
Nonetheless, the Sprint lacks amenities that many pilots believe to be usual and normal, even while dedicated Part 103 enthusiasts (like yours truly) regard these same items as unnecessary. Features such as enclosed cabins, built-in instrument panels, and larger fuel tanks have become popular. However, those extras often add weight that change flight qualities of a light aircraft.
In all the years since the MX series appeared on the scene circa 1982, the design doesn't appear to have changed much in another workable comparison to a new Cessna 172. Yet like the Wichita aircraft, the new Quicksilver has seen refinements of various kinds. Add them all up and the design can be shown to have evolved with the times.
One example of its construction that some believe dates the Sprint design is cable bracing. This is an underinformed position. In reality, cable bracing is stronger, lighter, and less costly than strut bracing. A few engineers have told me that it is even less drag than the equivalent in hard structure bracing, though other designers dispute this fact.
While cable bracing is dependable, the company now supports the tailplane of the Sprint (and Sport) with tubing rather than the cable system of the past.
In a more general sense of design, some qualities are best left unchanged. The Sprint's view out the front is as panoramic and glorious as ever, even better than a bulb-nosed helicopter. Those trying to add features to a Sprint they own sometimes bolt on a windscreen. This may allow a longer flying season in cold climates, but it's
also apt to somewhat reduce that enormous visibility others cherish.
The Sprint's handling remains docile while its stability profile is highly forgiving. And Quicksilver's engineers' resistance to adding weight to the simple design has preserved excellent performance from lighter, low-cost, 2-stroke engines.
Finally, I can think of no one who questions the model's terrific reputation for durability and dependability. Since the first MX Sprint kit was delivered in '87, it has maintained an image of being a safe, smart purchase.
Quicksilver Says…
Who better to ask about an aircraft model than the company behind it? The Temecula, California, business says, "The MX Sprint's high-lift wings give it an exceptionally short takeoff roll and predictable handling at very low flight speeds." They also note the low-speed wing can help for float operations, getting you off of the water quicker and providing slower landings. In my recent experience this is certainly true, but it isn't simply the high-lift wings contributing to this performance. The Sprint's very light weight is also a significant factor.
"Like all Quicksilvers, the Sprint's simple design and bolt-together construction make preflight inspection and maintenance a breeze," Quicksilver explains. While I agree with the preflight inspection angle, I don't think I'd ever call aircraft maintenance a "breeze." Their point is likely related to easy access to all components of the exposed-tubing aircraft.
Quicksilver Manufacturing's copywriters also state, "The MX Sprint [with its single-surface wing] is a single-seataircraft that has extremely fast roll response and handles crosswinds easily with conventional 3-axis controls." Again I have no argument, though a phrase like "extremely fast roll response" may bring raised eyebrows from those used to flying faster flying aircraft. Note, however, that they called it "roll response" not "roll rate." Sprint's roll rate is not fast compared to many ultralights, but it responds quickly enough to justify Quicksilver's statement.
While talking about Sprint handling, the company clarifies, "Yet [the Sprint] retains the docile and predictable slow-flight characteristics that made the original MX famous." Here, most would agree, Quicksilver is right on the money. Indeed this is probably a leading reason why the 2-seat Sprint and Sport models are so often put into training use. A large percentage of all USUA-registered ultralight instructors in the country use Quicksilver MX series models. This surely spurs sales of their other models, for example, the GT 400 and GT 500.
Is It a "Cockpit?"
As Ultralight Flying! Editor-in-Chief Scott Wilcox and I arrived at South Lakeland Airport, we immediately picked out the Sprint sitting securely tied down where Quicksilver national sales rep Todd Ellefson had arranged for it to be. Of course, no self-respecting ultralight "expert" should miss a Quicksilver. They're as recognizable to ultralighters as a Piper J-3 Cub is to general aviation pilots.
Usually we have a factory expert to show us around the airplane. They often want to fly with me to be sure I can handle their pride and joy. Since the Sprint is so well known, Ellefson and owner Mark Hansen knew this airplane would be quickly found, and that Scott and I could pursue our work without any factory "hand-holding."
Thanks to Hansen for allowing my flight in his personal aircraft. His ownership explains the optional equipment (nose pod, steerable nosewheel, instruments), as well as the full fuel tank. While we usually prefer a factory-owned aircraft, it was generous of Hansen to offer his to be flown for this report.
Hansen ran a business named Florida Sport Aviation, Inc. based in that state so devastated by four hurricanes in 2004. While he didn't lose any airplanes, his enterprise was seriously impacted by the weather events and he's relocated to Savannah, Georgia, where he flies a Cessna 340 for a lawyer. He'll keep active with Quicksilver, though, and plans to continue sales and instruction. His lawyer employer was one of his customers for a Quicksilver, so the boss isn't going to ask Hansen to stop.
After a week of flying various higher-end aircraft and other slick factory machines, it was a pleasure to take the Sprint aloft. Her flight characteristics reinforced the satisfying ways of the MX series. Nonetheless, I was pleasantly surprised by some facts of Quicksilver flying that I'd forgotten.
The Sprint sits on its tail, like the thousands of MX series aircraft before it. The single-seater has the stick off to the right and the throttle on the left. Both are very convenient to reach.
Under Hansen's nose cone, a pedal-control nosewheel steered the rudder as usual, but the brake handle was hand-operated. In common Quicksilver mode, the engine kill switch is located above your head on one of the cockpit support tubes.
Speaking of overhead, one "fond" memory was of engine heat, which I could readily feel even through my helmet, seated as I was directly under the powerplant. Quicksilver has moved the engine from on top of the wing to under and back, but today, the Sprint engine is back underneath.
This engine location works well for the belt drive reduction system. A five-belt arrangement delivers the Rotax 447's 40 horses to the prop with good efficiency, and some say less noise is generated than with a metal gear reduction system.
The brake control on Hansen's Sprint was somewhat awkwardly placed, though adapting should come quickly enough. It requires that you reach back for it (something like I recall on the Chinook, which shares one brake handle for fore and aft tandem seats). Once my hand found the control, I discovered I had more leverage to deploy the brakes versus a handle on the front side of the joystick. That more common joystick location demands a strong grip. The aft-placed lever activates brakes on both mains which, as they have the most weight on them, aided slowing/stopping power.
Almost No Takeoff Roll
As engineers have adapted Light-Sport Aircraft (LSA) candidates to larger 4-stroke engines like the Rotax 912, we've seen significant increases in the empty weight of aircraft built to accommodate these heavier engines, two seats, plenty of accessories, and other amenities. With these additions, gradual as they've been, flight characteristics such as takeoff roll have changed. Many LSAs require several hundred feet to leave the ground where ultralights like the Sprint manage the task in a mere 65 feet, or much less into a headwind.
Cruise speeds are low but faster speeds may not be important to buyers merely seeking some fun in the air. And the Quicksilver behaves so mildly that experts and novices alike can appreciate the simple design's easy-going ways.
The Sprint is an ultralight, though. Flying one takes you on a flashback to the old days where you drove the ultralight with your feet. The ailerons respond quickly enough but this remains a rudder-dominated aircraft like so many other slow-speed flying machines. None of this takes away from the Sprint's charm.
I found the stick on this particular Sprint to be quite stiff in left/right movement. This matters little because of the Sprint's potent rudder control. You lead with the rudder pedals and coordinate with the left/right movement of the joystick. Ailerons are sufficiently authoritative to allow landings in crosswind conditions.
Contrary to the lateral joystick motions, the Sprint was very fluid in pitch. This is partly due to the closely coupled tail plane. For a study in contrast in similar speed ultralights, look at the tail position of a Kolb FireStar and compare that view to the tail location on a Sprint.
When I tried to do Dutch rolls, it felt like the aircraft was swaying back and forth. This feeling is enhanced because the Sprint is a high-wing and the pilot is positioned low relative to the airplane. Considering where the longitudinal axis runs through the ultralight, its pilot senses a pendulum motion during the Dutch roll. In fact, I was able to do this coordination maneuver to a pretty good angle though the control actions seemed slower compared to heavier, faster-flying LSA candidates I'd flown recently.
As we've gotten used to heavier sport planes, we can lose sight of the value of truly ultra-light aircraft. These days, many enthusiasts think a Rotax 447 is too small an engine to provide strong performance. But the Sprint's light weight makes good use of the Rotax 447's 40 horses.
For example, climb was quite brisk. This shouldn't surprise many pilots since the Sprint can leave the ground in barely over 50 feet, even in still winds. Still, a 900-fpm climb on 40 hp is impressive and proves the value of keeping an airplane light.
Hansen's Sprint surprised me with more speed range than I expected or remembered. I was able to cruise at 45 to 50 mph, and maxed out at about 60 mph. I was able to keep up with our Flightstar photo plane reasonably well. The nose pod addition may have helped somewhat as does a partial double-surface wing.
While the Sprint's lower cruise speeds suggest a long trip if you want to cross America, it certainly flies at an enjoyable speed when you're out doing a little sightseeing. You need to be honest with yourself. If you're not truly interested in longer cross-country flights, the Sprint can give you hours in the air at a very modest price, and the smile it can generate will show a high satisfaction level.
Stalls in every trial were at very low speeds, into the low 20s where the airspeed indicator is probably less than completely accurate. It doesn't matter. No pilot who flies a Sprint will find its stall speed high or the recovery threatening. The Sprint practically flies itself out of a stall; yet another reason its 2-seat siblings remain among America's top choice for a basic trainer as used by USUA-registered flight instructors.
The Price is Right
We are in a new year and a new era in light-sport aviation. We may be about to welcome many new ELSAs and SLSAs at airports and airparks around the country. These machines can bring fun to many and allow flying of passengers (not students) in ways we couldn't imagine just a few years ago. We can have choices of a wide variety of aircraft with a diversity of capabilities, flying speeds, and appearances.
Those are the positives. On the downside, prices are going far beyond what anyone expected for an "ultralight." And, the complexities of obtaining a flying license and a certified aircraft continue to confuse some who examine these new light-sport aircraft.
In contrast to the higher prices of LSAs and the greater demands they place on the pilot, Quicksilver's Sprint remains a highly affordable, easily operated flying machine just about perfectly suited for boring holes in the sky around your home airfield.
The MX Sprint lists for $9,995 in the just-issued Ultralight Flying! January 2005 "Buyer's Guide." The similarly single-place but double-surface MX Sport model sells for $10,595 and it, too, can make Part 103, though you'll have to be disciplined to keep the machine within 103's tight 254-pound weight limit. The Sprint will be easier, though you can't have all the accessories Hansen chose for his ultralight.
Of course, the under-ten-grand price is for a kit. But building the 30- to 40-hour kit from one of the best assembly manuals in the industry is not the onerous task implied by most 51% homebuilt aircraft. I would guess that Quicksilver's MX series has helped many would-be buy-and-fly customers get through their first airplane kit-building exercise. And several customers have told me that although they did not prefer to build their own ultralight, once they completed their Sprint or Sport, they felt an added satisfaction that could not come with a ready-to-fly purchase.
I believe that even in our emerging age of LSAs, buyers will still be powerfully attracted to the Sprint's low price, easy build, excellent performance on a small engine, and overwhelmingly charming flight characteristics. You might be one of these customers.
With total model sales topping the 15,000 mark, Quicksilver Manufacturing remains one of the ultralight industry's true leaders, and the MX series is still by far the most popular ultralight ever built. I predict continuing interest in the company's fun flying, gently priced Sprint. Most anyone can enjoy an ultralight like this.
Published in Light Sport and Ultralight Flying
| | |
| --- | --- |
| Seating | 1 |
| Empty weight | 250 pounds |
| Gross weight | 525 pounds |
| Wingspan | 28 feet |
| Wing area | 156 square feet |
| Wing loading | 3.4 pounds per square foot |
| Length | 18 feet 1 inch |
| Height | 8 feet 10 inches |
| Kit type | Assembly Kit 1 |
| Build time | 30-40 hours |
| Notes: | 1 Fully built aircraft are permitted under Part 103. |
| Standard engine | Rotax 447 |
| Power | 40 hp |
| Power loading | 13.1 pounds/hp |
| Cruise speed | 50 mph |
| Never exceed speed | 65 mph |
| Rate of climb at gross | 900 fpm |
| Takeoff distance at gross | 65 feet |
| Landing distance at gross | 60 feet |
| Standard Features | Rotax 447 2-stroke engine, belt-drive reduction, 2-blade, 66-inch wood prop, ASI, 5-gallon fuel tank, fabric test tool. |
| Options | Rotax 503 with 46 hp or 50 hp, steerable nosewheel, pilot fairing, mechanical brakes, 4-point shoulder belt system, wheel pants, engine instruments, ballistic emergency parachute system, floats. |
| Construction | Aluminum airframe, chromoly steel cockpit components, aluminum tube wing ribs, all-AN hardware, sewn Dacron wing coverings in various colors. Made in the USA and distributed by American-owned company. |
Design
Cosmetic appearance, structural integrity, achievement of design goals, effectiveness of aerodynamics, ergonomics.
Pros – If ever we had one model that said "ultralight," the Sprint might be it. More than 15,000 aircraft flying, the most successful in ultralight history. Design has long defined the open-cockpit appeal. The MX series has passed various certification programs. Excellent safety record.
Cons – Design will appear dated to some buyers at resale. Slow flying speeds (though slow flying is what many buyers seek). Open cockpit shortens the flying season in cooler climates. Standard lap belts aren't enough; get optional 4-point pilot restraints.
Systems
Subsystems available to pilot such as: Flaps; Fuel sources; Electric start; In-air restart; Brakes; Engine controls; Navigations; Radio; (items covered may be optional).
Pros – Test plane was equipped with brakes, nose fairing and windscreen, instruments, and nosewheel steering – all of which add to its appeal. Exposed tubing aircraft has a big advantage in preflight inspections. You won't be distracted by systems in critical flight phases, as few are available.
Cons – Extra features may be satisfying, however, they probably take the Sprint out of Part 103 eligibility. Pilots used to feature-laden aircraft may not be satisfied with the Sprint's simplicity. Some common "systems" found on higher-end aircraft are simply not available on a Sprint.
Cockpit/Cabin
Instrumentation; Ergonomics of controls; Creature comforts; (items covered may be optional).
Pros – The Sprint offers massive visibility and the full sensation of flying through that ocean of air – a fact many enthusiasts embrace. Entry and exit are as easy as it gets. All controls are close at hand. With the optional nose pod, instruments are easily viewed (compared to those mounted overhead or elsewhere).
Cons – Many pilots are uncomfortable with fully open cockpits and getting used to a Sprint may take extra effort. As with many ultralights, the Sprint tilts to the tail when unoccupied, a fact some pilots don't like. I understand keeping costs down using only lap belts, but such restraints are not up to Quicksilver's high quality standards.
Ground Handling
Taxi visibility; Steering; Turn radius; Shock absorption; Stance/Stability; Braking.
Pros – Nosewheel steering is effective with linkage hidden by the optional nose pod. Brakes on the test aircraft were reasonably effective for paved surface maneuvering. Low ground "posture" assures very stable taxi operations. Excellent visibility while taxiing.
Cons – Nosewheel steering remains an option. Low cockpit and undercarriage limit use on rough terrain. Reach-back brake location on test airplane will require familiarization.
Takeoff/Landing
Qualities; Efficiency; Ease; Comparative values.
Pros – Takeoff is close to child's play: add power and wait| and not very long. Nearly effortless launch that is very forgiving. Landings are also very easy if you keep your speed up enough. Adequate crosswind capability. Approaches can be done very steeply.
Cons – Get too slow on landing in a Sprint and you'll plop to the surface when your energy bleeds away and steals pitch authority. No true suspension other than air in the tires and tubing flex (however, should damage occur, parts aren't costly and they can be replaced quickly).
Control
Quality and quantity for: Coordination; Authority; Pressures; Response; and Coupling.
Pros – Sprint handling is nothing if not predictable, a fact many pilots can appreciate. Full-span ailerons offer good authority without a lot of adverse yaw. Large rudder is very effective. Though controls aren't what most pilots would call "fast," they are very useful, for example, in crosswinds.
Cons – With its wide-open cockpit design, side or forward slips in a Sprint aren't effective (though its ability to approach steeply makes slips virtually unneeded). The Sprint is a rudder-dominated flying machine, a foreign concept to general aviation-trained pilots. Stick movements were rather stiff on this test airplane.
Performance
Climb; Glide; Sink; Cruise/stall/max speeds; Endurance; Range; Maneuverability.
Pros – With the tried-and-true Rotax 447, the Sprint climbs strongly at nearly 900 fpm. Genuine light weight demonstrates the virtues of true ultralight flying. Cruise at close to 60 mph will satisfy most sport flying needs.
Cons – The Sprint is a high-drag design (though slow flight charms many buyers). Not very fuel-efficient. Glide is lousy, though sink rate isn't too bad. Don't expect to travel far if you run out of fuel or suffer an engine failure.
Stability
Stall recovery and characteristics; Dampening; Spiral stability; Adverse yaw qualities.
Pros – Sprint stability is one of the shining strengths of this design; all Quicksilver MX series enjoy an excellent in-flight record. Stalls are very mild in every explored regime. Longitudinal stability is excellent. Design has proven to be extremely tough in the air; almost unbreakable structurally.
Cons – Few negatives to report on flight stability though I've long complained about the lap-belt-only basic configuration (a shoulder belt option is available; get it!); 4-point pilot restraints are required if you choose a ballistic 'chute, which Quicksilver has long promoted.
Overall
Addresses the questions: "Will a buyer get what he/she expects to buy, and did the designer/builder achieve the chosen goal?"
Pros – Excellent choice for many newcomers and many veterans. Quicksilver can ship from stock as quickly as anyone in the industry. Large, well-distributed dealer network is one of the best in light aviation. Many aftermarket vendors also support this design. Very strong and dependable design. Priced at $9,995, the Sprint is a bargain by anyone's measure.
Cons – The Sprint qualifies as a "vintage" ultralight design and this makes it too old for some buyers. Flies slowly and some pilots simply won't be satisfied. Glide and sink performance aren't particularly inspiring. Open-cockpit design will turn off some buyers.