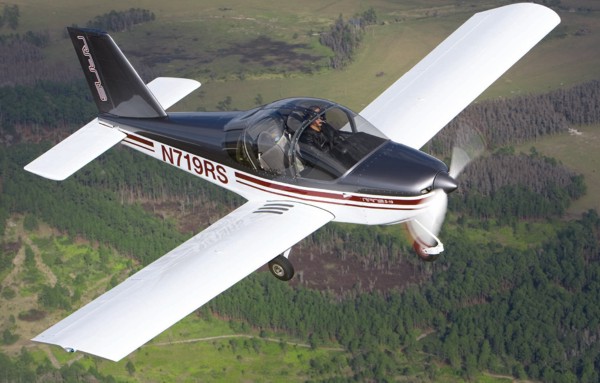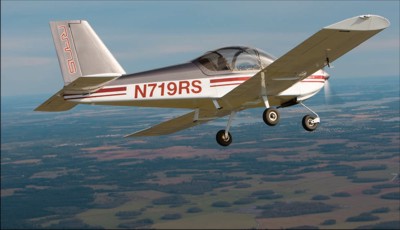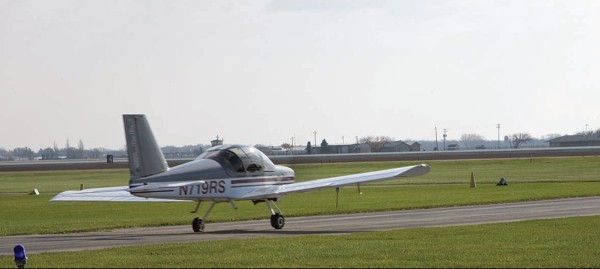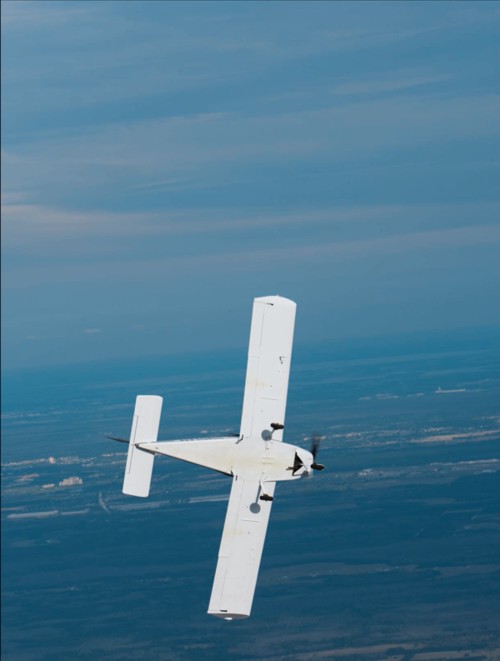 The Second SLSA from RANS
RANS Inc. continues to be a significant player in the homebuilt
aircraft market as one of the nation's largest kit airframe
producers. In the last two years, Randy Schlitter, RANS' designer
and CEO, added manufactured, ready-to-fly special
light-sport aircraft (S-LSA) to his enterprise; the S-7LS is
presently in production, and it will be joined by the S-19LS
in 2008. The good news for EAA members interested in building
one is that the new S-19 is also available in kit form.
Manufacturing completely built aircraft under ASTM
International standards is a diff erent work eff ort than kit
manufacturing under amateur-built standards. Even so,
several industry experts agree that RANS is a good candidate
to succeed at such a multi-tasking eff ort. (Randy and
his team already simultaneously run two companies, one
for airplanes and another for recumbent bicycles.)
RANS hopes to have the S-19LS manufactured model in
production by fall 2008, for those who want to buy and fly. It
was my pleasure to fly the new S-19LS, N719RS, on November
9, 2007, at Wittman Regional Airport in Oshkosh, Wisconsin,
with RANS demo pilot Tracy Standish.
NEW DESIGN
The S-19 is an all-metal, constantchord
low-wing relying heavily on
CAD/CAM methods. "We never
built a prototype; the first aircraft
was production tooled and a proof
of tooling and process," Randy explained.
"The S-19 earned S-LSA approval
on December 21, 2007, and
delivery of the first S-19LS should
begin in the fall of 2008. The S-19LS
is the first all-new aircraft made and
designed in the USA specifically for
the light-sport category to receive
S-LSA status since the ruling went
into effect."
The S-19 structure is a "monocoque"
(stressed skin) design supported
with internal bulkheads
and stringers to maintain shape.
The horizontal tail is a stabilator. A
100-hp Rotax 912ULS engine powers
the S-19. "The 912S engine has
proven itself reliable in years of operation.
Other engine options will be
explored, from Jabiru to Lycoming,"
Randy added.
Wing spars are machined from
a one-piece custom extrusion specially
designed for this aircraft. The
extrusion is tapered and shaped,
and all holes are final sized in the
machining process. Those building
from kits will be pleased to note
that only a few additional parts are
attached with solid aircraft rivets to
reinforce the root area and a short
channel-type tip spar. The wing
spars are factory assembled for each
kit. The ailerons and stabilator are
operated with push/pull tubes via
bell cranks. Stainless steel cables
control the rudder.
Plastic, rotation-molded, 12-gallon
fuel tanks are located in each wing.
Because the tanks are mounted in a
fuel bay just behind the wing spar,
the entire leading edge of the wing
must be deformed in a crash before
the tank is affected. Safety is further
enhanced by the relative outboard
location of the tanks; they start 26
inches outboard from the cabin wall.
This is not enough to create signifi-
cant balance or inertia problems, but
it puts additional space between the
fuel and the occupants. Productionbuilt
S-LSA models will feature integral
"wet wing" style tanks in the
same location, providing an hour
of added range while shaving 18
pounds of empty weight.
KIT-BUILDER FRIENDLY
RANS says the S-19 kit was developed
with the average homebuilder's experience
level in mind. The airframe
assembly requires very little tooling
and no special equipment. No welding
or fabrication of parts is required.
A few components require simple
fixtures for building, such as the vertical
fin, stabilator, and rudder. These
fixtures are included in every kit, and
do not require extensive setup or a
large space.
The design of the S-19 also keeps
service and maintenance in mind.
"A number of well-placed removable
inspection covers allow access to all
critical components," Randy said.
The company claims that building
an S-19 will be a rewarding and fun
project for the homebuilder, requiring
a total time investment of 750 to
1,000 hours.
High-quality blind rivets are used
throughout the construction of the
airframe, with the exception of the
spars, which come assembled with
solid rivets. This eases the building
process significantly, allowing mostly
single-person assembly. Blind rivets
are an advanced form of construction popular
among many designs. The fit
and finish of the parts allows virtually
jigless assembly resulting in a high
quality structure, according to RANS.
The S-19 may appear complicated
and high in part count, but the company
assures potential builders that
"the well-machined components will
assemble quickly, and with much
lightness, due to the great care made
in keeping things light."
PILOT FRIENDLY
As we performed our preflight cockpit
check, I observed that the S-19
is equipped with a fuel control lever
that allows left, right, or both settings.
Tracy said she uses the control
to keep the wings equally loaded. After
she completed her review of the
cockpit switches and instrumentation,
we were ready to fly on a cool
November day in Oshkosh.
The S-19 features dual controls-
two center sticks. Tracy advised that
the standard takeoff technique is to
deploy a notch of flaps, add full power,
and lift the nose when able. Since
the S-19 uses a castering nose wheel,
pilots will find it easier to steer on the
ground using the tailplane.
When I asked Tracy for a rotation
speed, she simply said, "I don't know.
I just apply back pressure and let it
fly off the runway." When I followed
that instruction, the S-19 cooperated
beautifully.
Takeoff proved to be brisk in the
dense fall air. RANS says the takeoff
roll is 325 feet. Climb was medium
for the category at around 750 feet
per minute (fpm) observed. But this
early S-19 may be a bit heavy, and
additional prop tweaking may follow
to reach the 900 fpm RANS publishes.
Factory pilots said that they
observed 900 to 1,000 fpm on most
demo flights.
When we set up for approach
to landing, idle thrust at 2400 rpm
yielded about a 500 fpm sink rate,
perhaps a shade lower. The air was a
bit bumpy with winds at 12 gusting
to 16 knots.
We landed on Runway 36 with
winds 320 degrees at 16 knots. For
landing, we used two notches of flaps.
A third notch is available but is mostly
used on the ground-to ease the
step up onto the wing for entry into
the aircraft. At two notches and holding
a generous speed of 70 mph for
most of the descent, landing proved
uneventful. The S-19 shows plenty of
control at slower speeds.
PILOT COMFORT
For extra ventilation, the S-19's canopy
will open an inch while in flight.
Having the canopy fully opened is
possible but not recommended at this
time, according to Tracy. However,
visibility is excellent, even over the
nose in climb attitude.
Inside, occupants will enjoy a wide
43.5-inch cockpit, precisely 4 inches
wider than the benchmark Cessna
172. RANS says headroom is ample
for 6-foot, 4-inch pilots. Seats adjust
fore and aft and feature a reclining
adjustment.
Baggage space is more than one
might expect. The S-19 offers enough
space to carry two folding bikes. This
consideration reflects the "other
Randy," the bicycle builder. Up to 70
pounds of baggage fits in a spacious,
13-cubic-foot compartment behind
the seats.
CATEGORY PERFORMER
Away from Wittman Field, I saw climb
at about 650 fpm at 100 mph, a good
enroute climb speed with a lower nose
attitude for enhanced visibility.
I tried power-off stalls with flaps up
and experienced a modest stall break
at 46 to 47 mph indicated. With two
notches of flaps deployed, this stall
speed dropped to 41 mph indicated.
When I started to perform poweron
stalls, Tracy was careful to keep me
focused on a centered ball. I had not
done particularly well at using the
Dynon electronic ball. A conventional,
non-electronic slip/skid indicator
was positioned right in front of me,
and I did much better when using
this instrument. The electronic ball
moves around quicker and was less
useful to me.
We did departure, or power-on,
stalls at about 5400 rpm, a power setting
used for higher cruise speed. At
this setting, the S-19 assumed a fairly
steep deck angle, and I could discern
stall in the low 40s; however, the airplane
never broke.
The electronic ball challenge arose
again when I did my Dutch roll coordination
exercises. Randy and
Tracy-with far more time in the airplane
than I-each feel the harmony
between controls is good. I found the
controls a bit on the sensitive side,
though I was able to do Dutch rolls to
30-40 degrees with little problem.
Accelerated stalls in each direction
tended to roll to level, an excellent
characteristic. A vibration was experienced
at incipient stall in any condition,
which gave a good indication
that stall was near. It was not a loud
stall horn, but if you pay attention, it
was plenty of warning.
Steep turns went well with the
S-19 easily holding bank and altitude.
Instead of using the Dynon bank indicator,
I visually estimated a 60-degree
bank angle. That I felt comfortable
doing them to this steep angle is
some testament to the S-19's stability
profile. Later, I checked longitudinal
stability by trimming to level flight
and then lifting the nose and releasing.
The S-19 did one descent to
about 140 mph indicated and then
leveled out, another impressive show
of stability. I found yaw stability to be
quite strong. There's enough vertical
tail volume available to reduce adverse
yaw.
To feel the performance envelope
within normal operations, I did fullpower
speed runs upwind and downwind.
When flying into the wind, the
airspeed indicator showed 95 knots
on the GPS. Turning with the wind,
we saw 137 knots, for an average of
116 knots or 133 mph.
Randy reported that he likes to run
the S-19's Rotax at 5300-5400 rpm as
his high cruise speed; 5600 is considered
maximum level flight power.
RANS will explore the Jabiru, or at
least an engine mount for this Australian
engine, even though Randy
feels the Rotax works. "Despite recent
price increases, the 912ULS is still the
best choice for those wanting a legal
LSA that will perform well just about
anywhere you can legally fly an LSA
in the USA."
RANS also reported the S-19 has
been tested to the standard of one
turn left and right, and a bit beyond.
Randy said that a one-and-a-half
turn recovery is still crisp and can be
snapped out within 45 degrees of input.
"At present we are placarding the
plane 'spins prohibited,'" said Randy.
RANS will consider whether to allow
spins later.
SAFETY FEATURES
RANS specifies several features that
make the S-19 a safer machine to fly:
Its seats feature special foam bottoms
that should protect occupants
in situations that generate up to an
18g impact, saving spinal injury.
The S-19LS has an extra measure of
stringers and bulkheads forming a
crush zone to help absorb energy in
the event of a frontal impact.
RANS believes a sliding canopy is
a safety feature, since one critical
element of off-field landings in a
low wing is the ability to exit the
plane if it is upside down. A sliding
canopy can be opened and locked
prior to landing, providing an exit.
Others agree sliding canopies are
superior to flip-forward canopies for
emergency egress, but most experts
see high wings as the easiest to exit
after mishap.
The airplane's stability is a safety feature,
Randy says. "The S-19's stability
is another component of going
beyond the standard, where no real
call out other than positive recovery
is required. The S-19LS will stabilize
from a pitch diversion in less than
two cycles. Rudder tending in the
turn is not required."
The S-19's four-point harness uses
proper angles as specified in FAR
Part 23, providing maximum security
to protect occupants. As mentioned
previously, the S-19's instrument
panel and forward cowl design
offer great visibility and also
promote safety. In the event of a
frontal impact, the occupants are
less likely to impact against the instrument
panel due to its low profile and it being as far forward as
possible while still reachable for a
person of average height. "There
are no standards for interior layouts,
but occupant safety has been
a large inspiration of this design,"
Randy pointed out. Likewise, the S-
19LS' stick has a low profile, moving
it forward of the probable zone
where an occupant's head may
travel in a high g, near vertical or
frontal impact.
Fuel location is important to safety,
especially when considering fuel
spill in a crash. To minimize this
risk, RANS engineers placed the S-
19LS fuel tanks outboard in the wing
panels, rather than close to the occupants.
The tanks can withstand any
fuel type, Randy said. Some composite
tanks are sensitive to additives
commonly found in auto fuels, and
RANS feels many S-19LS owners will
use auto fuels.
Occupants also may feel more secure
knowing a welded steel roll bar
is located in front of them. The steel
roll bar is supported with a brace to
the forward cabin structure and is
combined with a robustly supported
cabin floor, forward fuselage, and
center section structure to enhance
crashworthiness. The roll bar should
also assist in exiting the aircraft in
the case of a rollover, an important
factor in sliding canopy designs.
Randy Schlitter is passionate about
the team's safety effort. "The S-19LS is
not merely an attempt to meet ASTM
standards. It is the successful creation
of a sport plane that exceeds the accepted
standards," he said.
RANS has put more than 200 hours
of flight time on N719RS. "We are
still impressed with the smooth, quiet,
and spunky performance and handling
of the S-19," Randy said. Those
200 weren't easy hours. The S-19 has
flown over mountains four times,
taking off at above 7,000-foot density
altitude with maximum loads. This
same S-19 has flown hundreds of
demo flights. The first-article airplane
has been subjected to detailed inspections
for any signs of stress, cracking,
and overloads, and it continues to
pass without major issues.
MADE IN THE USA
Two-thirds of today's LSA fleet is
made in Europe. Except for Cub-
Crafters and American Legend, few
U.S. designs command any signifi-
cant market share. That could change
with the S-19. As of the 2008 U.S.
Sport Aviation Expo, the official introductory
price of the fully built S-
19LS with analog instruments was
set at $110,000, and $117,000 for the
dual-glass-panel version. Randy expects
the initial production rate will
be modest. "We will ramp up over
the next 12 months building several
planes to develop the production process."
RANS expects to complete 50
to 75 planes per year in one to three
years. The company has been producing
the high-wing, tandem-seat S-7LS
since October 2005.
If the price of the ready-to-fly S-19
sounds too steep for your budget, the
kit may be just right. All kit components
for the S-19 run approximately
$25,000. Adding the 100-hp Rotax
912S and a prop will bring the total
to nearly $45,000. Instruments
and finish will add another $5,000
to $10,000 (or more), totaling up to
about half the ready-to-fly price.
No matter whether the kit or production
S-19 interests you, the result
is a worthy addition to the RANS aircraft
fleet. My guess is this airplane
will be around for a long time.
Published in EAA Sport Pilot & Light Sport Aircraft Magazine
| | |
| --- | --- |
| Seating | Two, side-by-side |
| Empty weight | 820 pounds |
| Gross weight | 1,320 pounds |
| Wingspan | 28 feet |
| Wing area | 126.9 square feet |
| Wing loading | 10.4 pounds/square foot |
| Useful Load | 500 pounds |
| Length | 20.5 feet |
| Payload (with full fuel) | 356 pounds |
| Cabin Interior | 43.5 inches |
| Height | 8 feet |
| Fuel Capacity | 24 gallons (28 in S-LSA model) |
| Baggage area | 70 pounds |
| Airworthiness | Certified SLSA |
| Standard engine | Rotax 912 ULS2 |
| Prop Diameter | Two-blade, ground-adjustable |
| Power | 100 hp |
| Power loading | 13.2 pounds/hp |
| Cruise speed | 111 knots/128 mph |
| Stall Speed (Flaps) | 39 knots/45 mph |
| Never exceed speed | 130 knots/150 mph |
| Rate of climb at gross | 900 fpm |
| Takeoff distance at gross | 325 feet |
| Landing distance at gross | 325 feet |
| Range (powered) | 5.1 hours, 610 miles |
| Fuel Consumption | about 4.5 gph |